Today I want to talk about how marketing for Buyers agents versus marketing for Listing agents. I know that I didn't really understand this as a new real estate agent!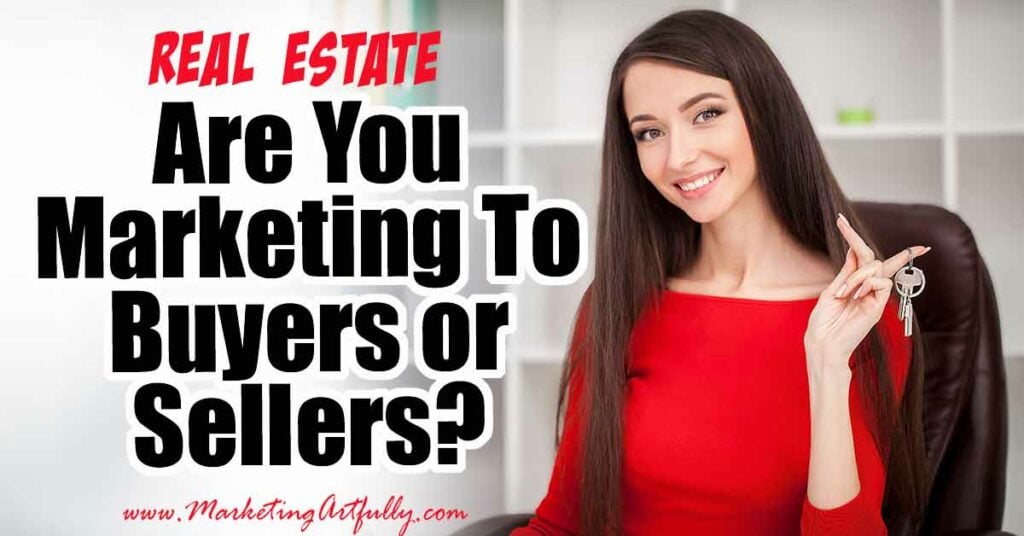 please note :: I often recommend resources, some I receive an affiliate commission for at no additional cost to you! check out my policies here
I was talking with my marketing buddy the other day and we were giggling about how people who want to do marketing to Realtors don't even know that there are both buyer and seller agents.
And that got me thinking about the fact that I didn't know the difference when I started being a real estate agent so I thought I would talk about this a bit today!
My Real Estate Story
When I was a bright eyed and bushy tailed gal ready to join the real estate world, I was SURE that all my mad internet skills would get me tons of business… and I was right, sort of!
I set up a site called ComeToClearwater even before I got my license and started getting leads pretty quickly… buyer leads.
Well come to find out, I was much more suited to being a listing agent… I really only worked-worked with two buyer clients ever.
So I thought I would give a breakdown of the two kinds of agents and how marketing differs for each of them!
Marketing As A Buyers Agent
MOST marketing you see out in the wild is prospecting for buyers…. here are some examples you might recognize to find a buyer…
Relocation guides
Websites with "search for listings" bars front and center
Yard signs
First time homebuyer classes
The reason these are for buyers is that they are marketing the houses that are available for sale or educating people on how to buy homes.
Who Makes A Good Buyers Agent?
Since I am breaking this down in a way that I would have loved to know about BEFORE becoming an agent (or early on in my career), I wanted to talk about the practical aspects of being a buyers agent.
Here are some of the things you will be doing as a buyer agent:
Driving people around in your car to see houses
Answering a lot of one on one questions about neighborhoods and properties
Having to work on a dime when a "good house" comes on the market
Using your personal skills a lot… buying a home is stressful and the best buyers agents are super compassionate
How To Market Your Business As A Home Buyers Agent
Okay, now let's talk about you rather than about your potential buyers. I am going to give you some ideas and then how to mix them with things you already like to do!
Hook up with a listing agent.
Whether you join a team formally or just have a referral relationship with a listing agent (one or more), this is a great way to get leads.
Most listing agents don't work all the buyer leads that come to them and if you can show you are dedicated and willing to work leads AND communicate with the listing agent, you can pretty much spend your time showing houses rather than prospecting.
The downside is you will probably be paying them 25%-ish of your commission.
Teach buyer classes online or in person.
One great way to get buyer leads is to be a source for information. Many local libraries or civic groups love to have a speaker that can help guide people through the pre-buying process.
You can also do this on a Youtube channel or TikTok, making sure that your examples and hashtags are all local.
BONUS…. if you do get buyer leads out of your area YOU can be the referring agent and get a cut of that agent's commission.
Hook up with a mortgage banker.
Many buyers start out by getting pre-qualified for a loan, rather than going to an agent and then getting a loan.
If you start building relationships with mortgage peeps, you will get a GREAT referral, you already know that they are pre-qualified and prepared to buy!
Marketing As A Selling Agent
There is an old saying that "buyers buy houses, sellers buy marketing" and that is correct! As a listing agent you need to be in front of people who are looking for qualified agent to help with their home sale.
The only things that potential listings want to hear is that you can sell their home fast for the most money.
Here are some things that listings agents do:
Send just sold realtor postcards into neighborhoods
Create a database of homeowners who have owned their homes for 6+ years
Prospect for sale by owners
Create content talking about the real estate market
Who Makes A Good Listing Agent
I have worked with many great listings agents over the years and there is a definite type that does well.
Functionally you are performing a business transaction, rather than an emotional transaction and your skills with negotiating and problem solving will be front and center.
Here are some things you will be doing as a listing agent:
Educate sellers on what they need to do to get their home sold fast for the most money
Negotiating contracts: Prices, closing dates, repairs, etc.
Making relationships with buyers agents to find customers for your houses
Marketing your listings
How To Market Your Business As A Listing Agent
Here are some ideas for prospecting listing leads. Make sure they are things you like to do.. for example, one way to prospect is to make 2 hours of phone calls a day… that is something that I will NEVER do, so that wouldn't work for me!
Keep up with your past clients and database.
If you have been a buyers agent and are transition over to being a listing agent, check your database for your very first buyers. They may be ready to list their home!
If you are a new agent you have to start building a database of people who might sell their home.
You can use tax records to see who has owned their homes for 6+ years and send them a mailing or even a personal note asking them if they are thinking about selling. If they respond, ask for their email address and put them on your real estate newsletter list.
Talk about the market.
One of your jobs as a listing agent is to know your local real estate market conditions so you can counsel your listings on the proper price to list at (to sell fast, for the most money!)
If you are doing research for a subdivision or neighborhood anyways, post that on your Facebook, send it in your newsletter, or even do a TikTok about it where you show your expertise.
Listings want to know that you are knowledgable and will help them… say it again… sell fast and for the most money.
Be the neighborhood expert.
One thing sellers want to know is that you have experience in their neighborhood. Those gals who put their faces on the bus benches and declared themselves neighbor experts knew what they were doing!
One way you can do this is to market your listing in the neighborhood where it is located… you can do a cute, "pick your neighbors" theme, but functionally you showing your expertise at listings in that neighborhood.
There is something super powerful about being able to say that you were involved in 35 or 50% of the transactions in a neighborhood once you have your farm established!
Marketing To Buyers or Sellers Wrapup
Well, hopefully that helps! I know I wish someone had told me the difference before I got started… I was destined to be a listing agent and got to the top 10% of my office of 180 agent super quickly because I was good at marketing.
I think the main thing to know is what kinds of people you want to work with on a day-to-day basis and pair that with the skillsets you have to make your career successful!