I LOVE a great real estate marketing idea! Today we are going to look at how Mike, the Broker of Sand Peak Realty, is rocking it with his Jeep duck marketing!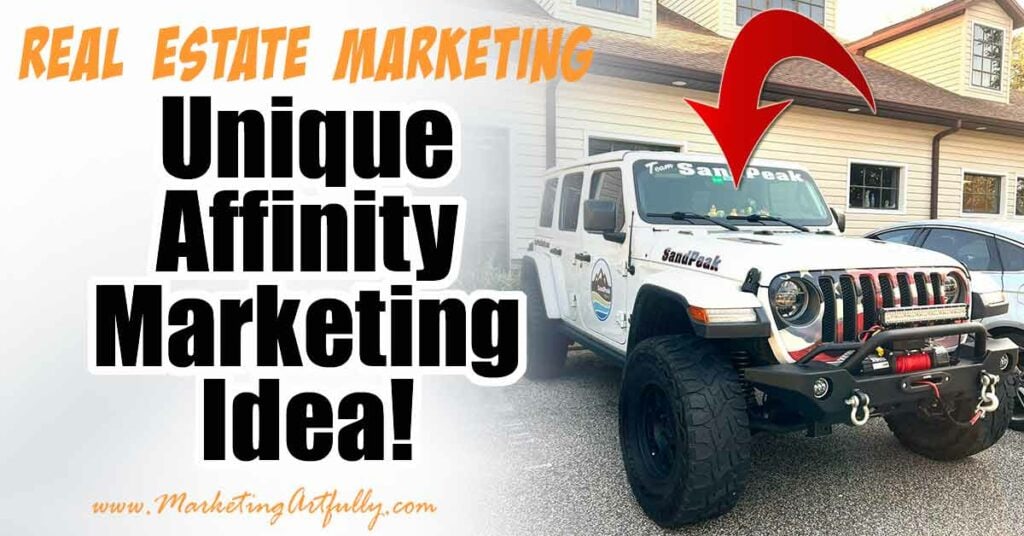 This post contains affiliate links. If you purchase anything, I earn a small commission at no extra charge to you. Check out my policies here.
Why Unique Real Estate Marketing Ideas Matter!
I have been talking to Realtors for over a decade now and in that time I have only heard a few REALLY unique and interesting marketing ideas.
My favorite up until now was super fancy agent in Fort Lauderdale who would go out in his suit and plant flowers around the sign posts for his clients! A couple of bucks idea that had landed him MILLIONS of dollars in listings.
This is the kind of unique idea that makes people notice, instead of using the same old, same old marketing that no one cares about!
To stand out in a sea of agents you have to do something unique!
Great Real Estate Marketing Idea… Jeep Ducks
Today I was sitting out in my car at the vet's office, waiting to pick up my tiny dog from the groomer. I was scrolling through Instagram when a random man left a duck on my side mirror and scooted into the vet's office.
Now, if you aren't a jeep owner, you might not understand this, but "ducking" someone is a Jeep thing.
If you like someone's Jeep you give them a duck on their door handle, mirror or hood.
I grabbed it and read it and it said "Sand Peak Realty" and my ears perked up… a super fun new real estate marketing idea… YAY!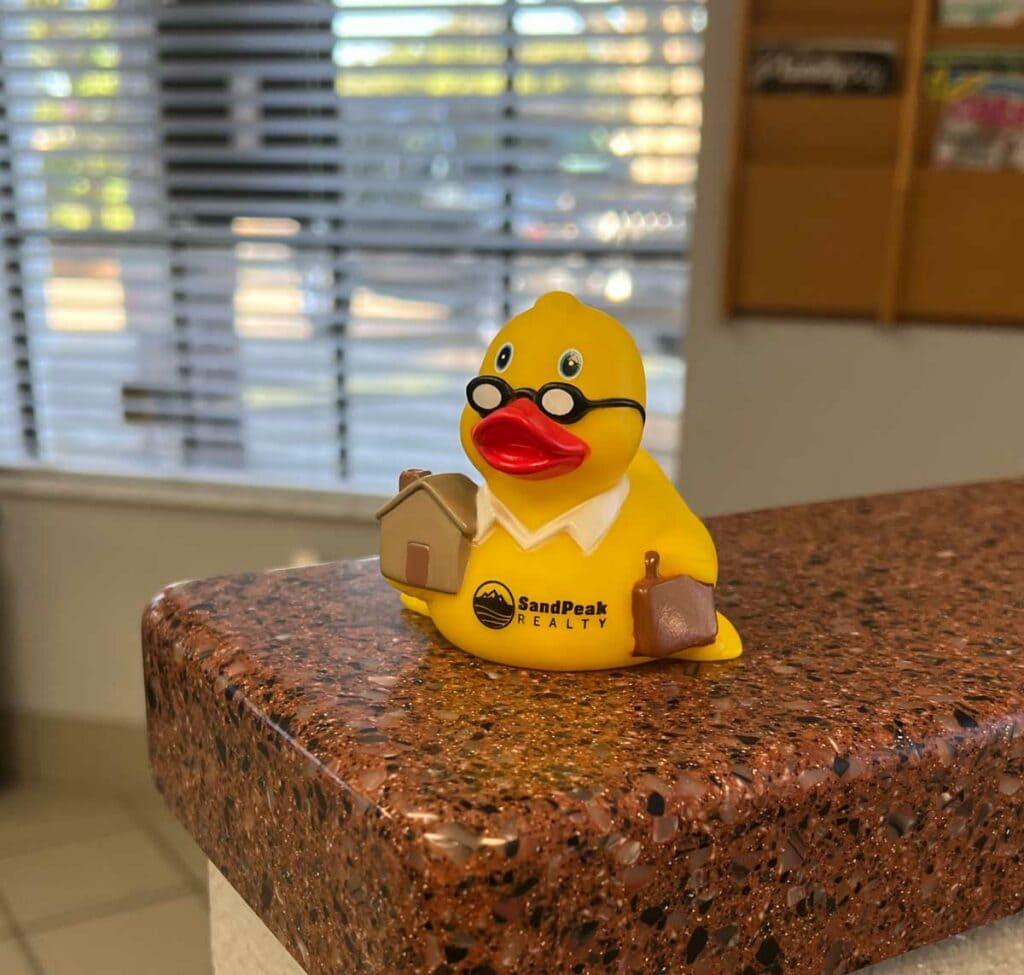 So I went into the vet's office (I am super introvert so hanging out in a waiting room is not for me…. I hide in my car and they call me to come back in!)
Anyways….I trotted on up to the duck wielding man and found out it was Mike, the broker from Sand Peak Realty.
He said he has gotten 3 new agents and over ten closings from leaving ducks around Pasco county on Jeeps and that he even had all his agents putting them onto Jeeps too!
After Mike and I chatted (he had to go, his dog Faith got called into the office… she was a very good girl), I went outside to see if I could find his car and YEP! He had a Jeep too!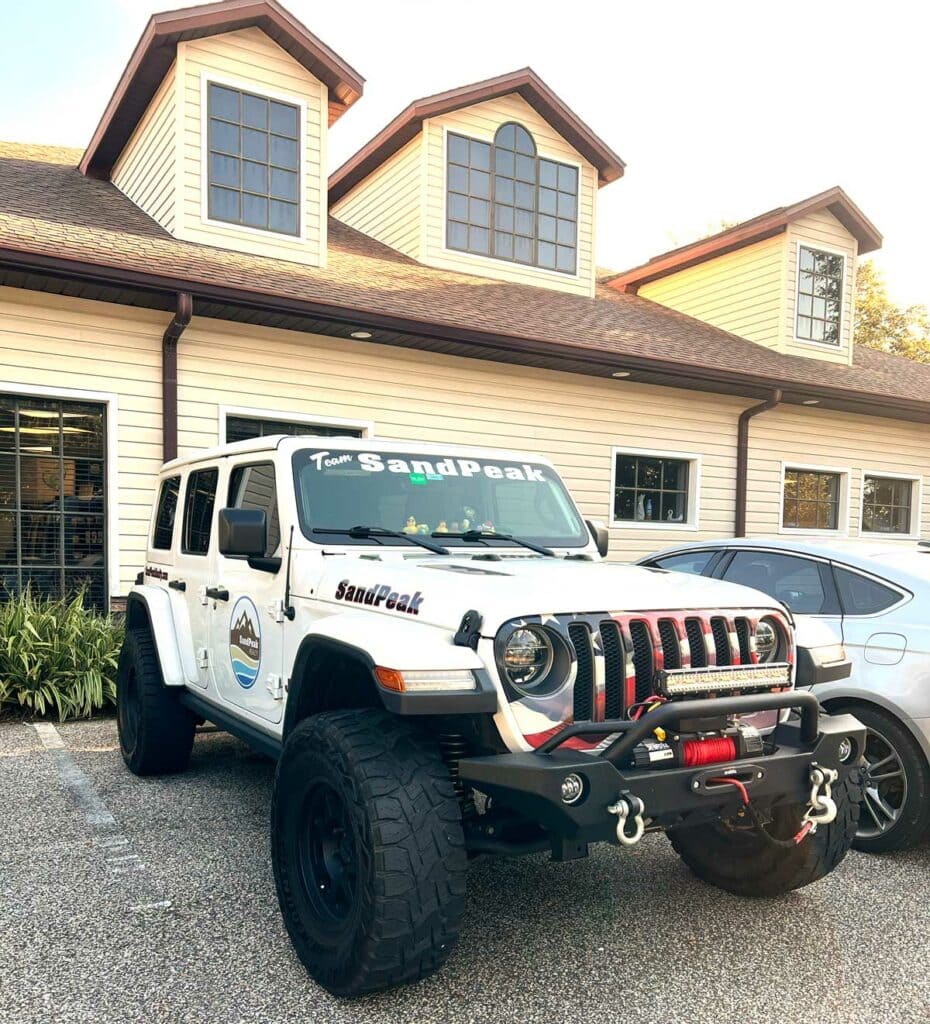 So why does this kind of real estate marketing work so well?
Real Estate Affinity Marketing
You know that I talk about real estate niche marketing a lot, but Jeep ducks are not quite niche marketing, they are more affinity marketing.
Affinity marketing is when you have something in common with the person you are trying to market to… Mike and I both have Jeeps, Jeep people like getting ducks, Mike is making Jeep friends by giving them a duck!… whoo whoo!
This is an amazing Venn diagram of marketing…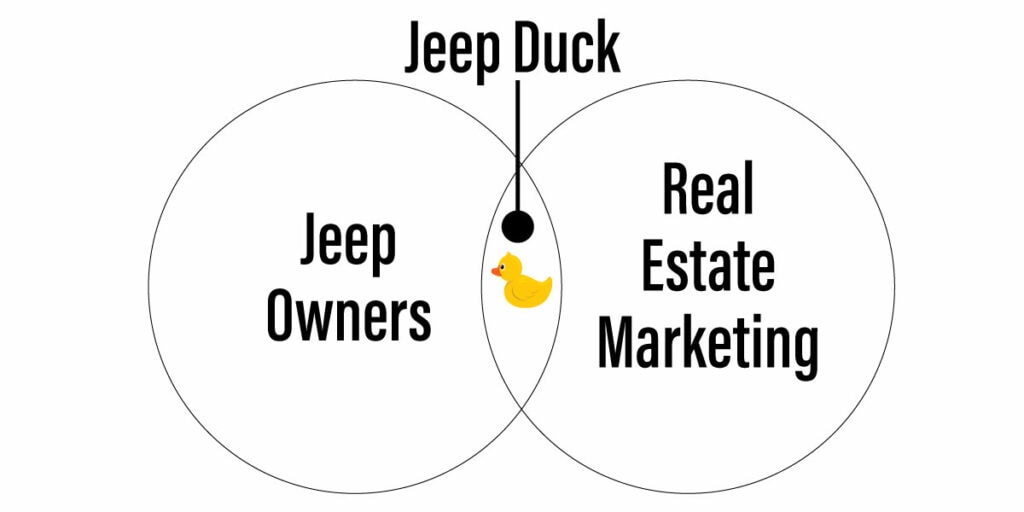 The fun thing about this kind of marketing is that you can be really playful with your marketing (Mike's duck is holding a briefcase and a little house under his wing!)
Here are some other Real Estate Affinity Marketing Ideas…
Boat key floats at the marina
Ice scrapers at the ski slopes
Teacher mugs at the daycare
Functionally you want 1) people to notice your marketing and 2) keep it handy because it is something useful or fun to them.
This also helps to cross borders seamlessly in a time when it feels like everyone has an agenda… I don't really know about Mike's views on anything in the world, but I do know we both like Jeeps.
Now, I have a Realtor besty, so I won't be using Mike to sell my house, but I did write a whole blog post about his marketing! AND if I hear about someone who wants to sell in Hernando (which is too far away from my besty), you know I am going to be checking out that duck to see who I should give that referral to!
Unique Real Estate Marketing Ideas Wrapup
I have to say that I LOVED seeing Mike's unique marketing idea! It was clever and really stood out from the crowd and that doesn't happen too much (I KNOW, I look at Realtor marketing A LOT!)
How can you find an affinity with your customers? Think of ten or so things that you do and then how you can incorporate that into your marketing!
And it doesn't have to cost a ton of money, if you are not at a "duck level" marketing budget yet, print out something and laminate it (people love laminations)!
For example, you could print out the intercoastal waterways, laminate it and put it into peoples boats with your branding and contact number on it.
Affinity marketing is all about thinking outside of the box, using things you KNOW about your group and then using that to provide value or entertainment to them!