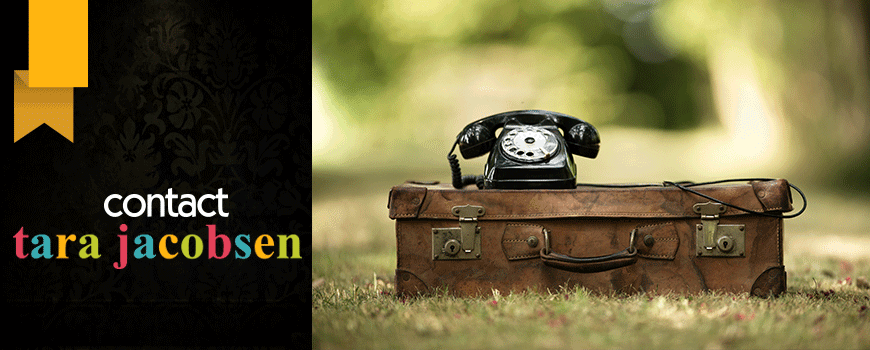 I am proud to present marketing products and services that help small business owners succeed!
Marketing Artfully / Tara L. Jacobsen PA
Mailing Address
2138 Edelweiss Loop
Trinity, FL 34655
Email tara(at)marketingartfully.com
Phone
727.415.9165


Marketing Artfully is founded and owned by Tara Jacobsen. The entire site is dedicated to helping small business owners, Realtors and entrepreneurs. By providing information about blogging, social networking, online and offline marketing, Tara helps her clients and prospects succeed. Her 15+ years of business and marketing experience are vital to the success of these programs and her clients!
Tara has been marketing obsessed for YEARS! In the .com heyday she worked at Digital Chainsaw as the Executive Producer of Web Design and Development and since then has owned a marketing company with a brief dip into real estate for a couple of years. She has successfully helped many entrepreneurs develop a plan for marketing and business success that focuses on client contact, systems for success and lead generation.
Tara is also an accomplished business author, speaker, and coach with classes that include Business Strategy, Social Media Marketing, SEO and Website Marketing, Motivation, Goal Setting and more!
Testimonials
These are just a few of my favorite testimonials that make me smile! If you would like to see a more comprehensive list, please visit my Testimonials page.

Helen L. Maday REALTOR
"Your training sessions today were so terrific…"
Like I said that is the 1st time I've been at a seminar or training session that I didn't put on my sunglasses even once (to take a quick snooze)!!!!! Also, I'd like to thank you for the personal help you gave me afterwards – that meant so much to me because it would have taken me forever to figure out what you did so quickly & effortlessly!!!!! You're quite a gal & I feel very fortunate to have met you!! Keep up the GOOD WORK!!!!!

Jonathan Bowman, CEO of Harmony Healthcare
"Changed the way we do business on the Internet…"
We believe we have expanded our Internet presence as a result of working with Tara. She provided a keyword analysis that helped us attract traffic. More important, she provided ideas and insight about our overall marketing strategy. She was easy to work with – always prompt and professional, with a wealth of knowledge that's hard to find. I'd recommend Tara to anyone seeking to grow a business via the Internet.
I just saw that Jonathan and Harmony Health Care are proudly celebrating their 10 year anniversary! Way to go guys!


Julia Fishel of the Suncoast Partners
"I'm going to refer you to everyone that ever mentions the three words – real estate marketing"
Best investment we've ever made in our business and OH MY GOD THIS IS HEAVEN !!! " WOW! Tiara, you have exceeded my expectations beyond my wildest dreams. (yes, you may quote me on that anytime in any manner)

Tammy Leventis, MailCo
"Tara is a pleasure to work with, she makes me look good to my clients."
Over the past 7 years she has designed for a wide range of clients who have been very satisfied with their designs.
Through Tammy I have been able to design for a broad range of businesses from Non-Profits to Pizza Restaurants! The range of clients she has brought me has really helped me with expanding my range of small business knowledge.