Today we are going to look at 10 reasons very people start selling immediately when they open an Etsy shop. Tips and ideas for how to start your new Etsy shop fast.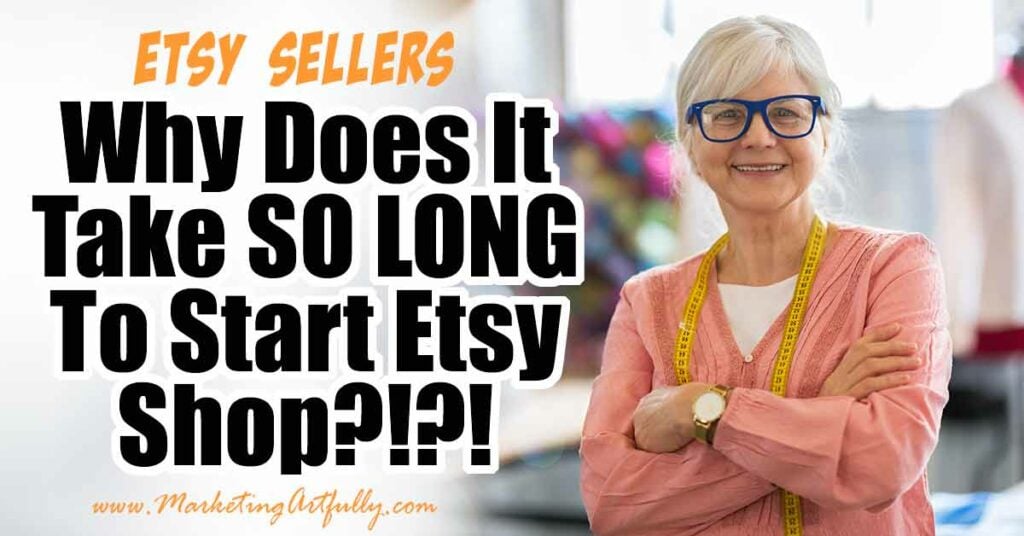 This post contains affiliate links. If you purchase anything, I earn a small commission at no extra charge to you. Check out my policies here.
Why I Am Writing This Post
I recently started ANOTHER Etsy store… in the past I had a super successful digital products store (over 30K in sales and a fun vintage store).
As a late in life artist, I love that I can combine my artwork with Print On Demand products to sell easily and without all the work that having a physical products store entails.
Here is my store in case you would like to take a peek… Wizard of Alice!
Anyways, I started my store about 6 weeks ago and am getting a wee bit antsy about why I am not making more sales (I have 14 so far at this point!)
So I decided to brainstorm some reasons with my marketing besty about why it usually takes at at least 2 months for Etsy to start noticing your store and showing it in Search.
Get 40 Free Listings When Your Start Your Etsy Store With My Link! click here
10 Reasons It Takes A While For Your Etsy Shop To Get Noticed
As a new shop owner (and an old Etsy seller) it makes me smile that even I, who knows how this works, is feeling a tiny bit defeated and a little impatient about how long it is taking to get traction.
With that in mind… here are some reasons it takes a while to launch an Etsy store!
1. The Etsy Search Algorithm Takes Time
If you are new to online selling you may not know how Etsy decides to show products when a buyer does a search. Etsy uses an "algorithm" that is just a formula to show the right listings, to the right people, at the right time to make sales.
Google has an algorithm, Facebook, Tik Tok and all the other sites use a formula, just the same way as Etsy does.
Well, the Etsy algorithm takes about 2 months to start to show people your listings. It is learning all the time what people want and how your products might be the right solution to their problem!
2. Picking Low Competition Keywords
One way you can get found in search ahead of the MILLIONS of other listings is to pick low competition keywords using a tool like Marmalead!
For my types of products I could try to rank for pillow, black cat pillow or purple halloween pillow. What I am looking for are long tail keywords that don't have as much competition as some of the "popular" keywords.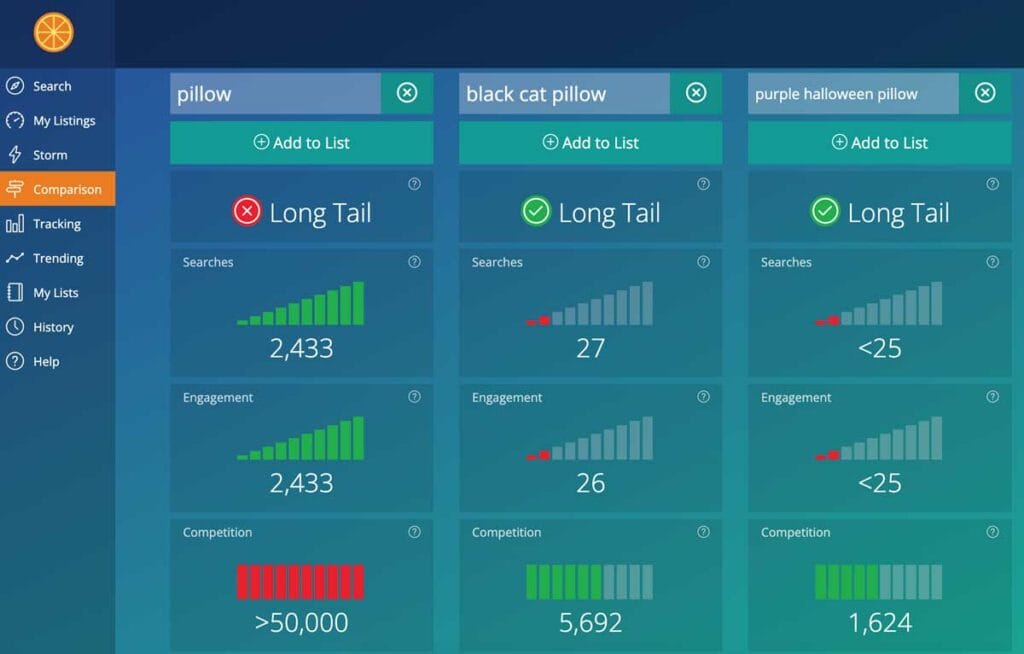 So if I pick long tail keywords like "black cat pillow" and "purple halloween pillow" there are SO MANY FEWER competing products that I might be able to show up high in search even if I don't have any prior sales.
But that also means there are less searches for those terms so the Etsy algorithm has a hard time figuring out what your product is because it knows less about long tail searches than it does about the main searches like "pillow"!
3. You Don't Have Enough Items In Your Shop
As a new seller you main goal should be to get at least 100 items in your shop. That is a cutoff that has been shown to make a huge difference in how long it takes to start seeing sales.
But why?
Say I have 5 pillow shams in my store…. all cute designs, but just 5 shams… there aren't many different kinds of keywords I can rank for.
But what if I have 5 shams, 5 notebooks, 5 tshirts, 5 totes, etc. Now I have SO MANY MORE keywords that I could rank for!
I can't say for sure it will work, but I am going DEEP and WIDE with my store. At least 20 different designs AND multiple products in each design!
4. More Products Means More Keywords
Once you have 100 products in your store you should shoot next for 250… ack! That sounds super intimidating I KNOW, but more products means more keywords.
When I was a vintage Etsy seller, I had a few niches… silver plate serving dishes and utensils, pencil sharpeners, vintage tools, etc.
For each listings I put up I was gaining keywords….
1st Listing … vintage washing machine pencil sharpener
2nd Listing …. vintage silver plate serving dish
3rd Listing … vintage paint scraper
Each different thing I put up gave me more chances for appearing in search for different keywords!
BONUS TIP… when you can, use keywords people will be searching for during holidays! For example, I could add "stocking stuffer" to my pencil sharpener to get more seasonal keywords in there!
5. Not Listing Consistently Enough…. Ideally At Least Once A Day
When you are starting out, for sure post 10 things at a time (or as many as you can manage!) You need to bulk up your store and get those sweet, sweet keywords started.
But once you have established your inventory, continue to post a new listing at least once a day…. wait what?
Yep! If you can, post at least one listing a day… you can put a bunch in drafts if doing the actual work daily is too overwhelming to you!
Etsy, like many other platforms, doesn't like when you come in, dump a bunch of listings and then disappear. They want to see that you are an active, engaged Etsy seller and adding new listings fits that bill (especially when you are not getting sales… more about this later!)
6. Don't Have Good Enough Photos
One of the main ways buyers will pick your product over all the other ones out there is by how cute your photo is compared to the other ones in search.
Here is my pillow in search with all the other surrounding offerings…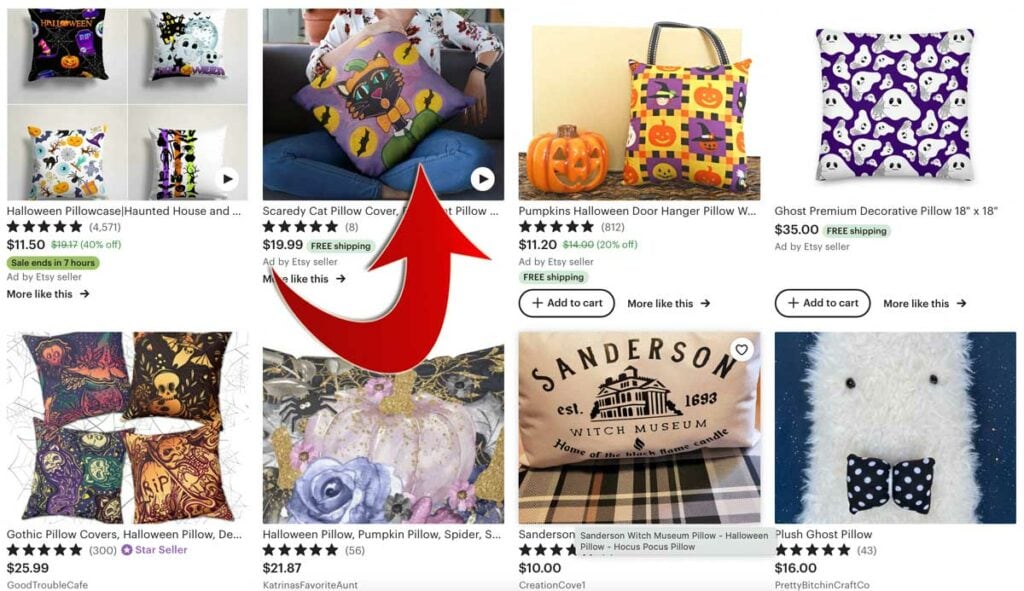 I use a website called Placeit to make my lifestyle photos. That really elevates them over using just the picture from the printing company (purple ghosts) or a bad angle on a "real" picture (Sanderson witch museum).
If you are taking your pictures at home, here are some fun tips to make your lifestyle pictures look better!
7. Favorite Items Become "Related"
This means that when someone favorites your item and other items that are like it, Etsy puts your item into a "related" category.
So one day I noticed in my Activity tab that a gal favorited my Goth Hearts travel mug and other heart things… whoo whoo.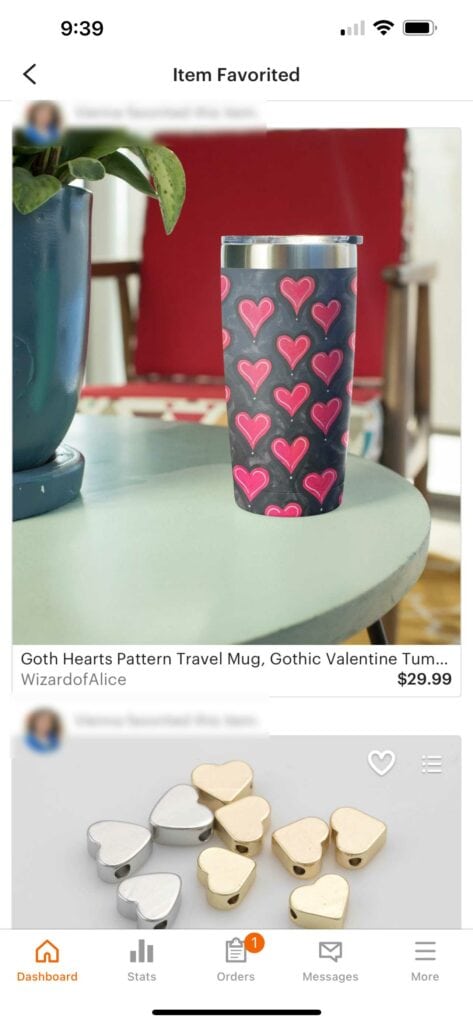 Now I KNOW it can get frustrating when people favorite but don't buy, BUT if you understand that they are helping Etsy put your products in the right categories, that might make you feel better!
8. Favorited Items Get "Hooked" To Your Store
Okay, this one is kind of "computer-y" so let's break it down! When someone "favorites" your item, lots of great things happen…
Etsy sends them emails about it or your shop
You can set up your marketing to send them a coupon
When you list items they might get notified
When you have a sale they could be notified
This is all done with triggers in Etsy algorithms and is dependent on the person and their needs and not you and your shop.
Say a gal goes on Etsy and favorites a ton of bridesmaids things… Etsy is going to start showing her and emailing her bridesmaid items.
But then her friend dumps her fiancee and heads off to Mexico… over time that "bridesmad" trigger will fade on the person that favorited your item.
You didn't do anything wrong, but her needs and interest changed.
There is nothing really here to do but make great products, have good product photography and cheer when people favorite your items!
9. You Will Start To Get Suggestions
Once you have some items up and people start to notice your store, they will ask you for things!
For example, a gal did a search, saw my advertisement for a cute llama clipboard and messaged me to see if I had a tiger… nope, but I sure did set about painting one!
About a week later I messaged her with a link to my new tiger clipboard listing, and BAM, I made my 14th sale… whoo whoo.
Now this is different than doing personalized items… with personalized you are making a specific listing for one person, with suggestions you are taking someone's opinion about a good product and seeing if if it is a good match for your store!
10. Super Advanced… Renewals When You Sell
One last technical thing that happens within Etsy is that a product "renews" after you sell it (if you have multiple inventory).
There is a wee little search bonus when you re-list a product and also a boost when you sell a product that is a cool double whammy to help in search after you sell something.
So the more you sell, the more you will sell!
Again, nothing for you to do (the old advice to re-list, re-list is not great). But it does explain why stores that have lots of sales get more sales than a brand new store… getting your items to that point will just take time.
Why It Takes A Couple of Months To Start Your Etsy Shop Wrapup
Whew, if you are a new seller, that might seem like a lot to manage, but honestly it is not! Here are a few key takeaways to focus on…
List at least 100 products fast
Do good keyword research
Take good listing pictures
Respond to messages from people
I KNOW, that is boring, but it is what will help you to get your shop going faster!
Hopefully this helps! Tara