So I was thinking about vintage Etsy sellers today and the problems we have with selling OOAK (one of a kind) items and Etsy SEO.
I know that a lot of the time info about Etsy SEO is geared toward handmade sellers, but being an Etsy vintage seller myself, I like figuring out ways to make one of kind items show up in search!
Google SEO Searches – How Web Buyers Act
So let's look at Google SEO for a minute from the buyers eyes. First off, say you want to buy a copper tray for your mother-in-law for Christmas and so you do a search for that term on The Google.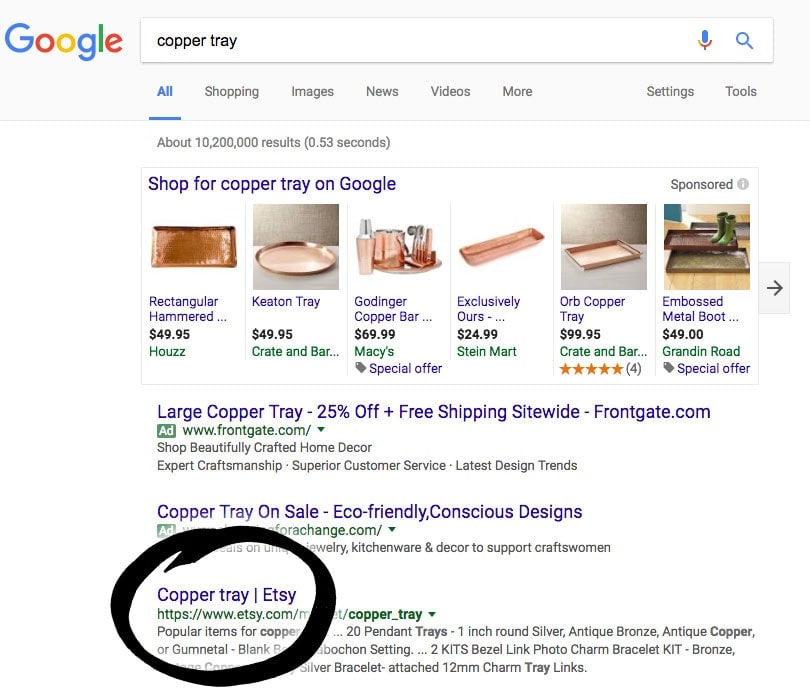 The awesome thing is that the very first non-advertisement listing is for Etsy! Whoo whoo! That is really awesome if you are an Etsy seller.
A note about Google… Before we go any further, I hear on the Etsy boards all the time that you should do your SEO for Google AND Etsy. I disagree. If you are selling on Etsy, then you should do your product SEO to rank high in the Etsy search algorithm, since Etsy is already ranking #1 for many search terms in Google. The chances of you beating Etsy, Ebay, World Market, Williams Sonoma and Pinterest (the top 5 listings) with your one little listing is so small that it is not worth trying to do.
So when we get to copper tray on Etsy, we see these results…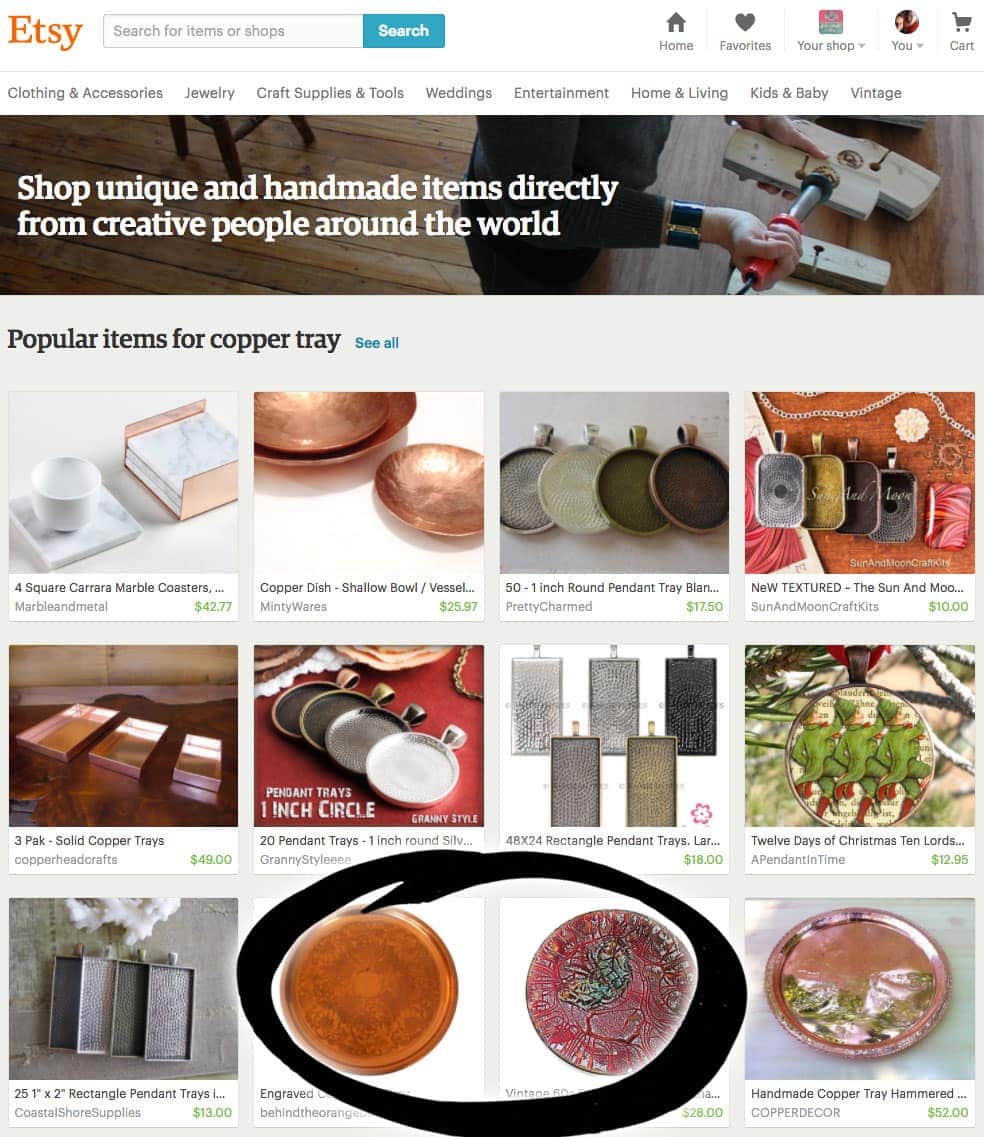 So only two of the first twelve listings are for vintage items. Sigh. The rest are all either handmade or supplies in this order:
Handmade
Handmade
Supplies
Supplies
Supplies
Supplies
Handmade
Supplies
Vintage
Vintage
Handmade
So that can be a little discouraging, BUT if I was searching for my mother-in-law I would almost certainly notice that there were a lot of jewelry pieces that were not relevant, at which point I feel like Google buyers will branch off and either say they want to see "handmade copper trays" or "vintage copper trays" in the search bar.
Just remember, these are possibly non-Etsy buyers who have just stumbled upon Etsy because of searching the big wide web and your job as a vintage seller would be to rank #1 or #2 for copper trays so that you would show up in the first page of ETSY SEARCH!
Etsy SEO Searches – How Etsy Buyers Act
Okay now let's figure that the person doing the search is already on Etsy as a buyer. These buyers act a little differently. They do a search in Etsy and see this…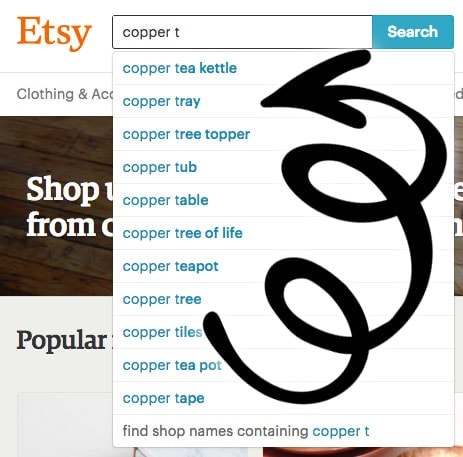 As you can see, as soon as I start typing "copper t" Etsy starts suggesting things that I might mean. This is super important when you are listing your items so you can try to get in those top level searches!
Categories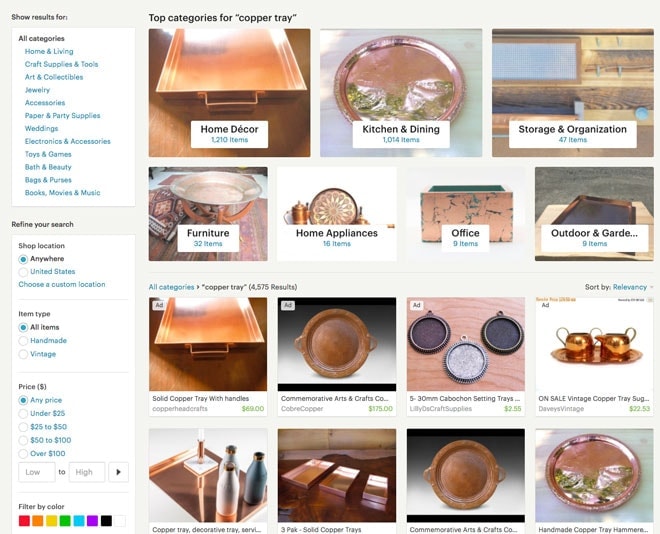 So now you can see we have a category page come up. This also is super interesting as you could try to be in the Home Decor category (1,210 items), Kitchen & Dining (1,014 items) or if it was relevant in the Storage & Organization category which has only 47 items. Interesting thought there!
Additionally, it is good to note whether the main search term you are using in your listing makes a category page come up or not. Searching for "vintage copper tray" also makes category pages come up!
Handmade or Vintage
One last thing to note is that Etsy makes it easy for people to niche down their searches. I know I often will choose either vintage or handmade when I am doing searches to buy something!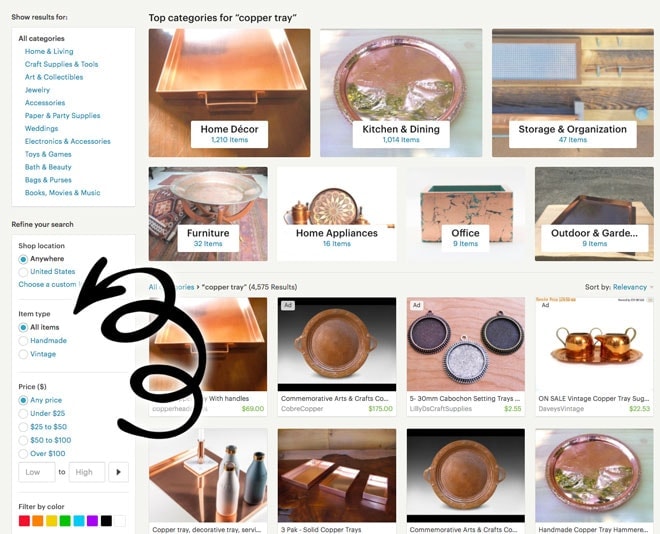 These designations come from the very first choice you have when doing your listings… Who Made It, Is It A Finished Product and When Was It Made.
Selling OOAK Items (One of a Kind)
Okay, so now let's get to the heart of the problem some of us selling vintage have… we sell one of a kind items! Very rarely I can get a batch of chandelier crystals or other multiple items, but mostly, even it is the same the condition varies from piece to piece.
So how can we take advantage of Etsy search?
1. First Off – Source Similar Items
So the first thing you can do is have similar items in your store! For example, I have lots of scissors in my store.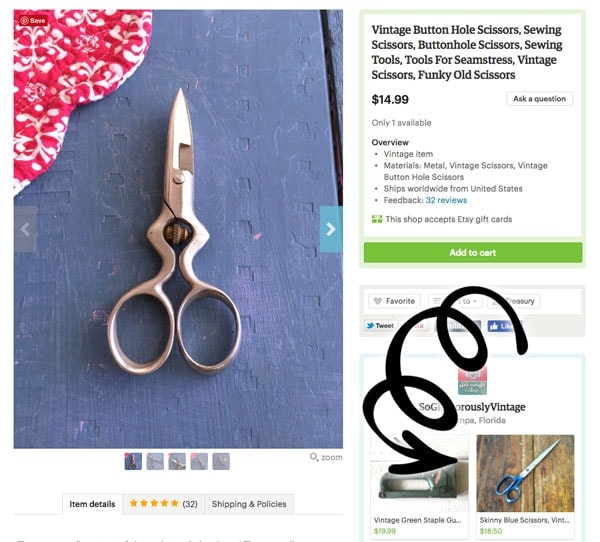 The cool thing about Etsy is when someone sees an item from your store, Etsy shows them other cool things that they might like to buy ONLY from your store!
So now you have multiple chances to sell the same buyer you went to all the trouble to get to your store! YAY!
2. Make Similar Genres
I was working with a gal on her jewelry store this week and I noticed that she had a lot of cool unique items like Poison Rings and Goth-like items. If you can get your shop to rank for some of these "themes", Etsy might slide some of your listings higher into search as your items sell.
3. You Have To Understand The Search Results Page
I talk a lot about Etsy SEO and search so I have people asking me questions all the time. One of the big ones I hear is, "why is Etsy not showing my listings". So a couple of things about that.
First, they will only show one of your shop listings per search results page. This is so that the buyer experience is better and they have a wider selection. In the past a shop could have multiple listings show up on the first page of search, that is just not the case anymore.
Second, the more search terms you rank well for, the more chance you will get views, the more chance you will sell stuff. So don't just try to rank for "goth necklace" over and over again. Instead use a tool like Marmalead to figure different search terms that you can use.
Lastly, go for the low hanging fruit when you are sourcing. Figure out what you are good at selling and pick up those items when you are out shopping! For example, I cannot keep tissue boxes in stock. For some reason I am super good at finding, listing and selling fancy kleenex boxes. Take a couple of minutes today to look at your solds and see if there are any themes in the items that you have been successful selling! Here are my sold items in case you are interested!
4. When You Are Hot You Are Hot
One last thing that matters to Etsy search! If you haven't sold anything in a while it is harder to get that momentum going. If you have sold a few things in a row, you will find that you probably keep selling things.
That is because at heart Etsy makes money when we make money. They charge us final value fees (not a bunch but some) and so they want to reward sellers who are good at selling.
That only makes sense! Say you have a seller who is AWESOME at SEO and gets their truly epically bad product to the top of major search term. I am thinking of something broken or damaged here. Or say they have a non-related product but call it something else. I KNOW, you think that Etsy should monitor that, but with millions of listings I am sure that is easier said than done.
So if they weight sellers who have sold things, have great feedback and good shipping times more heavily, then they will probably get more money if our items show up in search!
To fix a slump, go ahead and renew some items, tweak some SEO, lower prices. Functionally do whatever you need to do to get that sales cycle back on track!
Esty SEO, Sourcing and OOAK Wrapup
So hopefully this has helped you start to see how you can be an effective seller, even if you are selling all one of a kind items like most vintage Etsy sellers do!
There really are no easy answers to this, but having knowledge will help you to get better at Etsy SEO and showing up in Etsy search!
Additional Etsy SEO Resources