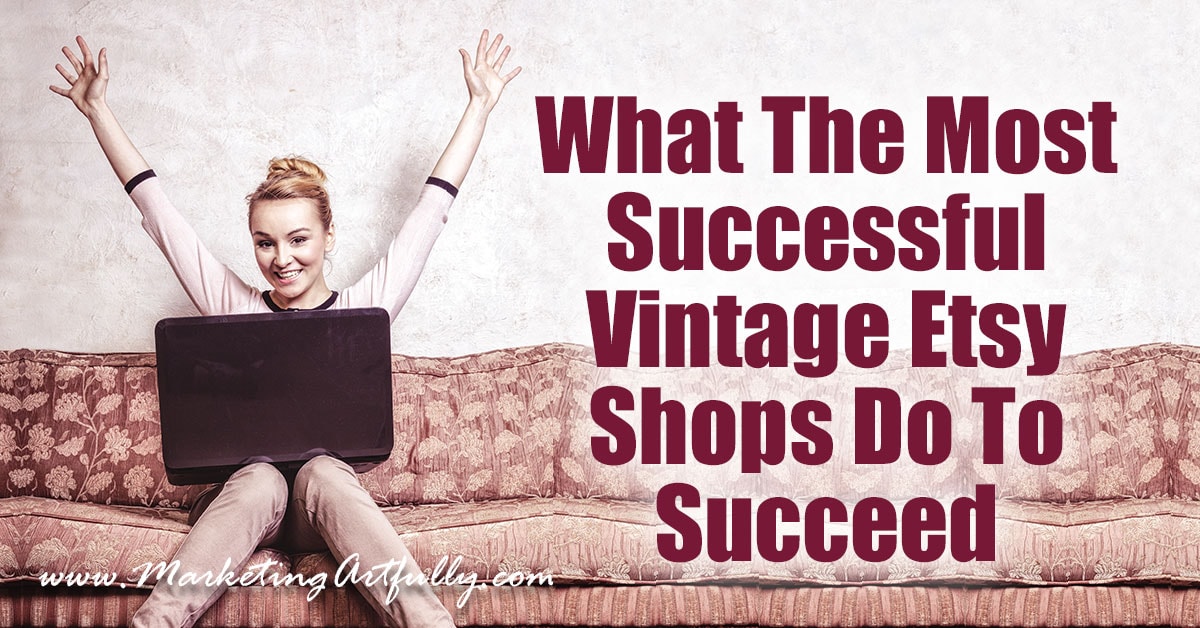 If you are an Etsy shop owner, you probably would love to know what the most successful vintage Etsy shops do to succeed. As this is also super interesting to me, I thought that I would do bunch of research to see what we could find out.
I have found in my marketing career that doing this kind of general overview often jump starts ideas for my own shop, Glamorously Vintage! With this in mind, please read through all the info and then figure out one or two things that you could do to use these ideas in your shop!
Which Ones Are The Most Successful Vintage Etsy Shops?
I can think of a number of different ways to measure a successful shop including:
Pure number of sales
Profitability
Number of listings
Feedback rating
Depending on how things go today, I think we might touch on all of these things in our quest for knowledge! But to start, I am going to go with a factual number… total number of sales ever.
To do this we will look at CraftCount which measures the number of lifetime sales on Etsy. And here are the top, all time sellers of vintage on Etsy!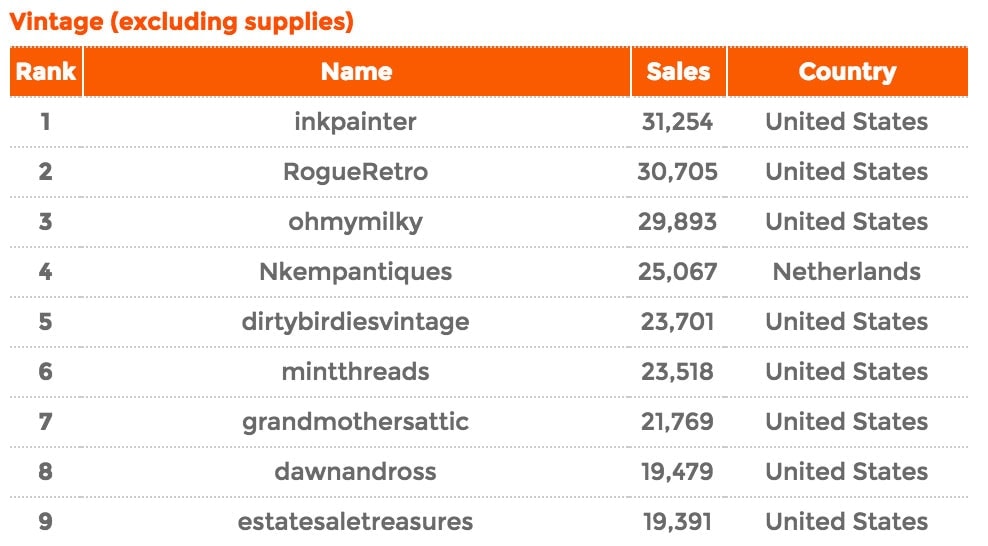 So first let's go through them and see what we can see!
1. Inkpainter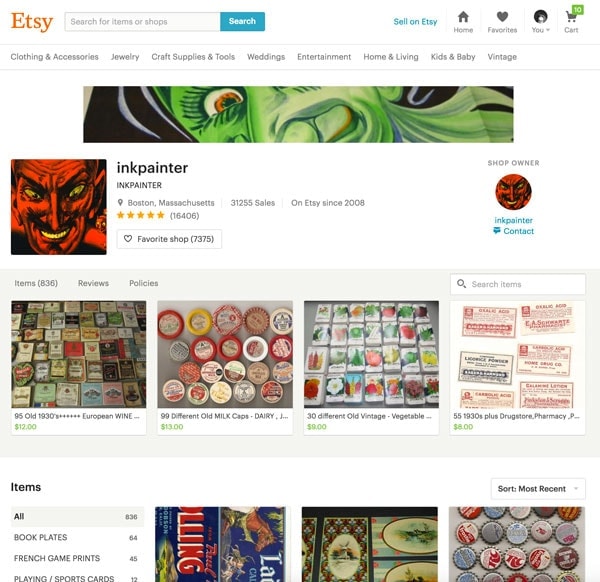 Holy schnikeys! That is a LOT of selling. So a few things jump out at me right away.
Ink has NICHE! He has totally drilled down and is selling ephemera in a big way. Having this kind of specific target for his shop is obviously working. (learn more about having a niche for your Etsy shop)
His products sell between about $1-20.
He has been on Etsy since 2008.
He has 836 items in his store.
He is not a "real person" meaning that he is using a devil avatar instead of a picture of himself.
He does not have his profile, shop info or anything else filled out.
He has almost half as many reviews as he does sales – WOW! They say he is a fast shipper and the products arrive safely.
2. RogueRetro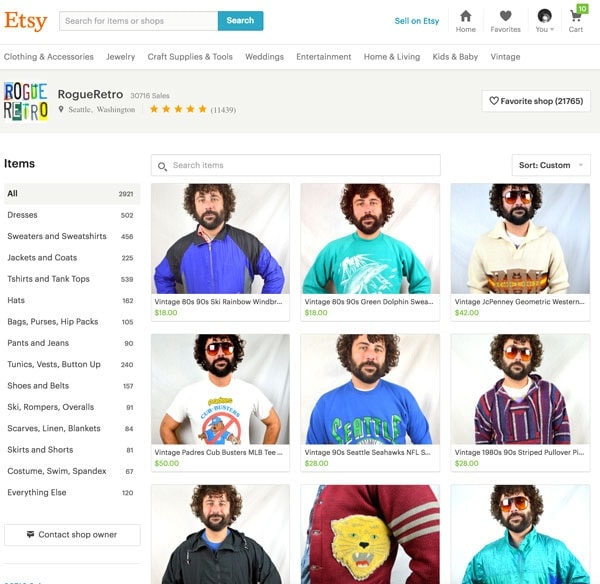 Another big seller, Rogue has over 30,000 sales at the time of this writing.
Again Rogue has a very tight niche of products. All clothing that is more retro and cool than vintage.
She has been on Etsy since 2009.
In most of her listings, she has 4 pictures of a person wearing the item (looking happy) and one of the label.
Amanda has almost 3,000 items in her shop.
Her descriptions are brief and mostly factual.
I have checked out her shop before and she generally is running some kind of sale. Today her sale was 15% off all items with a coupon code.
Okay, a couple of things jump out with these two. First off, they have a niche of items that are very specific and they have accumulated these sales over the years. Figuring a consistent sales volume, they sell about 300 items a month, not bad at all! That is about 10 items per day (which is my goal too!)
But both have their sales records blocked and I kind of want to figure out what newer vintage sellers are doing now to build their businesses. So I am going to the other end of the list. (CraftCount only ranks stores that have had over 1,000 sales lifetime)

Starting at the bottom (YAY Papillon, congrats for hitting 1,000 sales!
PapillonVintageShop – Cool and cozy vintage clothes for girls and guys
Again she has a niche, I am sensing a theme here.
She opened her store in 2011.
She has 207 items in her store.
Her prices range from $10 to $350.
Her most recent items sold for $10, $20 and $45 (I use the site FlipperTools to find Etsy sold prices when the sales are not locked by the user)
She has A LOT of descriptions and disclaimers in her listings.
DaisyRootsFrance – Vintage treasures sent from France
Okay, I really wanted to find someone who sells a variety of "stuff" like I do! Annie from France has 1,023 sales and is a great example.
She opened her store in 2012.
She sells about 21 items a month (1,023 sales / 4 years / 12 months).
She has a variety of items for sale priced from $10-450.
Her last three sales were $36, $56 and $125.
She ships worldwide from France.
She has long descriptions in her items.
Social Media
So I hear all the time that to succeed you have to be working on social media day in and day out. So I thought I would check the top stores for their social media presence.
Inkpainter – No twitter, no Facebook, lots of Pins on Pinterest by other people (could not find an account for them), no Instagram
RogueRetro – Twitter (623 followers, Facebook (862 likes/822 Follows), nothing on Pinterest for Retrorogue, Instagram (295 followers)
ohmymilky – No twitter, no Facebook, lots of Pins on Pinterest by other people (Ann has 11 followers), no Instagram
Okay, so this is my take on social. Do what is easy for you. Make sure to Pin your listings on Pinterest so that people can share them and spend all your time listing more great products.
Types of Successful Etsy Shops
Last but not least, I want to take a peek at what kinds of shops are topping the list. I probably will not be changing my main store anytime soon, but I am thinking of opening a niche store and want to see what kinds of shops are actually selling things!
inkpainter – Ephemera
RogueRetro – Clothing
ohmymilky – Jewelry Supplies
Nkempantiques – Jewelry
dirtybirdiesvintage – Clothing (a little decor)
mintthreads – Clothing
grandmothersattic – Ephemera and Paper
dawnandross – Photos
estatesaletreasures – Ephemera and Paper
CoolVintage – Mixed Vintage
VintagePennyLane – Mixed Vintage
therpsajik – Paper and Jewelry
cricketcapres – Jewelry and Clothing
FOUNDLINGS – Found Object For Artists
aVintageParcel – Found Object For Artists (upcycled)
VintageStarrBeads – Jewelry
thecherrychic – Mixed Vintage
vintagealcove – Jewelry
DearGoldenVintage – Clothing
bananastrudel – Ephemera and Maps
ThirdShift – Industrial Decor
oneofakindwisconsin – Jewelry
crazygoodbananas – Clothing and Bags
vintagefabulous – Closed
earlybirdsale – Maps and Ephemera
By the numbers
6 are ephemera or papers
6 are clothing
5 are jewelry
3 are supplies
3 are mixed vintage
2 are found objects
1 is decor
Interesting! Most really do have a firm theme except for the three mixed vintage. I am thinking that if I start any new shops they will be a specific niche that I can just pound the heck out of!
Most Successful Etsy Shops Wrapup
As I said, dinking around looking at all this "stuff" is super interesting to me and I thought would be a good use of my time. I do feel like I have a firmer grip on what will help make for a successful Etsy shop beyond just having great products and SEO.
ADDITIONAL RESOURCES FOR ETSY SELLERS