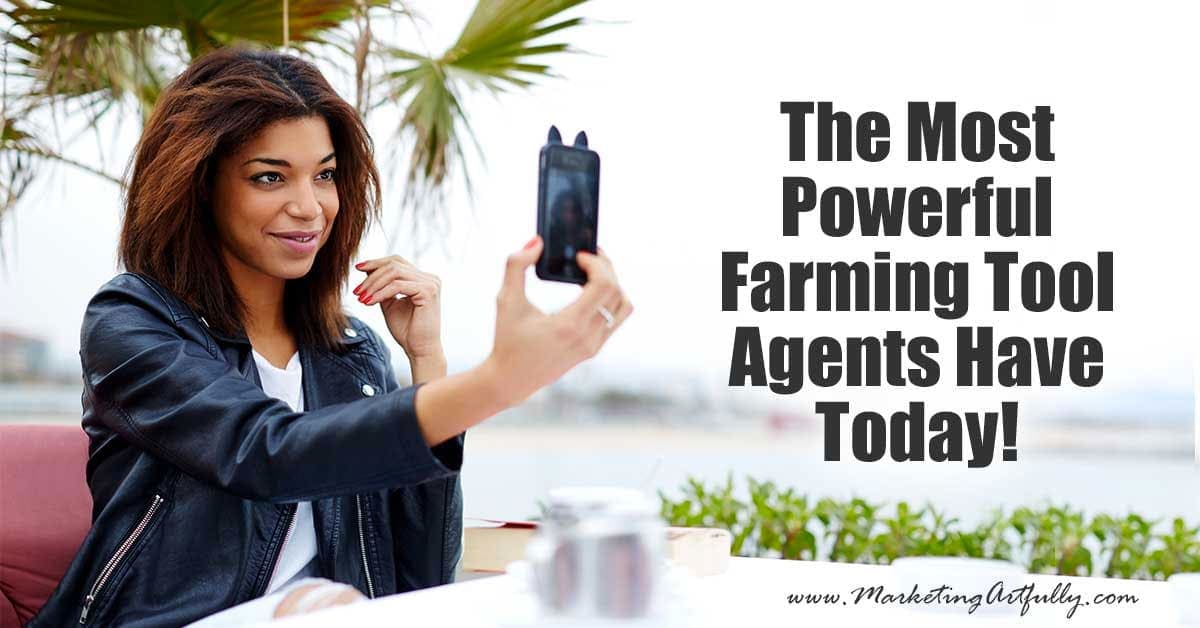 Whoo whoo… today we are going to talk about one of the absolutely most powerful things a listing agent can do to prospect for sellers…real estate marketing videos of neighborhoods!
I KNOW, that is a bold statement to throw down, but I am feeling all pumped up today to tell all my real estate agent peeps something that will make a huge difference in your business.
There is an old saying, "Buyers buy houses and sellers buy marketing." That is a truth that many agents don't really get. A home seller only wants two things, to sell fast and for the most money, period. They want bells and whistles from their agent's marketing to make sure they are getting a great agent who will help them meet that goal.
And one of the ways that the find that agent is to look online for them. Think about that, there is a seller sitting down to a computer right now and thinking about listing their home in your area.
Unless they are using their last agent or are asking for referrals, they are probably using a search engine to pick (let's be honest here, whether they have a favorite real estate agent or not, they might be checking out the competition anyways!)
Google Searches For Neighborhood Experts
So in the old days, being a "neighborhood expert" cost a bunch of money. You had to buy bus benches, bill boards and refrigerator magnets. But today, becoming a neighborhood expert is in the palm of your hand, literally. Any agent can start to take over a market with a smart phone's camera!
If I was going to sell my house today and didn't have a bestie real estate agent, I would probably do a Google search for "trinity real estate agent" seeing as how I live in Trinity Florida. That is our very first clue! While it would be great for agents to try to rank well for terms like "tampa bay real estate agent" (that is my area), as a home owner, I am going to niche down a bit to my area!

So there are 600K results for Trinity Real Estate Agent. As a home owner I would probably bang around a little and then maybe get a bit more focused. So now we look to my subdivision…. Fox Hollow.

Well that is a little better but not all that much, and since many searches are done on a phone, let's imagine for a minute that I do that same search on my iPhone. I have to say that I am not one for reading overmuch on the phone so I generally hit the videos tab…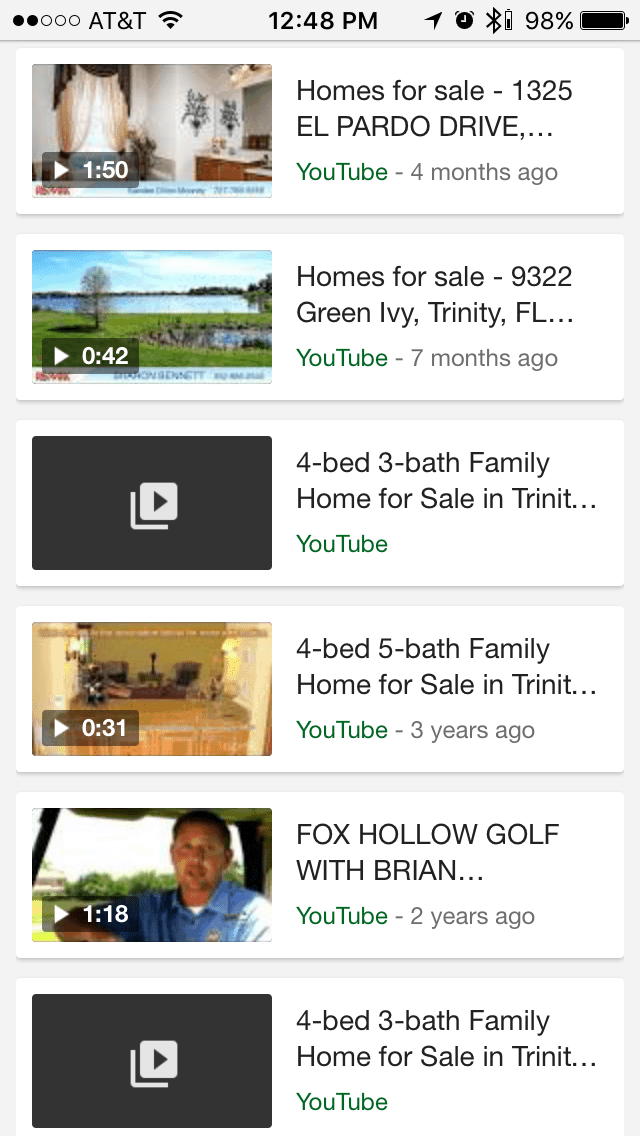 Honestly, none of these would make me want to contact an agent. I get there are homes for sale, but the one that really jumps out at me is the "Fox Hollow Golf with Brian.." which turns out to be the golf pro at the country club next door.
Sigh.
Having done some more searches I found that there are no videos for:
"fox hollow trinity real estate agent"
"trinity fox hollow real estate agent"
"trinity florida real estate agent"
"trinity fl real estate agent"
I could go on and on with how there are no videos, but you get the picture I am sure!
So what would an enterprising real estate agent do? The could make a series of videos about Fox Hollow Trinity FL and name them…
Fox Hollow Clubhouse – Presented By Fox Hollow Real Estate Agent Deborah Ward
Fox Hollow Park – Presented By Fox Hollow FL Real Estate Agent Deborah Ward
Fox Hollow Trinity Florida – A Tour By Trinity Real Estate Agent Deborah Ward
Doing those neighborhood videos would take maybe a couple of hours to record and upload to YouTube. Then when someone does a search for my neighborhood and real estate agent, BAM, those videos would come right up!
Should You Be In Your Neighborhood Videos?
I am of a few minds on this one…
If you are not going to do them if you have to be in them, then NO, you don't have to be in them. Do a bunch with just your voice and holding the camera facing front so all the viewer sees is the area.
If you are a little braver, do an intro showing yourself and then swing it around!
If you are super brave, have someone film you interacting with area.
Honestly, real estate is a people game and if you are "introduced" to your potential clients with video, you will get many more "come list me-s" than you will with just your voice.
Do They Have To Be Professionally Done?
When we are doing our marketing we tend to forget how we act as consumers. If you were looking for an honest opinion on something, would you trust Yelp's customer reviews or a commercial for the business. I know I always check online reviews from "real people", but when we decide to do marketing we think that we have to be "super professional" to be believed.
I think you should NOT be commercially done, rather a more natural version works best. AND just so you know, at first you will suck at it. Seriously. But then you will get better and better.
If you are not embarrassed by your first efforts in a couple of months or years, then you haven't been doing enough more to get better at it!
Action Steps To Making Real Estate Agent Neighborhood Marketing Videos
Okay, if you are down here, I probably convinced you that doing neighborhood videos is a good idea, but maybe you won't do anything because you don't know EXACTLY what the steps are. So here goes…
Figure out a few videos that you could make for your farm area. Think about what makes that area special and what people might be searching for.
Record it on your phone.
Transfer it to your computer to upload to YouTube OR get the YouTube app and upload it directly as "unlisted".
Once it is on YouTube, make sure that you title it with a good juicy SEO title like I have listed above. Make sure you mix up the exact keywords so you rank for things like "trinity real estate agent", "trinity fl real estate agent" and "trinity fox hollow real estate agent".
Include a link to your website in the description so they can find you right from YouTube.
There are many more ways to "optimize" your videos, but don't get in the weeds about that now. Just commit to yourself that you will make X number of videos in the next week and then JUST DO IT!
But wait there is more!
Okay, I can hear it now, "that seems like a lot of work!" I get that, but there are so many more things you can do with that video including social media and blogging. Tune in tomorrow to find out all the places that you can share that one little video!
Related Real Estate Marketing Videos Posts