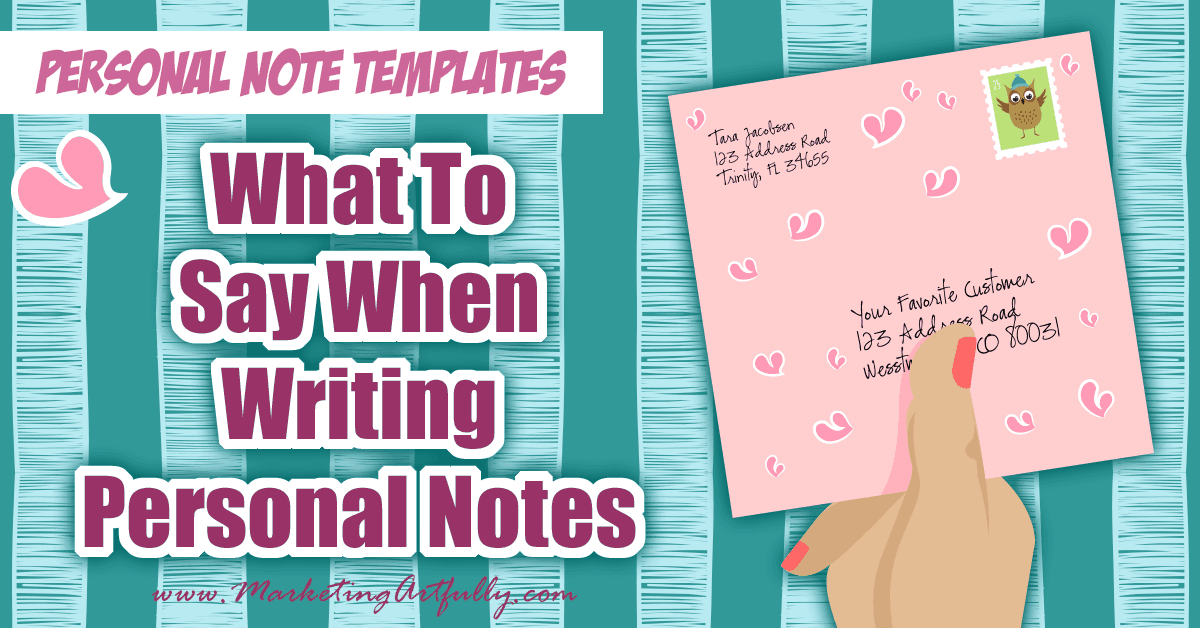 This post contains affiliate links. If you purchase anything, I earn a small commission at no extra charge to you. Check out my policies here.
One of the most powerful things you can send to someone is a personal note. Whether you are saying thanks or just letting someone know you are thinking of them, that personal connection is super powerful!
Here are some examples of what to say in your personal notes and also when it is appropriate to send a note.
Why I Wrote This Post
I am getting ready to send followup notes for a trade show that I exhibited at and needed some fancy words to say without breaking my brain!
I KNOW when you are sitting there with a blank note in front of you all the words fall out of your head and you are stuck in limbo.
When Can You Send A Personal Note?
If you are getting ready to spend time on a personal note marketing campaign (or are just a nice person), it can seem weird to figure out when you can send a note. Do you just randomly message them out of the blue or should you have a reason?
So first off, you don't have to have a REASON that is important. The note is actually just to make a connection with another human being.
That said, I am always on the lookout for a fun reason to send out a personal note to someone I like!
To say thank you
To congratulate on an achievement at work
To congratulate on a wedding or graduation
When their child does something cool
When they launch a new product
In sympathy for a loss
Thinking of you
After a long absence
On an anniversary (say the anniversary of when you closed on their house or when they signed up for your service)
When they make a major change (job change, new haircut)
When they give you a referral
For holidays
Thank You Notes
Thanks for being so thoughtful, your … meant so much to me
Thank you for the …, it was perfect
I loved the …, I will think of you every time I see it
Thank you! I was blown away that you thought of me
Thank you so much, I appreciate the thought that you put into …
Thank you! You have no idea how much it means to me
I can never thank you enough for…
I am forever in your debt, if there is ever anything I can do for you
Thank you for all you have done
I don't know what I would have done without you
Thank you for taking time out of your busy day to …
A BIG thank you for …
Thank you for letting me be a part of …
Thank you words: awesome, perfect, generous, fabulous, thrilled, appreciate, happy, grateful
Heartfelt Notes
I am deeply touched that you would think of me for …
I am so touched that you thought of me
Knowing you has been such a blessing
My heartfelt thanks to you for …
It was so kind of you to…
Heartfelt words: special, touching, thoughtful
Nice To Talk With You Notes
I can't wait to put your ideas into action
I am already working on what we talked about
I have jumped right in and am working on …
You will be such a big help to …
I couldn't have done without you!
I appreciate you taking the time to talk with me today
Talking to you always brightens my day
Talking with you made today a great day
Having you in my life is such a blessing
You will never know how much … means to me
Nice words: fantastic, shiny, brilliant, unforgettable, incredible, excellent, sensational
Expressions
I am speechless
You made my day
You are the best
You touched my heart
Words fail me, but…
I love the way you
I loved hearing about..
I can't believe you…
I can't wait to…
Expressions words: impressive, stunning, amazing, unique, glorious
Thank you and Inspirational quote personal notes
I have to say that I am not always the most eloquent person or that I always have a heartfelt feeling about the person that I am sending the note to, beyond gratitude and a thankfulness that they are somehow in my life.
One of the ways that I take pressure off of myself is to include a one of my favorite quotes that would be appropriate in a personal note – here are a few that I use, make sure to check out some of your own!
Thank You Quote Notes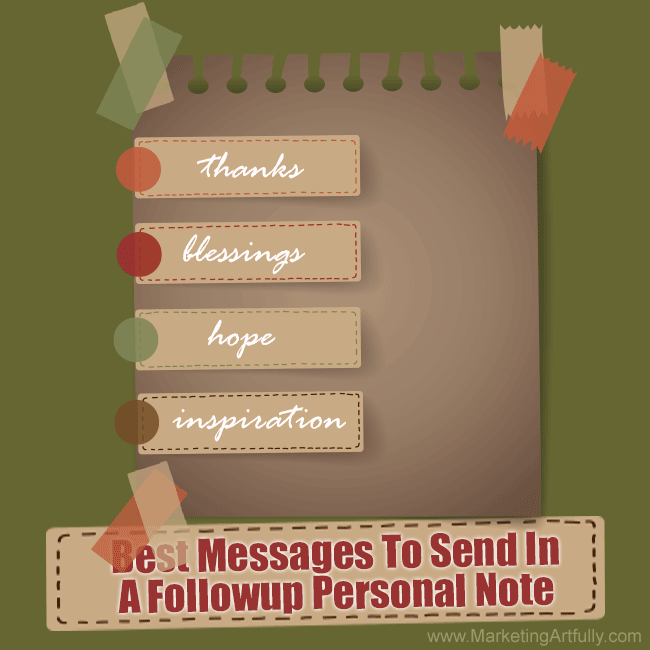 John Wesley – Do all the good you can, by all the means you can, in all the ways you can…
Felix Frankfurter – Gratitude is one of the least articulate of the emotions, especially when it is deep.
Jean Baptiste Massieu – Gratitude is the memory of the heart.
Epictetus – The key is to keep company only with people who uplift you, whose presence calls forth your best.
Dalai Lama – Be kind whenever possible. It is always possible.
Oprah Winfrey – Be thankful for what you have; you'll end up having more. If you concentrate on what you don't have, you will never, ever have enough.
Additional resource: More famous quotes about goals!
Inspiration Quotes For Personal Notes
Alphonse Karr – Some people grumble that roses have thorns; I am grateful that thorns have roses.
Thomas A. Edison – Our greatest weakness lies in giving up. The most certain way to succeed is always to try just one more time.
Og Mandino – Always do your best. What you plant now, you will harvest later.
Theodore Roosevelt – Keep your eyes on the stars, and your feet on the ground.
Walt Disney – If you can dream it, you can do it.
Mark Twain – The secret of getting ahead is getting started.
C. S. Lewis – You are never too old to set another goal or to dream a new dream.
Nikos Kazantzakis – In order to succeed, we must first believe that we can.
Victor Kiam – Even if you fall on your face, you're still moving forward.
Gordon B. Hinckley – Without hard work, nothing grows but weeds.
Tony Robbins – Setting goals is the first step in turning the invisible into the visible.
John F. Kennedy – Things do not happen. Things are made to happen.
Winston Churchill – Never, never, never give up.
Benjamin Franklin – Well done is better than well said.
William Butler Yeats – Do not wait to strike till the iron is hot; but make it hot by striking.
W. Clement Stone – Aim for the moon. If you miss, you may hit a star.
Harriet Beecher Stowe – Never give up, for that is just the place and time that the tide will turn.
Julie Andrews – Perseverance is failing 19 times and succeeding the 20th.
H. G. Wells – If you fell down yesterday, stand up today.
Babe Ruth – You just can't beat the person who never gives up.
Paul Brandt – Don't tell me the sky's the limit when there are footprints on the moon.