Are you thinking about trying to get your real estate website to rank for SEO Keywords? Here are all my best tips and ideas for how to do agent SEO as well as the very best FREE tools you can use to do your research!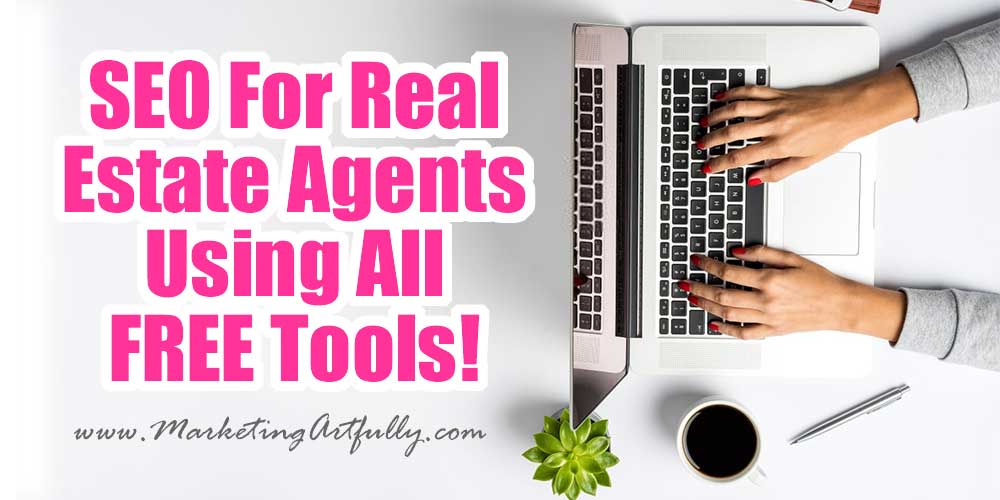 This post is long, but worth reading in its entirety if you are going to be spending time marketing your website with SEO.
please note :: I often recommend resources, some I receive an affiliate commission for at no additional cost to you! check out my policies here
Real Estate SEO Today
Unless you have been living under a rock for the last 10 years you know digital marketing has changed a LOT for real estate agents!
There is so much much to know about from making your site mobile friendly for mobile devices to having to compete with a million other online sites to knowing all the free tools that are available that weren't out there even a few years ago!
If you are paying attention to the real estate agents who have top Google rankings in your marketplace, you probably notice one or two have all the top listings. Whenever I find this, I can guess a couple of things that will make a difference for you now.
First off, they have older sites that have been around for a while. Google thinks domain age (how long your URL has been in existence) is a good indicator of quality content.
Secondly, they probably got those rankings sometime in the past when there was less competition. For example, I rank for Real Estate Marketing in Google because I have been writing about it since 2008 and because my content is old.
If you are going to try and knock off those old sites and take their top spots, just know that you are going to have to do more work to beat them than they will have to do to stay there.
The good news. I have to say that many of the "old dog" sites that have those rankings are now taking them for granted. They are not working as aggressively to keep their rankings as they did in the past to get them. This leaves the door open for an aggressive Real Estate Agent (like you) to step in and start taking them away.
To dos.
1. Check your competition's domain age. I like using Webconfs.com for this.
2. One thing that you can do to make Google more confident in the longevity of your site is to register it for 5 years or more (paying for your domain name or URL for 5 years).
The cost is minimal (about $60) but the benefits are HUGE. By paying for it for 5 years or more, you are signaling to Google that you will not be just a flash in the pan.
Top Websites and The Aggregators
In what I have talked about so far, I am specifically talking about your local competition. But if you pull up a Google search for something like "Fayetteville Real Estate" you will see that there are some heavy hitters competing for that term.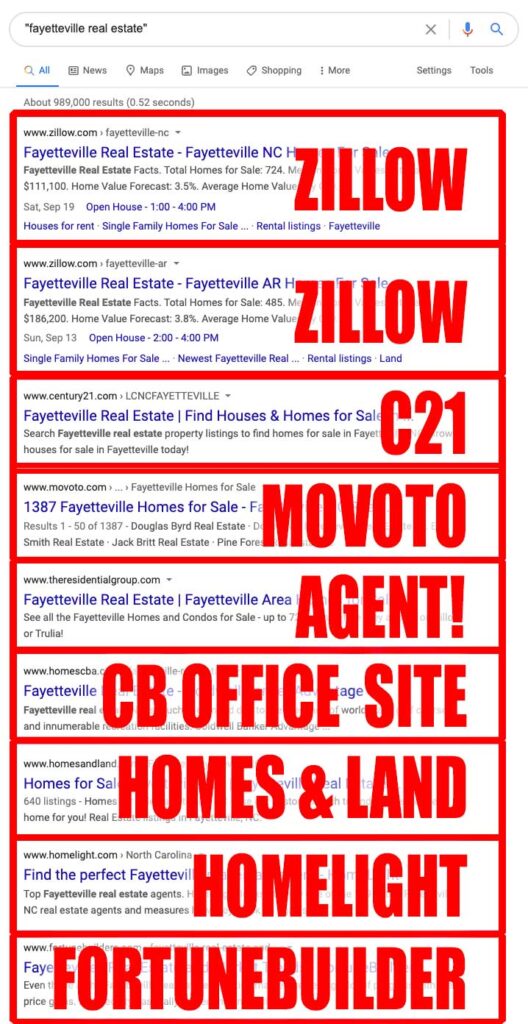 This is how the top results look… 2 Zillow (Aggregator), Century 21 National, Aggregator, Agent, Local Real Estate Office, 3 Aggregators.
Out of the top 9 over half are aggregators. Aggregators are the sites that are pulling the MLS listings in and then collecting buyers info and SELLING THEM BACK TO YOU! Those sites like Zillow, Trulia and Homes.com are called aggregators because they combine the data from all of the different MLSs and put it in one place.
YES! They are taking your listing data, and selling YOUR leads back to you because they are ranking in Google!
And it is kind of okay that they are there. If someone is searching for Fayetteville Real Estate, they are probably REALLY early in a home search and will probably not settle on an agent for a while. Plus, there is no use belly-aching about it, that is just the way Google works.
To dos.
Check out your "actual" competition like The Residential Group rather than focusing on the big aggregator sites like Movoto and Zillow.
Checking Out The Competition
So next you will want to see what kind of site your competition has.
Rank In The World
Before you think about trying to rank for a "big" keyword in your marketplace, it is a good idea to see what your competition is doing.
Overall Stats – SEO Quake
My first stop is always the SEO Quake plugin from SEM Rush (a super cool SEO search tool, which has a great free account). Put the domain name in there and hit submit.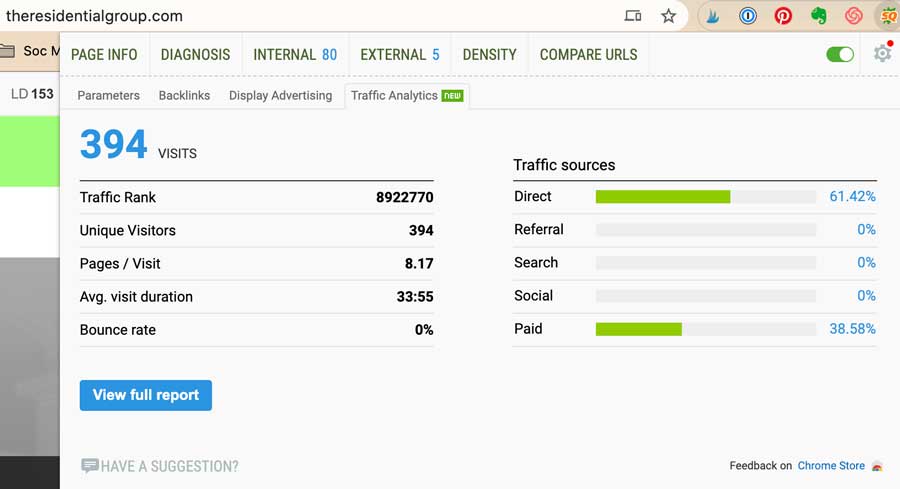 WOW! According to this, they have very few visits and some of those are coming from paid ads. This leads me to believe you COULD try to out rank them!
Domain Age – Webconfs
Now let's look at Webconfs.com and see how old the site is…ALMOST 17 YEARS old. So they were a smart cookie back in the 1990's and established themselves as a player with their site. They DESERVE that ranking for how long they have had it. (not to say we would try to pick them off!)
Remember that some big old sites are resting on their laurels and have stopped creating content years ago!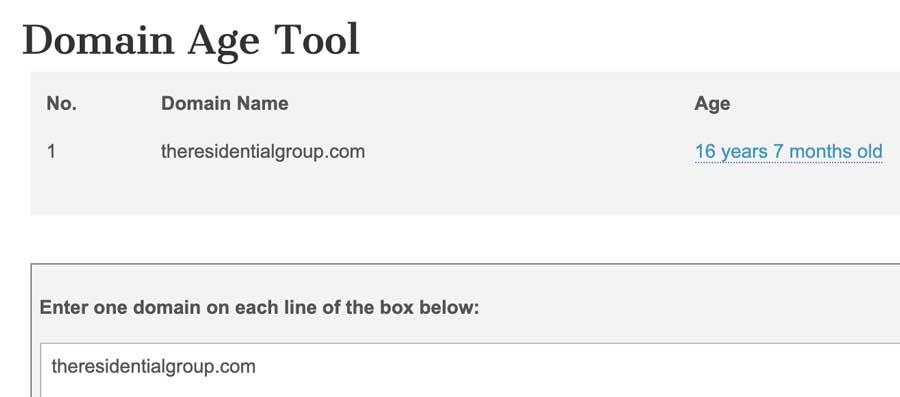 Incoming Links
Google uses an algorithm (a computer program) to rank websites and one of the key things that they think is important are the number of sites that link to a website.
With that in mind, we have to find out how many incoming links your competitors website has. For this I like to use a tool from Moz, https://moz.com/researchtools/ose/.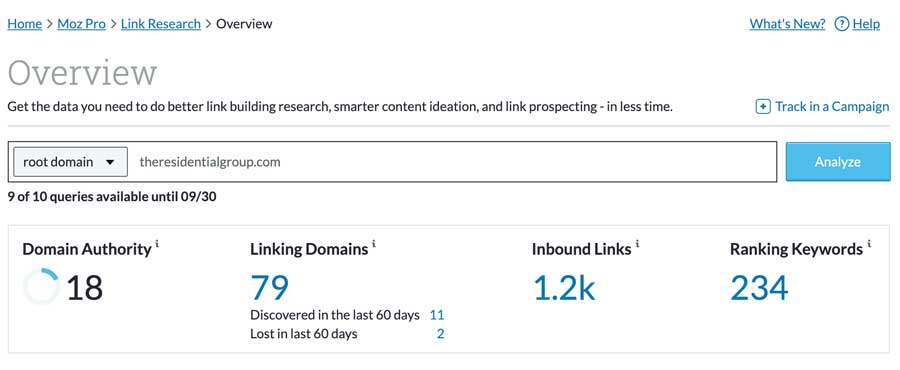 This is a low authority domain (the number is out of 100) and there aren't that many incoming links for a site this old…. you could for sure beat them!
Site's Number of Pages
Now we want to know how big the website is. This will help us to know how many pages we might need to be able to compete with the current top ranking site. To do this we will go to Google.com and type in site:domainname.com. This is what it looks like:

Okay, that is a lot of pages, but not crazy considering it includes the category, tags, etc. (to give you an idea, my site has a little over 1,000 pages so it is a big old site!)
Site Keywords
Now we want to find out what Google thinks his site is about. To do this we are going to use Ubersuggest which is a free SEO tool!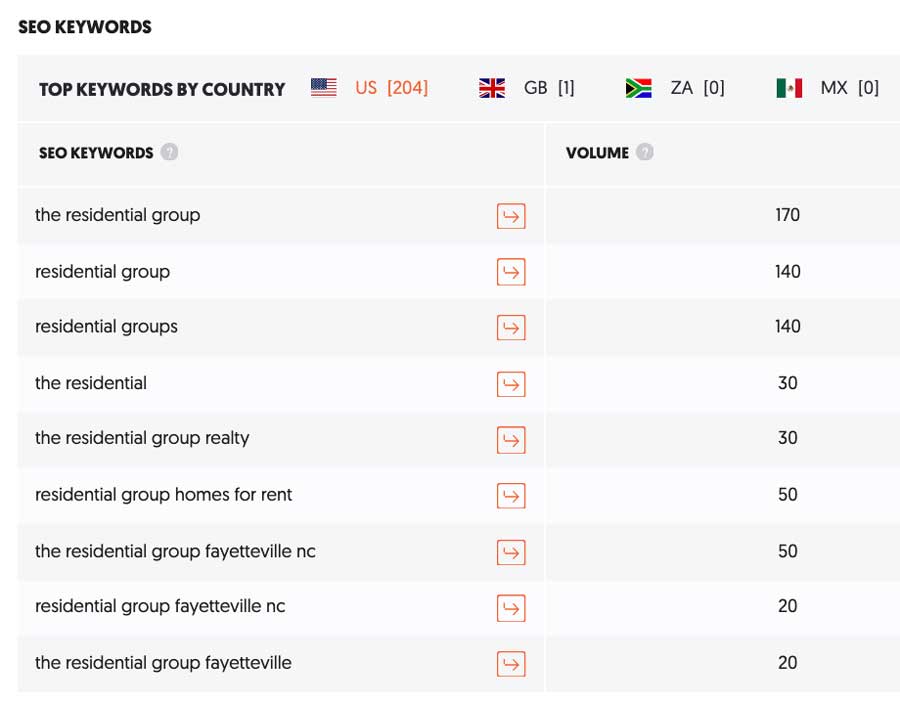 Ohhh another interesting little nugget here, they are really ranking most highly for keywords related to their real estate name rather than generic keywords.
I KNOW, this much research seems like it could take a long time. That said, figuring out your local competition is a super good use of time if you are going to be doing SEO for your website.
Beating A High Ranking Site
Before I go on to talk about what keywords to target yourself, let's talk in general about how to beat a high ranking Real Estate Agent website that is already established in your marketplace.
1. All the Little Boats Method
My first suggestion is to have LOTS of little keywords that you rank for that add up to a bigger keyword you would like to target. So instead of trying to rank for Minneapolis real estate, you write posts to rank for:
Best Minneapolis Schools | Minneapolis Real Estate
Top 10 Luxury Neighborhoods In Minneapolis | Minneapolis Real Estate
Types of Homes For Sale In Minneapolis | Minneapolis Real Estate
There is no way you can write just one blog post that will beat the incumbent site. Instead you need to have an accumulation of posts that lets Google know what your website is about and then use those to "help all the little boats rise at once".
It is by having lots of pages about a specific topic that you will start to rank in Google for your target keywords.
2. Write Hero Blog Posts
I know that there information out that saying that you can have 300-500 words in your posts, but you need to have at least a few that are big giant posts with lots of words relevant to the keyword you are trying to rank for.
For example, I am trying to increase my ranking for Real Estate Agents Marketing AND SEO for Real Estate Agents in this post. I have LOTS of great content that will show Google that this post is a good one to show people searching for this keyword.
Now, one thing to know right off the bat is that I don't do SEO for Real Estate Agents. I am not available for hire that way so my goal for this post is:
1. To get more traffic to my website
2. To increase my rankings for my big keyword Real Estate Marketing
3. To capture Real Estate Agent email addresses with my free giveaways so I can sell them things that I do want them to buy
This page will wind up being over 2,000 words of content related to those two keywords and while I am not "stuffing" it (using them over and over again), just by the length and the quality of content it will have.
Related Article: How To Write Authoritative Hero Blog Posts
Picking Keywords To Target
You will want to check the top two or three competing sites for each keyword that you are targeting. But how do you know what are good keywords to check out?
Are You A Listing Agent or a Buyers Agent?
I know, I know, you are both and you can help anyone with all their real estate needs. But when you are working on your SEO you need to think strategically and figure out whether you are going to target keywords that will attract buyers or sellers.
For example, here are Buyer keywords:
Homes for sale in Tampa | Tampa Real Estate
Top Seattle Neighborhoods | Seattle Real Estate
Where are the best schools in New York City | New York Real Estate
Here are seller keywords:
Selling Your San Diego Home | San Diego Real Estate Agent
How To Get Top Dollar For Your Home | Denver Real Estate Agent
Top Real Estate Agent In Tacoma | Tacoma Real Estate
Think about it, that old saying is true, Buyers buy houses, Sellers buy marketing. A home buyer is looking for homes for sale keywords and a seller is looking Real Estate Agents to help them sell their home fast and for the most money.
And yes it is "Real Estate Agents" not "Real Estate Agent". When your pipes are leaking and you need a plumber you look for "plumbers" to help you fix it, not just one specific "plumber". If you did have a specific plumber in mind you would search for his business name rather than doing the broader search.

This happens in almost every market. While I do remember one years ago that was opposite, it was the only one ever!
So here is an interesting thing….only 2900 searches per month for New York Realtors (I am looking this up in the Ubersuggest keyword tool). And those could include ALL of the state of New York.

This is a GREAT example of what you need to do succeed in Real Estate Keyword Marketing! I was really perplexed about this until I thought, well damn, NYC is HUGE, I bet they search more so by their boroughs.
Hmmm still not enough, let's dig a little deeper.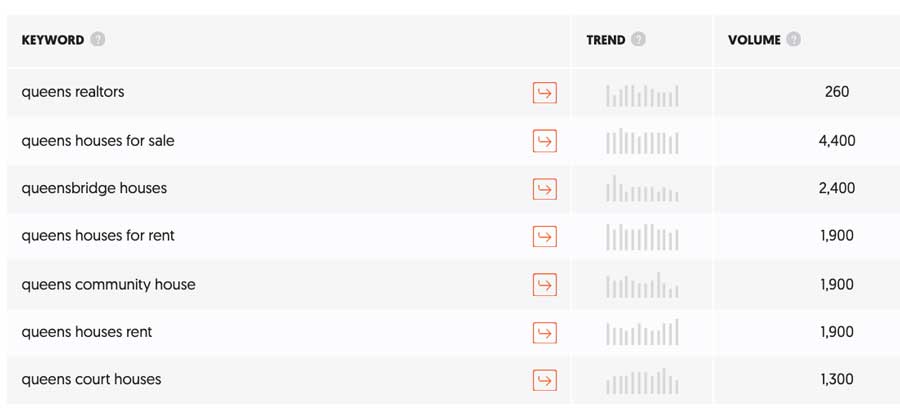 Okay, that was bummer, but this is how keyword research goes. Just by-the-by, here are the suggested search terms that Google is giving us for that search term. I am super surprised that the number of searches for New York City real estate terms is so low. If you were an agent in NYC you would have to try to rank well for a wide range of terms to get any traction at all!
Next you want to look at how many competing site there are with the EXACT term you pick to use. Go to Google and do a search for that term with quotation marks around it.

Okay, there are almost 2 MILLION competing results (there were only 448,000 results just 5 years ago!). That is kind of high for a new or small site to try to rank for out of the gate. That said, most searches look more like this.. (let's head back to Fayetteville and see what is going on there!
Okay, that is much more doable to try to rank for! You could knock off a bunch of your competition for this search with a nice meaty post that has the keyword in the title and lots of content.
Finding Keywords To Try and Rank For
Okay, now we want to know what kinds of keywords people are ACTUALLY searching for in our market!
So using Ubersuggest, you can do a search for different keywords that you would like to rank to rank for…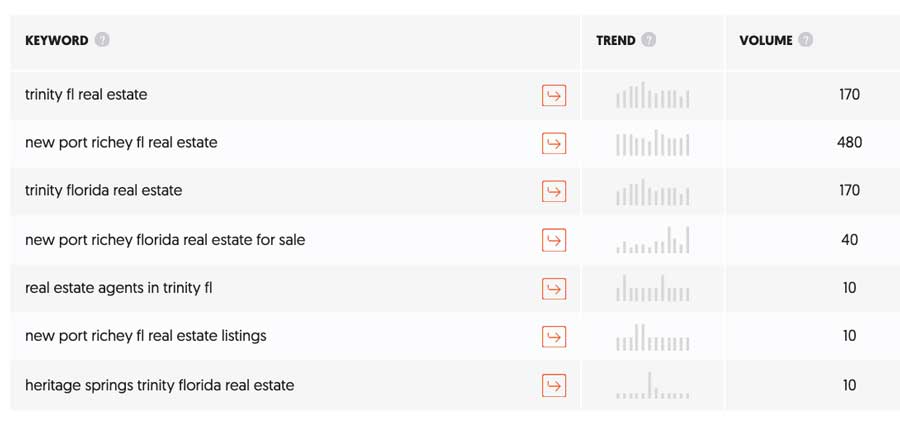 So here you can see that the neighboring town of "new port richey" is more popular, but here is the trick! If you click through to the SERPS (search engine results page) you will see even more related keywords…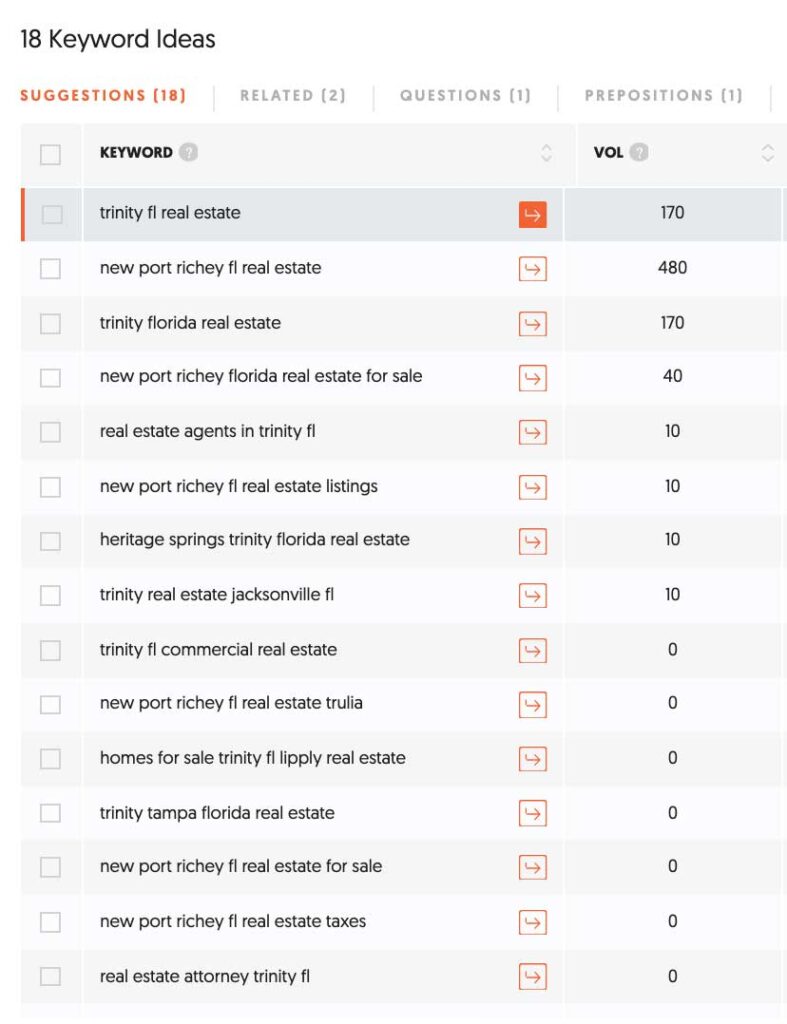 But you will also see beside it they websites that rank for those keywords!
Finding Your Competitors Keywords
If you know the "big old sites" in your market who are doing well, you can search for their domain and see all their keywords (I KNOW, it feels like cheating, but it is not!)
Here are a few from Ubersuggest that you can find for free (they only show the top ones)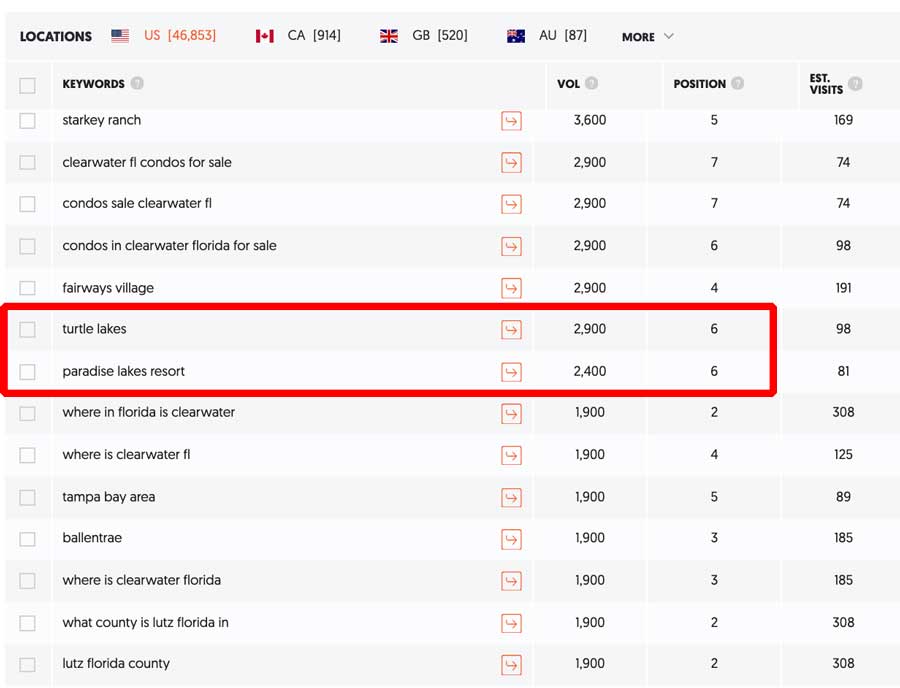 So for this I would target higher volume keywords where they are ranked 6 or 7. Write a LONG blog post, do a video, have pictures of those subdivisions, really do a big post that has a chance for ranking!
How To Hyper Target Real Estate SEO Keywords You Can Rank For
Now, there is another tool, SEM Rush, that has a free trial that you can do even more with!
For example, I did a search for Zillow, then narrowed it down to Clearwater, FL and then looked for high volume keywords that they are NOT ranked highly for!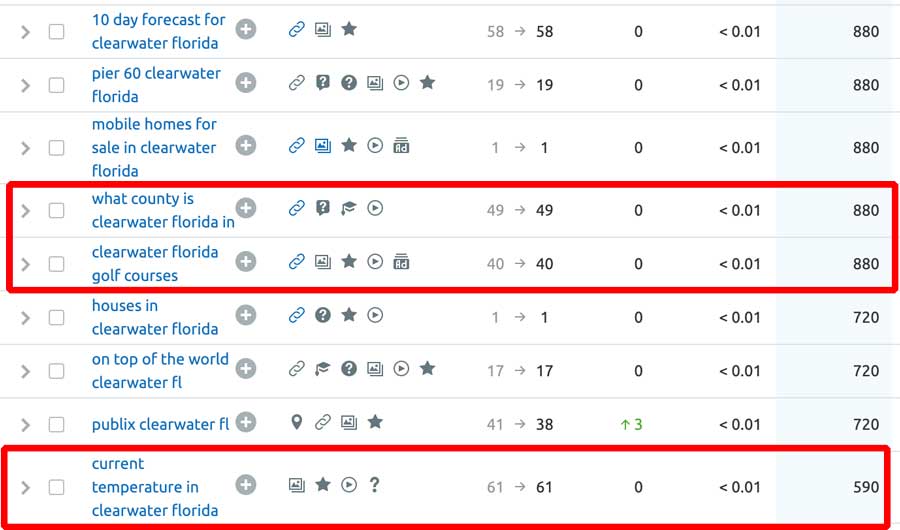 Okay, this is super advanced and if you are just starting your site it will not work, but hear me out!
There are 3 keywords that Zillow ranks for (but low) that have decent volume in the Clearwater FL area.
What county is clearwater fl in
Clearwater florida golf courses
Current temperatures in clearwater fl
We KNOW that Google associates these with real estate terms on some level because we searched for Zillow's keywords. AND we know that we could probably write a HUGE post about at least a couple of these and rank higher than in the mid 60s.
SOOOO keep writing your real estate posts, but add these as three posts you are going to do to help all your little boats rise in search volume for your area!
(as I said, SEMRush is a paid tool, but you could do the free trial for a week and get a TON of research done for your next 6 months editorial calendar!)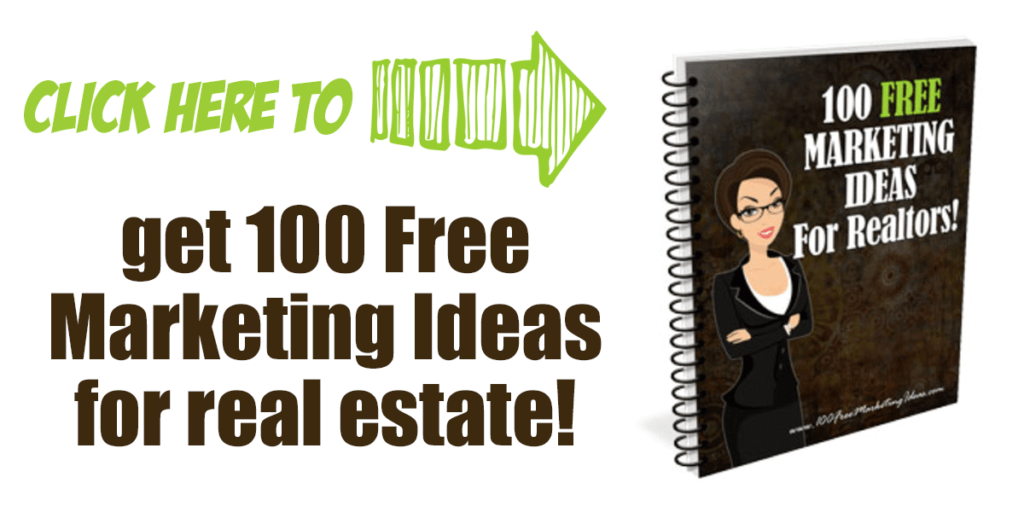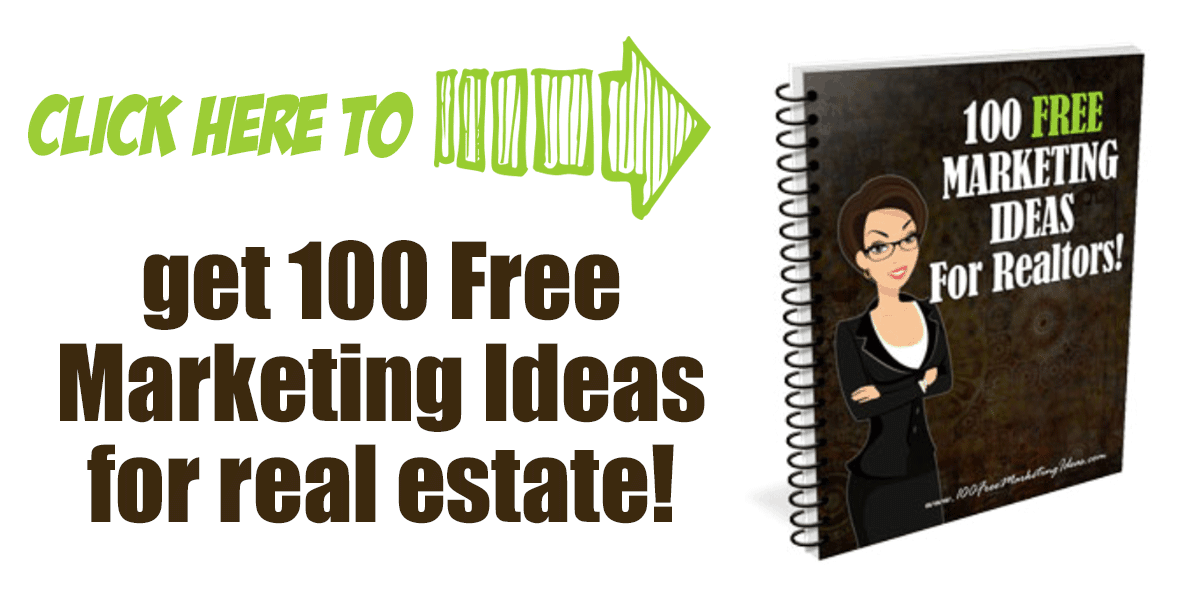 SEO For Real Estate Agents FAQ
1. What the heck is SEO?
SEO is Search Engine Optimization. It is about doing keyword research to try to rank highly on Google, Bing, Yahoo or Duck Duck Go.
2. Why should I worry about SEO?
Oh my, this is a great question! FOR SURE, learning SEO and getting free traffic from Google is the BEST way to get leads for your real estate business.
AND it is like wishing for what you want! If you do all your SEO work for seller leads, you will get seller clients. If you do it all for buyers, you get buyer clients. So darn cool!
Additional Resource: 100 Great SEO Keywords for Real Estate Agents | Real Estate Marketing
3. Do different search engines use different criteria?
Somewhat, but if you do your research and work for Google, you will get the best results as they own most of the market share.
4. How do I come up with the right kewords?
Real estate is a little different than other kinds of SEO.
First off you need to know what area you want to target geographically and what it is called online. For example, many people in Denver call the area the "Front Range" but that is not "popular" as a search term in Google so you need to check that before doing much work.
Then you need to know whether you are targeting Buyers or Sellers (buyers buy houses, sellers buy marketing). A simple example is buyers look for "homes for sale" and sellers look for "best real estate agent" so you need to know who you are prospecting for.
5. How do I know where to place the words for the best SEO?
I always think of it as an SEO Sandwich! You want good keywords in your title, first paragraph, your headings and then at the bottom! Here is a whole post about how to write an SEO Sandwich!
6. Why isn't my normal agent site enough to get me good rankings?
So first let's talk about what your agent site is. Are you using the one provided by your company? That one is probably not a great one to try to rank in the first place AND if you ever change companies you will lose all your hard work.
Let's say you have your own site (a Squarespace site or WordPress blog) and you are just writing things that you like. Well they might not get much search traffic or the traffic you do get might be what your business model is.
It is important to focus your time on making content that will help your business grow!
7. It takes me a lot of time to work on SEO. Is there a way to streamline it?
Yup, SEO is hard work, but it is fun to see the results! That said, there are a few things you can do to make it easier.
Batching. You could do all your keyword research at one stretch and find titles to write about for a few months at a time.
You could also make a template of sorts for your neighborhood blog posts that covers things like location, schools, amenities, etc. that you can follow along while you write.
8. Should I hire someone to do my SEO?
Hmmmm this is a hard one. Great SEO companies are expensive and take a bunch of time. Cheap ones that email you and say they can help often are using bad tactics that could get you delisted from Google.
I would say you should do it yourself or have one of your team members learn how to do it.
The only real estate SEO company I recommend is Curaytor (they are expensive).
SEO For Real Estate Agents Wrapup
Whew, that was a LOT of real estate SEO tips! If you are going to learn local SEO this was a good start, but honestly you will do the best by trying to rank for a keyword, seeing your results in Google Analytics and then trying to rank for something else!
Oh, and it takes time! A content marketing post you write today might not rank for a few months or more.
That said, there is really no more valuable use of your time if you are going to be having a website and doing real estate marketing!