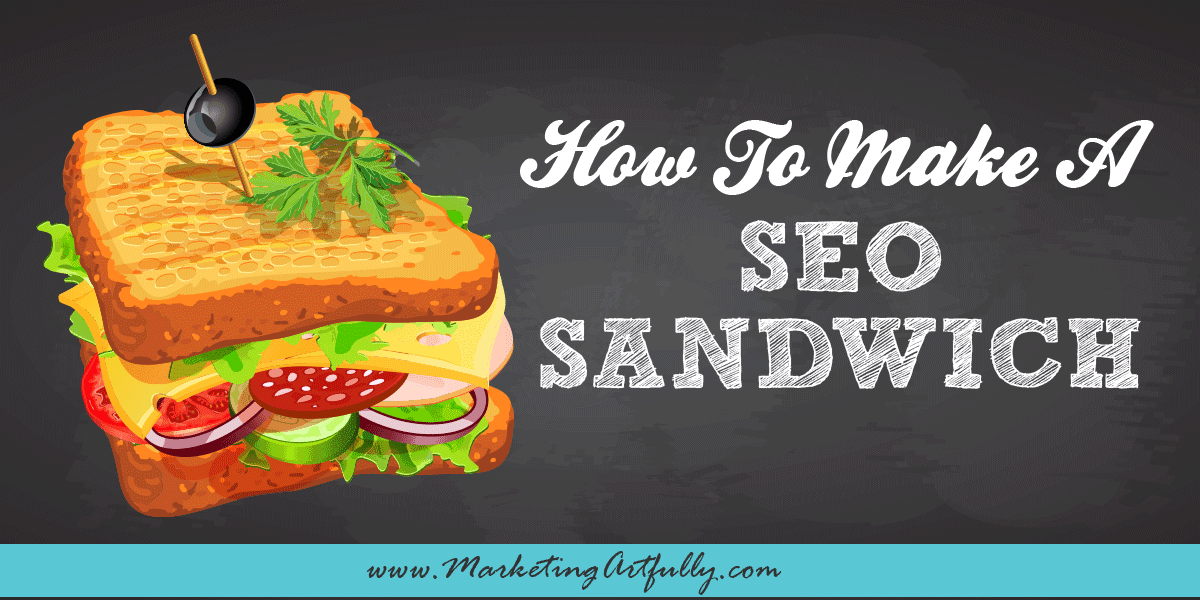 I teach SEO tips to lots of "real" business owners. NOT SEO experts, just people who need to know how to get their blog posts to rank in the search engines without a whole lot of drama.
With all the "tricks" and "strategies" floating around out there, I have found that the best way to get websites to rank is to just do good, solid SEO in your blog posts and then promote them on social media.
NOT sexy I know, but effective.
Today's post is about how to make an SEO Sandwich, showing all the different parts of writing a post or page that will rank for a particular keyword.
Choosing Just One (or Two) Keywords Per Post
Before we get started, let's talk about SEO. Back in the day it was okay to try to rank for multiple keywords in your post. You could just put a long line of them in your title and then sprinkle them throughout your content and Google would rank you for multiple terms.
With the proliferation of content now, that rarely works. So my very first tip for you is to focus on one keyword in your title and content for each post.
Now you can use a couple (like this post is trying to rank for SEO sandwich and SEO tips), but don't get all fancy trying to rank for bunches and bunches of them all at once.
YES I know it more work to write content for each keyword you are targeting, but that is what is needed if you are really going to do SEO.
THE SEO SANDWICH
Because I work with so many business owners, I had to come up with an easy analogy for understanding the layers of SEO. Using the parts of a sandwich was perfect because if you are missing any of them, the whole is much less tasty!
The Top Slice (Your Title)
The top of your SEO efforts is the title. You should do keyword research to find out what a good, highly searched term is and then include it in your Title!
For example, one of my most highly ranked posts ever almost was a dud. I was writing a great post about how to write Good Email Headlines when, at the very last minute, I checked the Google Adwords Planner Tool and found NO ONE but me searches for email headlines. Instead they search for Email Subject lines!
That one little change has resulted in over 70,000 hits to my website since I wrote the post!

The Cheese (Your First Line)
The very first line in your blog post should contain the exact keyword you are trying to rank for. For example, because no one is searching for SEO Sandwich, I am optimizing this post for SEO Tips. With that in mind, I used the term "SEO tips" in the first paragraph of this post!
I teach SEO tips to lots of "real" business owners.
This lets Google know that I am serious about my topic and not trying to scam them!
Additionally, this is what humans see in search so you want to make sure it looks enticing.

SEO is great, but if no one ever clicks on your listing because it looks spammy, it isn't really working!
The Meat (The Content)
I don't really do SEO at all as I am writing my content. Instead I focus on giving great information that will help the reader and keep them on my page longer. That is just one of the many on site ranking factors that Google uses to determine how you rank.
If someone comes to your page and then "bounces" off (leaves right away), Google will not keep you high in the search rankings. Because of this, I like to make sure my readers LOVE what I have written about.
It used to be enough to have 300 words or so, but now I am recommending that you have at least 600 words in your post! (I am at 665 words right for this post so you could stop about now)
The Pickles (Formatting)
This is where a good part of the SEO magic happens! There are bunches of neat things that you can do to make your content SEO ready!
Your Picture
Make sure to name your picture the same as the title of your post. Put your title into the Title and Alt Text areas of the uploader.
Bolds and Italics
Go back through and see if you can find a way to bold or italics your keyword. You might (gently) add your keyword phrase in there were you used a different word.
Header Tags (H2, H3, H4)
Using Header Tags does two things. First you can use them to break up sections of your content and make it more readable. Second, if you put your keyword phrase in a header tag Google recognizes that it really is important to your content.
The Bottom Slice (The Last Sentence)
Every one of your posts should include a line at the end that reiterates the main keyword you are trying to rank for. This just caps of for Google that your post really is about what you say it is.
This is my last line!
Well there you have it, my best SEO tips for how to make an SEO sandwich that Google will love. (bolded to let Google know I really mean it!)

Want More?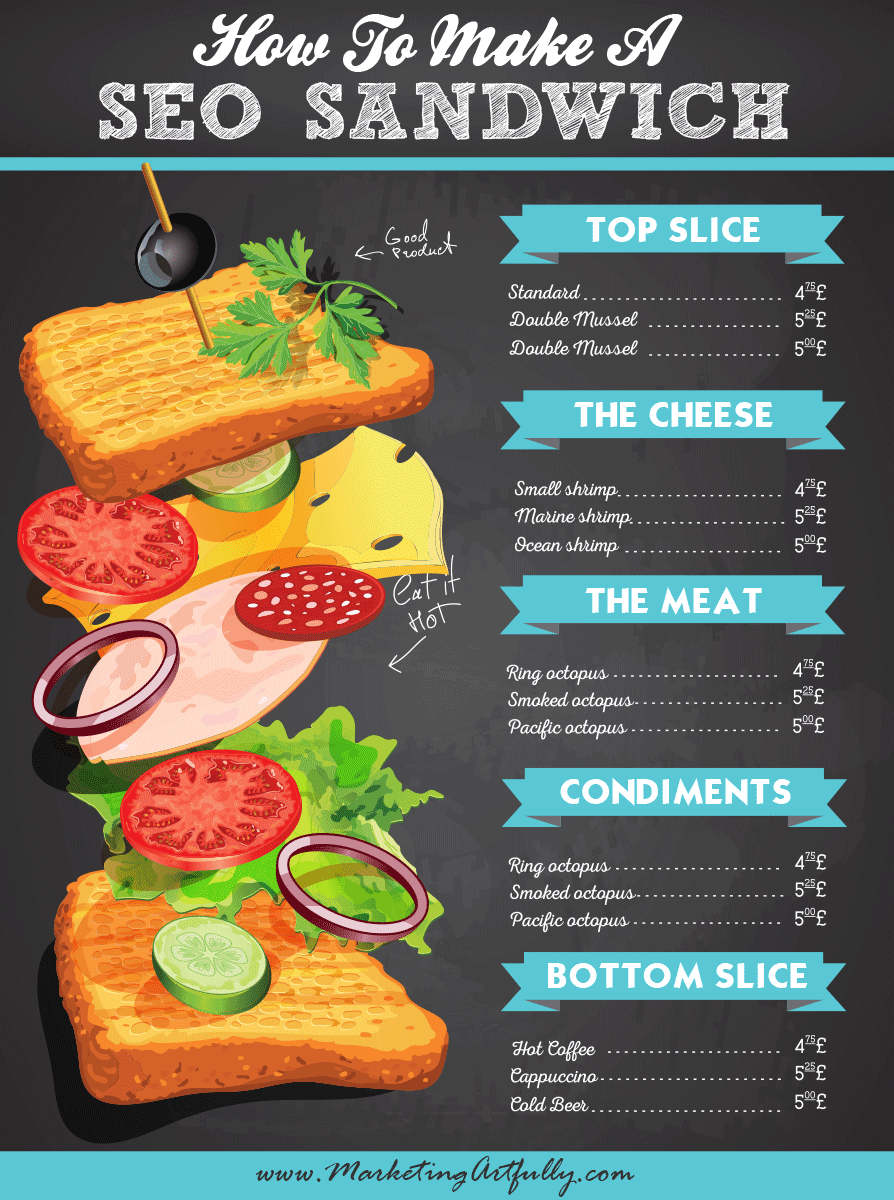 If you want to learn more about how to make an SEO Sandwich (and get higher listings in Google), check out my SEO Sandwich Report and Video Bonus!
Learn all the steps to having a perfect SEO Sandwich and see how to do more of what we talked about today in the 15 minute bonus video!
Click here to get the report and video walkthrough!