As an artist you hear all the time that you should "stop trading time for money", but how can you get off the hamster wheel of making art to sell and start making passive income from your art?
Affiliate marketing can help artists have a super profitable side hustle! Here are all my best tips and ideas for affiliate marketing for artists!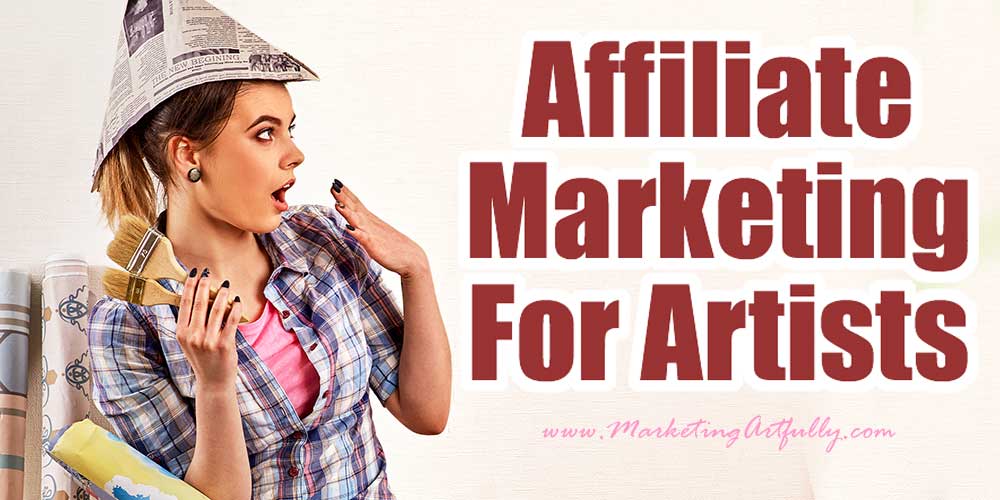 please note :: I often recommend resources, some I receive an affiliate commission for at no additional cost to you! check out my policies here
Want more? Check out my free class on Affiliate Marketing!
How Can You Make Passive Income As An Artist?
Before I give you the step-by-step how to guide to do affiliate marketing, let's talk about how you can make money as an artist like I do!
I made a blog post on my other site about how to use the Cricut Joy machine for mixed media…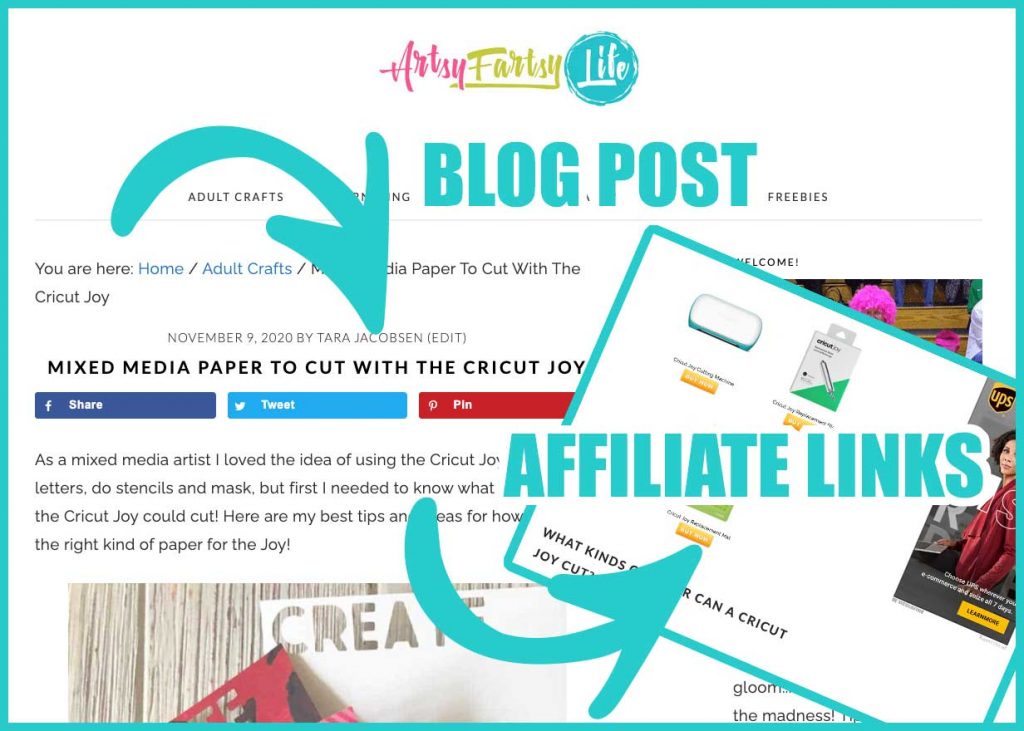 In the blog post I included affiliate links from a Cricut and when someone bought products I got paid…

As you can see, Cricut works with ShareASale.com and when someone clicks a link on my website and buys, I get an 8% commission for helping with that sale… whoo whoo!
But what if you don't have a website? What if you have a store or even just a YouTube Channel?
Well you can put affiliate links on there too! Here is my video for how to use the Cricut Joy to cut mixed media paper…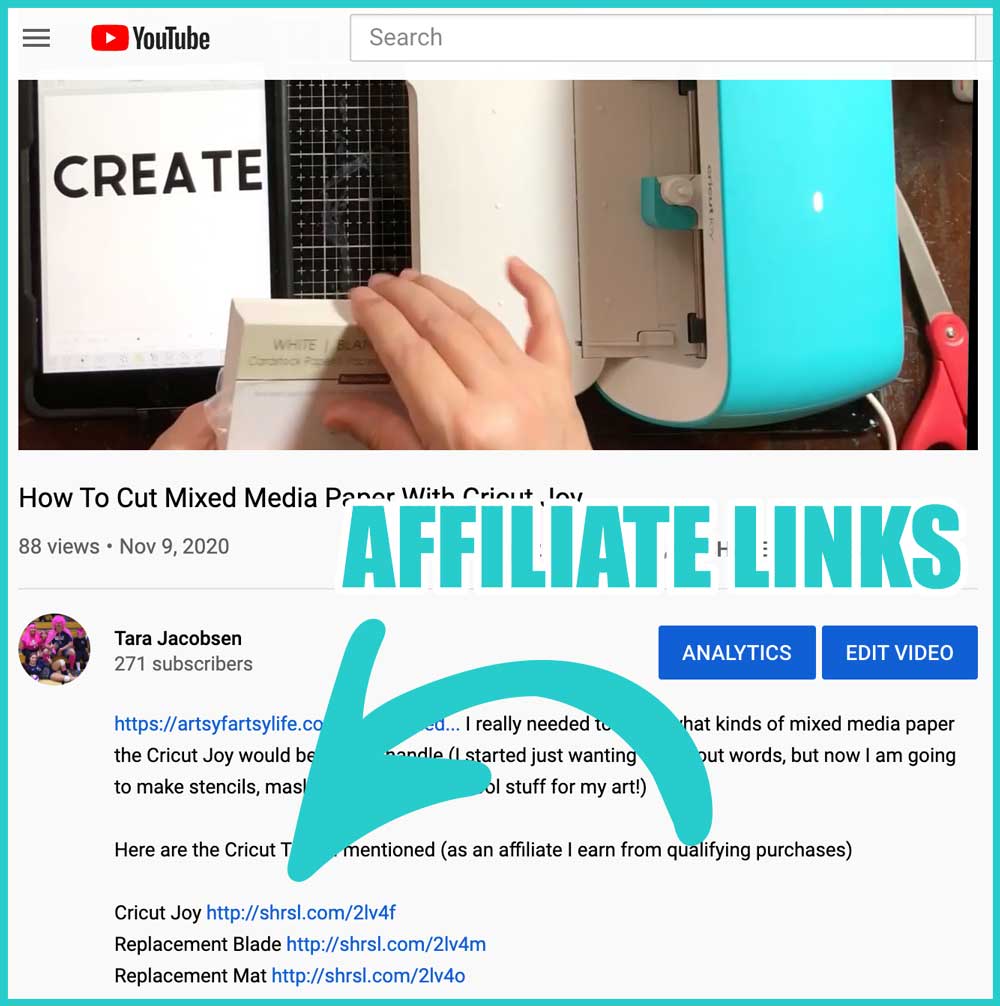 Sooooo think about everything you use when you are creating your art! Each of those things can be used as an affiliate link and you can earn a commission for sharing your art knowledge with the world!
Affiliate Marketing For Artists Quick Video Overview
Getting Started With Affiliate Marketing As An Artist
Today we are going to talk about my future son-in-law (no pressure!) Kevin who has a brand "Customs By Kev".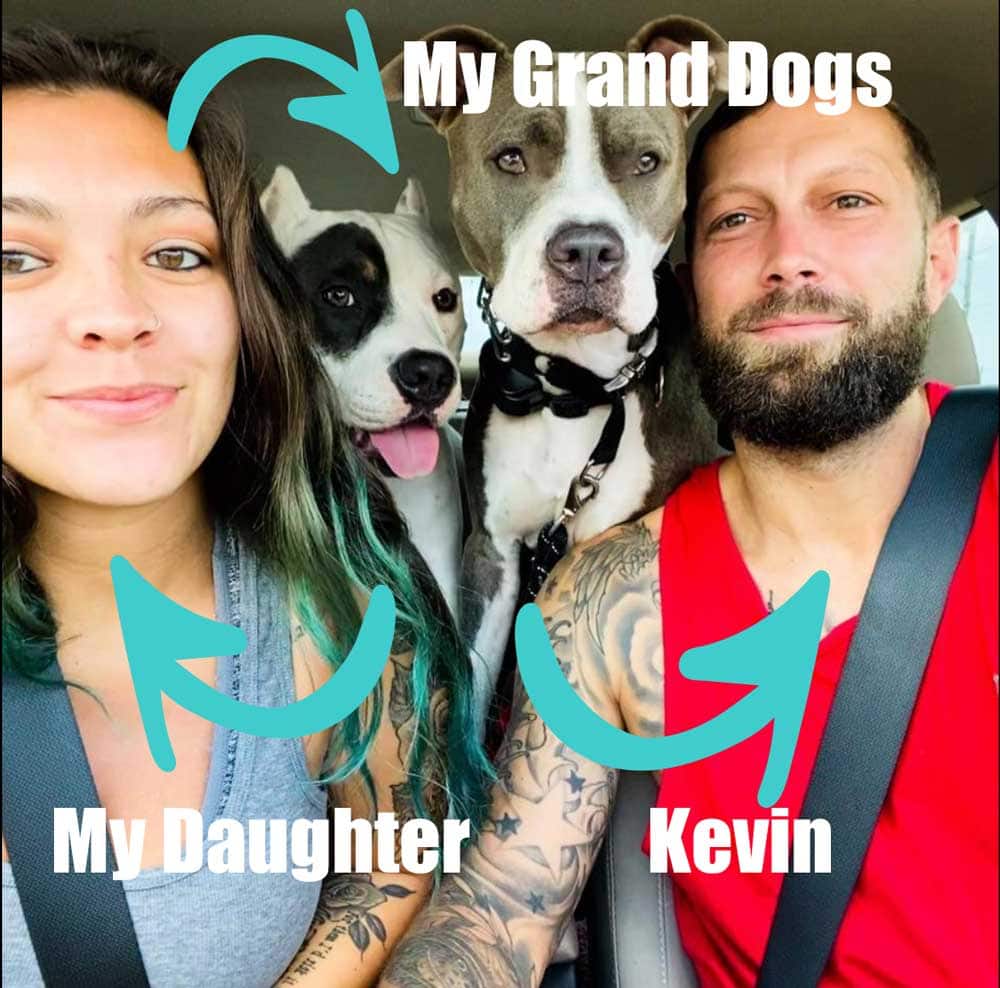 So of course as a bossy "Mother-In-Law" I want to make sure Kevin makes ALL THE DOLLARS to keep my daughter in the style she would like to become accustomed to!
He has a YouTube Channel, where he shows how to make phone cases and paint tennis shoes with an airbrush tool.

AND he has a store when he sells his cool artwork printed onto stickers, mugs and tshirts (another great way to make passive income as an artist!)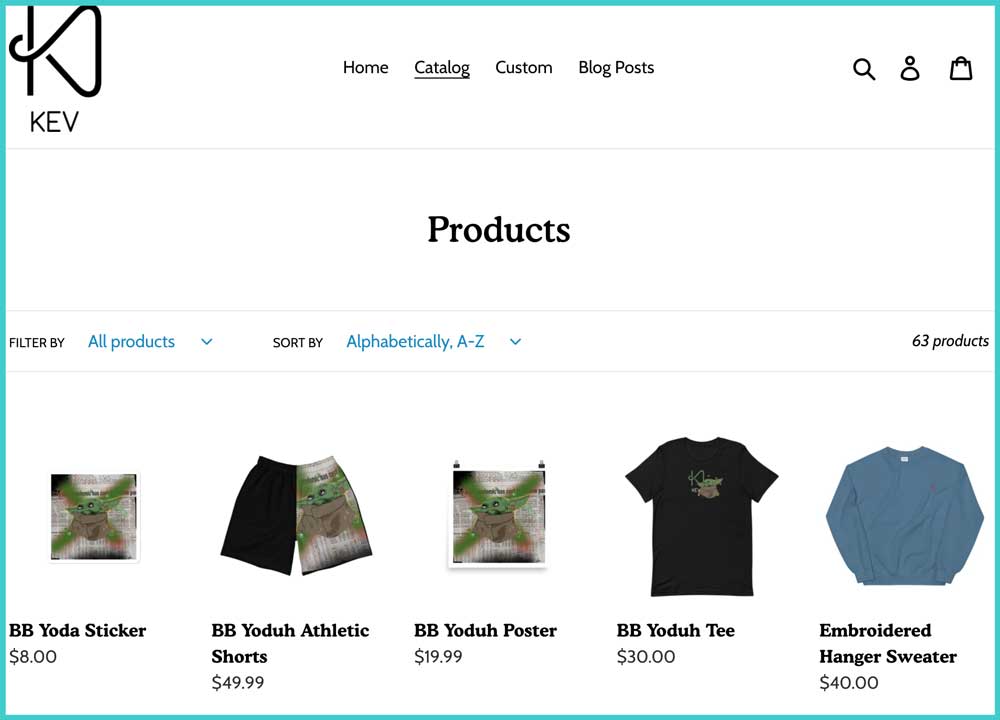 So how EXACTLY can he get into Affiliate Marketing For Artists?
The first thing you should know is that you can start for FREE! You can just talk about and make content for things that you already use in your art!
For example, Kevin uses a certain kind of airbrush for his painted tennis shoes…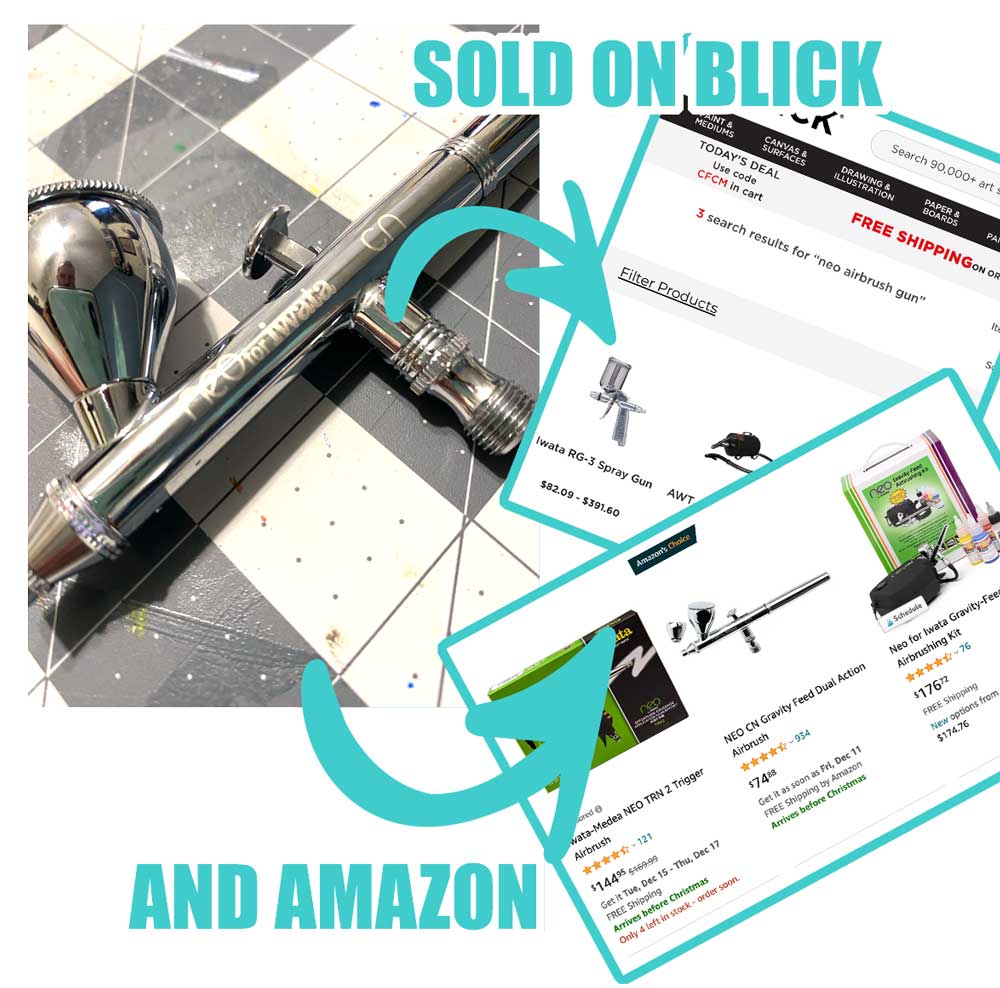 1. Make A Huge List of Potential Affiliate Products
So the first thing Kevin needs to do is make a list of 100 different products he uses in his artwork!
Just from airbrushing he has…
Airbrush
Paint
Blanks (tennis shoes, tshirts, phone cases)
Cardstock for making templates
Sealer for the paint
Each of those things is a potential affiliate product he can promote!
2. Sign Up For Affiliate Programs
The next thing you need to do is sign up for affiliate programs! You can check individual sites you buy from, but I like to use the big aggregators who have LOTS of different companies you can represent in one place!
Amazon Associates
I think that everyone knows that Amazon has an affiliate program and the nice thing about them is that they literally sell anything that you might use in your artwork!
They also admit anyone so that is a great place to start. All you need to do to remain active is get 3 sales within a short period of time to remain active.
Pros – The cool thing about Amazon is you get credit for EVERYTHING they buy on the site when they click through your link.
Cons – Most products are only 3% commission and you only get credit if they buy within 24 hours of the click.
Additional Resource :: I found a great Amazon Associates tutorial to get you started!
Share A Sale
Share A Sale has a wide variety of different cool art affiliate program companies you can work with all in one place! Here are a few that I use…
Cricut
Scrapbook.com
Dick Blick Art Supplies
Joggles (art supplies)
Pros – You can earn a much higher commission and the click time may be much longer than 24 hours.
Cons – You may have to get a little more established with your website, Youtube channel or Instagram before you can join the individual programs (but sign up for Share A Sale right away to get started).
3. Start Talking About What You Do (Create Content)
Now you want to "create content". Please do not let this get you freaked out!
There are SO MANY ways to create content about your art…
Blog post with a how to tutorial and list of craft supplies
YouTube video showing your process
Email blast to your list talking about what you are making and how they can do it too!
Instagram post with a picture of your artwork (link to your Amazon storefront in your profile)
Facebook live showing your artwork and how you do it (Vicki Boutin does a great job of this on her page!)
Twitter tweet with a picture and your links
Pinterest pin to your blog post or video
Functionally you want to show how you do your artwork and then share the tools and supplies that you use.
Each piece of content you make has the chance to reach someone who would want to buy products that they could use to make art like yours!
Affiliate Marketing For Artists FAQ
I am sure you have A LOT of questions… here are a few things that might help!
Won't It Ruin My Artwork To Show How To Do It?
This is the biggest question I get from artists who are used to selling their finished artwork instead of earning passive income from showing their process.
If you are a fine artist earning tens of thousands of dollars from commissions for fine art then maybe don't spend time doing affiliate marketing. But if you are like the rest of us, you love the creative process and let's call a spade a spade, you would do it for free just because you are creative.
You can still sell your final pieces if you like or license your artwork for other projects, but showing what you do will allow you to earn another stream of income for work!
Which Products Should I Promote As An Affiliate?
There are a few ways to think about this… you can promote the super expensive ones like the Cricut machine or the airbrush tool to get higher commissions. Or you can promote lower cost items like paint pens or the mats for the machines.
I promote both!
How Can You Earn Higher Affiliate Commissions?
Okay, we are going back to Kevin for a wee minute here to talk about the "buyers journey".
Say he makes a video about, "How To Paint Tennis Shoes With An Airbrush". That would be watched by someone who is just starting out and who might or might not buy anything from his links.
Next he could do, "The Best Airbrush Tool For Painting Tennis Shoes". That would be for someone who is further along the "buyers journey" and he has more of a chance to sell that exact airbrush.
Last but not least would be the video, "Why I Picked The Pro For Iwata Airbrush To Paint Tennis Shoes". That buyer is ready to buy and has a high chance of clicking his link and earning a commission.
I would make all three videos!
I Got Turned Down By An Affiliate Program, What Should I Do?
When you sign up for an affiliate program they will ask you a lot of questions about how you intend to promote their products.
If you are just starting out, for sure sign up for the Amazon affiliate program and then start making content.
After you have gotten some Youtube videos or blog posts up, go back and reapply. They want to get a feel for how you are going to promote their products and are looking for high quality content!
Do I Have To Put The Affiliate Disclosure On Every Post?
We haven't really talked about the "Affiliate Disclosure" yet, but that is just a disclosure you want to have on any blog post, video or social media posting BEFORE your affiliate link.
Amazon has a very specific wording they want you to use, for the rest you generally just have to say something like this…
please note :: I often recommend resources, some I receive an affiliate commission for at no additional cost to you! check out my policies here
I have this at the top of my post and in EVERY video where I promote affiliate links. Oh, and I even put it at the top of emails I send out!
People are used to seeing it and if you are genuine in your recommendations no one will care if you get a commission because you are providing such value!
For example, if you sign up for Share A Sale through my link and become an affiliate, I get a commission. I like to think that I provided enough value in this post that you would WANT to help me by clicking a link that doesn't cost you anymore and helps to support my work!
Affiliate Marketing For Artists Wrapup
Whew, that was a lot for just getting started, but I hope you can see that it really is easy to do affiliate marketing!
Yes, there are lots of other pieces after this, but for now, just sign up for some affiliate programs, make some content and START!
Additional Resource : My free class on affiliate marketing!