As a retail seller, it can seem really hard to figure out a free giveaway idea for your products that doesn't cost you a lot of money! Here are 100 examples of free products upgrades you can give for your email signups.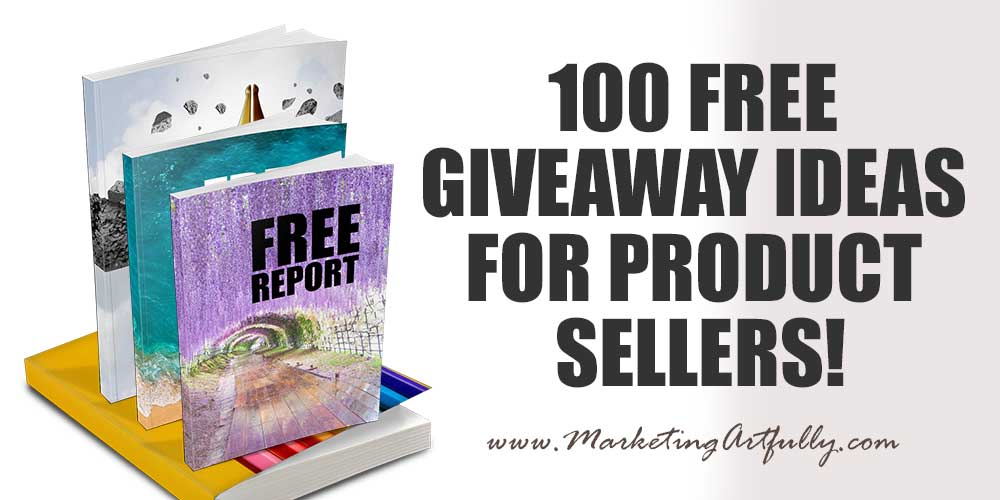 please note :: I often recommend resources, some I receive an affiliate commission for at no additional cost to you! check out my policies here
Why You Need A FREE Giveaway!
Many product sellers know they should offer a free give away to encourage people to join their email lists… and everyone does a discount coupon, but what about having something high quality and valuable for your buyers?
Something that matches your product, but also is valuable in its own right and increases how much your target audience likes you, your shop or your kinds of products!
This is called an "ethical bribe"… give me your email address and I will give you something worthwhile.
Why You Shouldn't Give Away Your Products
Okay, now let's talk about why you shouldn't give away your products in exchange for an email address…
It is expensive! An author giving away a free chapter of their book doesn't have any sunk costs, a product seller does.
It devalues your product and makes it seem like you don't think it is valuable enough to sell.
People will take free stuff all day, that doesn't make them the kind of person who wants to buy your kind of product. For example, one of my marketing clients gave away a free sample of her green cleaning products. It got on a "freebie" list and she got over 20K requests… most not from someone who was interested in buying green cleaning products going forward… sigh!
100 Ideas For Free Product Seller Giveaways
I have lots of Etsy marketing peeps on my email list and they struggle to think about what they could give away for free. Here is a comprehensive list of giveaways for all different kinds of shops!
Don't just look at your kind of product… look at them all! You could get a great idea for yourself!
Content Upgrades For Jewelry Sellers
What Jewelry To Wear With Formalwear
What Jewelry To Wear With Friday Casual Outfits
How To Style Layered Necklaces
Mixing Metals – What Are The Current Rules and What Looks Good Together
Jewelry Gift Guide For Busy Husbands
The Best Jewelry To Give For Anniversary Years
The Best Jewelry To Wear With Your Wedding Gown
How To Organize Your Long Pendant Necklaces
How To Store Your Rings
Content Upgrades For Planner Sellers
The Best Planner Accessories That You Will Use Everyday
10 Bullet Journal Layouts That You Will Be In Love With
5 Things Your Planner Has To Have So You Can Stay Organized
Best Markers And Pens To Use In Your Planner (To Avoid Bleeding Through)
How To Organize Your Planner Accessories
The Best Planners To Pick When You Are Super Unorganized
Take The Digital Versus Paper Quiz To Find Your Perfect Planner
The Best Handbag To Use To Carry Your Planner Around With You
How To Repurpose Your Planner After The Year Is Over
Free Giveaways For Bath and Body Sellers
Best Gifts for the Holidays
List of Popular Fragrances
Top 10 Sellers For The Year (and why their customers' loved them)
Which Dyes To Avoid In Your Bath Products
How To Pick Bath Bombs To Feel Calm and Sooth You
The Best Fragrances To Use In Your Bath Products To Get Energized For the Day
List of Items To Put In Gift Baskets For Women
List of Bath Items To Give To Men (Husbands, Fathers, Sons, Teen Boys)
Free Giveaways For Beauty Sellers
How To Style Your Brows For Your Face Shape
How To Use False Eyelashes The Right Way
How To Take A Selfie That Will Get 1000s of Likes On Instagram
List of the Best Smokey Eye Tutorials
How To Take 10 Years Off Your Age With Contouring
How To Use Highlighters The Right Way So You Don't Look Like Bozo The Clown
The Best Products To Make Beautiful Brows
The Most Popular Brow Shapes To Work With Snapchat Filters
Free Content Upgrades For Vintage Sellers
How To Clean Silver So It Never Tarnishes Again
5 Best Clean Cloths for Brass
How To Fix A Dent In A Vintage Dresser
How To Paint Your Vintage Furniture Without Having To Strip It First
How To Modernize Vintage Pieces Without Losing Their Value
How To Mix Vintage and Modern Pieces
Best Vintage Gifts for Moms, Dads, Grandmas
How To Use Vintage Pieces In Your Loft Apartment
Why Instagram Loves Seeing Vintage Pieces In Modern Homes
How To Store Your Vintage Instagram Props When You Aren't Using Them
Email Giveaways For Shops That Sell Crystals
Best Crystals To Attract Money (Get A Man, Improve Your Mood, Sleep Better)
How To Decorate With Crystals
Why Crystals Work, And How To Use Them Daily
Best Crystals To Keep On Your Desk At Work
Best Crystals To Use In Jewelry Making
What The Different Crystals Mean
Best Incense/Candles To Pair With Your Crystals
Where To Place Your Crystals For Maximum Effect
How Feng Sui and Crystals Work Together To Make You Better
Free Content Upgrades For Shops Selling Artwork
How To Hang The Perfect Gallery Wall
Best Tools For Hanging Your Artwork
How To Clean Your Artwork
5 Different Kinds of Picture Framing (Gallery, Matted, Shadowbox)
Best Budget Friendly Framing Options
How To Make Your Print Look Like An Original Artwork With Fancy Framing
Best Types of Artwork For Offices
How To Show Off Your Art Collection on Instagram
Free Content Upgrades For Hair Accessory Sellers
10 Different Types of Braids
Best Wedding Hair Accessories (Prom, Homecoming)
Best Scrunchies To Use In Your Instagram Pics
Best Pony Bands To Use When You Are Working Out
Should You Pair Your Hair Accessory Color With Your Outfit?
How To Make A Perfect Messy Bun
Hair Accessories For Gals With Short Hair
The Best Barrettes For Formal Gatherings
How To Keep Your Headbands From Sliding Around
Free Giveaways For Home Decor Shops
Best Designer Colors For Your Home
How To Use The Latest Pantone Trend Without Having To Paint
How To Make Your Living Room Look Casual and Cool
How To Design A Formal Sitting Room
Get That Eclectic Magazine Look The Easy Way
Decorating Your Home For The Holidays
How To Style Your Office So You Look Great In Zoom Calls
How To Have An Instagram Worthy House (Home Office, Bedroom)
Free Content Upgrades For Bag Shops
Do You Like A Structured Bag or A Freeform Bag
The Best Leather To Get For Your Pocketbook
The Best Accessories For Any Handbag
How To Save The Planet By Using Reusable Grocery Bags
Best Handbags For Women In Business To Use At Networking Events
Should You Use A Clutch, Over The Shoulder Or Cross Body Handle
Best Safety Tips For Holiday Shopping To Avoid Being Mugged
What Kind of Purse To Use On Your Wedding Day
How To Clean Your Handbag So You Aren't Carrying Germs Around With You Everywhere
Why You Should Swap Your Bag Out For The Seasons
Free Giveaways For Coffee Mug or Beverage Ware Sellers
Best Brands of Coffee To Buy Online
Best Cocktails for Thanksgiving (Christmas, New Years)
The Top 5 Whiskeys To Give As Holiday Gifts
5 Amazing Hot Chocolate Recipes To Warm Your Tummy
How To Make Super Cute Wine Glass Charms
Top 10 Wine Bottle Accessories
The 10 Best Places To Get Stickers For Your Yeti
The Best Coasters To Use With Your Hot Coffee Mugs
There is a difference between something self serving and something helpful. For beverage peeps it seems like a good idea to do a guide for how to care for your Yeti, but really no one cares.
Free Giveaways For Tshirt Sellers
How To Style Your Tshirt For Friday Casual
Best Way To Class Up Your Tshirt With Jewelry
Beyond Tshirts and Jeans, The Best Pants To Wear With Tshirts
How To Wash Your Tshirts So They Don't Fade Or Stretch
Best Tshirt Colors For Your Complexion
10 Cute and Unique Ways To Knot Your Tshirt At Your Waist
How To Make A Cut Off Tshirt For Your Festival Look
How To Cut Your Tshirt To Look Manly At The Gym (Without Ruining It)
5 Ways To Store Your Tshirts In Your Drawers
The CORRECT Way To Fold Your Tshirt To Make Them Last Longer
Free Giveaway Ideas For Product Sellers Wrapup
Okay, that was A LOT of fun ideas to give away, but now what do you do? Here are a few ideas about what to do with your giveaways once you have them done!
Set up a landing page for your giveaway! Most email platforms will let you create a page when your peeps can sign up for your offer. This will be where you link to on all your promotional giveaways. here is an example of my Convertkit email giveaway for a free vintage sellers ebook
Spread the word! Make sure to share your giveaway with your existing customers and encourage them to share it with their friends.
Use your social networks to promote it! Share it on Facebook and Instagram and Pinterest. Oh and you can't just share it once, I would share it once a week at a minimum!