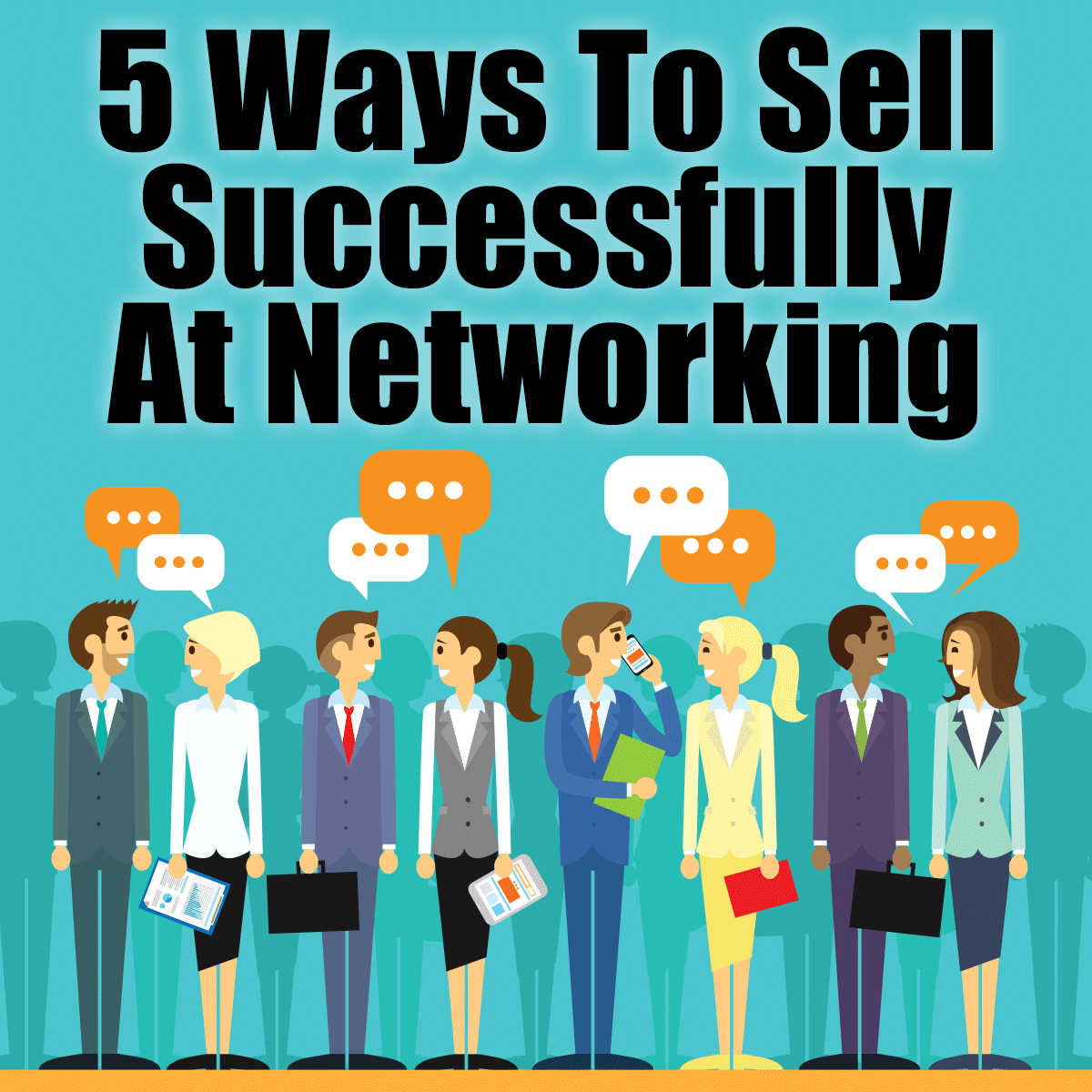 I am getting ready to go speak at a couple of networking events so I have to put my marketing hat on and make sure that my time is spent well.
It is interesting to watch people who are networking when you are the speaker. You can see the different styles of networkers, the "born to network" ones who are making friends and connections left and right, the desperate ones darting around handing out cards like Halloween candy and the introverts hugging the walls (LIKE ME!)
But even the great connectors hardly ever seem to be networking with the purpose of selling something.
That, "You Can't Sell At Networking", Is A Lie
Whoa, I just heard a number of you gasp, sell at networking? Blasphemy!
Well that sleazy, scary, "buy my stuff" selling is not what I am talking about. I am talking about giving the new people you meet a reason to WANT to buy from you and also a way to remember you!
Here are five ways you can be memorable AND sell at networking events.
0. Smile When You Go In The Door
This is a bonus tip that some of you don't need, but which is a great one for introverts like me.
I LOVE the Art of Manliness blog and especially this article about entering a room like a boss.
Yes, I know this is for men, but just change cologne for perfume and a suit for a great necklace and you are in there.
Functionally what it says is that people develop a first impression of us the second we walk in the door and that arriving walking straight up, smiling and with a confident walk will make a tremendous different in how we are greeted!
1. Business Cards
Oh my gosh, the tiny little business card is my FAVORITE selling tool!
First off, make sure one side is simply for contact information. It can be cute with your picture on it, but it HAS to have things like your name, your company name, phone, email, etc.
Use the back.
Here is where you can shine. I have ones that have a list of links that I want people to go to. I also have sold big, high ticket products using the back.
But the best way to use them is to make them "viral" by offering a benefit if the networker shares it with someone else.
For example, I have a referral program on the back of my Work Necklace cards. Anyone who refers 5 people to my Etsy store gets a free necklace. Whoo whoo.
Figure out how you can make the back of your business card better!
Multiple business cards.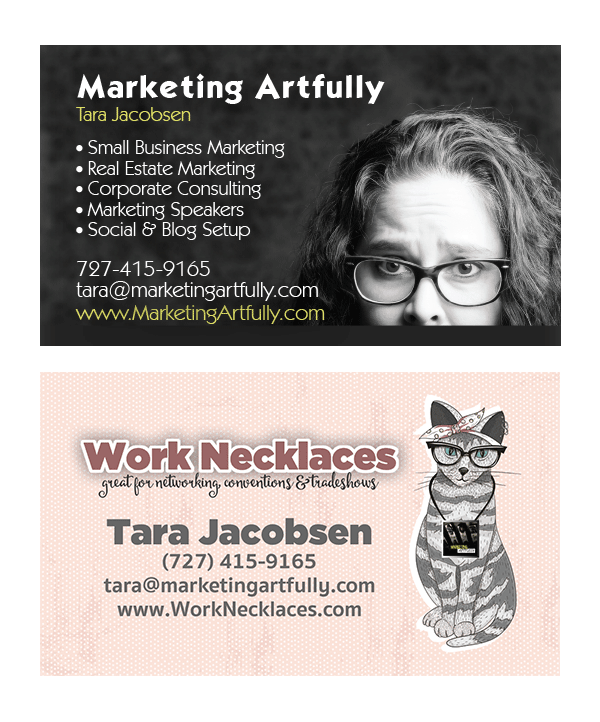 Many people (like me) have a primary business card for their business and then other cards that are for a product or service they offer. The way I manage this is to hand out my "real" business card and save my product business card for when someone asks me about it!
By doing this I don't look like a huge flake shuffling business cards and trying to figure which one to give to whom.
My primary company is Marketing Artfully which is what I promote and my Work Necklaces is a product I am selling.
This works if you are an author selling books or if you are a Realtor selling a million dollar listing. Business cards are so cheap that you can afford to change your "bonus card" seasonally, depending on what you are selling!
2. Database
Okay, here is where I see that most networkers fall down. They aren't using a system to keep up with the people they meet.
I suggest that you collect no more than a handful of business cards each event. You should not be trying to get a million cards, just people you liked or who might buy from you later.
Then you need to put them into a database like Constant Contact or MailChimp so you can keep in touch later and send them your newsletter (make sure you get their permission to email them).
Then send them a personal note in the mail saying that you enjoyed meeting them, friend them on Facebook, follow them on Twitter, connect on LinkedIn.
Start making notes of their likes and interests at that first networking event. Say they like cooking, email them a link to a great cooking article and include a message that you "saw this and thought of you".
I think that most networkers are "collecting cards" instead of really making connections with potential customers. I have talked to hundreds of gals who have a box beside their desk FULL of business cards that are just gathering dust. Make sure you are doing something with all those connections you make!
3. Handouts
YES! A bonus business card is awesome for spreading the word, but now we are getting down to brass tacks with networking for SALES.
At the event I am going to be speaking at I will be talking about forms and how to use them to get your business on track. I am doing that because I have another product, Paperly People, where I sell productivity forms (I KNOW, brilliant right?).
So I need to have a handout that will let people know how to take the next step if they liked what I talked about! Here is the marketing piece that I am going be handing out when I get to do my 2 minute elevator pitch.
As you can see these are "4 Up" meaning that I will be printing them out on colored paper and cutting them into 4 pieces. I do this for two reasons, first it is more economical because I can use my black and white printer and second because it limits the amount I can put on there.
As a business owner I want to sell EVERYTHING. I want to tell them how cool my forms are and how neat my necklaces are. I want to tell them that I do coaching and consulting and that I can even come over and wash their car if they will just BUY SOMETHING (that last one is a lie, but you get the drift).
Having a small space means that I can ONLY ask them to do one thing. Go to my shop and check out my forms! I told them a little story about who I am and what kind of person would like using my forms.
If they are die-hard phone and computer users, they will throw my little marketing piece in the trash, but if they are paper people like me, they will be a little intrigued, hopefully enough to take the next step and check out my website and store.
4. Physical Products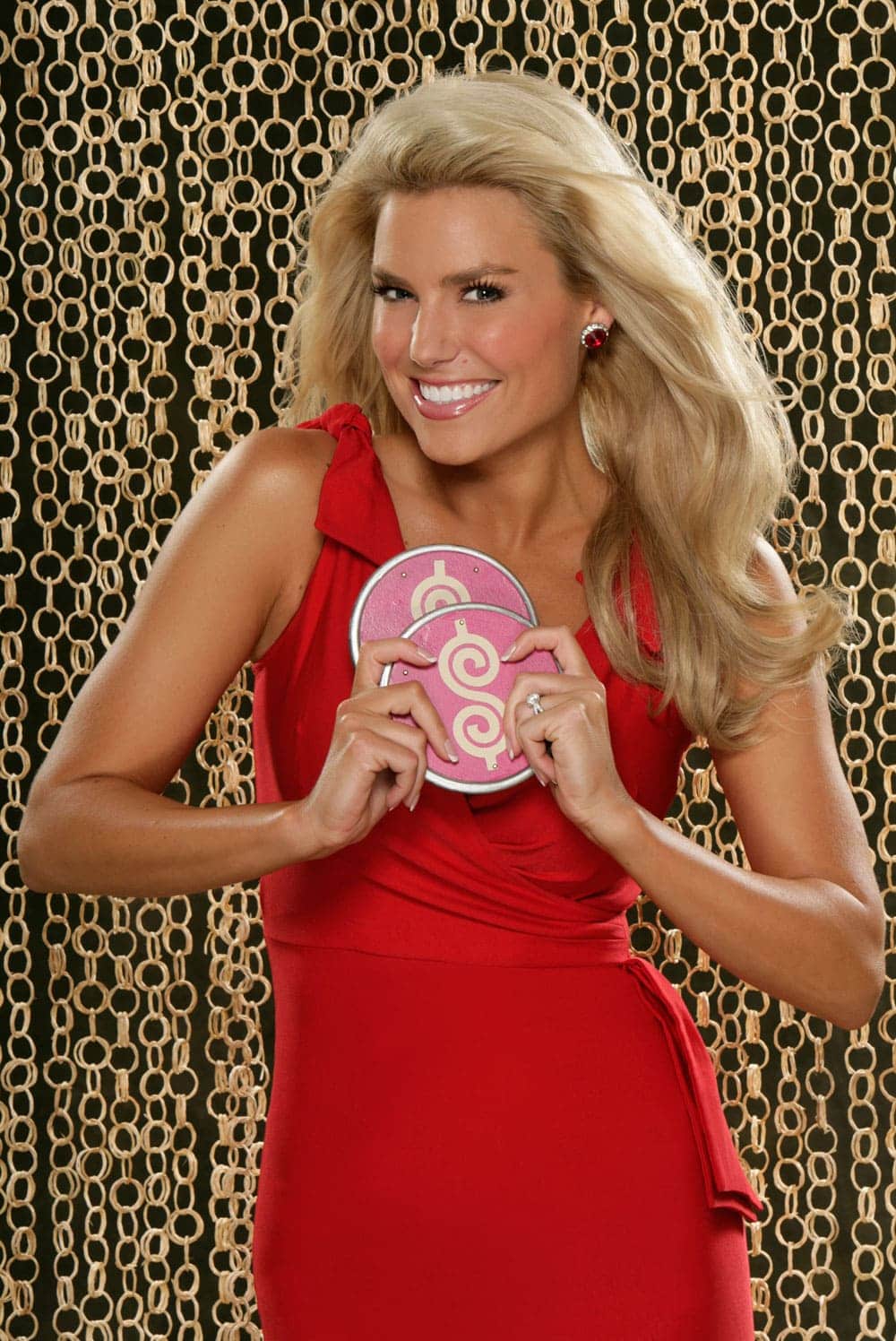 This makes me want to cry sometimes. If you are selling a physical product like jewelry, or health shake mix or picture books, bring one to the networking and have it there for people to touch.
SO many people selling a physical product don't bring the actual product to the networking event. Instead they talk, talk, talk about all the features (it was developed by scientists, it has 10 essential minerals, it will make your tummy smaller) instead of just showing the other people there what it is.
Humans are shy creatures and new things scare them. They may be intrigued by what you say, but they will be way more likely to ask about it if they can pick it up.
For this you will not be holding it up and flashing your big smile like the Price Is Right girl. Instead you should simply place it on the table in front of you and then go about your networking like normal.
If someone asks, show them it. It is that easy.
Some networking groups do not allow selling at all so don't. It isn't there to sell, it is there for show and tell!
5. Something Memorable
One of the reasons I started making Work Necklaces (a previous product) is that I am a terrible introvert.
Starting a conversation with a random stranger makes me cringe. But if I am wearing a necklace or two that has my business on it, then it is easy to get started. Mostly people come up and compliment me about it and then I can get talking.
You can also carry a gorgeous handbag or show off your really cool business planner. Functionally you just want to get the other person talking to you.
Then you ask about them. Use two ears and one mouth in that proportion and do nothing but listen, REALLY paying attention.
The only thing you want to accomplish with your attention grabbing item is to get attention. After that you will make a new connection, get a business card and then start the followup process just like normal!
5 Ways To Sell Successfully At Networking Wrapup
So there you have it, my top ways that I sell at networking without being a sleazy, yucky person. I don't know that I would start all of these at once, but I do think that you might want to incorporate one or two of these over the next couple of events you attend.
The easiest is to have a special signature piece to make people notice you and the hardest is to make a flyer.
That said, all of them are pretty low creep-factor ways to sell at networking without being "that guy" who traps you into the corner and tries to shove Amway down your throat!