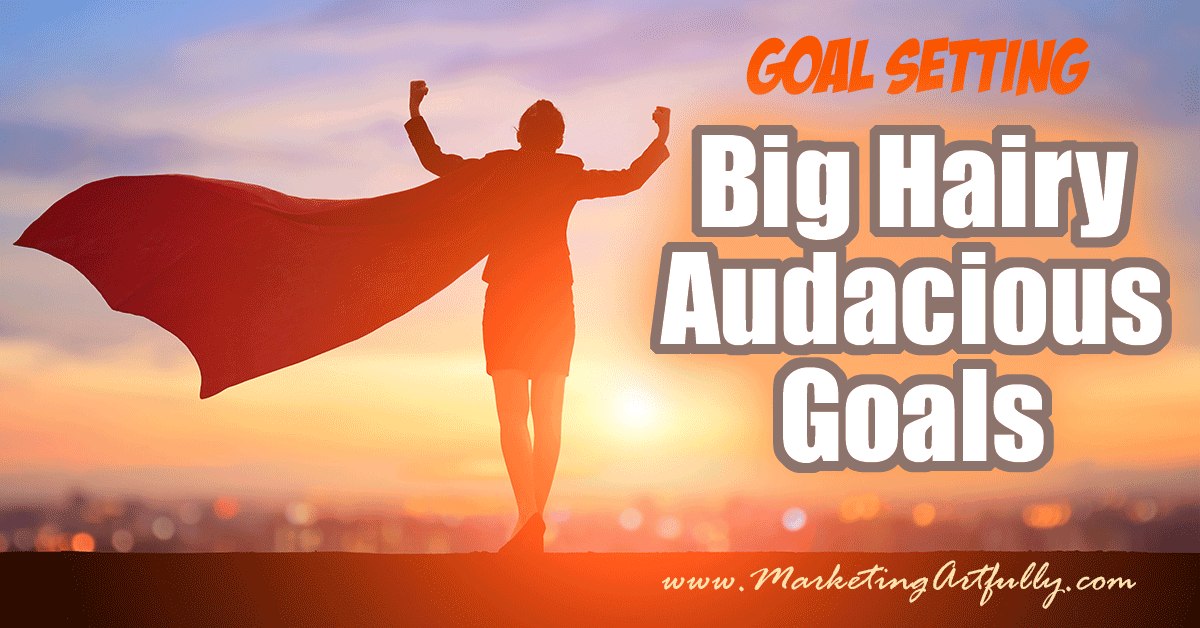 How To Set (And Achieve) A Big Hairy Audacious Goal… A BHAG (Big Hairy Audacious Goal) can be a huge driving force to move your business or life forward. Here are 5 concrete steps to can take towards accomplishing a big goal!
But they are little goals. Small things that I can accomplish in a fixed amount of time. Yesterday I set a big hairy audacious goal. One that will have an impact on my business and my life.
If you are reading this post there is a good chance that you are thinking about doing something epic and want some steps to get here…hold onto your horns, here we go!
Big Goals Are Scary (And Motivating)
The first thing to know is that big goals are scary. Picking one means that you are going to have to dedicate all your time, efforts and money to achieving that goal.
It can seem unachievable and like it might not even be possible. But if ANYONE in the whole world has done anything like it, even once then you know that it is in fact possible!
Need a little inspiration…. check out these goals quotes!
You Will Need Help
If your goal is big and hairy, you are probably going to need help and support from the people around you.
Think about JFK's plan to put a man on the moon. He came up with a way to rally the entire United States to his goal just by announcing on May 25, 1961 we would send a man safely to the moon by the end of the decade.
Whether you need actual help or just moral support, think about getting a team of people who will help you move towards your goal.
Make It Public
This one is maybe the scariest part of all. If you are an entrepreneur you have probably tried things before and failed. A lot. And maybe you have even made pronouncements or promises before that were not as solid as this goal is.
But if you tell the world what your goal is, you CAN make it come true. This accomplishes two things, first that you are now "on the hook" because you said it publicly. Second, because people around you know about your big goal, you can use it as a legitimate excuse for not doing things that  you might have in the past.
Something Has To Go
When you set a big goal, that means that other things have to fall by the wayside. If your goal is lose weight, pizza and beer are probably not going to be a good fit for a nightly meal. In the same way, if your business goal is to do something massive, there are going to be a million things you have to say no to along the way.
This may be the hardest thing of all! But all we have is time and if you have a big goal, you will need to stay on track like a train.
It Is YOUR Goal
Probably one of the first things that will happen when you set a big goal is that people will come out of the woodwork to tell you all the reasons why it will not work or it is the wrong thing to do or how you are going to fail.
I am not sure why they feel the need to do this, but it is an actual phenomenon that trips many people up! Don't let the nay-sayers and doubting Thomas' get you down, just smile and carry on.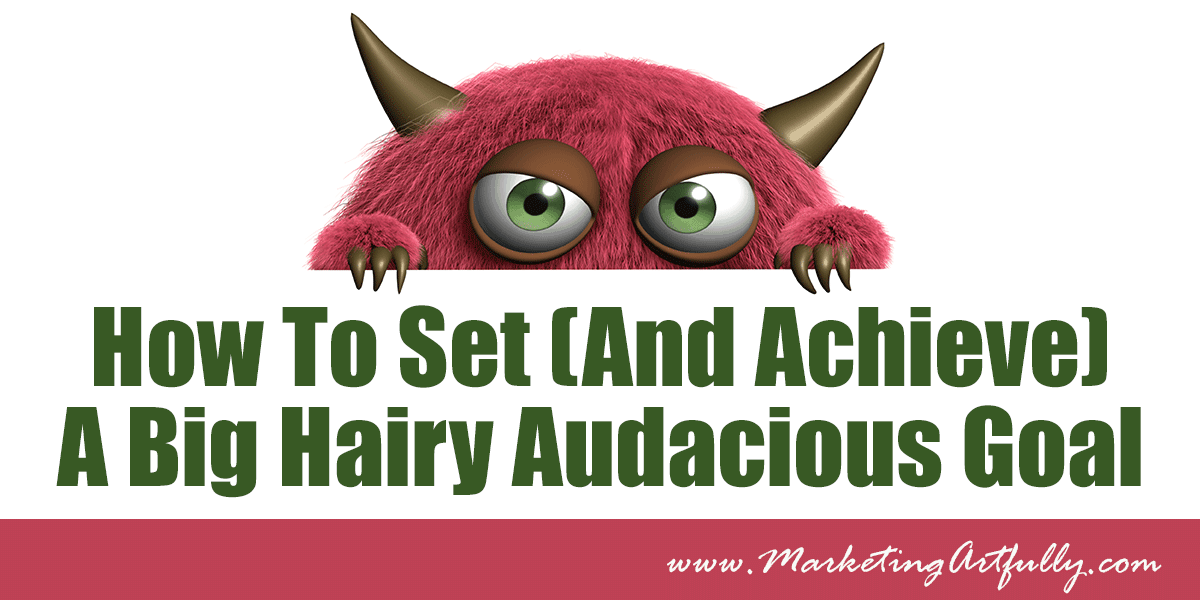 Steps To Achieving Your Goal
Step 1. Define your goal.
The very first thing you will want to do is CLEARLY define your goal. It has to be a finite target that you will work towards.
For example, my goal is to have 6 figure plus business that is products based (rather than services based). Now to you that might seem easy or hard. I have a six figure services based business and have tried over the years to move that more into the products realm but never achieved it, always slipping back into the services that are super easy for me to sell. But no more. Every task I do from here on out has to be rooted in selling a product of some type. I may have to turn down some clients or fire some other ones, but that will be the focus of everything I do from here on out.
Step 2. Give It A Deadline.
A goal without a deadline is a wish. You need to set a time that is aggressive but not insurmountable. JFK's goal to put a man on the moon was super aggressive for his time, but was actually possible to accomplish. Because this is a big goal, you want to make sure you can pace yourself a little. No one can consistently work 20 hours a day, 7 days a week so give yourself at least a little runway.
Now, mostly I like to set 90 day goals, but this is big audacious goal and I will need more time so my deadline is June 1, 2017 which is a little more than a year and a half away. That may seem like a lot or a little to you, but for me that is a do-able deadline. I have 540 days to accomplish my goal! (awesome tool to see how many days until your goal)
You can pick any day but having a fun one is neat sometimes. We are considering moving this year and if we do we will list our house on April 15 (tax day). You might pick July 4th as an independence day or anything else that has some significance.
Step 3. Give It A Name. 
When you name something you give it an identity. If you are just sitting around thinking that you might want to get "this thing" done in a year or 18 months, then that is tough. But if you say you are going to accomplish your Golden Parachute or The Big Business Plan, it is much more likely to occur.
My plan is named Rich's Retirement Plan. That is the day that one of my marketing friend's husband wants to retire and so she and I chose it as our day too. While it would be nice to be motivated by my own life, having a really momentous occasion like a retirement is a big deal and we are just tagging onto his day!
Step 4. Get Accountability. 
You may be very self motivated and think that you don't need any accountability, but with a goal that is this long, I promise you having at least check-ins with somebody from time to time will help to keep you on track.
I am doing this with my marketing buddy. We will meet monthly to make sure we are on task and getting things done. I also have a mastermind partner that I will be informing of the plan and she will help push me that way.
Step 5. Work On It Daily. 
The very best way to accomplish anything is to write it down as a goal daily. Do affirmations about your big goal daily and then make sure that something in your day moves you toward that.
For example, some of my affirmations are now going to be "I make $150,000 a year from product sales", and "I attend two conferences a year to learn about internet marketing". The income goal is specific and something I can work towards. the conference goal is a carrot that I get to eat if I am making that kind of bank and don't have the responsibility of doing client work on a grand scale.
Once you have your affirmations written for the day, then make sure that at least one of your tasks is moving you towards your big goal.
Accomplishing Your Big Audacious Hairy Goal Wrapup
I know that we mostly can't just drop everything we are doing right now and start working on our big goal. Life gets in the way. Families, kids, current work and everything else is there to slow you down, but with your eye on the prize of accomplishing your big goal, you will get there I promise!