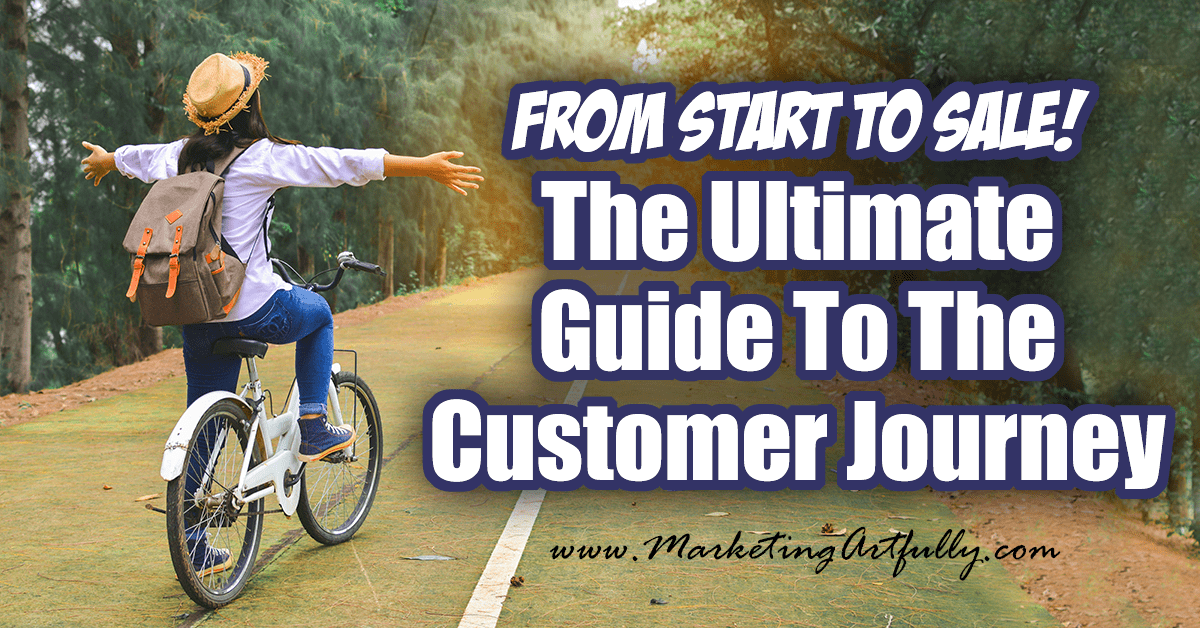 What is the customer journey? It is the path a person takes from not even knowing about your product to the time they buy it from YOU! There are specific marketing hacks we can do to interject ourselves into that journey… this post tells you how!
I have been obsessed with learning about the"customer journey" for a while now (probably about 6 years, truth be told). It is just so interesting to think that we can present our products or services into their lives at just the right time in just the right to 1) help them and 2) sell more of our products.
That order of helping then selling is the key to understanding the customer journey!
I KNOW, it is easier to make a listing for your product, setting up all the features and writing a factual description BUT humans will only buy things that they need. And part of our job as marketers is to understand what that need is!
In this post we are going to go over 3 phases of the customer journey… Awareness, Research, Comparison and Purchase. I have seen a million different steps in different posts and books I have read, but I am coming at this from a marketers perspective.
Awareness
We would love to think that "everyone with skin" would like to buy our beauty products or that it "is great for men" if we are selling something rugged and outdoors, but unfortunately for us marketers, the world doesn't work like that! Before you can sell something to someone, they need to know that they have a need for your product!
This happens to me all time on Facebook. Sellers have profiled me and know I am a woman in her 50s, I have kids, like shoes, dogs and marketing. With that in mind I see ads all the time for products that the sellers think will match my interests (this happens on Pinterest too!)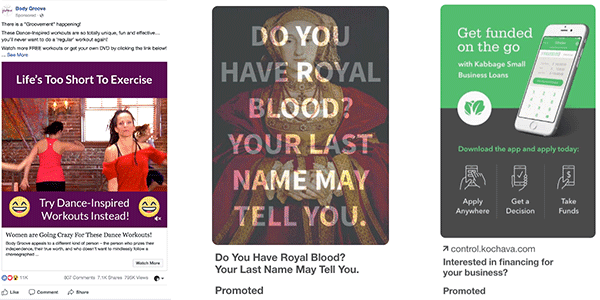 These ads are for exercise, maybe genetic testing, and then business funding. They are trying to raise my awareness of their product by "interrupting" my social media and showing me something cool that I might not have known about.
But this doesn't only happen online!
It happens in church when you see the neat new watch a fellow parishioner is wearing or at the gym when the gal next to you has a water bottle that is just amazing. One minute ago you had no idea that you needed that thing and the next moment… it was all you could think about!
Here are some places and ways you might find out about a brand new product:
[one-half-first]
Friend
Family
Church
Speaker/In Person
Influencer
YouTube
Facebook/Ads
[/one-half-first]
[one-half]
Instagram
Instagram Ads
Pinterest
Pinterest Ads
TV
Magazine
Direct Mail
[/one-half]
As a marketer, you need to be able to figure out HOW someone might stumble upon your product. Do you want to spend money on Facebook Ads to raise awareness, run a television spot or post it on your social media where there are already followers who like you or your company, maybe they will like your products!
Case Study: Sawdust Dream Shop
Anna is a super nice gal who has an Etsy store and she is trying to figure out how to sell wooden figures. She said that her views in Etsy were low and she was having trouble getting sales because so few people found her products online. So how could Anna raise awareness of her offerings?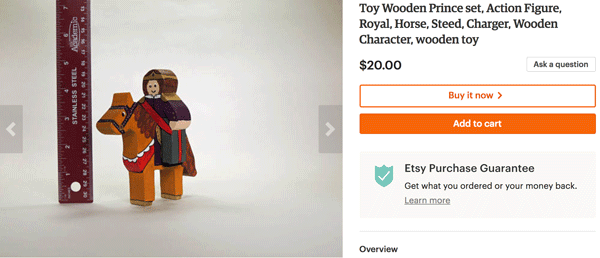 1. Use keywords on her items that people who are looking for inspiration would be searching. Because we are so early in the process for Anna and her customers, we need to help them both by getting her products in front of people who are trying to solve a broader problem. Anna could include words in her listing like "stocking stuffers" or "boy gifts". This would get her item in front of people who are looking for "something", but have not settled upon a particular item.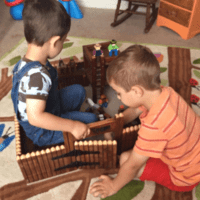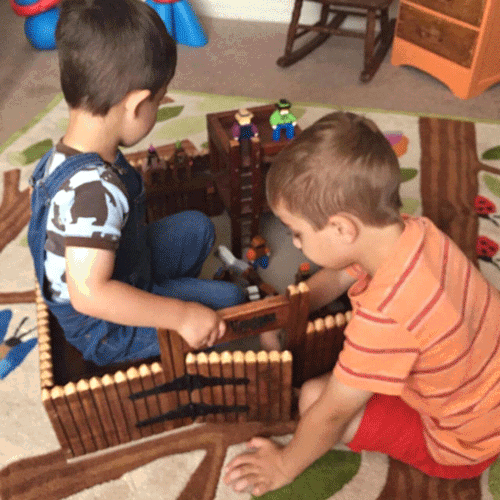 2. Target influencers. Anna could also start following people on Instagram, Facebook or Pinterest who regularly post pictures of cute toys their kids are playing with and ask them to post "lifestyle pictures" of her items with a link or call out to her shop. Now, before you go all postal on me, many smaller influencers do not charge anything more than getting the item in the mail or $25-50 to share it. Because Anna didn't say she loves social media, her time would be better spent making cool new items and letting people who are already good at social media do their thing.
3. Publications. Last but not least, Anna could pay to get her product into "christmas guides" or other big roundup publications that also serve as inspiration around the holidays or throughout the year. This is sometimes cheap (just the cost of sending a sample) and sometimes very expensive (as in a paid placement). This is harder to do as you have to find out who does these kinds of articles in print or posts online, contact them, and then wait for them to publish. Many of these types of promotions take months to coordinate, but would be great for exposure.
check out Sawdust Dream Shop
Awareness Wrapup
This is where I find many new marketers get stuck. They spend all their time trying desperately to get anyone to notice that they have a product for sale. Yes! You should post your items on social media. Yes! You should try to reach new audiences. But don't spend too much marketing time on people who don't even know that they want to buy your product yet.
Research
THIS is my favorite part of the customer journey!
At this point someone knows that a product like yours exists and they are learning more about it. They might be reading blog posts, watching videos or even going to physical locations to check things out. BUT, if you ask them to buy at this point you are going to hear, "I am just looking". Doh.
But that is okay! It is at this point that you can be of most service to your potential future customers. You can help them learn more about your product and how having it in their life will make everything better.
For example, if you sell scarves you can make videos showing "3 ways to wrap a scarf". Or if you are selling houses, "10 things to fix before you list your home".
People in this stage KNOW they want to get something like your product, they are just not sure enough about it to make an educated decision so they are learning.
Here are some ways you can reach people at this stage of the customer journey:
[one-half-first]
Blog Posts
Authority Sites
Podcasts
YouTube
Facebook
Facebook Ads[/one-half-first]
[one-half]
Instagram
Instagram Ads
Instagram Hashtags
Pinterest
Pinterest Ads
Pinterest Hashtags[/one-half]
The neat thing about this stage is that you can start to target keywords and hashtags that people will be using to search for your product. In my business using an #etsyseller or #amwriting hashtag can help catch the eye of Etsy peeps or authors who might like to buy my products.
You can use keywords like "Vintage Candle Stick" or "Tutus for Girls" to show up in searches on your selling platform or Google.
In this step you should also be available to answer every conceivable question that people might have about your product. Jewelry designers could talk about best kind of clasps, honey farmers could talk about hives and mortgage lenders about credit. In this stage you want to be the "go to" source for all the questions they have!
Case Study: RV Roundtable
Our family friends are starting up an RV sales company. Kevin (the dad) has lots of experience in sales and RVs and his kids are helping with the business, driving RVs back from the auctions and cleaning them for sale.
They are already experiencing a little response from their website, RV Roundtable where they have articles about things to do while on RV trips, checklists and information about particular brands of RVs. But they could be doing SO MUCH MORE!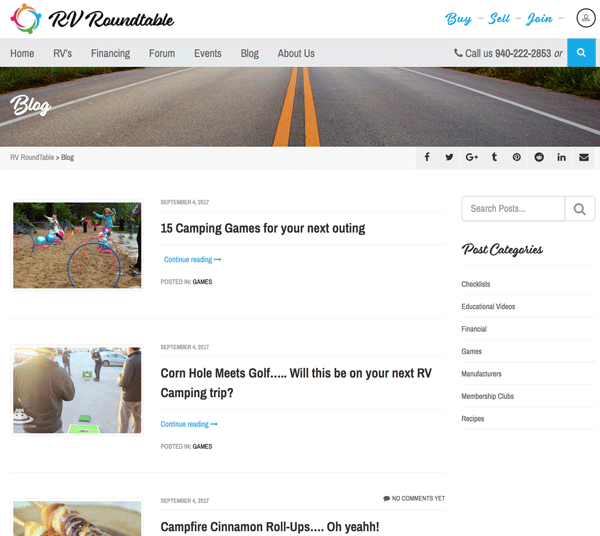 Videos. My husband has always wanted an RV and now that this happened he is even more excited about it, but I know nothing beyond that it is a house that I can drive around. THIS is the sweet spot for making some great videos! They could do videos on the different classes of RVs, how much storage is in an RV, why the placement of generator switch is important, etc. BUT they have to remember that their audience doesn't know what they don't know. Instead of calling the video "Generator Switch Placement" they should title it, "Your RV Will Be Sweltering In The Summer If You Make This ONE Mistake" or "3 Tips For Keeping Your RV Cool While You Are Driving".
Podcasts. If you are personable and knowledgable about your product you should start doing podcasts! I did a search on Google (rv podcasts on itunes) and found out that there are HUNDREDS of podcasts about RV Living, Camping, Glamping and other living away from home topics. Heck, Kevin could look at "tiny house living", "minimal living" or "baby boomer" podcasts to talk about how a small rolling house could fit into their lifestyle!
Database. In this stage it is vital that you start collecting names and email addresses of people who are searching for your product or service. Offer them a free "Long Road Trip Checklist" or "10 Fun Games For Kids To Do In An RV" PDF download in exchange for their email address. If you do not stay in touch with the people you educate, they will be happy, but go buy from someone else! Kevin could send a weekly or monthly newsletter talking about RV Life, links to podcast recordings he has been on, cool videos they have found and generally reminding their readers that they are here! I recommend Drip Email for new marketers… it is free to start and has lots of features he will need down the line! #promo
Customizing RVs. One last thing that they could do now to prepare for business later is to do some cool or fun custom modifications to RVs. For example
check out the RVRoundtable website
Comparison and Purchase
Alrighty then, our buyers know they want to buy something like ours, they have enough information to make an informed buying decision. Now they are going to be looking at super specific things as they relate to themselves!
Does It Work With What They Have Already?
This is a BIG ONE! When you are thinking about who will be buying your product, you have to know in your heart of hearts that no one will be buying something they don't need. Some examples:
RVs … unless they are planning on buying or renting an RV (or camping), most people will not be interested in the RV Roundtable peeps. But wait, there is a second level to this… once they are this far in the decision making process they may even know the make or model of RV that they are interested in! That will determine their next steps on pricing.
Kids… unless someone is buying a present for a child or has children of their own, they will not be interested in Anna's figures. This is where I see many handmade sellers falter. They think that if they price their items low enough then "everyone will buy", but the same criteria works for this as for big ticket items.
Etsy sellers... I can write the most amazing articles in the world about Etsy marketing, but no one is going to buy my Etsy planner unless they have an Etsy shop.
Price Versus Quality
Now you need to start thinking about whether your customer is focused on price or quality in their buying decision. A buyer who is bargain shopping may or may not be your perfect customer depending on your business strategy.
For example, I just started selling Tshirts in my Paperly People Etsy shop and there are so many vendors with such different pricing. BUT, I know my customers are mainly professional women, from 40-60 years old. So I picked a women's style tshirt with really good quality because my buyers are not going to be turned off by a $30 price tag. If I was selling something that was perfect for male college students I would choose a different style and price point!
Request A Quote
This is a big one for professional services or wholesale product orders. There are times when you don't want to have your pricing out there for everyone to see. In this case you should try to make the process of getting a quote seamless for the customer. Either have an automatic system in place OR let them know the amount of time it will take (max) for them to receive pricing. This could be a number of business days or could be that they schedule a call for consultation before you can give them a price.
Incentives, Coupons and Offers
This is not a post arguing for or against using sales or promotions, just one to think about what is normal for your industry. It is definitely worth taking a peek and seeing if incentives seem to be working for your competition and if they are something you should be building into the price of your item.
For example, I EXPECT a 40% off coupon on an item I get in Michaels Craft store and DO NOT EXPECT to pay less if I am having a custom, high end item made.
Whether or not to offer discounts is going to depend on whether you can build it into your price AND if it is going to be something that will dramatically increase your sales or customer acquisition.
Trust Factors (Logos, Reviews and Testimonials)
On of the things that people are right before they spend their money is scared. Scared of getting ripped off, of making a poor decision or getting a bad product or service. Alleviating that fear can go a long way towards tipping them from prospect to a sale.
Logos. This is simply the trust logos of MasterCard, Visa and possible PayPal that are seen on many websites. It seems weird that these could make someone feel better, but a myriad of testing has shown that they do!
Reviews and Testimonials. There is a reason that reviews are so popular on sites like Amazon. Having a third party give an honest opinion about the quality and service provided can make a big difference when someone is considering buying. Many of my peeps are selling on sites like Etsy or Shopify where this is easy to do, but service providers and smaller sellers can do this by including testimonials they have received in their sales pages or on a testimonial page on their website.
Refund Policy. The last thing that you want to have is a return and many sellers think that if they refuse to offer returns they will "get away with it". In fact, if someone purchases with a credit card (as most transactions are) they can always resort to a chargeback if the seller refuses to refund their money for a faulty product.
But a strong return policy can be the tipping point for someone buying your item too! If you offer a 30 or 90 return, they can feel secure that they will have a chance to refund if the product is bad. If you offer lifetime returns there is no friction and you will find that most people will not return after a fixed period anyways.
Customer Journey Wrapup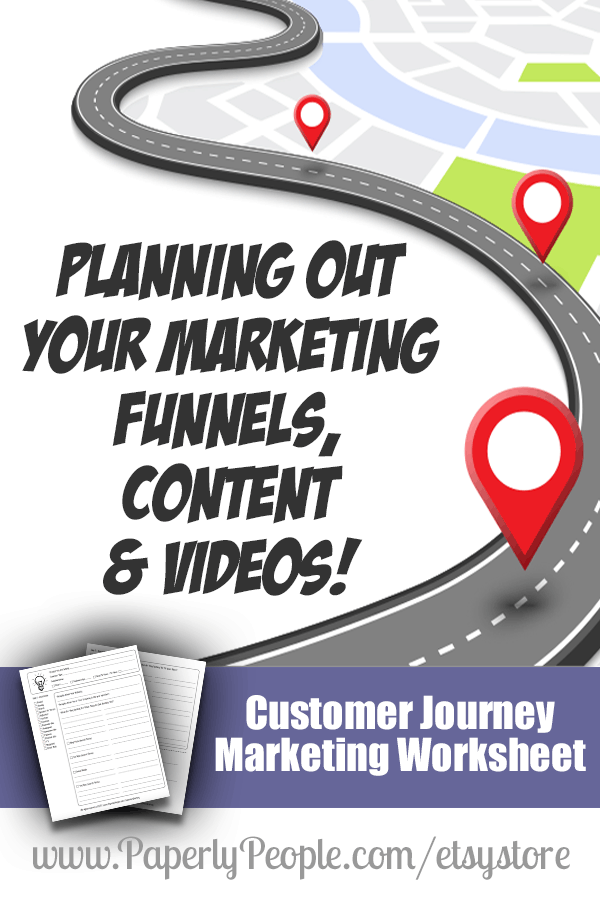 Whew, that felt like a lot of information all at once! Turning the tables and looking at your sales process through your customers perspective can be a real eye opener AND a great way to find places where you can do marketing and interject yourself into their buying process.
If you are all the way down here, I thought you might like to have a handy dandy worksheet to use to outline your customers' journey!
There is a BONUS video included at the bottom of this worksheet, walking you through the steps of how to fill out the form.