When you are just starting out as an affiliate marketer, it can feel super frustrating to only be able to use Amazon. This is a step by step guide on how to move up as an affiliate marketer to better affiliate programs for your biz!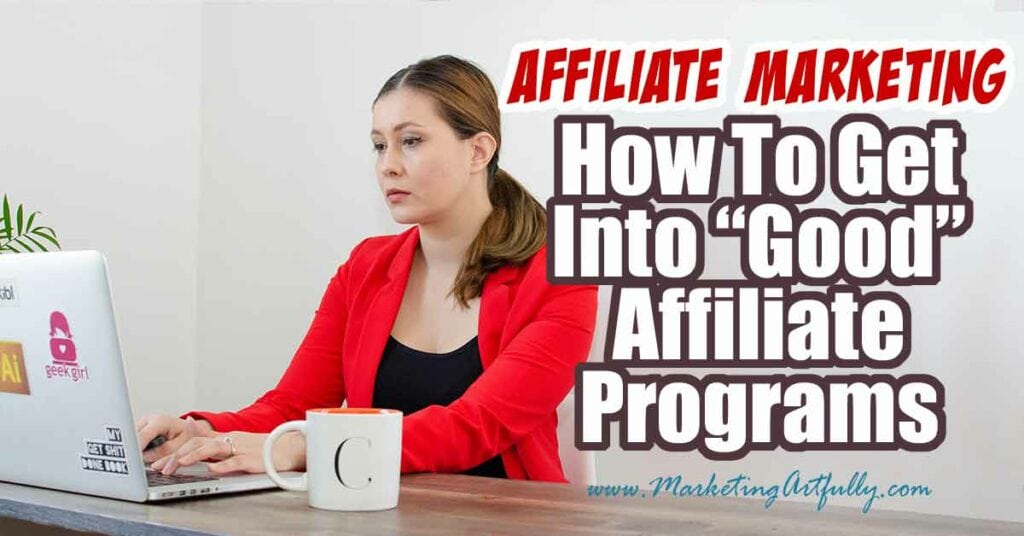 This post contains affiliate links. If you purchase anything, I earn a small commission at no extra charge to you. Check out my policies here.
My Affiliate Marketing Journey
Years ago I dabbled in affiliate marketing and had a bit of success, but when I decided that I wanted one of my streams of income to be $10K a month in affiliate marketing I KNEW I had to get serious and dedicate a bunch of time to setting up a real system for promoting products.
That said, for "marketing" I get approached ALL THE TIME to promote affiliate products because I have been around a long time and have promotional posts on my site. These aren't all a good fit, so most I ignore!
But to help you I thought it would only be fair to start out clean with a new type of affiliate product bunch that was not related at all to my "main" business.
So at the very end of 2018 I started really focusing on my ArtsyFartsyLife.com blog (more about my timeline later!) and really dug into promoting art supplies (you can't get more different than marketing to small businesses and craft supplies for artists!)
As of today I am making about $2,500 a month on affiliate income, but that progression has been pretty darn fast and is doing the hockey stick thing now where I am making more and more each month!
Oh and I was just accepted into my "dream" affiliate program!
What Makes A Dream Affiliate Program?
So let's talk about what kinds of affiliate programs there are…
Amazon Associates
When you are starting out as a new affiliate marketer and don't have any kind of history with affiliate sales, the only program you are likely to be accepted into is the Amazon Associates program who takes anyone!
And that is okay! Their requirements are super low and to stay in the program you only have to "sell" a couple of things each month through your recommendation.
That said, the commissions are super low (mostly 3-4%) and your link only lasts for 24 hours so it is not my favorite affiliate program.
However, they DO have some things going for them… Amazon functionally has EVERYTHING available AND you get credit for EVERYTHING they buy in the 24 hours!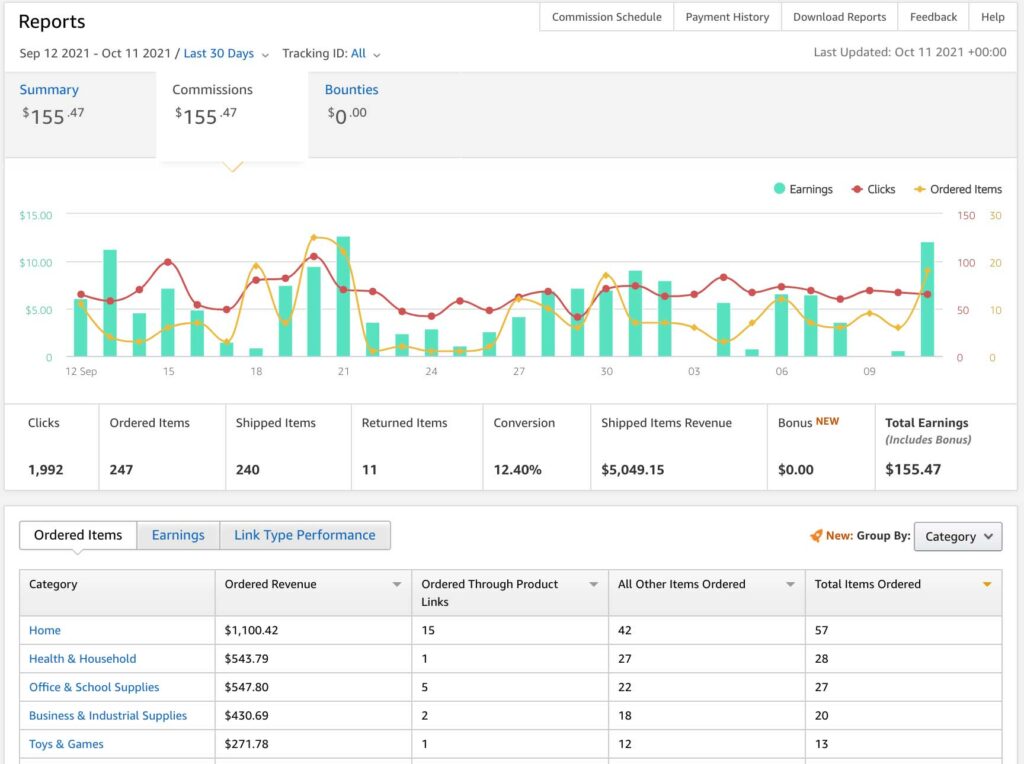 If you do the math and divide my total earnings ($155.47) by the shipped items revenue ($5,049.15) you get almost EXACTLY 3%!
Share A Sale Affiliate Network
My next step to growing my affiliate income for art supplies was to join the Share A Sale affiliate program who had a bunch of my favorite sites on it and whose cookies lasted more like 30 days or 60 days! Additionally Share A Sale pays affiliates for multiple programs all at once so you don't need to track as many links!
I started by joining the Joggles website's affiliate program. They are a littler website who might not have as many people promoting them so it was easy to get accepted.
The problem with promoting a little website is that they don't have the trust of the buyers that the big guns do! For example, my husband is super happy to buy tech supplies from a site called "New Egg" because he has shopped there for years, but you might not feel as confident buying a phone there as you would from Best Buy or Walmart which you probably recognize!
I have made a fair bit from Joggles, when I had some crafty sales under my belt I joined the Scrapbook.com affiliates… whoo whoo… moving on up!
You may not be familiar with these names, but think about your affiliate business as a stair-step. You start on the bottom step and move up when you gain more "clout" in your industry.

As you can see, my revenue from Scrapbook.com is almost 2X what Joggles is, simply because more people feel comfortable taking my recommendation about shopping there because they are a bigger site!
This last rolling month I have made about $150 from Share A Sale too!
Your Dream Affiliate Program
Most super successful affiliate programs are "closed", meaning that they have to invite you to be a part with affiliate program offers OR they will review your application and give you decision based on reviewing your current affiliate results and what kinds of content you produce to promote their products.
I JUST got accepted into my dream affiliate program after replying to one of their newsletters with the following message…
First off, those paw things… so cute and so darn useful! I will be getting a couple to use on my desk! I didn't realize how many different products you have that are exclusives!

I do a whole bunch of artsy videos using products and would love to be able to recommend yours with affiliate links…:) Here is my youtube channel https://www.youtube.com/channel/UCX80rppct_5kb1PwlzuV9kw – My blog https://artsyfartsylife.com/. My share a sale affiliate number is XXXXX
They replied that they will review my application and let me know in a month or so…. getting into your dream affiliate program may not be fast, but it will be worth it!
Some of my best affiliate income has come from partnering with sites that are not easy to do, so they have fewer affiliates and often higher commissions if you show them you are a good promoter!
Timeline For Getting To My Dream Affiliate Program
Okay, the one thing that I would want to know is … how long is this all going to take to "start working". So here is how my affiliate journey has been going for the craft supplies…
Late 2018 – Artsy Fartsy Website
In late 2018 I decided to start blogging seriously about how to deal with my Dementia mom and did some "non-marketing" affiliate links on Amazon, because I wasn't qualified to promote anything business-to-consumer at that time having only done business-to-business before then.
Things were going along pretty well and I got into Mediavine Ads when they only needed 25K a month views to qualify.
April 2020 – Artsy Fartsy Website
That date might hold some meaning to many of us… it was starting to dawn on me that my business website wasn't going to be as popular when everyone was stuck at home and having trouble with business so I better do a pivot to more on my artsy website!
I started posting about art projects and added the Joggles affiliate program to my site. Again, that was just a little program, but the only one I could qualify for at the time.
January 2021 – Artsy Fartsy YouTube
By now I was figuring out that I needed multiple, multiple streams of income in the lockdown times and decided to go all in on artsy stuff and affiliates this year!
I started posting daily to my Artsy Fartsy Youtube channel and including affiliate links in my descriptions.
April 2021 – Artsy Fartsy YouTube
YAY! I got my YouTube videos monetized and was inspired to keep going (it is October now I and I know I can make the whole year!
It is around now when I got accepted into the Scrapbook.com affiliate program because I could show them that I had a bunch of subscribers and people were watching my videos.
October 2021 – Dream Affiliate Program
And here we are today! I had a great website with lots of content about craft supplies, PLUS a popular youtube channel talking about craft supplies… whoo whoo!
With all of that I was able to join and affiliate program that I would never have qualified for even at the beginning of this year!
Now, none of this has been easy, but it is really a "one day at a time" kind of thing. Just keep plugging along and you can get there I PROMISE!
Affiliate Marketing FAQs
I had SO MANY questions when I was getting started with affiliate programs… here are a few that you might have too!
How To Make Money As An Affiliate Marketer
Now, you may be thinking that 150 bucks here and there isn't going to do anything to help your stream of income, you have to know that I belong to MULTIPLE affiliate programs and most of my "big money" is still coming from my marketing affiliates, but these art supply ones are growing steadily!
It is very unlikely that you will make all your affiliate income from one kind of promotion, rather it is a compilation of many different programs sharing in your income.
While I am relatively new to promoting craft supplies, I follow a gal, Debbie Gartner who paid off over $238,000 of debt with her affiliate income! (I HIGHLY recommend her "Journey to the Center of Amazon" course if you are just getting started!)
Monthly she earns about $18K a month from affiliate sales!
Do You Have To Have A Website To Be An Affiliate?
Years ago my answer would have been ABSOLUTELY, but I do think now that there are other ways you can promote affiliate products.
That being said, many sites don't want you to link directly to affiliate products so having a website that you can use as the go-between can really help!
Where Do You Make The Most Affiliate Sales?
I make the most of my affiliate sales from Youtube (I use tracking to know where my sales come from!)
I put affiliate links into my Youtube descriptions and tell the peeps that there are links down there if they want to buy what I am using in my products!
Some people make more on social media sites like Instagram or Facebook.
Should You Sell Digital Products or "Real Products"
You should sell the types of products that you use! For my artsy business I mostly promote "real" products and for my marketing business I mostly promote digital products.
Do You Have To Use Share A Sale?
Nope! I love Share A Sale the best, but there are also places like Commission Junction and other "aggregators" where you can join multiple programs at once. I was only a CJ affiliate for short time and never really did well with them so I can't give you too much insight into their program.