Today a reader asked me some questions about the "rules" for making digital downloads or printables and I thought I would try to cover a lot of the questions I get from peeps who are new to making them!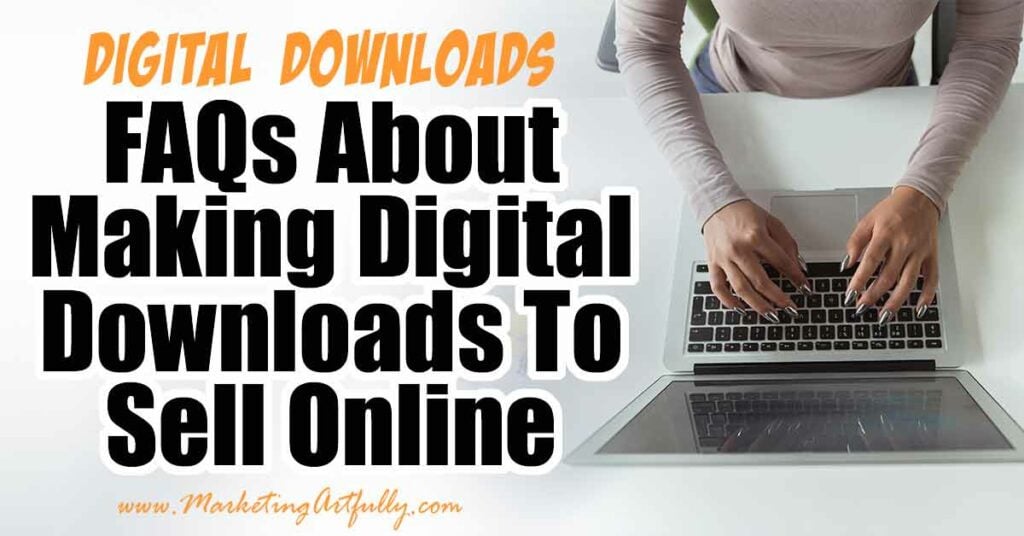 This post contains affiliate links. If you purchase anything, I earn a small commission at no extra charge to you. Check out my policies here.
Why I wrote this post
I have been actively selling digital downloads on Etsy and my websites for almost a decade now and have written multiple posts about the topic:
Even with all this I still get questions from my readers so I thought I would make a huge list of questions that I could send them to to help create digital products for sale!
I tried to make this super comprehensive and sort of in order of questions that I think you might have as you are getting started.
Disclaimer
I have been making digital downloads, teaching about it and selling them for years. I have general knowledge of copyright, IP Protections and other legal matters. That said, if you have legal questions ask an attorney, don't rely on some chick from the internet!
What Are Digital Downloads?
Let's start at the very beginning and talk about what digital downloads are!
This is when you make a file and sell it in a digital format for people to purchase and download files from someplace on the internet.
They will not receive a physical product and you will generally not have to be involved in the payment or sale of item (this is what makes selling digital products so darn nice!)
What Types of Digital Downloads Can You Make and Sell?
There are literally thousands of different kinds of digital products you can sell. Here are a few that come to mind:
Spreadsheets with formulas to do things
Canva templates
Quilting, crochet or sewing patterns
Worksheets
Digital planner pages
Meal planning guides
Homeschooling curriculums
Business cards
Online course
Those are just a few that come to mind right now, there is no end to what you can make!
Software You Can Use For Digital Downloads
The question that started this whole post off was from a reader who wanted to know if she could use a software program to make her downloads. Here is a list of kinds of software you might be using:
Photoshop
Canva or Kittl
Freeform
Procreate
Cricut design studio
First off, if you are creating something from a totally blank page then YES! You can use any of these different softwares to make your digital downloads.
When it gets a little trickier is if you are using resources in that program to make commercial products for sale.
Things that are available in these programs that "should" be okay to use (it depends on the site):
Shapes
Colors
Some fonts (more about this later)
Things that I wouldn't use from these sites without checking their terms of service:
Templates
Photos
Already drawn figures or scenes
Premium fonts
The reason that this is so tricky is that even the customer service reps for sites like Canva differ on what they say you can use legally in products for sale.
What File Formats Should I Use For My Digital Downloads?
Depending on what you are selling, you need to provide your download in different file formats. Here are some types and what they are used for:
JPGs – A low resolution picture format, good if you are selling things like web graphics or social media posts
PNGs – Higher resolution pictures that are good if you are selling artwork or large graphic files, can also be used to turn into SVGs by your user
SVGs – Higher resolution vector files that are needed for cutting machines like Cricut or Silhouette
PDF – PDF files can contain text, images, audio, video, and interactive elements like buttons and clickable links. (source Adobe)
DOC – Word document files (can be used by Microsoft users or imported into Google Docs)
XLS – Spreadsheet files (can be used by Microsoft users or imported into Google Docs)
PSD – Photoshop raster files
BMP – Super old graphics file, generally don't use this one
TIFF – HUGE graphics file, generally don't use this one either
This is what the dropdown looks like when I save in Illustrator: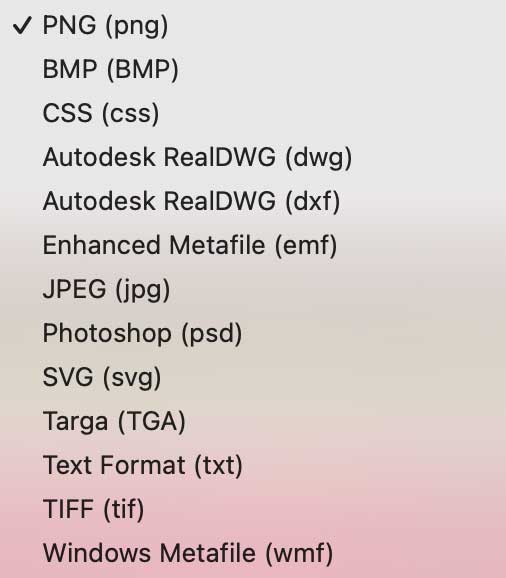 While that can be overwhelming, just look for something that looks familiar and start there!
What The Heck Is DPI and Does It Matter To You?
DPI is "dots per inch" and is a consideration when you are selling digital downloads that the buyer will be printing out (printables).
Here are some common DPIs that you might see:
72 DPI for web files
150 DPI for simple things to print like word documents
300 DPI for photos or complex printables
600 DPI for commercial printing projects
Depending on what program you are using to create your digital download in, you will have more or less ability to control what DPI it saves as.
In Adobe Photoshop you can set the DPI sometimes, but other times you can only change the quality of the export…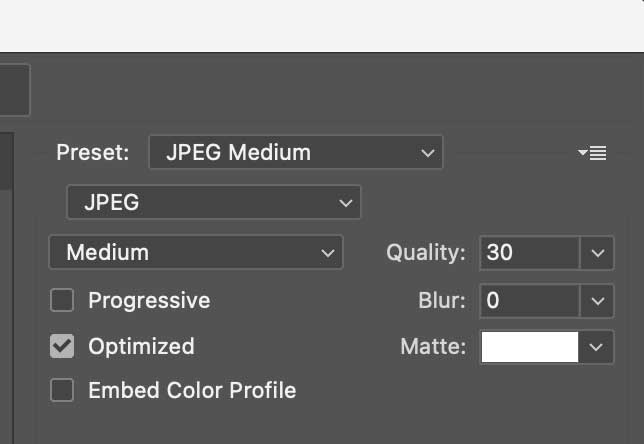 For all of these variables, I would choose the largest size or quality that you can, without making a file that is too big to email or deliver!
If you get a message that your file is too big to upload, resave it at a lower quality or lower DPI until you are able to upload it.
Can I use stock images or other copyrighted materials in my digital downloads?
Now we are getting into legal matters that you will have to tread lightly on (but there is a solution!)
First off, NO you can't use other people's copyrighted IP (intellectual property) in your digital downloads for sale without permission.
You can get permission by asking the person directly or by using a service that provides licenses for using their assets.
Here are a few places that I buy assets:
All of these places allow creators to upload their own work and sell it with a standard license that you can buy for a very low cost.
That said, there often multiple "levels" of licensing on each site which you will want to check out before purchasing, for example Creative Market offers a commercial license option (get that if you are planning on selling products):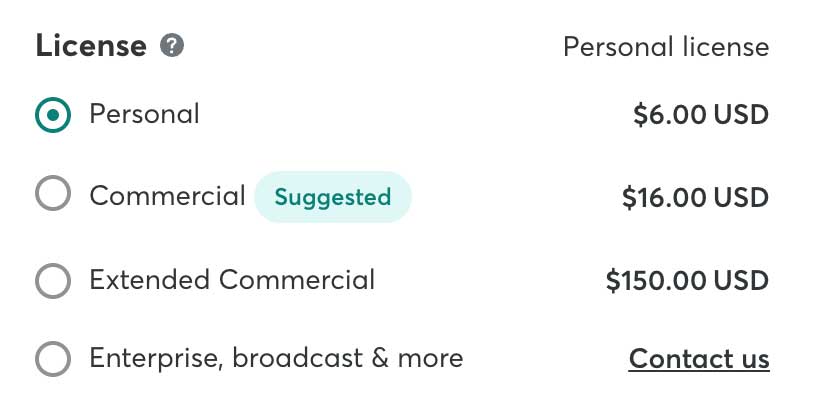 And Creative Fabrica has commercial AND POD (Print On Demand) options that you need to be mindful of:

What Fonts Can You Legally Use When Making Something To Sell?
If you have a legal copy of a software that comes with fonts installed you can use those fonts for simple things like instructions, use in spreadsheets, etc.
Where you need to be mindful of fonts is if your digital download is something based on that font like a tshirt you are selling on Etsy with a saying on it, a poster with words on it or even a planner printable where you have used a unique font.
I always buy the commercial rights for any font I am going to use in a product for sale. Here are two ways to get LOADS of fonts for a super affordable price!
Creative Fabrica – ALL the fonts on Creative Fabrica are commercial use. Wait for a sale and they will give you site wide access for about $5 a month! Whoo whoo
Creative Market – I love the HUGE FONT BUNDLE, they regularly update it and there are many different types of fonts
How Much To Charge For Printables?
You may be wondering how to determine a fair price for your digital downloads and, well it depends!
Here are a few ways to figure out how much to charge:
What The Market Says
If you are selling your digital download on a site like Etsy, there will be more competition so you will have to figure out the highest and lowest prices on the site and try to be somewhere in the middle.
Low Price, High Volume
If you are making a commodity product like a spreadsheet for monthly bills, you would probably want to make the price low enough that you can get a ton of sales.
Remember, after creating your product the profit margins are huge excepting for the fees charged for selling it.
High Price, Lower Volume
If you are selling digital files that are truly unique you can charge a higher price for it. OR you can bundle things together and sell them at a higher price than if the buyer was getting only one thing.
For me the decreased customer service demands of selling a higher priced product less often make the most sense.
Where Can You Sell Digital Downloads?
There are many online marketplaces you can sell your digital downloads, here are a few to get you started:
Amazon KDP to sell ebooks
Etsy to sell any kind of digital download
Shopify to set up your own store
Teachers Pay Teachers
Payhip or Sendowl to sell on your website
Convertkit to sell in Email or on your website
If you like making your downloads more than being all techy, I would use one of the big sites that take care of all that rather than trying to set up something on your own that you have to drive your own traffic to.
Will People Steal Your Work?
Yep, people will steal your work. Sorry!
Okay, that was a little facetious and bitter, but after having done this work for years, I know there is some scammer out there who will post my stuff on their site, try to sell it when I am giving it away for free or otherwise be a crappy human.
That said, most people are nice, and don't even know how to steal your digital downloads so ignore the creeps and just keep making great products!
If someone on the big sites blatantly steals from you you can issue a DMCA request to have the item removed because you hold the copyright. (source DMCA.com)
Should You Allow Refunds or Returns?
Oh, this is a hard one seeing as how as soon as they download your work they effectively could ask for a refund and still use it.
That said, I do allow refunds or returns with 100% money back guarantee on almost everything that I sell digitally within 30 days.
I don't want someone out there being mad that I have sold them something they don't want and in almost ten years there have only been a handful of return requests.
Should You Offer Licensing Options For Your Digital Downloads?
If you sell something cool or unique other businesses might reach out to you to license your work. This means that you get paid and allow them to use your copyrighted products in their business.
Here are a few ways people have licensed my work over the years:
Bought a license to use my Realtor Planner for all the agents in their office
Paid to license my artwork for use on a mug
Commissioned a junk journal design to sell to their PLR customers (private label rights)
For the first two I retained the copyright and for the last one I sold the copyright with the digital download.
You should charge more if you are selling the copyright to the work and less if they are just nice enough to ask if they can pay to use their work in a way that they could have done anyways without your permission.
Digital Download FAQs Wrapup
I hope I have covered most of the questions that you might have about selling digital downloads or printables. It is an amazing way to creative a passive income and I wish you the best with your shop!
If you have any more, please contact me via email (tara@marketingartfully.com) and I will add it to the list!