I sat down with POD coach Rebekah Welch to get all my questions answered about starting an Etsy store fulfilled by Printify! Here are her best tips and ideas for how to have a successful artist Etsy store!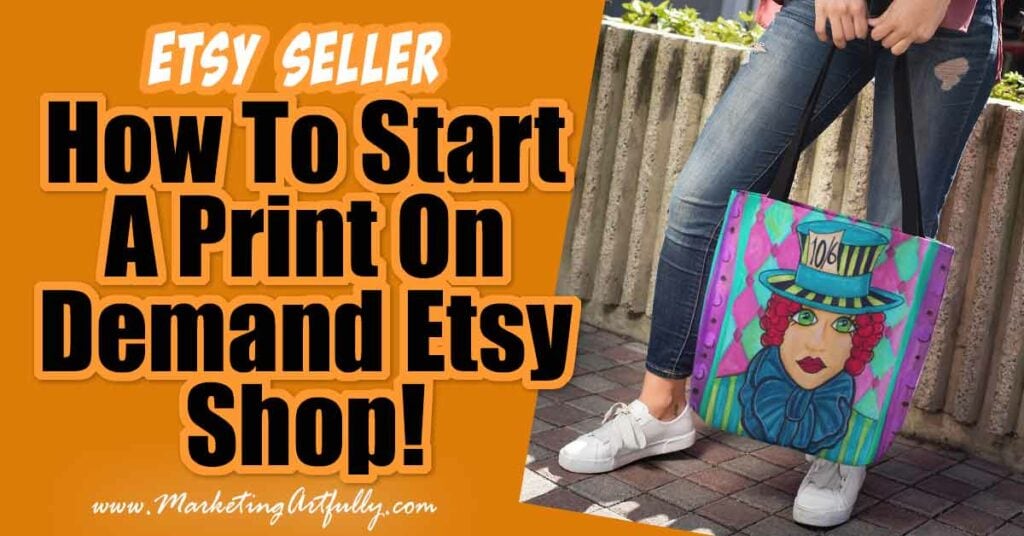 This post contains affiliate links. If you purchase anything, I earn a small commission at no extra charge to you. Check out my policies here.
My Artist Story
I accidentally became an artist in my early 50s, doing magazine collage art almost daily for about a year and a half. I recorded videos and made a big old artist Youtube channel, but because I used copyrighted images I worried about selling my collages.
Then I took a couple of courses on how to paint and realized, wow, I am a painter now too! (I don't know why I am surprised by my artistic ability, but I am!)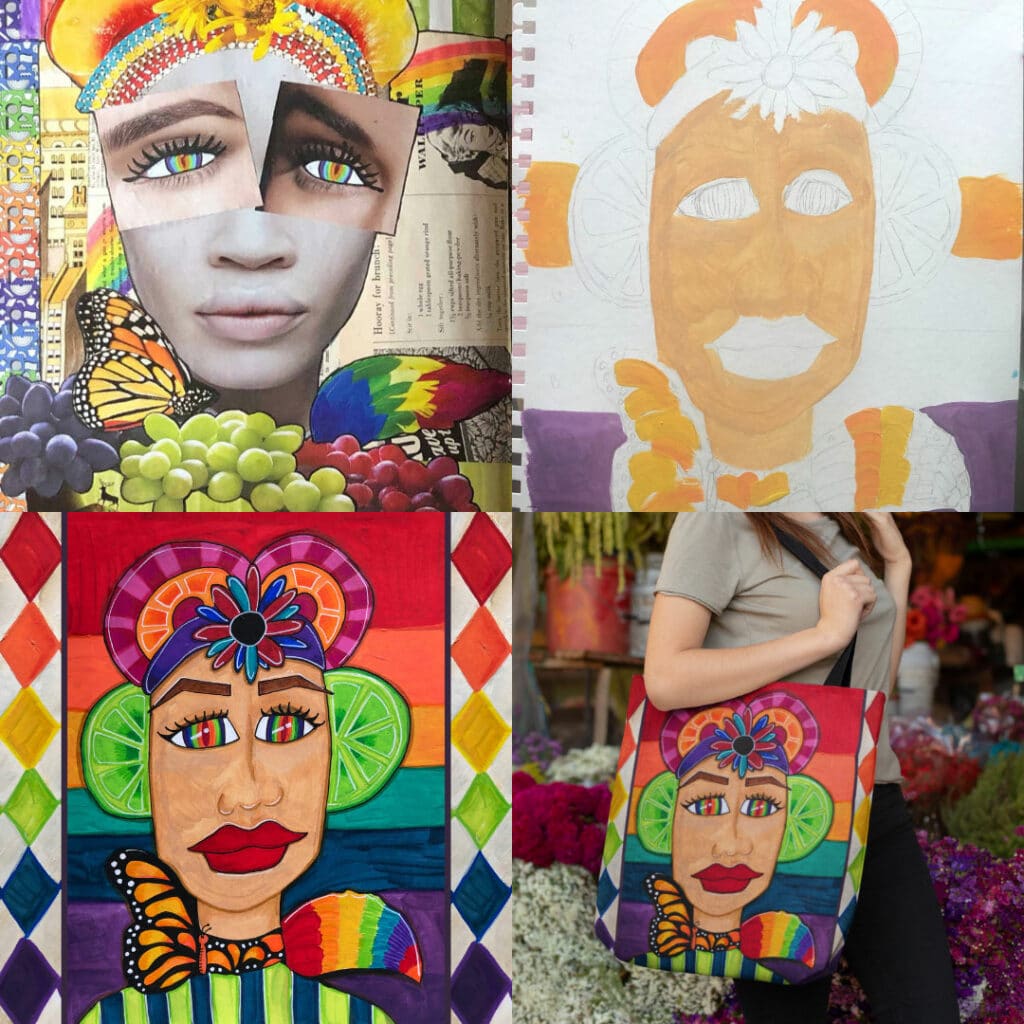 Now that I could paint pictures I was ready to start my Etsy store… Wizard of Alice!
But I had SO MANY QUESTIONS so I decided to get a coaching session with my marketing besty and Etsy coach extraordinaire, Rebekah Welch. Rebekah has been selling POD on Etsy for two years now and she has 4 super successful stores.
Resources Mentioned In This Post
VIDEO :: Coaching Call With Rebekah Welch, Etsy Coach
Questions About Opening A POD Store
Starting anything new is overwhelming and I had a bunch of questions that I really wanted to know so I could have the most chance of success!
1. What is the goal for your Etsy store?
My goal is to make lots of money easily, I just upload my files and Printify prints it out and mails it for me.
Rebekah says that there are two types of artists… ones who want to make money and others who want to see their art out in the world and THAT is what makes them happy.
Neither is right or wrong… it just depends on what your goals are!
2. Why did you suggest Printify?
Rebekah has tried numerous print on demand companies and she recommends using Printify because:
Responsive Customer service
Fastest turnaround
Domestic vendors
Wide variety of sellers in country to ship domestically
Easy to use
3. Should I pick vendors in my country?
Rebekah says you should pick vendors in your own country because of fast shipping AND the fact that global shipping laws are changing and it could be harder to ship outside your own country.
She says that you should look for average delivery time in the vendors you pick to use for your printing. Using the vendors she recommends customers generally get their items within 2-3 days.
She does NOT offer expedited (fast) shipping.
4. How do I pick which items to sell?
Next I wanted to know about which items I should try to sell… Printify has SO MANY to choose from!
Rebekah said this is simple… based on the fact that I want to make money I should 1000% pick things that MY CUSTOMERS will want (not necessarily what I would want).
Don't worry, we will talk more about what to sell later… but for now you will want to think about WHO is most likely to buy your products. I started with journals, tote bags, pencil cases and clipboards because those are things that my Artsy peeps would be most likely to buy!
5. How do you figure out which products are popular now?
Rebekah suggests using research tools like the Etsy drop down search bar, Marmalead for keyword research or E Rank (does the same as Marmalead!)
First step… go to Etsy search bar, type in your kind of art plus the product you are thinking of selling. Check and see if anyone is searching for that and then what kind of products are available. If not, see similar types of things.
I love using Marmalead for this kind of research… I did a search for the different types of products I was thinking of selling. Tote bags and journals won by a mile!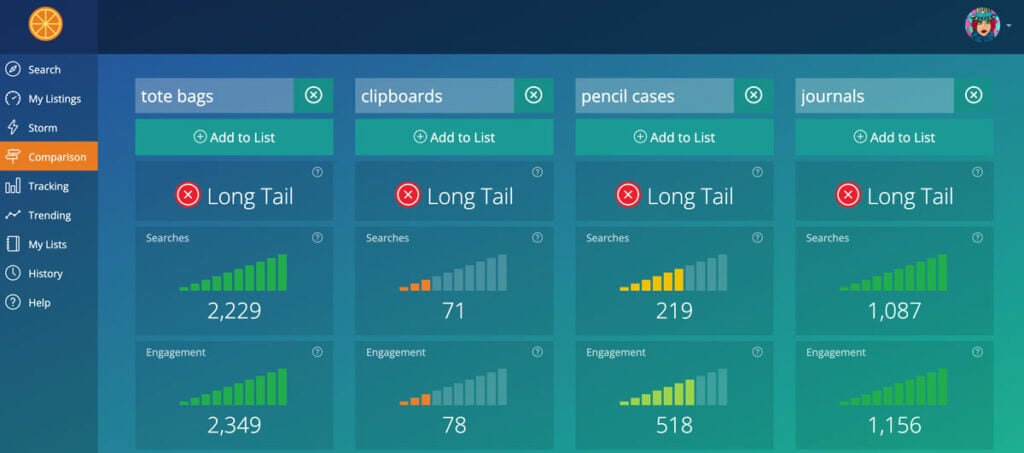 The nice thing about using Marmalead is that you can see how many other creators are selling it and how many searches there are each month for the kinds of products you are considering selling!
She also recommended checking Facebook groups of people who like your kind of art. See what they are talking about and if they have any favored products.
6. How many different item types should I sell?
One thing you will notice when you get to Printify is HOW MANY different products are available to put your art on! But SHOULD you put it on EVERYTHING?
Rebekah suggests that you pick 5-6 different products to start with and figure out what your customers buy! It is a logistical nightmare to keep up with millions of different products with all different designs.
For this focused and researched is more important than quantity!
7. Let's talk about product development!
When you are picking the products to sell there are a few criteria that you should use to start…
How much competition is there?
Who you are selling to?
What price point do your peeps buy in?
If you have a newsletter list or Facebook group, you can ask them what product they would like to buy!
Rebekah suggested these for me to start with (your peeps might like something different!)
Journals – spiral and hardbound
Tote bags
Pencil bags & makeup bags
Canvas wall art
Ornaments
Puzzles
Wrapping paper (seamless prints)
8. Does it hurt to have different items in your store that might not be top sellers?
Rebekah had a couple of good points about having LOTS of different things… some of which are not great sellers!
If you have NEVER sold a clipboard in 6 months, it might be time to take it down and try something else. While the cost to list a product is super affordable on Etsy ($.20 for 4 months).
Get 40 Listings Free When You Start A New Etsy Store!
9. How to prepare for Christmas selling
Next I wanted to ask about how to get ready for the Christmas sales surge. Rebekah says that it can take 30-60 days for Etsy to index your products so you need to get them listed as soon as possible!
People are shopping for Christmas in September, October and November. The last day of shipping realistically for Christmas is Nov 30th.
10. How many items should I have in my store?
This answer came super fast… 100 listings!
Rebekah said there something magical about getting to 100 listings… you start showing up in more Etsy searches without having to be an Etsy SEO (search engine optimization) Ninja or paying for ads!
11. How can I sell more items by choosing popular topics or colors?
As an artist the one thing I think is my super power is that I can make art that matches what people want to buy.
Now, that is not to say that I am going to make DIFFERENT art than I like, just that if people like llamas more than lizards I will paint me some llamas!
So I asked what kinds of things buyers are looking for …. colors, subject matter, trends, themes.
She said it is probably a combination of everything and that it might be worthwhile to tune into social conversations about things that are in the public zeitgeist (she didn't say zeitgeist I did… hahaha).
Additional Resource :: How To Make Roundup Pins For Your POD Store
12. Selling products linked to public domain stories
While you can't sell products directly related to the Disney or Marvel characters, you CAN use stories in the public domain to base your art on (so that you can use those keywords in your listings to get more views, so that you can sell more!)
I did a bunch of research to find out what stories are in the public domain and the two that I think match my art best are Wizard of Oz and Alice In Wonderland.
Rebekah searched the trademark database and found that Alice In Wonderland (the words) have been trademarked for products but Wizard of Oz is fair game.
She had a really good suggestion to focus on the characters (like the Mad Hatter or Cowardly Lion) rather than the bigger key word of the story.
13. What kind of margins should I shoot for?
Rebekah says that you should look at ALL the expenses of selling your product, including:
Cost of goods
Production
Shipping (when you offer totally free or even free with $35 purchase)
Etsy listing cost and fees
Then add 20% so you can afford to have a 20% off sale, then add 20% for your profit!
Rebekah offers free shipping on everything in her store, making sure to price her products high enough to cover it!
14. Should I get Printify Premium?
Printify premium – yes! It costs $25 a month, but you get 20% discount on all the products you sell so you can increase your profit on each sale.
15. Do I have to "mind" my Printify store much?
I was wondering how much work it takes to keep up Printify, Etsy or both. Rebekah had some really great tips and ideas for this one…
You can choose to have Printify fulfill your orders automatically in an hour or 24 hours. Rebekah manually approves each of her orders.
If you do automatic, make sure you have a credit card on file that can handle the production cost charge.
Overall she said that having an Etsy / Printify store is extremely low maintenance!
16. What types of items does Rebekah sell the most?
Ornaments (at Christmas time) and coffee mugs and journals, and sherpas (which I figured out were fancy blankets… hahaha).
She also says that she sells a fair number of tote bags that match something else.
How do you make the lifestyle pictures for your listings?
Rebekah recommends using Placeit to make those pretty lifestyle pictures that Etsy buyers love.
Starting A POD Artist Store Wrapup
Whew, I am SO grateful to Rebekah for answering all my questions about starting my Etsy print on demand store. I was able to get my store set up fast and easy and I have had 6 sales already in the first few days! (granted I asked my friends and family to buy, but it counts!)
If you would like to have a consultation with Rebekah about starting your store, she is giving my peeps special pricing! YAY!
Check out her Etsy Coaching today!