I was looking for public domain stories, images and films that I could use to make products for an upcoming Etsy store. Here are the stories that are "fair game" to use in commercial products because they are outside of the copyright period.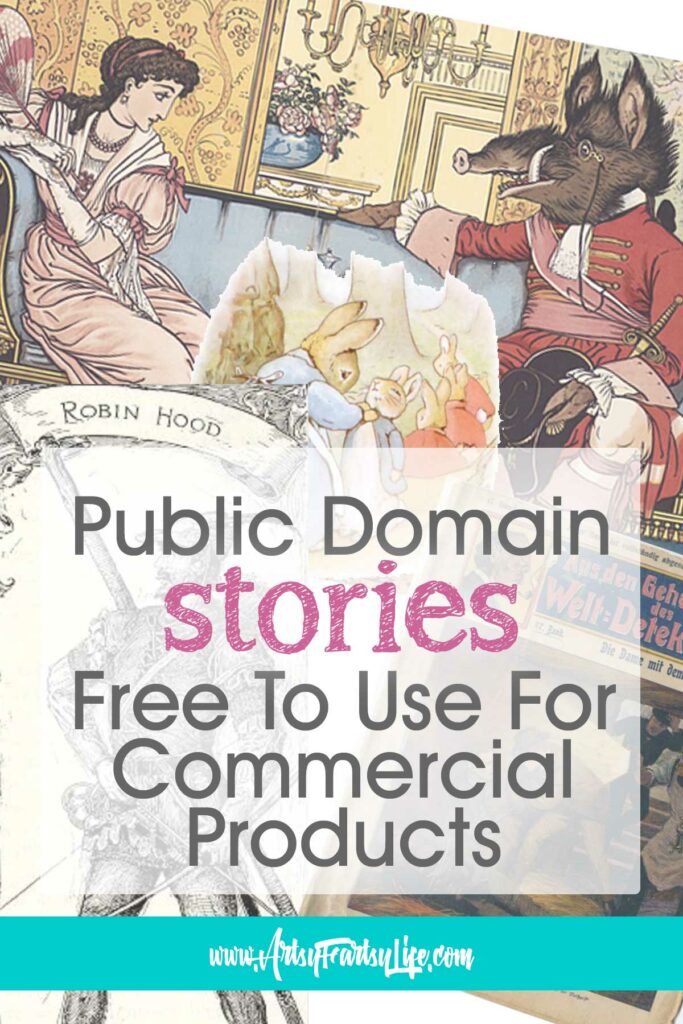 This post contains affiliate links. If you purchase anything, I earn a small commission at no extra charge to you. Check out my policies here.
Disclaimer… I am not a copyright attorney, I am a marketer who studied copyright to make sure that I produce products that will not violate copyright. Please speak with an attorney if you have any questions about whether your product will violate copyright.
Just as an FYI, copyright.gov says for works created after January 1, 1978, copyright protection lasts for an additional 70 years after the death of the artist or writer, and before that it could be anywhere from 95 to 120 years before the IP (intellectual property) works enter the public domain.
Once the copyright has expired and the work is in the public domain you can use it in your products!
Why I Wrote This Post
As an Etsy seller and marketing pro, I KNOW why people want to use stories like the Marvel Comics and Disney Characters for the basis of their product sales. There is already an interest in purchasing these things so that you can make more sales.
That said, many of the stories that people search for ARE in the public domain and you CAN use them in your listings without violating copyright… As long as you are not copying the currently copyrighted version of story.
For example, Winnie the Pooh, the original story came into the public domain in 2022. With the the old fashioned stuffed bear and friends… NOT the cartoon version with a red shirt that Disney made so famous!
Additional resource: HUGE List of Art AI Prompts In The Public Domain
Public Domain Podcast Interview
I had a nice talk about Public Domain with George from the Whole Whale! It is primarily about non profit marketing, but if you want a great overview about how to use Public Domain images and characters in marketing it is a great listen!
You Can't Copy Copyrighted Works
Many companies have made money off of their own versions of public domain stories AND they have copyrighted their versions of those characters.
For example, Disney's version of Beauty and the Beast is super recognizable with the dancing candlesticks, fancy songs and Belle in a pretty yellow dress. The public domain version was written in 1756 and the public domain "beasts" are more pig-like than wolf-like.
Why You Would Want To Use Popular Stories
So back to me and why I would want to find stories that are in the public domain.
That way I can use Etsy SEO keywords like "wizard of oz" and "alice in wonderland" without worrying about my shop getting struck down for copyright violations.
I can use quotes from the original versions and base any artwork I make on the public domain images … which is cool because often Disney used some derivation of the public domain images themselves!
Public Domain Stories
Many of Disney's stories are based on short stories, fairy tales and fables that are in the public domain! Here are some of the most popular ones that you might want to use in your product development so that you can tap into the product interest people may have!
Alice In Wonderland
I don't know about you, but I find the Alice In Wonderland pictures to be some of the coolest in all the land!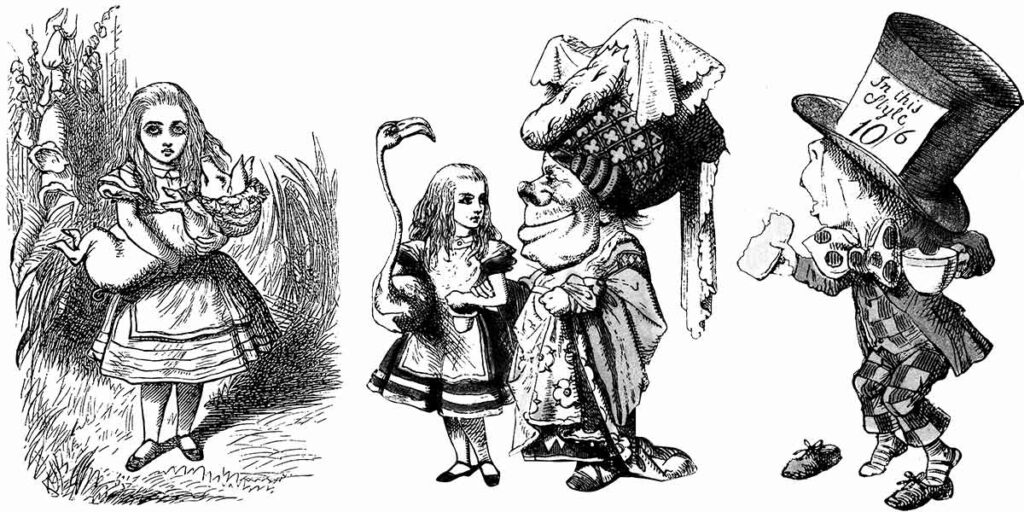 Resources:
You can find all the different illustrations of Alice In Wonderland on Wikipedia!
Beauty and The Beast
Originally published in 1756 by Gabrielle-Suzanne Barbot de Villeneuve as a fairy tale, Beauty and The Beast is a great story about how a fair lady is kidnapped, held hostage and ultimately falls for her captor.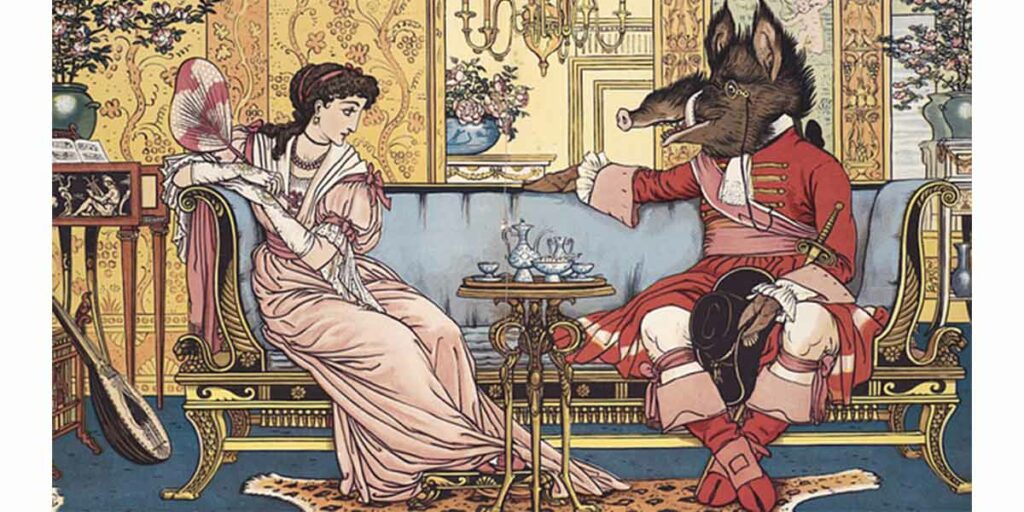 Resources:
Here is a great library of public domain Beauty and the Beast Illustrations.
A Christmas Carol
I love how spooky and dark the story of Ebenezer Scrooge is! It was published in 1843.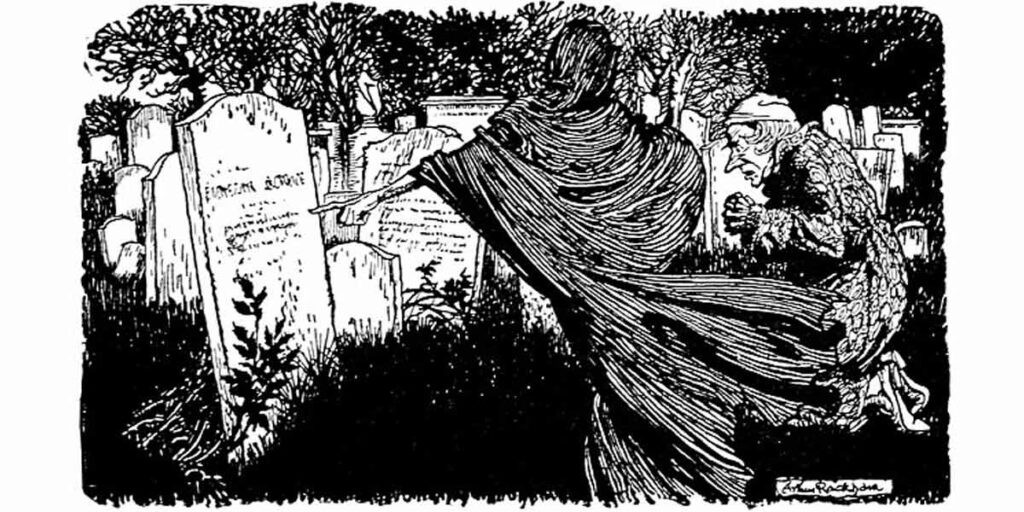 You can find illustrations of A Christmas Carol by going to Wikimedia and searching A Christmas Carol.
Grimm's Fairy Tales
Jacob Grimm published a huge number of the stories that we think of today! Here are a few that are in the public domain (although not the Disney Version)
Cinderella
Snow White
Little Red-Cap (Little Red Riding Hood)
Little Briar Rose (Sleeping Beauty)
Rapunzel
Rumpelstiltskin
Snow White and Rose Red
The Golden Goose
Here is the reference for the Grimms stories!
The Legend of Sleepy Hollow
The spook-tacular image of the headless horseman riding his stead and carrying his round head is in the public domain! Written by Washington Irving in 1820.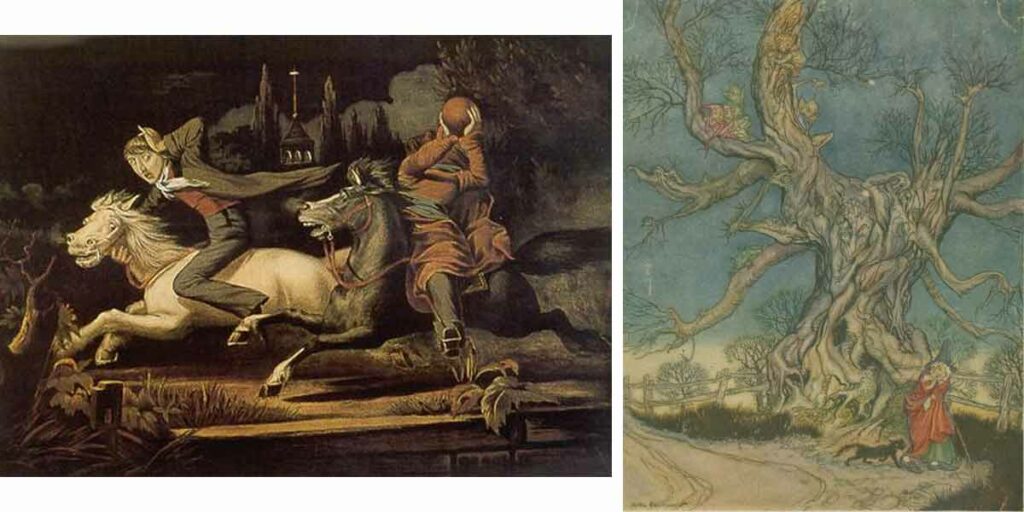 Little Shop of Horrors
Roger Corman directed the 1960 black comedy and thought it wouldn't make much money so he didn't copyright it. You can download and watch the whole movie!
The Merry Adventures of Robin Hood
Written in 1883 by Howard Pyle there are tons of great Robin Hood images in the public domain!
Night of the Living Dead
Funny story… they forgot to put a copyright notice in the releases of Night of the Living Dead so it is in public domain, even though it was released in 1968 by George Romero.
Peter Rabbit
I LOVE, LOVE, LOVE the illustrations from The Tale of Peter Rabbit! Written by Beatrix Potter in 1901.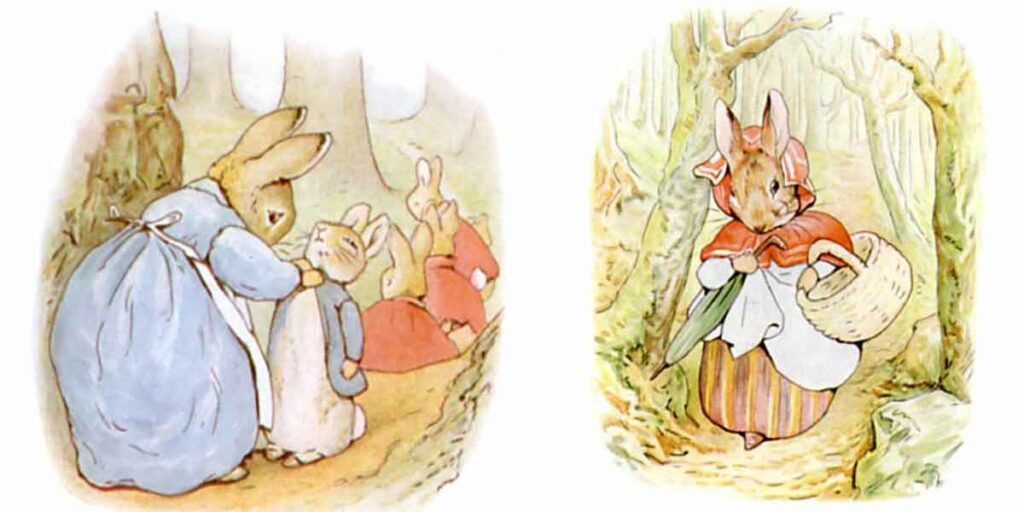 As this was an illustrated book, you can find a lot of graphics to use on Wikipedia Commons! Just search for Peter Rabbit!
Peter Pan
I love the tale of a "boy who won't grow up!". There aren't tons of illustrations about Peter Pan in the public domain but there are a few that you can find on Wiki Commons.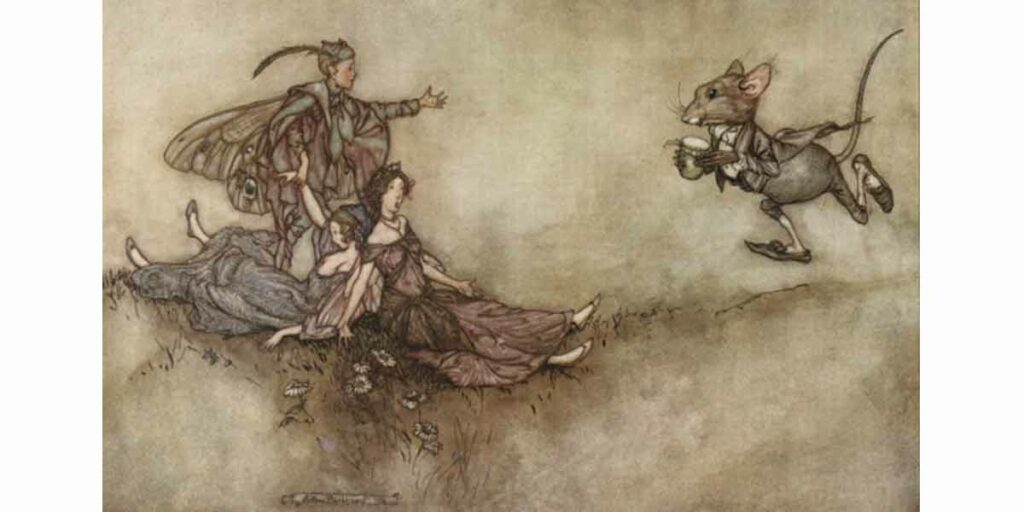 The Phantom of the Opera
The original work was a serial published in 1909 by Gaston Leroux, in French. So the book and Lon Cheney's movie about this are in the public domain.
Sherlock Holmes
Mostly it seems like the images for Sherlock Holmes in the public domain are of a tall, skinny man with a hat (not deerstalker). Originally published in 1887 by Arthur Conan Doyle as A Study In Scarlet.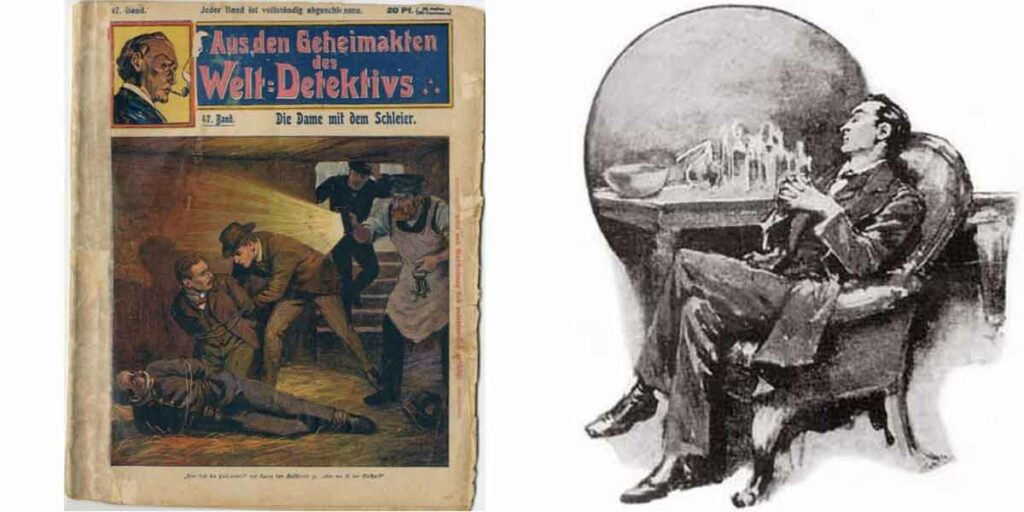 The Wind In The Willows
I love the idea of this book! Rat, Mole, Toad and Badger on an adventure! Published in 1908 by Kenneth Grahame.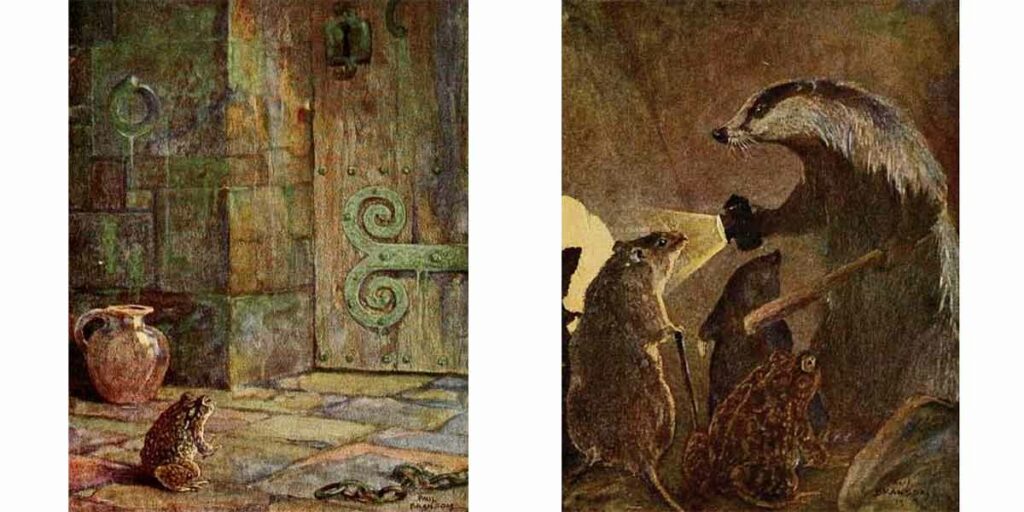 Resources
Some fun Illustrations from the Wind In The Willows.
Winnie The Pooh
I love the Pooh bear! The first book was written in 1926 by A.A. Milne and illustrated by E.H. Shepard so it is in the public domain!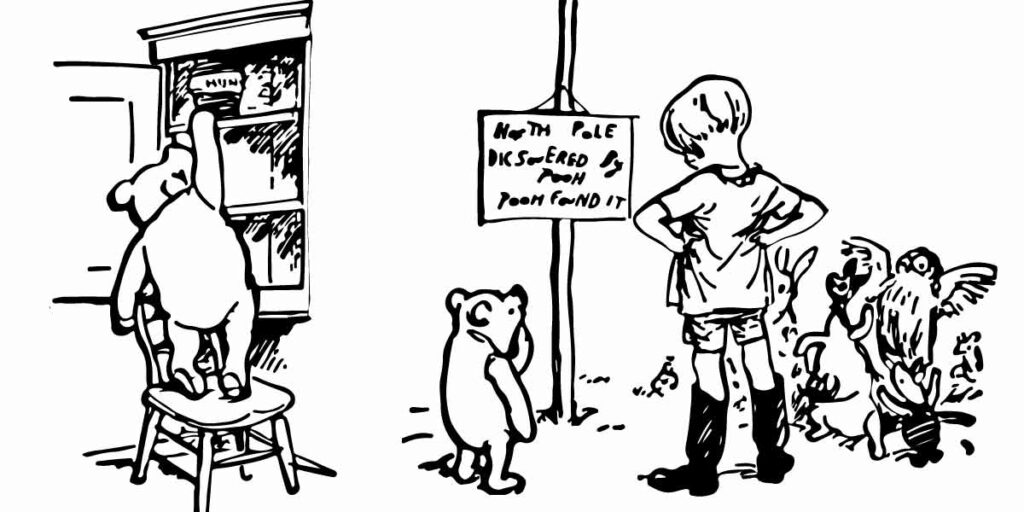 Resources:
You can get all the files for pooh on Wikimedia! Just search "winnie the pooh".
Good description of which Winnie the Pooh books and illustrations are in the public domain
The Wonderful Wizard of Oz
The Wizard of Oz is a charming story written by L. Frank Baum and illustrated by W. W. Denslow in 1900 so it is available for us to use… yay!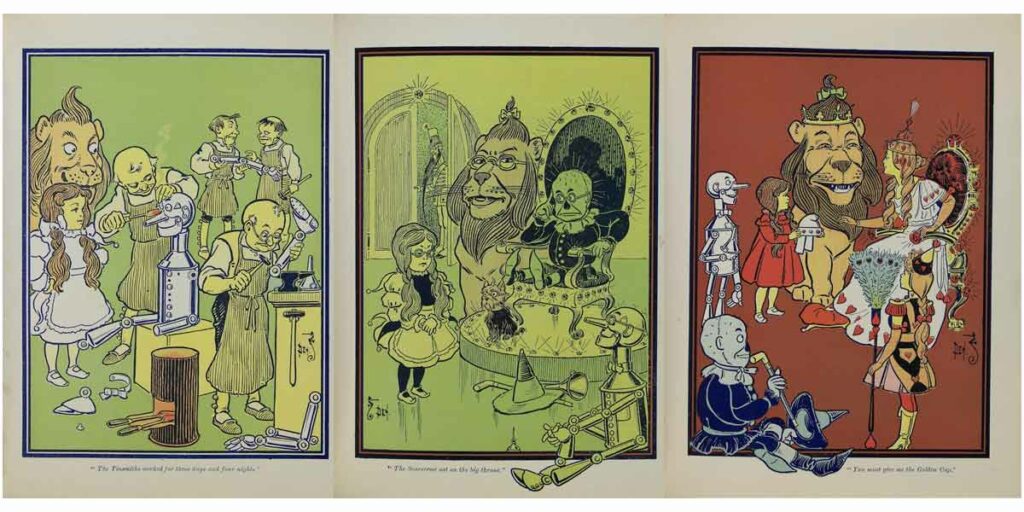 Resources:
Here is a great site that has all the pictures of the original Wizard of Oz illustrations!
Additional Resources
Public Domain Sounds