Today I am going to show you EXACTLY how to do the research to find the best keywords to use for your Etsy mug and coffee cups listings.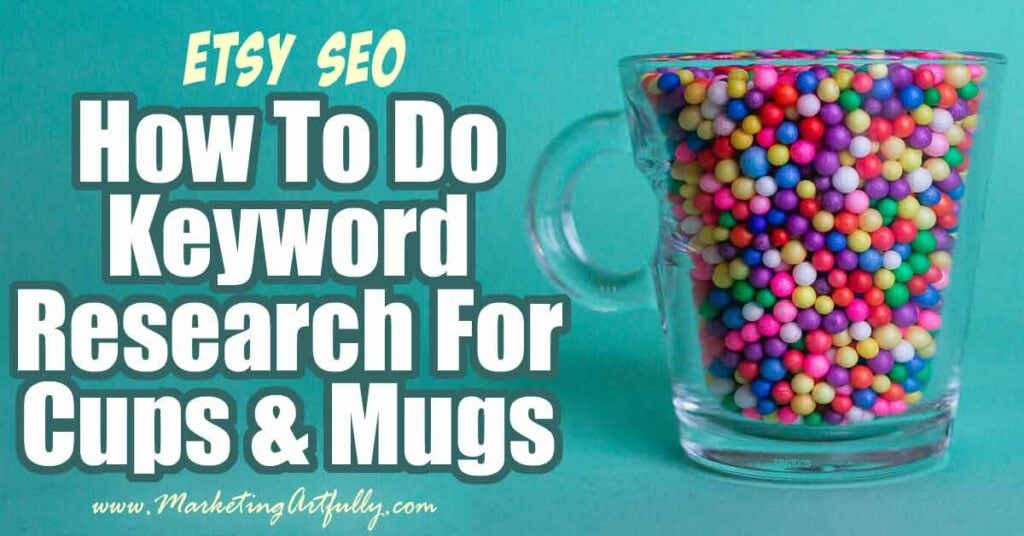 This post contains affiliate links. If you purchase anything, I earn a small commission at no extra charge to you. Check out my policies here.
My Etsy SEO Story
In 2015 I opened my first Etsy store, selling necklaces…. come to find out I ate selling necklaces, but I LOVE Etsy!
I have sold over $30,000 worth of digital downloads on my Paperly People Etsy store and about $10,000 on my Etsy vintage store so I have been around the old Etsy block a time or two!
I have written an Ultimate Guide To Etsy SEO and have a number of classes for Etsy SEO. Needless to say I LOVE Etsy SEO A LOT and love teaching shop owners how to do SEO.
How To Do Etsy SEO For Mugs & Cups Video
Which Listing Should You Start SEOing?
In the video you will see that we picked one of Rebekah and Cos lower ranking listings!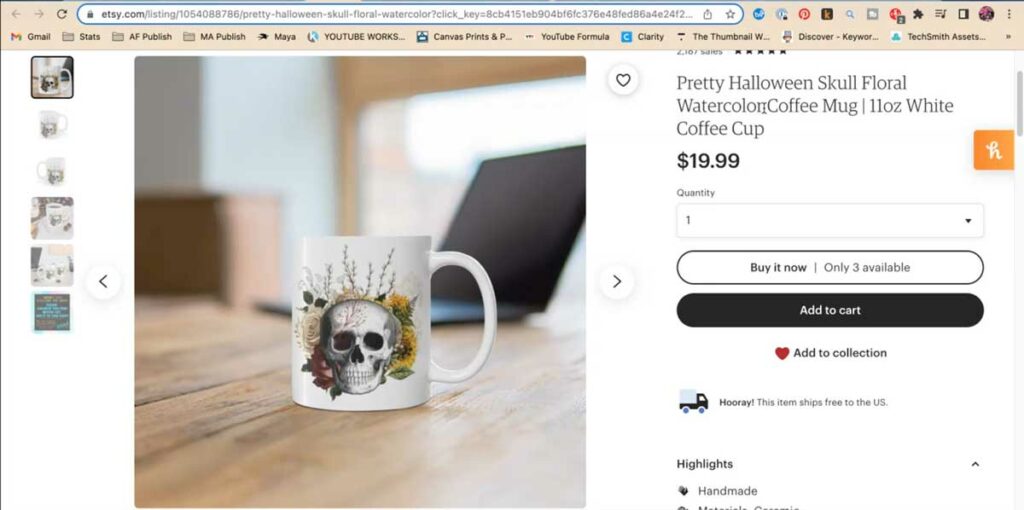 That is super important! You don't want to messing with your Top 10 Listings. Instead take a lower or middle level listing and try to improve that first.
Not to say that you shouldn't try to improve your Top 10 listings… I would just do those changes more slowly (like one change a week).
Should You Change All Your Listings At Once?
One thing I have noticed over the years is that when you learn these tips and ideas for SEOing your mug or cups listings is that some sellers turn into Sherman going through Atlanta. They burn down everything in their shop and change all their listings at once.
Don't do that!
Pick a few, update them, then pick a few more next week and SEO them. If you change all your listings all at once you can't really tell what about your efforts is working!
Etsy SEO For Mugs Steps
This post is SPECIFICALLY about how to do keyword research for your coffee cup, tea cup and mugs listings. These are my very best tips and ideas for how to find great keywords to use in your Etsy listings!
While I do have these in step-by-step order, you will see in the video that I spend A LOT of time flipping back and forth between the different sites!
1. Start A Text File or Spreadsheet To Record Keywords You Find
When I am doing SEO research I like to have a text file open on the right hand side of my screen where I can start recording keywords!

2. Search Google
Google is the big dog when it comes to ALL search marketing. They have spent years developing algorithms that can help you to find good keywords to use and are a great place to start your research.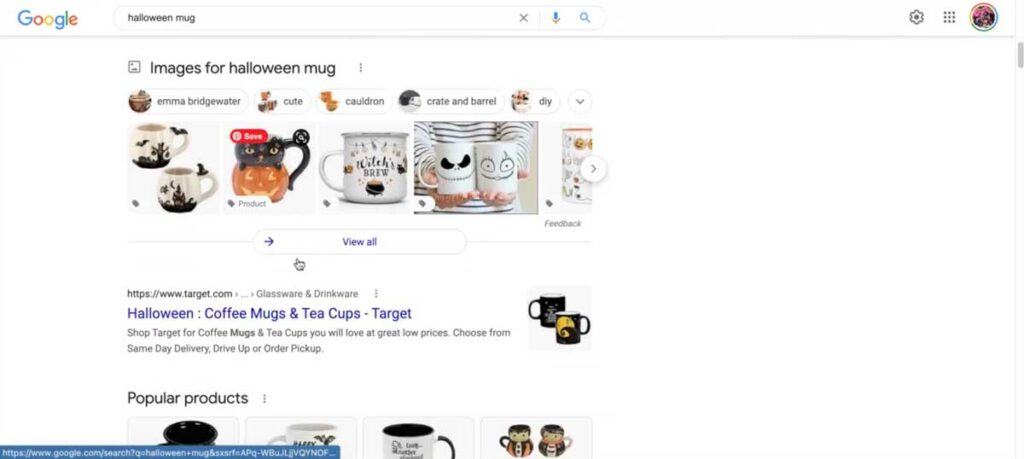 A quick word about buyer intent (which will come up in the Pinterest research too!)
Buyer intent means that you want to find keywords that SHOPPERS are using. Some keywords that look great might be more focused on someone who wants to do DIY or make their own mugs. You should avoid these keywords in your Etsy listings.
Do a search for a broad type of your mug… so for this one we did "halloween mug".
Start noting down any keywords (including adjectives) that you see!
3. Check Pinterest Search
The next place I like to go is to Pinterest. They have a huge amount of data and keywords available for us to use!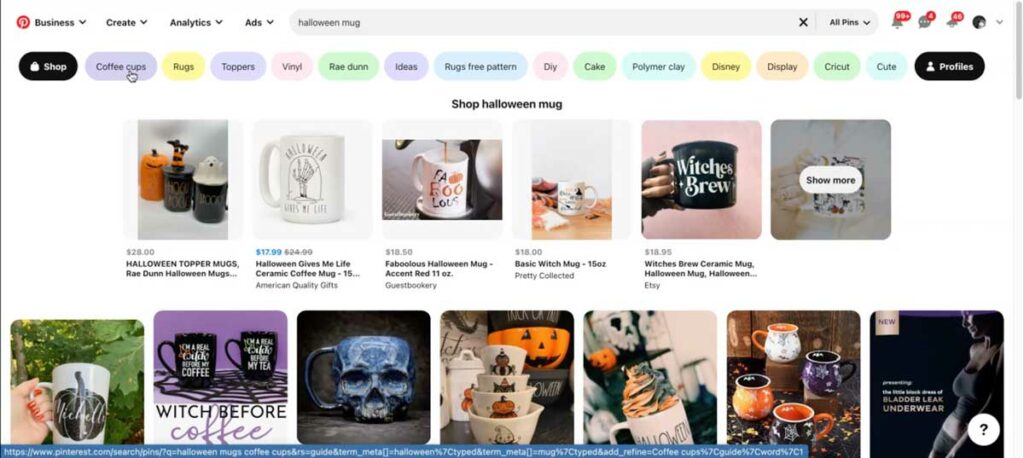 Make sure you look at both the regular feed and also the "shop" tab, noting keywords in the bubbles at the top that match your kind of listing!
Here again you need to be careful of buyer intent. You will see a lot of DIY and SVG files that crafters can use to make their own mugs. Just disregard those!
Note: As you go through Pinterest, you can do a wee bit of product development at the same time! If you see some related, popular products you can add them to your "to do" list of mugs to make in the future!
4. Check Amazon Listings
The last place I like to go for broad keyword ideas is Amazon! They also have a much better search function than Etsy and you can find lots of good keywords and adjectives for your mugs!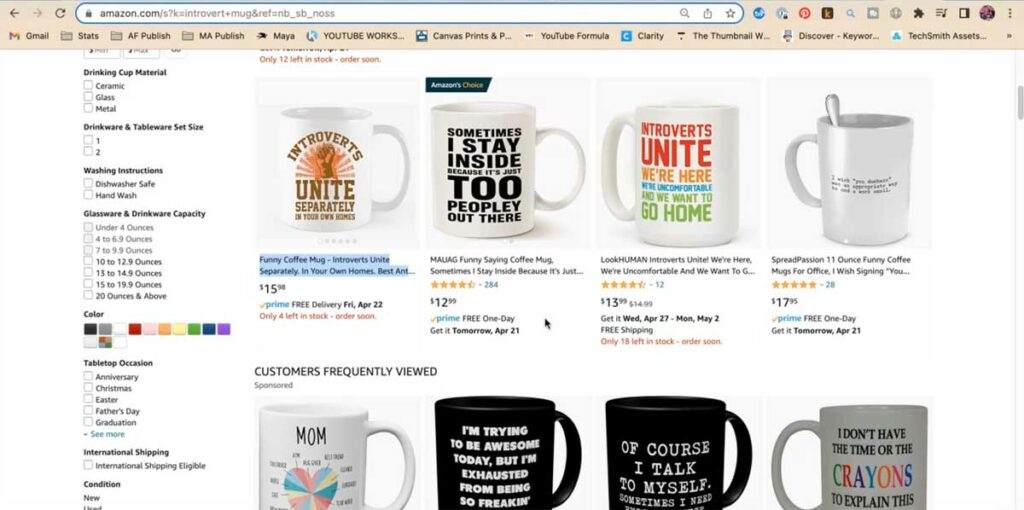 The other nice thing about Amazon is that the buyer intent is ALL sales. You can do a wee bit of product development research on here too at the same time!
We found A LOT of good terms to use for Rebekah's introverted mugs here!
5. Check Search Volume In Marmalead
My all time favorite paid tool for Etsy SEO is Marmalead! It amazes me that you can get ACTUAL data about searches for like $20… I pay $100 for google info like this!!… whoop whoop!
Once you have a list of keywords you want to use, you can trot on over to Marmalead and use the competition tool to see which ones you should put in your title!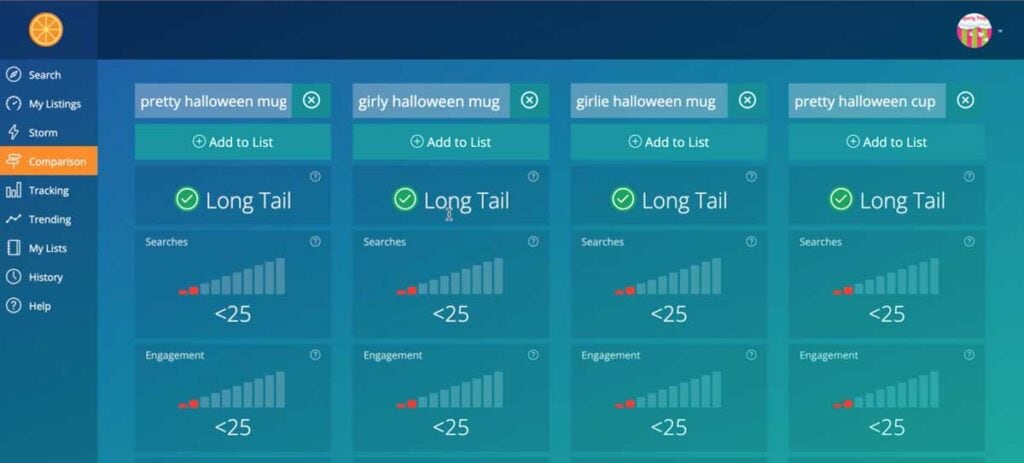 Sometimes when it is not the right time of year, there will be no real time search info so PRO TIP… one month after the holiday do the research for next year so you get a ton of great, recent data!
Long Tail Keywords
The decision to use Long Tail or High Volume keywords is huge… click the link for a whole post about this!
That said, for a type of product like Coffee Mugs or Tea Cups, you need to find long tail keywords for two reasons…
First, someone searching for just a coffee mug is WAY early in their search and probably not a buyer that will buy soon.
Second, there are 843,856 with ads so you need to be more focused with your keywords!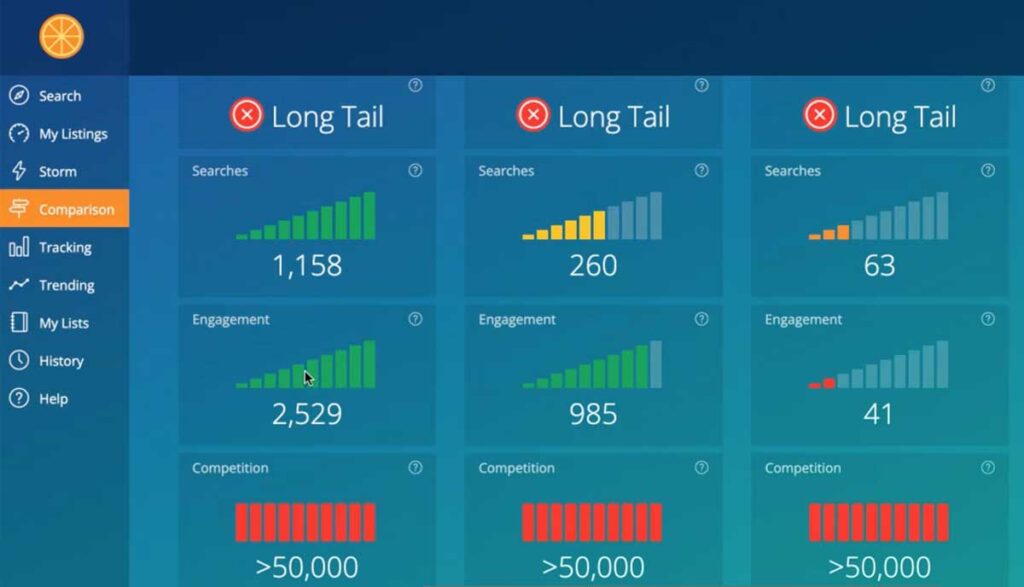 Check For Additional Keywords
Last but not least, look at the bottom of the top listings to find additional keywords that you can use to add to your titles and tags.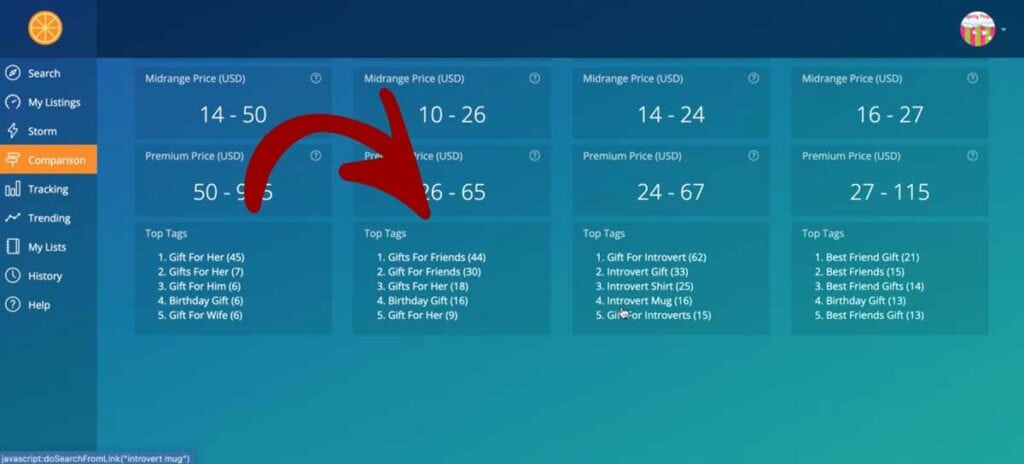 Note: You can do all this research without Marmalead, but then you are going to have to use trial and error, checking your stats and adjusting accordingly! I personally find it amazing that we have a tool for under $20 a month that can save us SO MUCH TIME!
6. Check Etsy Dropdown Suggestions
Once you have some keywords to check, you can head on over to Etsy and see what they recommend in their dropdown menu. This is a great way to find keywords that Etsy sees as important!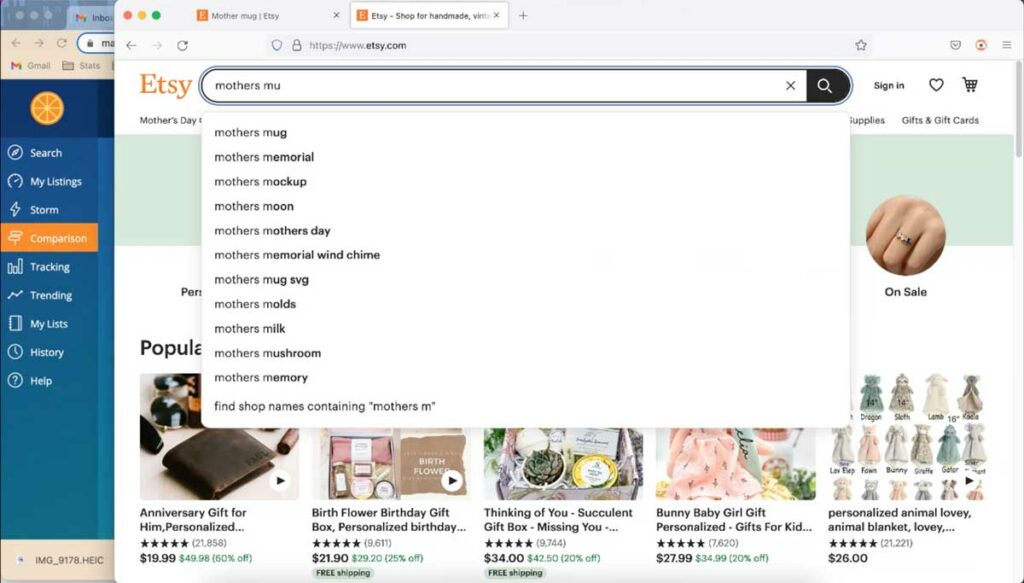 What we found while doing our research is sometimes you want to do "mothers… mug" and then check "mug… mothers" as you will get different suggested keywords.
7. Check Number of Competing Listings
Last but not least… I KNOW this seems like a lot but it is fun to do when you know how… you want to check the number of competing listings.

If you have a new shop, you need to use long tail keywords to get views because you don't have a track record of sales.
If your shop is popular and has lots of sales and reviews you can use more popular keywords and still get found relatively high in search!
Etsy SEO for Coffee Cups and Mugs FAQs
I KNOW you probably have a million questions… here are a few answers that might help!
Should You Do A Trademark Search
Violating trademark is a really bad idea… it can get your shop taken down! If you find a GREAT keyword you are basing your whole product line on, it is worth it to do a quick trademark search to see if it will cause problems down the line!
(make sure to select "live" only when searching)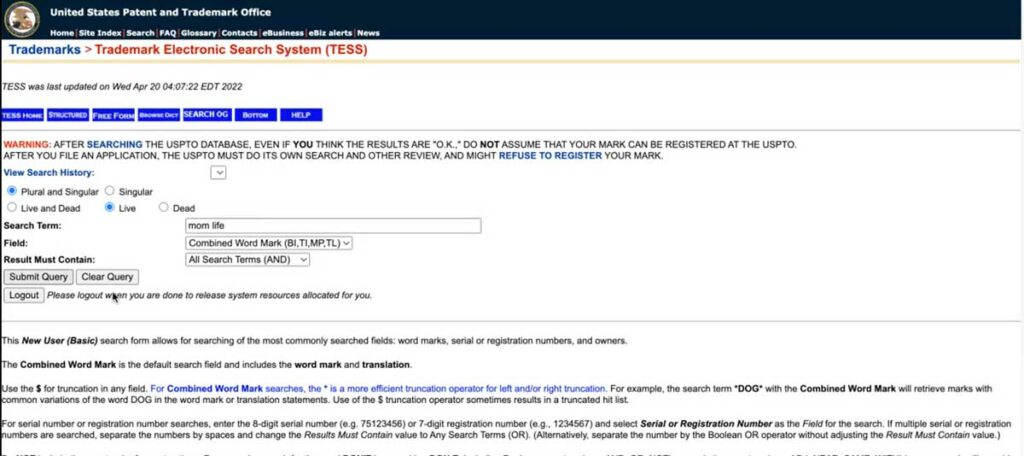 Additional Resource :: Trademark and Copyright For Etsy Sellers
What If You Have No Idea What Keywords To Try?
Marmalead Storm
If you are using Marmalead, I love the storm feature because it is pulling real Etsy data to find keywords that people are searching for now!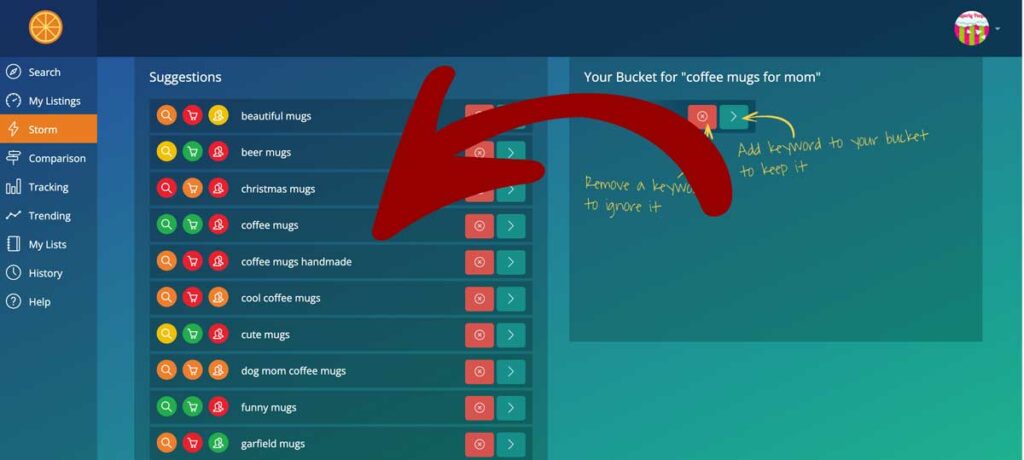 Etsy Dropdown
You can put your main keyword in the Etsy search bar and do "mugs a", "mugs b" etc. and Etsy will suggest keywords that you can use.
Amazon Dropdown
You can do that same kind of thing with the Amazon dropdown! I just put this here to remind you that this is an option.
Is a great place to find Synonyms to use in your listings (best for adjectives!)
Should You Use Plural and Singular Keywords
And the big question… do you need to use plural and singular keywords? To check this, simply open a browser you don't regularly use (I use Firefox for this) and type in both sets of keywords, the plural and the singular.
If the search results are different then YES! Use both the plural and singular versions somewhere in your titles and tags!