Today we are going figure out some good Mom Gift SEO Keywords to focus on in our Etsy Listings! Tips and ideas for finding good Mom Keywords.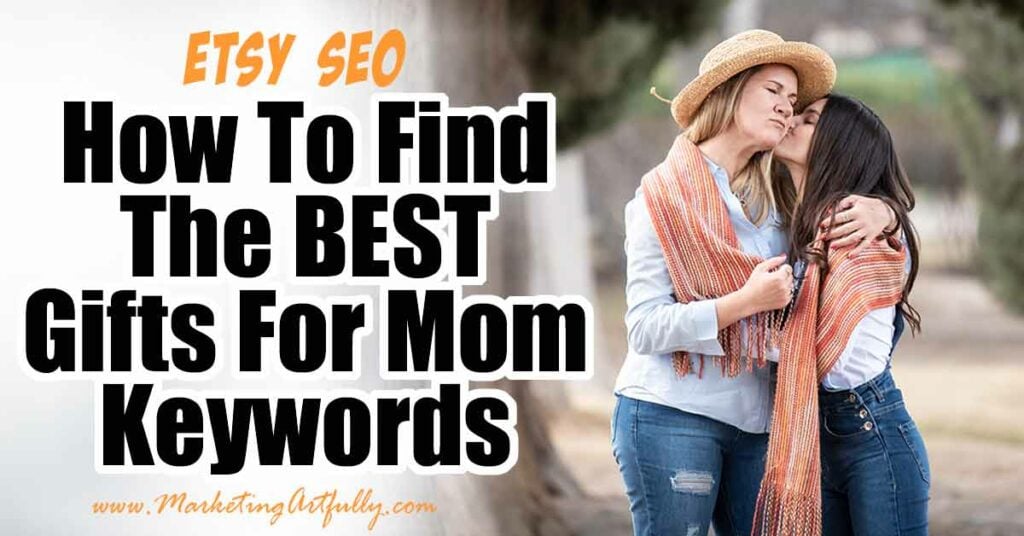 This post contains affiliate links. If you purchase anything, I earn a small commission at no extra charge to you. Check out my policies here.
What Are Mom Gift Keywords?
When we are thinking of gift for mom keywords, we are super early in the buying process. Someone has come to Etsy to find a present for their Mom, but they don't have something specific in mind.
Additionally, they are super competitive keywords, so we want to use them judiciously in our listings and find the best keywords that will match our specific listings!
Should You JUST Use Gifts For Moms Keywords
This one seems like a great example… say you sell personalized mugs with slogans for new moms (or moms to be).
You will want to use all your "mom to be" keywords BUT ALSO the best Esty mug keywords since you have a character limit of just the words in your title and tags.
What Holidays or Dates Are Good For Mom Gifts?
The other thing to think about is WHEN someone is looking for a gift for their mother… it could be Christmas, her birthday, mothers day or any other number of times in the year.
YES, you can put this in your attributes, but if it is the right time of year for big gift giving (looking at you Christmas and Mothers Day) I would add it to my tags too!
VIDEO – Doing Research For Gift For Moms Keywords
I LOVE using Marmalead for my keyword research!
Why Do We Want To Find Detailed "Mom" Keywords
When you look at these number of competing Etsy listings, it is easy to see that just using the big terms will be exceedingly hard to show up in search for.
That is why we want to super detailed with our adjectives and other listing specific things that searchers might be looking for!
Gifts for mom – 3,117,700 competing listings
Gifts for mom mothers day – 1,083,025 competing listings
Gifts for mom from daughter – 183,224 competing listings
Gifts for mom birthday – 1,038,844 competing listings
Gifts for mom to be – 3,116,968 competing listings
HUGE List of Gifts For Mom Etsy Keywords
I have done the research for you and here are some great keywords to use in your Mom gifts listings!
General Gifts For Mom Keywords
Here is a huge list of general gift for mom keywords… they are super general, but could lead to high views if you happen to get to the top of search!
Gifts for mom
From daughter
Son
Mothers day
Birthday
Mom to be
Mom gifts
Creative
For Christmas
Perfect
Cute ideas
In Law
From kids
Best
Funny
Gift set
Gift Card
Popular
Bestseller
Bonus
Thoughtful
Ideas
Unique
Her
Presents
Personalized, custom
Personalizable
Boyfriends
Mom Names To Use
Don't just use "mom" … make sure to use the other Mom names people might be searching for!
Places Mom May Be
You can also think about WHERE the mom might be!
In nursing home
In hospital
Types of Moms
There are all types of moms that people look for specific gifts for!
Dog Moms
Team Moms
Boy Mom is TRADEMARKED… please do not use this one! Girl Mom is TRADEMARKED for Tshirts.
Moms To Be Gifts Keywords
This could be a whole post by itself since new baby gifts are such a big industry… but here are some great keywords if you are targeting new moms!
Moms to be
Baby shower
First baby
First time
New
Expecting
Wedding Gifts For Mom
Last but not least is focusing on gifts for Mother of the Bride or Groom!
On wedding day
Mother of the bride
Parents
Thank you
Groom
Etsy SEO Gifts For Mom Wrapup
Whew that was A LOT of mom gift keywords… but hopefully it has your wheels turning about how you could pair your listings with the top gifts for mom keywords to get more views and sales.
The main thing I think you should focus on is making sure your listing EXACTLY matches the search intent of the keywords you use. There are just too darn many listings on Etsy now to be vaguely appropriate for the searchers intent!
Hopefully that helps! XOXO Tara