This is a super easy to implement system to follow up with your buyer clients after the sale so they don't forget you! Tips and ideas for mail, email and phone calls you can use to stay in touch!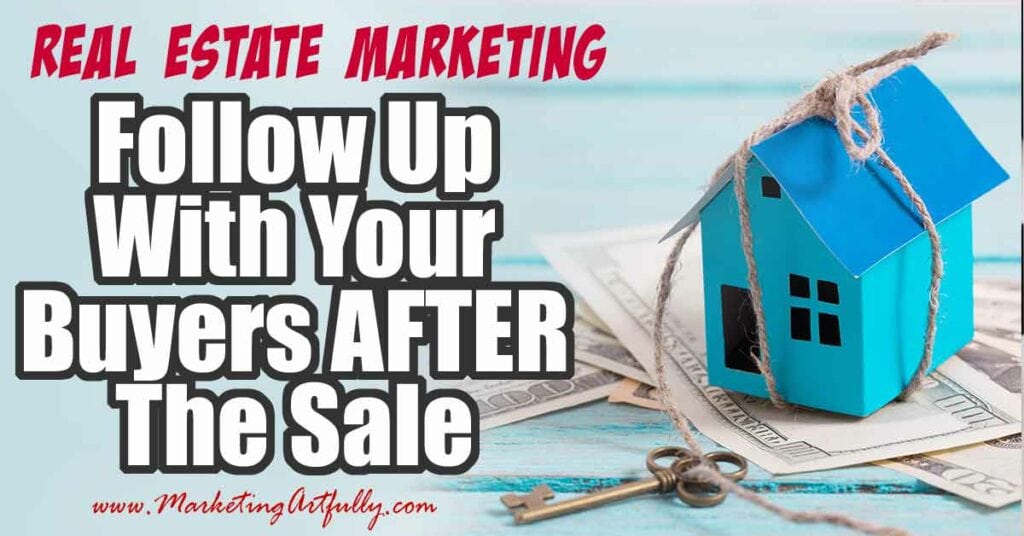 This post contains affiliate links. If you purchase anything, I earn a small commission at no extra charge to you. Check out my policies here.
Reader Question
I am writing this post because one of my readers asked…
What would you recommend doing with the customer within for instance 30 days after you have made the sale?
This is SUCH a good question I had to noodle on it a bit before I could answer! BECAUSE, as you know, there are two types of clients agents work with, buyers and sellers.
AND you might or might not know that most real estate listings generate at least two buyer leads… so I am a huge listing agent proponent…. BUT I think the followup program for buyers is easier to implement so I am starting with that! (let me know if you want a listing followup… email me tara@marketingartfully.com)
When Should You Follow Up With Your Buyers
We are going to talk to day about 30 day followup, but I think the MOST important followup is the 5 year followup… what the what…. 5 YEARS?!?!?!
Yep! 5 YEARS!
And the reason for that is the time between home purchases was statistically about 7 years a while ago and is 6 years now. So you want to reach out to your past buyer (who is soon going to be a seller) about 5 years from the closing of their home.
According to NAR's annual report, "90% of buyers would use their agent again or recommend their agent to others."
So we know that your past buyers are going to move SOME time, and we know that they are likely to use you again, but what if they forget you?
We are going to put a plan together to make sure that your past clients are not going to be cheating on you with any other Realtors!
You Should Have A "Real" Database and A "Marketing Database"
I know some of you love the convenience of having all your contacts in one database, but I am going to make a pitch to have your "serious real estate transactions" in something like Top Producer or Wise Agent and then have your "fluffy marketing bits" in something like Convertkit, which is a marketing platform.
My reasons are two fold… one, you don't want to gunk up your actual database where your real leads and clients should be and two, those systems are great for real estate transactions, but not so great for marketing.
Oh, oh, oh and you can have ALL your contacts in a "back up" system in case you ever leave your current company.
An internet marketing system like Convertkit lets you do things like schedule out an autoresponder years in advance, tag people when they click links in your email and their main focus is deliverability so people will get to see your email messages more.
What If You Haven't Been Following Up All Along?
Ohhhhh the shame! You sold a whole bunch of buyers at the start of your career and never talked to them again and now you feel silly reaching out to them… don't!
We are going to be providing a TON of value to their home buying or selling experience so hearing from you will be a pleasure!
I am not a fan of "sorry I haven't contacted you in a while" emails because that makes it seem like you did something wrong.
If you feel you HAVE to send something out, please make it a "I am doing this new great thing and thought of you and how it will help you" instead of apologizing!
To Do: Make a list of every client you have ever sold or bought a home with… unless they were a pain, you can skip those ones! We want names, emails, phone numbers and addresses (for the buyers this is dead easy!)
And don't leave now!!! I know I said phone numbers, but you don't have to call if you don't want to! I was never a big caller and I did just fine!
Real Estate Buyer Followup System
So now to the system… I am going to have a "high touch" and a "low touch" version for each of these in case you think it will be too hard to follow up consistently.
That said, I have over 7,000 people in my email database, ask them to talk to me all the time and write long detailed blog posts telling my favorite realtor peeps how to do things… and the volume of contact I get is so low that I can actually handle it in a few minutes a day.
While it takes time to set up the system, it takes very little time to maintain it!
One Day After Closing
These people are BUSY, they are moving into their new home and have a gagillion things to do… now is the time be kind and helpful!
High Touch: Take them over some snacks in a goodie bag… you probably have eaten at least one meal with these people and know what they like to eat, if one of them is a vegetarian, etc.
Low Touch: Send out an email and check in to see if everything is okay! This doesn't suck, but is not very warm and fuzzy.
One Week After Closing
Okay, they have probably settled down a wee bit and are getting their feet under them in their new house. You can be a little more proactive in this step…
High Touch: Head over with your laminated list of recommended contractors, repair people and the best restaurants in their area (you can do this for each of your farm areas AND make connections with local tradespeople who could be a good referral source.
Low Touch: Send your laminated list in the mail with a nice personal note.
Low, Low Touch: Email them that same list with a PDF they can print out… anything is better than nothing!
Two Weeks After Closing (Optional)
You have been in constant contact with these buyers for the last few months, trauma bonding over the home buying process and they probably miss hearing your voice and feel like they lost a friend!
Phone a friend: Give them a quick "just checking in" call. Talk as long or short as they like and if they don't answer leave a message (if you don't they will freak out that something is wrong!)
One Month After Closing
Now you are in maintenance mode… you are going to start contacting them on a monthly basis forever!… BAHAHA… no really, you are!
High Touch: Mail them an overview of their home's CMA and neighborhood statistics. Some agents do this with a postcard, I liked to pull a CMA and write notes like "this is similar to your house" or "your home appreciated already!"
Low Touch: Email them that same report with a fun message about how you are going to keep helping them "spy on their neighbors".
Low, Low Touch: Send a monthly email blast to your whole database with a CMA info for the whole area and include your analysis of what is going.
Ongoing Messages To Everyone
Once you have gotten them settled, you want to get them used to the fact that you are going email them every month with great information.
Here are some things you can send them:
Neighborhood info – our school district was changing its boundaries, that is something to let your peeps know, if any new restaurants open up, planned zoning changes, etc.
Real Estate Gossip – you know you hear things behind the scenes like how the downtown district is growing or how some condo building is getting a new facelift.
Tips for their home – Any relevant articles for your area… don't send fireplace tips in Florida or swimming pool tips in Colorado!
Your recent sales – Tell them about clients you have worked with… you could call it "client spotlight"
Remind them to send you all their referrals… give them the exact types of people you are looking for this month… first time home buyers, people who want to sell, move up buyers, empty nesters, etc.
Tell them you love them and they can hit reply if they have any questions or call if they want to (that hit reply and talk to me thing will help your email deliverability rates!)
Pro Tip: Send out your "whole database" email the 2nd Tuesday of the month. Mondays are too stressful and this way you can contact them regularly without worrying about Thanksgiving or Christmas messing up your system!
Your Special Days Video Messages
If you are comfortable recording yourself talking, you can make a quick video on your phone or use a program on your computer like Loom (free) to record a message to send to your peeps!
Here are some that you could do…
Deb Ward, the Irish Realtor, sends out a St. Patricks day message… so fun
If you are Hispanic you could do Cinco De Mayo
A Star Wars nerd? Send out a "May the 4th be with you" message
Big sports fan? Send out a message on open day for your local sports day team
Sell in New Orleans? Gab about Mardi Gras
This is where your personality can come out! Don't forget these people like you and you helped them! They want to see your cute little face!
Bonus – Personal Notes
EVERYONE likes getting a real letter in the mail! This is probably the only one I wouldn't systematize… I would send out "thinking of you" personal notes!
When you pass their house, when you see something that makes you think of them, really any time they cross your mind!
Here are some great things to say in personal notes!
Real Estate Buyer Followup Wrapup
Okay, that seemed like a lot, but it is pretty darn easy once you get it set it up and have a system!
Pick one day a month to write your email for that month, send out your CMA or record your messages and get it all done in one fell swoop!
Please don't forget, you like these people and if they get hooked up with another agent who is not as capable as you are, they could get hurt in their next transaction!
Stay in their lives so you can help them sell their house and buy a new one… double dipping baby!