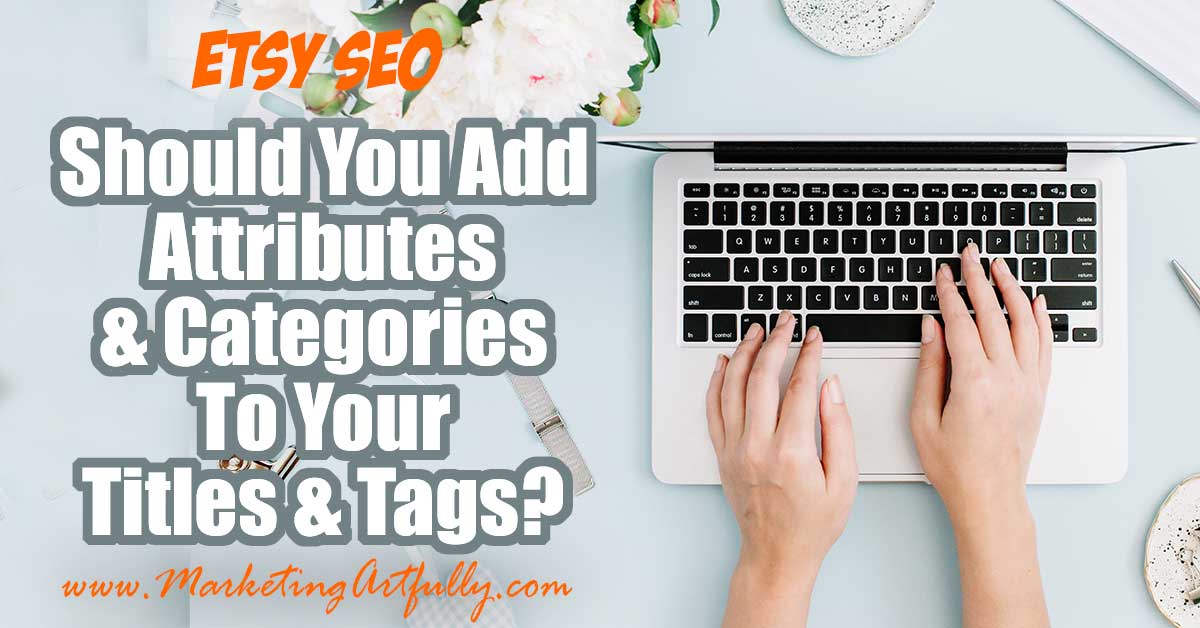 Etsy has been putting out a lot of information about SEO recently and it has made some sellers question what they should be doing to be found in search. Today let's just look at a very thin slice of this and see how attributes and tags affect your Etsy search rankings.
One thing that makes everything so hard is how everyone analyses what has been said and throws in their own two cents (I will be doing that too since this is my blog!) But never fear, what I will start with is information right from Etsy.
As you may or may not know Etsy has a blog where other people submit articles. Some of these directly contradict the "Official" Etsy party line so I will include ONLY Etsy sources AND include dates of what was said!
Fill Out All The Spaces Etsy Gives You!
Let's start at the beginning shall we? Everyone agrees that we should add categories (LOVE the category "suggestion" feature that was added not that long ago, yay Etsy!)
Using all 13 tags, adding variety to your tags, adding all the relevant attribute options, and categorizing your items as specifically as you may all help increase the chance that your listings will match with a query. Etsy SEO Update Sept, 2018
This is the technical part of loading a listing. Fill out all the items they have available (more about this later).
Additional Resource ::  Video … How To Load An Etsy Listing – Getting Started On Etsy
Etsy Categories
Let's start with categories because they are pretty innocuous and not as fraught with problems!
When you select a category, Etsy gives you a dropdown to pick from and you should choose the one that most correctly matches your listing. We are going to be using "vintage red bucket" as an example keyword today so let's see where we can put our bucket…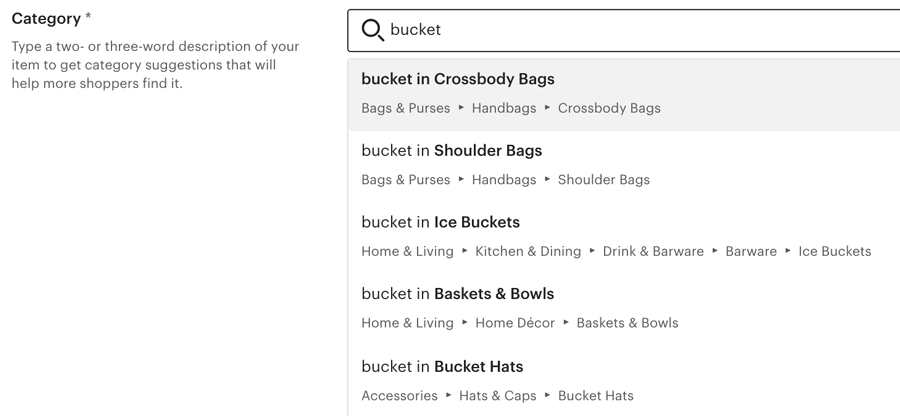 Since I am thinking of a plain, red bucket like from a fire house, I will go with Home & Living > Home Decor > Baskets and Bowls (even though it doesn't say bucket, those are the choices Etsy is giving me!)
As Etsy Says…
Since categories act like tags, you don't need to add tags that repeat the phrases that appear in your categories and attributes. For example, if you have a listing in the Nail Stencils category, your listings could appear in results for "nail stencils" searches. Adding Nail Stencils also means your listing appears in the categories above it, including Craft Supplies, and Makeup and Cosmetics. Etsy SEO 101
So this is what shows up if you only have the listing with no other tags….

So what Etsy is saying is that I don't have to put Home & Living, Home Decor or Baskets & Bowls in my title or tags in order to rank in Etsy search because they automatically add them.
Etsy Attributes
Okay, now let's look at attributes which seem to be WAY less stable than the category tags are!
Attributes & Tags
In your listing, depending on the category you choose you will get a series of attributes you can pick to describe your listing.

As you can see, these do NOT add extra words to your tags, they simply make it possible to show up when buyers use the attributes to filter Etsy searches.

Now here comes the kerfuffly part!
Attributes Showing Up In Search
Etsy says in the Keyword 101 Post that you DO NOT have to add your attribute tags to your listing in tags in order to show up in search. Sept 2018
Since each attribute you add acts like a tag (and helps you match with shoppers' searches when they use matching terms), it's important to add all the relevant options, even if they're less precise. While you might use the word "magenta" to describe the yarn you're listing, if "pink" is also accurate you should add it as a color attribute… You don't need to add tags that are exact matches for attributes you've already added. For example, if you add the Faux fur attribute to your rug listing, you don't need "Faux fur" as a standalone tag. You can still add it to a multi-word descriptive tag, such as "faux fur accent rug."
The problem with this is that actual searchs don't bear this out! When you do a search for bucket and add the red attribute only, you see it adds red to the top search bar but it kicks the "red" to the attribute tag underneath with the X box beside it.

There are 4,054 Results results for bucket + red attribute search.
Now let's do a straight search for red bucket, no attributes….

There are 1,646 MORE results for plain red bucket search than there are for attribute red bucket search.
This bears itself out over and over for things that they say will show up in search like vintage which Etsy says will be attributed by the decade you add your listing to….

You have to put vintage at the end or Etsy search automatically makes it an attribute. 234 extra listings for vintage not in the attributes.
Handmade works the same, Etsy says it will pick it up in attributes, you don't need to add it to the title or the tags…

In this case it gets even weirder because there are 3,794 results for handmade attribute + red bucket and only 478 for red bucket handmade. (seeing the listings my guess about why is that sellers have used red as a secondary color in the attributes so Etsy is pulling that out even though they are not in actually red buckets which will hurt your conversion rate!)
My Take
That bit up there where Etsy said don't worry about putting these things into your tags because the attributes will pick it up, I would take with a grain of salt.
If you are selling an actual vintage red bucket, I would put it in your title AND tags because then someone who is looking for a delightful red bucket to store their washi tape in like I do will be able to find it!
Etsy Attributes and Tags & Google
Now let's talk about the idea of not including "Handmade" or "Vintage" in your title as it relates to being found in Google. Or even putting them WAY down at the bottom of the page as just a tag.
I get it, most of your Google traffic will come from Etsy ranking well and buyers clicking through to Etsy searches, but not all the time. Sometimes a single listing will rank above Etsy search results like this vintage cow doorstop (my nemesis, hers always comes up before mine!)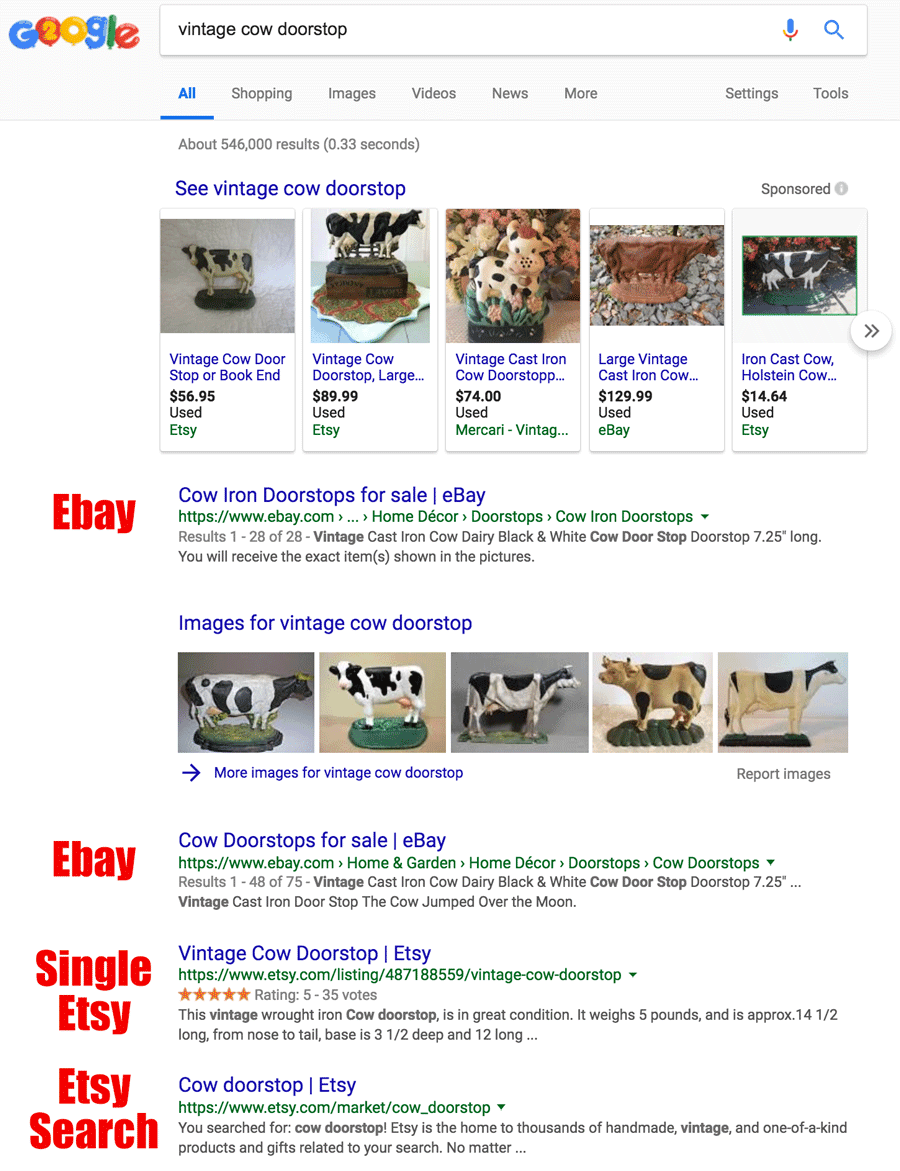 If that seller did not have "Vintage" in her title, she would not be able to rank in Google for her individual listing.
Additional Resource :: Should You Try To Rank In Google SEO For Your Etsy Store or Products?
Etsy Titles
I am not going to go down the rabbit hole of a mess that is info about about how write your titles (short – just a few words, medium – just a few phrases, long – use all the space they give us) but there is one thing that doesn't make sense.
In a previous update Etsy said that repeating your keyword over and over in your title would not give the same benefit as it had in the past.
Yet just this month there is an Etsy success video where the woman gives an example of a repetitive keyword as a good way to write titles.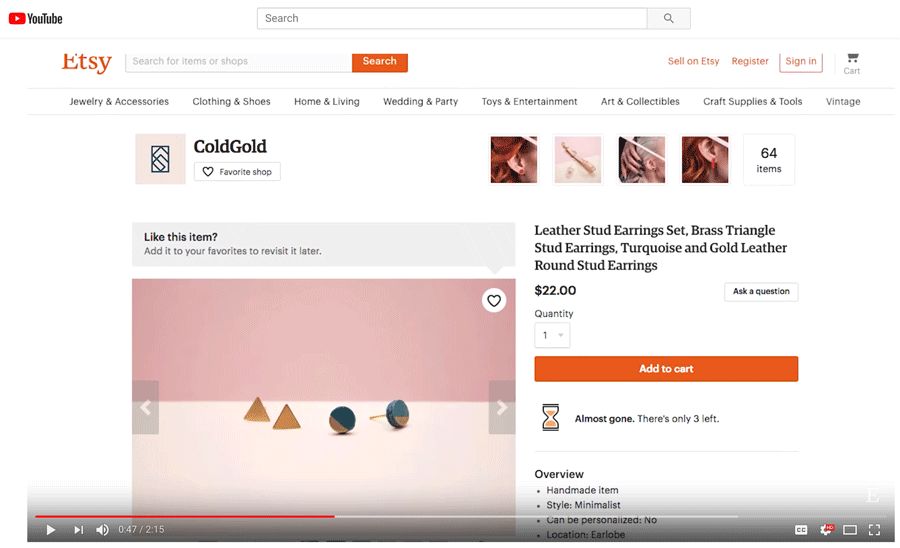 In this title stud is repeated 3 times, earrings 3 times and leather 2 times. Functionally there are only 10 keywords in this title, excluding "and"…   leather stud earrings set brass triangle turquoise gold round, all the rest are repeats.
Also she said you don't need to use all 140 characters, targeting 2 or 3 specific keyword search terms. She says "short and readable titles are good for conversions" but doesn't cite any source for this being the case.
My Take
I say, you should test this out for your store and how you want to run your business!
I use all the space they give me in both the title and the tags to include as many relevant keywords for the product as I can. You should not blindly listen to this gal and use three repetitive phrases rather than having a mix of keywords and phrases that might give you a chance to rank for different search terms.
Etsy Attributes and Categories Wrapup
I have a feeling that Etsy's goal is to have attributes and categories work flawlessly in the future and to return the best search results possible. And that is great!
That said, right now doing a basic search you can easily see that attributes and tags do not always equate to being found in search. My suggestion is that you do these kinds of searches for yourself in your own niche to see if there is any funny business going on and then plan your Etsy SEO strategy accordingly!
Additional Resources