As a working artist, the questions of whether you HAVE to do Facebook and Instagram and TikTok is fraught with problems! Here is my take after having put myself (and my art) out there for over 20 years on the internet.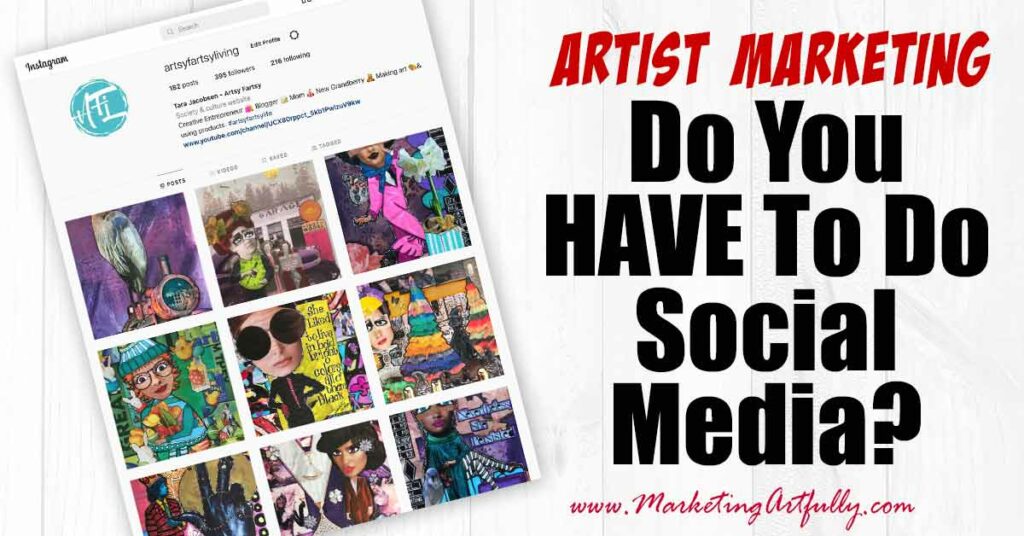 This post contains affiliate links. If you purchase anything, I earn a small commission at no extra charge to you. Check out my policies here.
My Artist Social Media Story
I have been on social media since the early days! My Twitter and LinkedIns have close to 20K followers each (only because I was in early) and I get a fair amount of interactions on all my socials.
That said, social media has changed a bunch for me over the years!
At first I worked it like a job, signing up for every new site as it came along and making sure I was scheduling posts out like a crazy woman.
Now I am SUPER specific about which social media sites I use and make sure to have KPIs (Key Performance Indicators… which is a fancy word for goals) for any time I spend on social media … more about this later!
Why Do You Think You Need Social Media
I decided to write this post when I saw a gal ask if she HAD to social media as an artist. She seemed to be really fearful of it and that made me sad!
If you are reading this post, I assume you are wondering if you need social media and that has come about some way…
Maybe you watched a webinar about Artist Marketing or you were told by a friend how great it is to sell your artwork… and it can be, but I really want you to think about why you think you HAVE to do it!
Which Sites Do You Like
So let's start with what kind of social media you might already be doing!
For me, using Facebook is more of a family and friend situation. I follow along with pictures of my grand baby Emmy and see what my hometown friends are up to. It is not a "business place" for me!
On the other hand, Instagram and Pinterest ARE good for my business. Instagram because I can help drive traffic to my YouTube channel and Pinterest because I can get clicks to my website.
The reason I ask is that you are MUCH more likely to be successful doing social media on a site that you are already familiar with!
You Don't Have To Be Everywhere
Let's get one thing off the table right now!
Years ago it was possible to be on "every" social media platform. You could have your Facebook, Twitter and Linkedin and still have time to make art and have a life.
Now-a-days it is IMPOSSIBLE to "be everywhere". Updating and interacting on all the different social media sites would be a full time job all by itself!
So you can feel good about picking one or two to focus on and call it a day!
How To Handle Haters
Last but not least, before we get to which platform you should choose, let's talk about the trolls on the internet.
These are the haters who say mean things to EVERYONE and are not actually someone you should listen to (although that is hard sometimes!)
I think your fear of trolls might be worse than the actual experience that you might encounter, especially as you are getting started!
I have huge social networks, lots of website hits and many comments on my artist Youtube channel, and yes, I get the VERY OCCASIONAL mean comment.
But mostly everyone is super supportive and nice! Oh, oh, oh AND they give me great ideas for how to improve my art and new project to make!
Ignore the trolls… they are just unhappy people with nothing better to do than criticize the people actually brave enough to do the work!
Which Platform Should You Use?
Instagram
I feel like Instagram is the current "PLACE" for artists! You can share either short videos, pictures or even make longer movie "reels" to showcase your artwork or process.
The interface is super easy to use and if you find some good hashtags for people who are looking for your kind of art you can grow your account pretty easily! I KNOW, people say that hashtags don't work anymore about about a third of my interactions come from hashtags so I keep doing them.
That said, if you are trying to drive website traffic or sales starting out, this may not be the best site for you.
It is great for getting exposure, but not necessarily for selling.
TikTok
TikTok is another current "darling" of social media for artists. They have a nice audience for artistic videos (you can ONLY do videos) and since it is relatively new, growing a following easier than on some of the more busy social sites.
That said, it is a little more technically challenging if you don't know how to make videos of your work and the commenting and responding (to help grow your audience) is harder than on Instagram.
I also don't think this one is awesome for sales… more for building awareness.
Pinterest
Pinterest is my favorite site as an artist! You can share pictures or videos of your work AND there is a link back to your website or shop that people can follow to sign up to your newsletter or purchase your work!
It is also a visual search engine, so if you use keywords like "assemblage" or "magazine collage" your pins can get found by random strangers, not just the people who follow you.
That said, Pinterest is pushing to do idea pins which do NOT have a link back to your site. I don't do these currently because I am not trying to grow my account, rather I want to get website views (my KPI or goal for my social media work!)
Facebook
Is a good place to be, but you can get lost in virtual OCEAN of posts. Yes, you can post your work or your listings, but we have found that Facebook is not a good driver of sales or clicks because it is hard to get seen without paying for promotions.
One fun thing you can do is a make a Facebook group for people who love your artwork where you share behind the scenes of your work and put current pieces up for sale. I feel like this only works well though if you already have a fan base of people who know you!
That said, Facebook can be a creative community to connect with other artists and that is sometimes great for doing collaborations or helping each other share your work!
LinkedIn
I KNOW, LinkedIn is not a place that you think of for artists! But if you are going to be trying to sell your work commercially it might make sense to join and connect with people like interior designers or gallery owners who are a part of this community!
I talk a bit more about this in my post… 10 Unique Ways To Make Money As An Artist
Social Media For Artists Wrapup
Whew, that was a LOT of talk about artist marketing on social media!What I do want to say very clearly is that YOUR ART is the important thing, playing around on the internet is not!
If you do decide to do social media, make sure you plan for specific times you will use it when you are typically in a creative mood.
For me this means doing social media tasks at night and doing my art during the day.
That way if I fall down a social media rabbit hole, I am not ignoring what is the actual focus of my life… doing art!