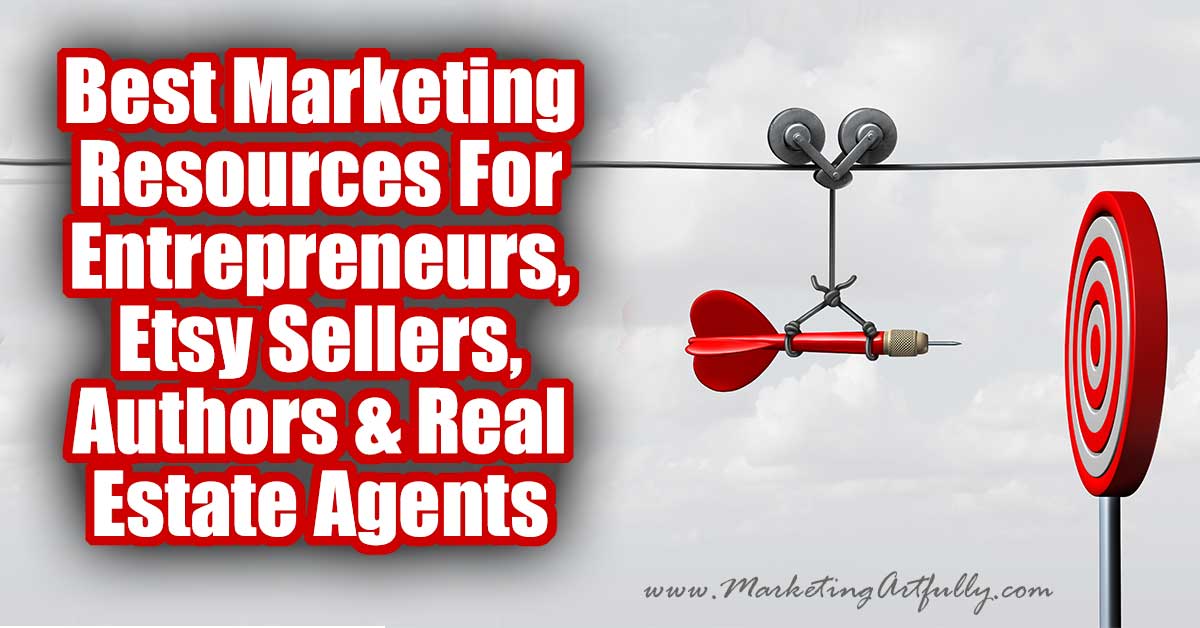 Here are my all time best resources that I made, use or which I feel might be a great fit for my entrepreneurs, Etsy, authors and real estate marketing clients.
Affiliate Disclosure: Please note that I do receive compensation for recommending some of these products. That said, I have negotiated discounts for my readers when possible and you will never pay more than you would by going to the websites themselves.
Productivity, Calendar and Marketing Worksheets
Business Planner Printables (BEST SELLERS) – Check out all of my AMAZING marketing worksheets! I have dedicated my life to creating worksheets and systems that will help my Author, Blogger, Real Estate Agent and Etsy friends get more effective so that they can make more money. All of my printable planner pages have come about because I needed to be able to do something in a better way. Visit the Marketing Artfully Shop


AFFILIATE MARKETING
Share A Sale. Many of my peeps are thinking about doing affiliate marketing (recommending products for sale) but don't know where to start. Share A Sale is great because they have a wide range of programs and having all your sales and banners and reports in one place makes things super easy!
Amazon Affiliate Program. I feel like everyone knows about the Amazon Affiliate Program by now, but it is a great way to make a little bit of money for recommending products people can buy on Amazon. I don't feel like this would be my first stop as they don't have great commissions and they do not really support their affiliates that much, but it is easy to find and include their links!



SEO
Wincher. I have tested a couple of different kinds of software for tracking my keywords and this is by far my favorite. (free limited account, I pay like $15 for two sites… SO worth it!)
Long Tail Pro. If you are focused on your site and really digging down into content development then I recommend Long Tail Pro. I use this for keyword research and tracking my rankings for keywords. I have used it for years and am thrilled to announce that they updated it to cloud based (which is SO much better!)




Social Media
Buffer. I use the business Buffer to schedule social media posts for our clients. Great tool!
MeetEdgar. I use this for my social media posts. It is really only worth it if you have A LOT of content (but if you do it is AMAZING!)
Interact Quiz Maker. I used this to make a quiz about marketing on my website! It was SO easy to use and I got some great data from the people who took the quiz!
Tailwind. Awesome for scheduling Pinterest posts! An approved Pinterest partner.
Warfare Plugins. The social sharing buttons I use on my website. They load fast and have increased shares to my posts A LOT!



 Blogging
Genesis. My website is built using the Genesis theme from StudioPress. It is easy to use and beautiful.
LeadPages. I use LeadPages for my popups and sales pages. It makes doing lead generation so much easier.
GoDaddy. I use GoDaddy because I have been with them for a while now and they are always nice to me. I did have to go to a dedicated server to get my site load times down which might be more than you need for your hosting.
HostGator. If you are not wanting to go with a bigger hosting plan, everyone on the planet has said that HostGator is a great company and many of the people that I follow recommend them. Use the coupon code marketingartfully994 to get $9.94 off your hosting account
Inlinkz. If you love the tiny little icons at the bottom of some pages those are Inlinkz. They are super easy to make and drive sales to your product.
Milotree. The EASIEST WordPress Popup Plugin ever and it is free! So awesome.




Email Marketing
Infusionsoft. People often ask me what email service I recommend and if they are planning to do any kind of internet or payment based marketing I recommend Infusionsoft. It is what I use.
Drip. Made by the people at LeadPages, this is a super neat email marketing programs, free up to 100 contacts!


Marketing Courses
Marketing Mini Courses – Bite sized marketing courses that teach you how to do "Just One Thing"!
Free Marketing Courses – Are you looking for amazing free marketing ideas? We have the goods for you right here! Get help with your social media, newsletters, small business marketing, real estate marketing and more.
The Best Product Photography Courses – These are the top photography courses that I recommend! I am obsessed with the fact that taking better pictures makes things sell better!


Etsy Marketing
Marmalead – My all time favorite Etsy SEO tool for handmade, vintage, digital and supplies.
Whatify – Great tool for advanced Etsy sellers who are trying to increase conversions. They split test your first two listing photos and lets you know which one leads to more sales.
Etsy SEO Course – FREE on Skillshare if you haven't had an account yet (if you have email me and I will send you a different link!)
Etsy Shipping Course – FREE on Skillshare if you haven't had an account yet (if you have email me and I will send you a different link!)
Etsy Seller Planner – Using this planner will help streamline your systems and (as one gal put it) make sure that important things don't get lost in your "bermuda desk"!
FREE Vintage Sellers Ebook – A guide to getting your vintage Etsy store up & selling!
FREE Webinar Replay. Etsy SEO For Etsy Sellers webinar replay. Learn the only two things you need to know to make your Etsy SEO better! ==> Click Here To Get the Etsy SEO Webinar <==



Real Estate Marketing
Real Estate Business Planner. Get your time under control and your business more profitable!
Marketing For Real Estate Agents. Check out all my real estate marketing resources in one place including courses, books and more!
Real Estate Agent Marketing Forms and Worksheets. From listings to SEO, find out how to make your life manageable
SEO for Real Estate Agents. One of my most comprehensive posts on the subject EVER


Author Marketing
Marketing For Authors. Check out all my Author resources in one place including the tools and resources that I use daily.
KindleSpy Pro. How to research keywords, categories and tags for your Amazon book listings.
KDRoi. How to submit your books to free promotion sites. I have used his software before and it is generally awesome!
Author Marketing Club. Put out by Jim Kukral, this is a great resource for authors. The free Sell More Books With Awesome Amazon Descriptions guide is the best.


Direct Sales
Direct Sales Planner. Direct Sales Business Planner for Network Marketing, Party Plan and MLMs.


Graphics
BoxShot King. Here is how I make all the snazzy 3D book cover and web example graphics.
Canva. The paid version of this tool is AMAZING (and like $10 a month). Make sure you check out the magic resize tool!


Video
Explaindio. Such and easy way to make super cool videos easily. I have all the big programs but this works best.
Whiteboard Bundle. If you are going to do video you will need some graphics to use. This pack is from my pal Joel Comm and is really nice.
VideoBlocks. The site I use to get my video backgrounds. It has an amazing annual subscription plan. 7 Day Free Trial


Stickers
StickerMule. I have super fun stickers for sale that feature the "Bee Brave" bee and more!


About my list…
As with most of what is so very popular on my website, this list started out just for me to remember the products that I recommend so that when I answer a marketing question in my email, I had a handy-dandy link to share. Well it has turned into much more than that, it is now a go-to page where I can tell you about new amazing things that I find and which I think could help your business!
Affiliate Disclosure: Please note that I do receive compensation for recommending some of these products. That said, I have negotiated discounts for my readers when possible and you will never pay more than you would by going to the websites themselves.
(Visited 384 times, 6 visits today)