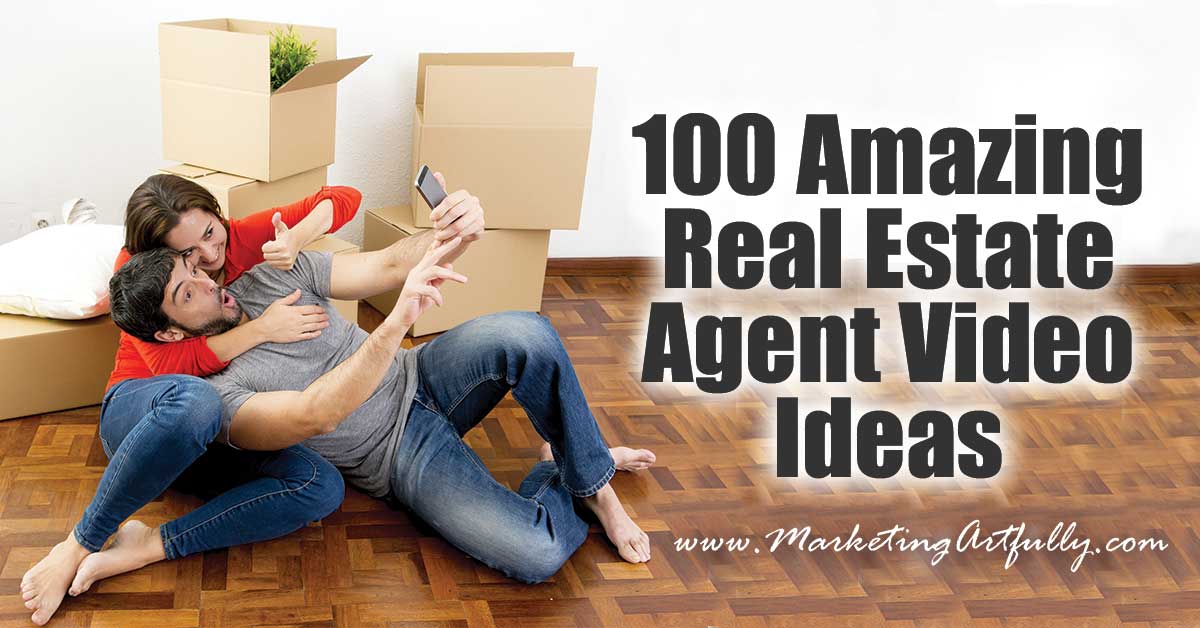 Real estate agents KNOW that having videos is a great way to market their business. YouTube and Facebook Live are a great way to lead generate and having fun videos is a sure way to attract more buyers and sellers.
This list is 100 REAL ideas for real estate marketing videos. Bookmark this page and just go down the list, making videos and increasing your marketing assets!
Do your real estate videos have to be great?
Before I get started, let's talk quality and money.
First off, quality of your videos. Do you need to hire a video production company to make 100 videos for you? What the what… that could cost thousands of dollars! Nope, your cell phone and a simple video editor like Window's Movie Maker or Mac's iMovie will be all you need.
Second off, profession video production has it's place but right now EVERYONE skips all the commercials all the time. People want to see real life and how the world actually works so a whole bunch of good videos, well thought out and clear are better than just one perfect video that costs a fortune.
What Real Estate Marketing Videos To Make
There are tons of different kinds of real estate marketing videos you can make! Whether you are a buyers agent or a listing agent (or both), creating a body of work on YouTube (the second largest search engine) is a great idea!
Make sure to use local keywords from your area since real estate sales are so location specific.
Additional Resource : How To Make SUPER EASY Real Estate Agent Videos For Facebook!
Subdivision Videos
Neighborhood videos (general interest)
Neighborhood videos with insights (like Dunedin Isles had gas tanks in the yards that often had to be removed prior to selling)
About the homes (date built, beds, baths)
HOA rules (why they are good or bad for a particular neighborhood)
Things that are allowed/not allowed (motor homes, parking in the street, weird house colors)
Subdivisions with large or small houses, 55+ communities, special subdivisions (like the one that a builder made with all the support along the walls so they could be totally open concept or the ones with brick streets)
Condos (could be townhouses)
Condo complex tours (inside the units)
Condo amenity tours (fitness rooms, pools, etc.)
How condo ownership works
Condo laws and regulations in your state
What can you do when you have a condo
First Time Home Buyers
Realtor tips videos for first time home buyers
Why you need to have financing in place before looking
What being "upside down" or "house poor" means
What to look for when buying a new home
How to handle issues on the home inspection
How to handle a sellers market (no lowball offers, no weird requests, seeing a new listing on the first day, getting financing first)
What not to do when you are buying to mess up your mortgage
Do you need a real estate agent when buying new construction
How to be realistic about what features you can get with the money you have
Affordable housing options for first time buyers
Home Sellers
How to declutter (like what does that mean… not just take down some pictures but how to make your home look good!)
Ways to make your landscaping look good (curb appeal, first impressions and all that)
How to price your home to actually sell
What absorption rate is (so boring and technical, sexy it up a bit and explain that it really does matter in a slow market)
How to handle a lowball offer (should you be offended or counter?)
How to prepare for an open house
Will you get an offer after the open house?
Case studies (why a home didn't sell, why a home sold fast, who bought a home)
Why do listings go expired and how to fix it next time
How do DOM (days on market) effect the price your home will sell for
What should you fix BEFORE the home inspection period
Which home improvements make you the most money when you sell
How to have a successful showing (good smells, not home, lots of light, flexible about showings)
How to sell for top dollar in the fastest time possible (for sure what every seller wants!)
Should you let your Realtor use a lockbox?
Additional Resource : 15 Of My Best Marketing Tips for Listing Agents
Double Dippers
How to buy and sell at the same time
When is the best time to move up to a better home
When to downsize (kids move out, parents move out, job transfer)
When to move up (new baby, parents moving in, multigenerational housing)
Luxury Home Buyers
Realtor tips for luxury homebuyers….luxury buyers/sellers, move up sellers, waterfront buyers/sellers, you get the drift)
Process for making an offer
How to create a "wish list" for what you want in your new home
Info about features like sea walls, mountain views, etc.
Luxury Home Sellers
The most expensive homes sold in your area
What luxury buyers are looking for in homes
Drone footage of the property
Fancy upgrades like audio systems, solar panels, pools, water conditioning, multi-zone heating and cooling
General Real Estate Topics
What are closing costs and who pays them?
What is an escrow account?
How are contract documents signed?
Negotiating home repairs and warranties
How to handle issues on the home inspection
What to do about un-permitted upgrades or rooms
When is the best time to buy/sell a home
Septic tanks or sewer issues
Property insurance (especially if rates are higher for some reason in your area, like we all have to
General Safety Issues
Radon and why it matters
CO2 detectors
Sinkholes and "pinning"
Gated communities and security
About The Realtor
A day in your life
Testimonials from your clients
Showing how your process works
How you market your listings
Realtor designations and how they will help with your client
What is a broker, single agent, transaction agent, dual agency and how it affects buyers and sellers
Questions your Realtor should be asking you
Local Color
Parks, lakes, nature walks, dog parks
Restaurants, bars and stores
Schools and government
Things to do in….
Fun Videos
House feature tours (not of a listing, just cool things you find in the houses you see)
Cute videos parody-ing popular songs with real estate terms
Haunted houses or weird things about your town
There you have it… 100+ great ideas for real estate marketing videos. Now get out there and start making videos!
ADDITIONAL RESOURCES FOR REAL ESTATE AGENTS