My besty, Deb Ward the Irish Realtor, needs to get her business going again after having a couple of years of health problem. We are going to use YouTube and TikTok to get her more real estate leads!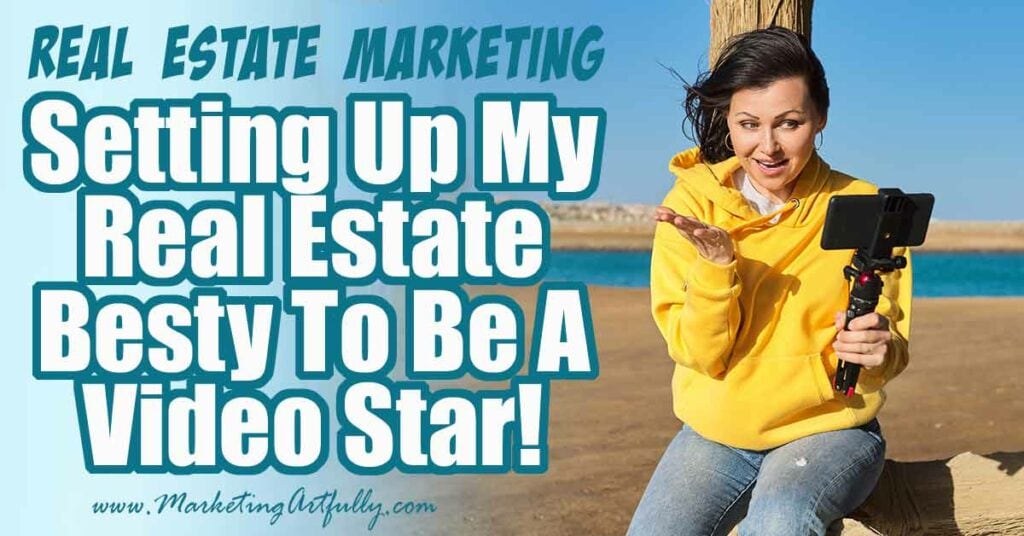 This post contains affiliate links. If you purchase anything, I earn a small commission at no extra charge to you. Check out my policies here.
Setting Up The Video Marketing Plan!
Okay, here is the deal, Deb is not the most technologically sophisticated gal, so I am going to do her video editing for her.
That said, we need a firm plan in place to make sure that our efforts are successful and not waste our time!
I will go through my thought process about this if you are going to play along to become a video rock star in your neck of the woods too.
Who Are We Prospecting For?
There are many different types of real estate niches that you can work and that will make a huge difference in what types of videos you need to record!
For example, if you are new real estate agent and trying to get buyers in the car, talking about first time home buyers, where to get your down payment, etc. would be a great series to do to attract buyers.
Deb is an old dog Realtor and she wants to get listings. We are going to be focusing on geographic farming for her… both because we don't want her to have to travel far to service her listings AND because that is what I like the best and I am functionally strong arming her into this!
So the first step is to figure out who you are prospecting for.
What Type of Videos To Make?
We are going to be focusing on making farming videos… so things like:
When the neighborhood was built
Normal amount of beds, baths and garages
Any cool things about the neighborhood
NOT current pricing because we want them to be evergreen
If you are doing different kinds of videos, you need to get an idea of how you can make evergreen videos that will attract your ideal prospect… real estate marketing is just fishing for who you want to work with!
If you have no idea where to start on this step, check out 100 (Plus) Amazing Real Estate Agent Video Ideas, pick a couple of types to make and then try them out to see if you get any results (views).
Technical Bits About Recording Them
Okay, here is the thing… you need to have sideways (wide) videos for a site like YouTube and also tall skinny ones for sites like Tik Tok.
That said, she only has to record the sideways ones, as long as she keeps the focus on the middle because I can crop them into being tall. This is nice because no one wants to make two versions of each video (unless it makes it easier for you.. then DO TWO… it is all about doing what you are going to be good at!)
Also, you want to record longer videos because we are going to be "cutting them up" into different pieces to make all different kinds of shorter videos on Tik Tok.
It is fine to post once a week on YouTube, but for sure you want to try and post every day or every other day on TikTok.
Where To Put These Videos
I think you already know that we are going to be using YouTube and TikTok, but I wanted to give you a head's up about WHY!
First off Youtube….
YouTube is the second largest search engine on the planet after Google…. in fact it is owned by Google so you know they are all about search!
Years ago I made Deb do some super janky videos down in St. Pete and she has gotten hundreds of leads over the years from them AND closed business.
DO NOT think your videos have to be brilliant to work well! Here is the old Sage one that still brings her business…
And now TikTok…
TikTok is a new(er) platform that is not totally saturated yet AND many agents think it is just for kids so they won't even try to make videos for it.
The nice thing about TikTok is that their algorithm helps people find things they are interested in without searching. This allows beginner accounts to show up, even if they are not super popular yet!
Real Estate Agent Video Marketing on YouTube and TikTok
Okay, that is enough for today, but never fear! I am going to be walking you through each step of setting up your video empire, including keywords, hashtags, editing and everything else you will need to be super successful!