Today we are going to be looking at how to find keywords you can use on Etsy for digital downloads or print on demand products that are geared towards men.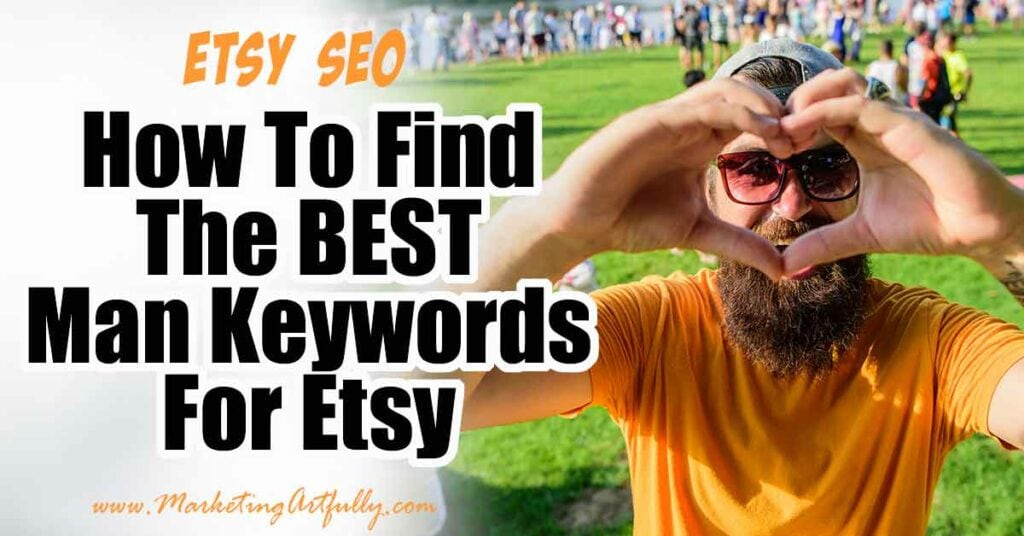 This post contains affiliate links. If you purchase anything, I earn a small commission at no extra charge to you. Check out my policies here.
Why I Wrote This Post
My very favorite almost son in law is starting his own shops selling digital downloads of his artwork and he wanted to know how I do keyword research to find good SEO terms.
Because he is kind of a hipster guy (yes he has the beard) I figured his art would tend to appeal to men more so than the girly kind of art that I make, so this was a fun challenge to find "man keywords"!
Man Keyword Walkthrough Video
RESOURCES MENTIONED
KEYWORDS FOUND
Wall art for men
Gifts for dads
Basketball
Fishing
Hunting
Sharp dressed man – bowler hat
Guns
Tennis shoes
Americana
Groomsman Gift
Dad jokes
T-shirt men
Boyfriend
Him
Dad
Husband
Drinkware
man cave decor
masculine office decor
office decor for men
Masculine art
Man cave sign
How To Find Etsy SEO Keywords For Men
Sometimes finding the right keyword is hard! You have something in your head already and it is hard to branch out and find enough keywords to use in your title and tags.
Well never fear! Today I am going to show you how I do keyword research to get new keywords for Etsy listings!
Step One – Etsy Dropdown
The very first thing I always do for Etsy keywords is head on over to the mother ship and do searches in the dropdown! You want to start broad and work down smaller!
Gifts for men
Here are some keyword ideas that show up when we are searching for keywords that people will search when shopping for men things…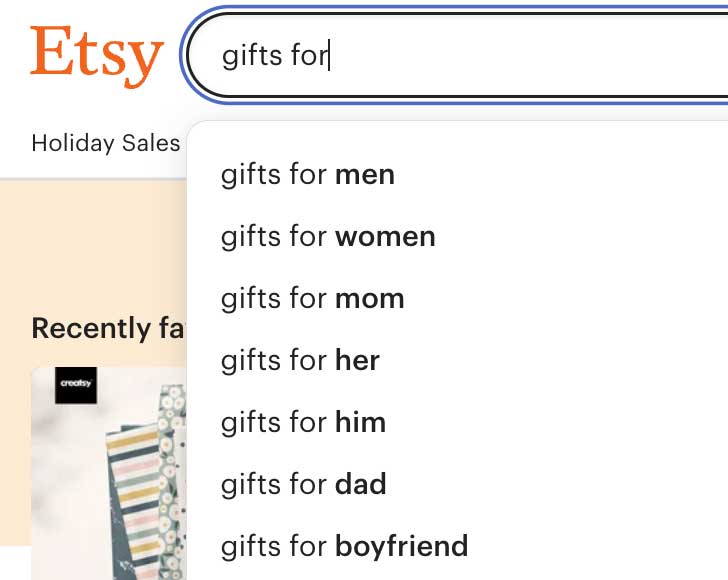 So now we have:
Gifts for men
Gifts for him
Gifts for dad
Gifts for boyfriend
I am primarly focusing on "gifts for" because many of the Etsy shoppers are women looking to buy something for the man in their lives, rather than men searching for products on Etsy for themselves (which would be an entirely different way start this process!)
Since Kevin is on the youngish side (early 30s) of Etsy sellers, I am going to go down the "gifts for boyfriends" rabbit hole rather than the "gifts for dad" path.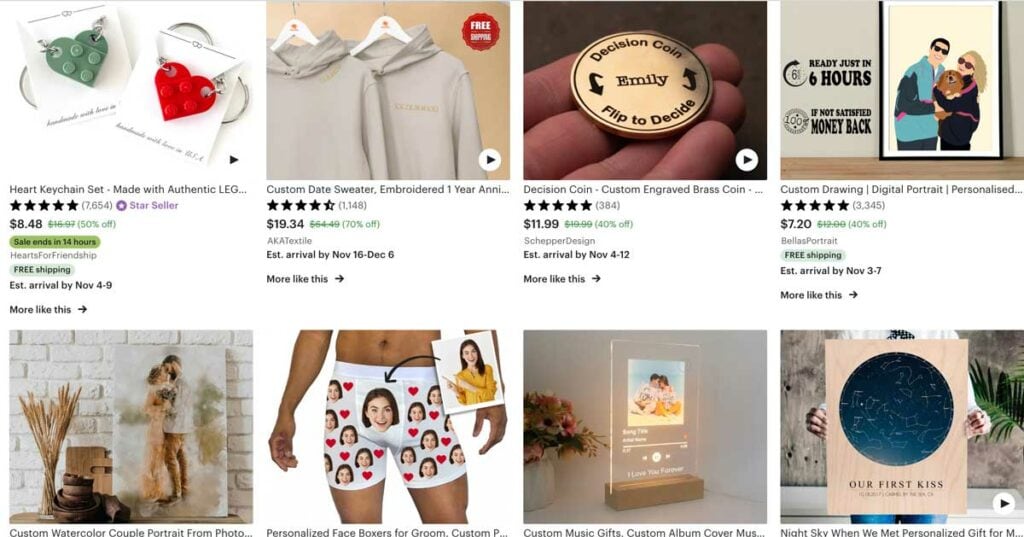 Clicking on "gifts for boyfriend" we see some fun product development ideas that we might try… drawing or painting personalized couples or maybe putting girlfriends faces on things… hmmm but I was looking more for wall art type things.
So the next search I am going to do is "wall art for…"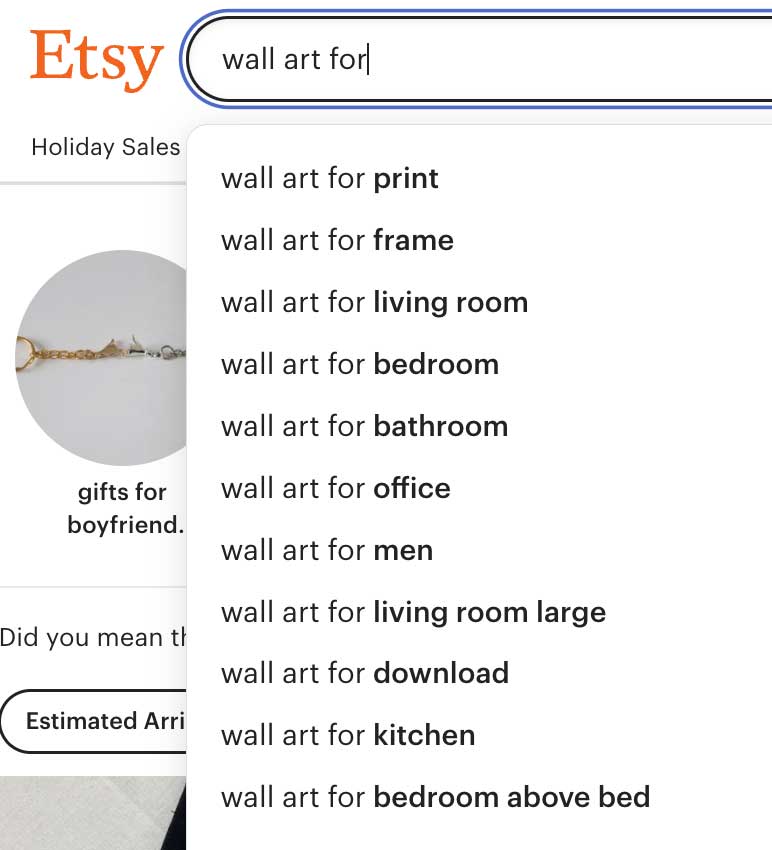 YAY! Wall art for men has its own category so let's see what kind of results we get there…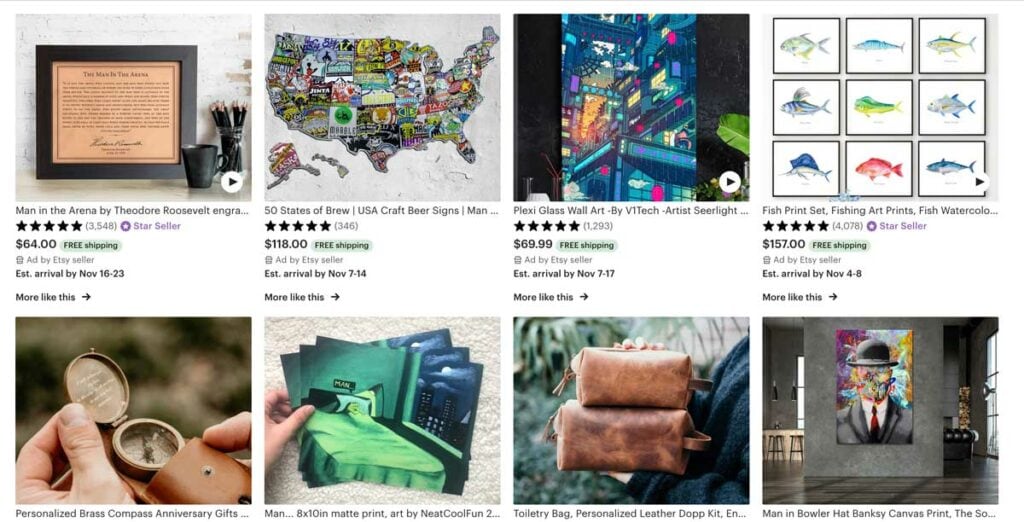 Okay, now we have something…. there is a funny little postcard, a sharp dressed man, some fish and a cityscape. Those can give us products ideas, but let's drill down a little more and find some more targeted keywords to use.
Clicking on the different listings we get these keywords:
Man in the arena quote – Graduation gift, Lawyer, Success
Fish print – Gifts for Men, Angling Fish Decor, Kitchen Wall Art, Man Cave Decor, Sport Fishing Art
USA License Plates – Man Cave, Game Room, Bonus Room, Wall Art, Wall Decor, Bar Decor
American Sign – Masculine Wall Art, Cool Boss Gift
So now I have 4 different keywords I am going to focus on going forward…
Gifts for men
Man cave decor
Game room decor
Masculine wall art
Let's head over to Pinterest next!
Step 2 – Pinterest Searches
I am going to start my search with "man cave decor" and see what comes up! So right off the bat we get a whole new bunch of keywords to throw into the mix!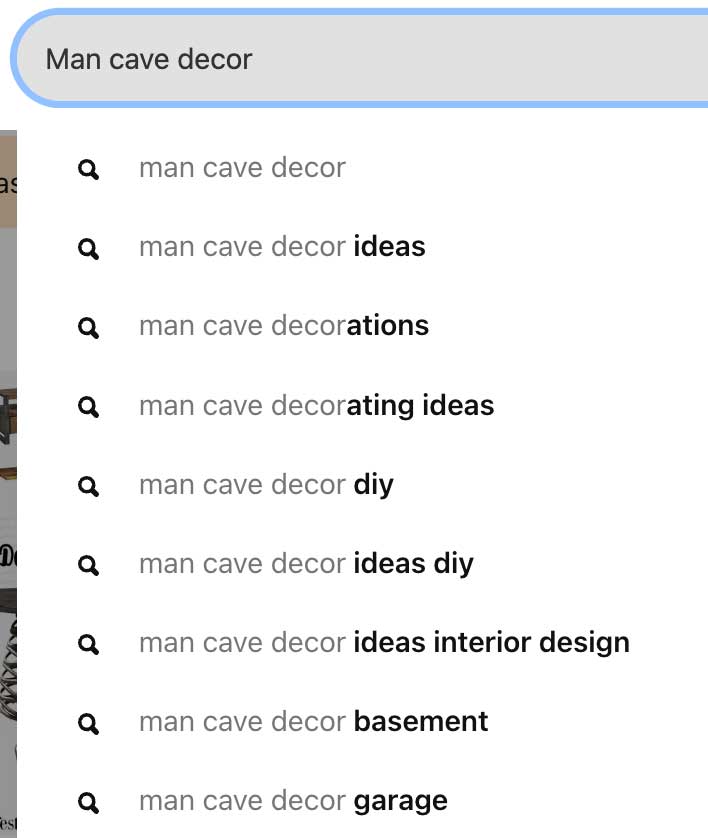 While "DIY" and maybe even "ideas" are not commercially viable, I like these ones to check out next…
Man cave decor interior design
Man cave decor basement
Man cave decor garage
And when we do the "man cave decor basement" we get these results…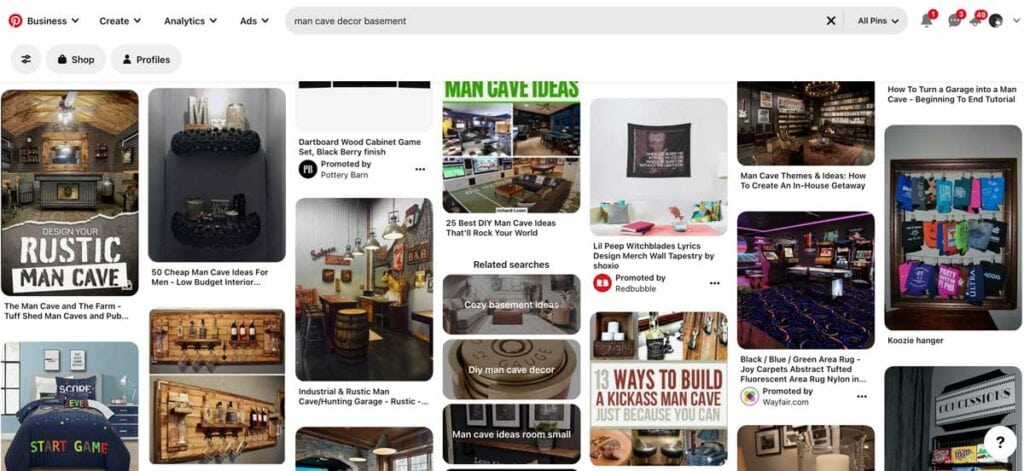 Okay, here is where I am super careful as an artist… there are many items on Etsy that I would love to draw, but I want to produce artwork that is commercially viable.
So if I was designing for this niche for my Etsy store I would check out the themes shown here!
Outdoors/hunting
Cars
Bar signs / drinkware
Coozy designs
Pool and darts
This would work for either selling digital downloads or print on demand!
If you are just getting started and want to save costs, start designing these kinds of products and test out your keywords on your listings!
But I like to take the easy way out and use Marmalead, which is a great Etsy SEO keyword research tool!
Step 3 – Marmalead Etsy SEO Tool
Last but not least I like to take the keywords I have found and whizzy-wig them through Marmalead, which helps me to see which ones are the best… oh wait, what do I consider the best?
So first off, in a perfect world we would find LOTS of keywords with high search volume and low competition, but that hardly ever happens.
So I like to use a mix of low competition keywords that might have a lower search volume mixed with high competition keywords that have a high search volume to cover both bases!
Here the search results when I put all four of our main keywords in the Etsy keyword research tool….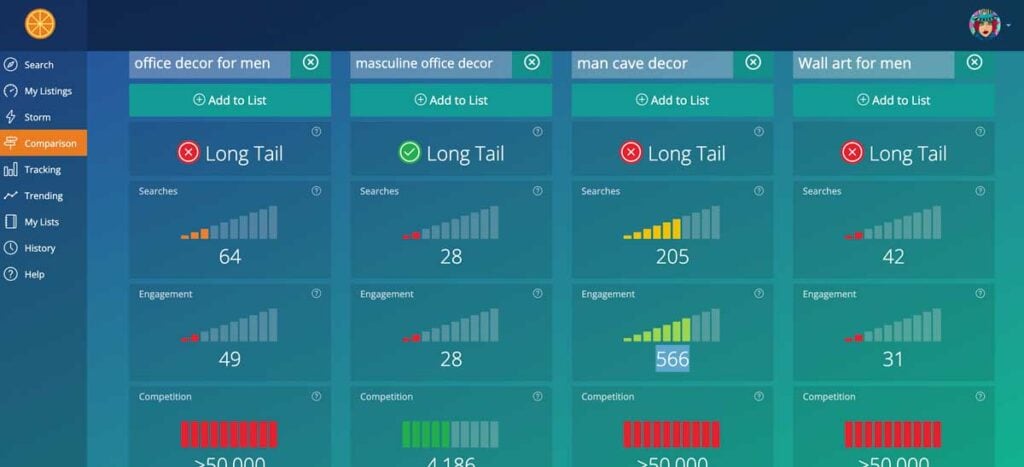 In this case I would go for "masculine office decor" which has is a long tail keyword with lower competition and "man cave decor" which has higher search volumes but more competition!
And doing the ones we found from Pinterest…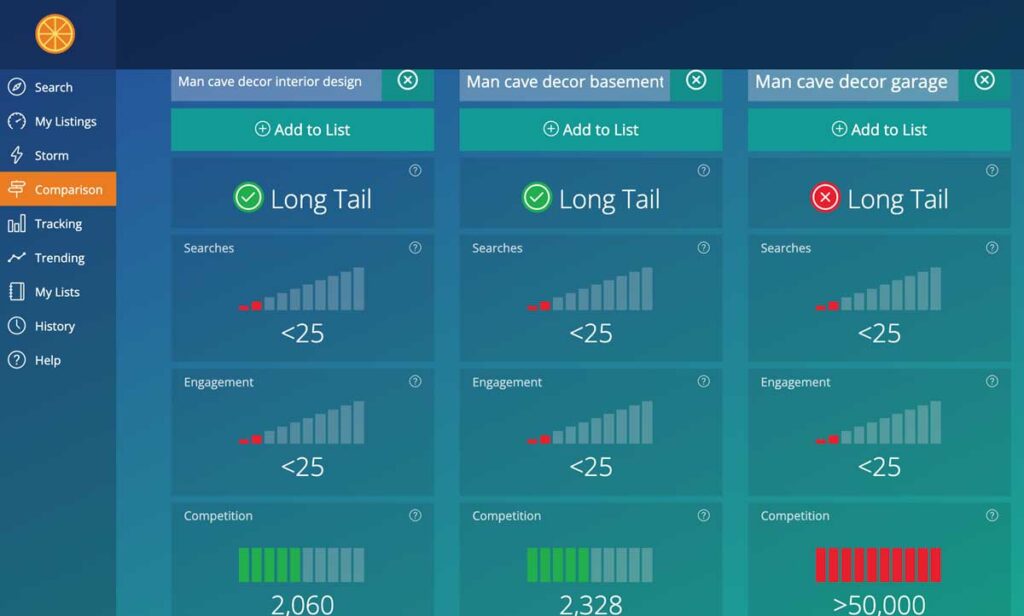 So in this case I would focus on "man cave interior design" and "man cave decor basement" before worrying about heading to the garage because that is super high competition!
I KNOW, those search terms look like they are getting really low search volume, but you are going to have a bunch of keywords in your 13 tags and Etsy title so having keywords with low competition when you are just starting out is super important!
Doing Man Keyword Research for Etsy Wrapup
Okay, that was a lot I know and everyone wishes that there was one right way to do this kind of research for your Etsy shop, but really there is educated guessing and trial and error to this kind of work.
What you want to do is get a lot of designs out there and then see which keywords seem to match your work and what kinds of things people tend to buy from your shop!