Doing all the things that Pinterest wants now is exhausting! You have to make lots of pins, monitor them and pin them out a gabillion times. I am here to tell you it is much easier if you have a system! Here are my best tips and ideas for use manual pinning and the Tailwind scheduling for your Pinterest Marketing!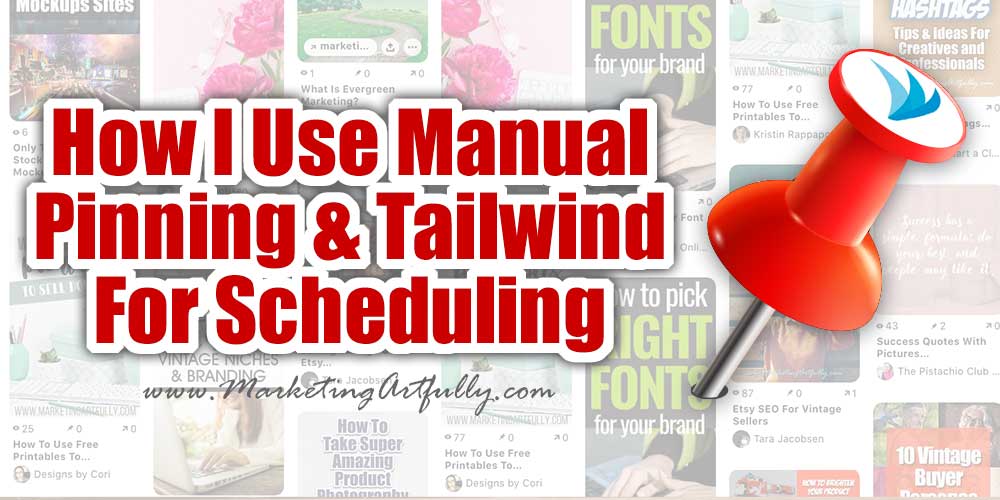 please note :: I often recommend resources, some I receive an affiliate commission for at no additional cost to you! check out my policies here
How I Do My Manual Pinning and Tailwind Video
If you want to see how I do this, for sure watch the video. It is a wee bit complex (but not hard) so I won't be putting every step in the post… the post is more theory about WHY I do it rather than HOW I do it!
If you decide to use Tailwind I would be eternally grateful if you would use my affiliate link! Signup here (you can get a bunch of stuff for free to try it and see if it will work for you too!)
Pinterest Is For Hunting AND Farming Now
Okay, today we are going to have to talk about a harsh truth… there is no ONE thing that is going to work on Pinterest now… sigh!
In the past, we could do certain things (have tall pins, pin 50 times a day, use Board Booster) and there was a pretty good chance that we would get traffic from Pinterest.
Much like Google has done over the years, Pinterest has made it harder to "game" the system so we have to keep evolving… double sigh.
I spend A LOT of time listening to people talk about Pinterest and have heard some "truths"…
Manual pinning is the only thing that works (I half do this)
Tailwind works the best as a scheduler (I half do this)
The Pinterest scheduler is the best thing to do
You HAVE to put your pins in your posts for it to work
You can upload directly to Pinterest and it works (that is what I do)
You should post MANY TIMES a day
You should only posts a few times a day to the perfect boards
You should have fewer boards that are niche
You should have LOTS of boards that match your keywords
What the actual heck? It seems like there is so much conflicting info out there… well yes!
So what I have settled on is being a HUNTER and a FARMER.
I hunt for quick wins by posting lots of different pins and then only scheduling the ones that are doing well (clicks or saves).
AND I know that because I post many pins that some of the losers will eventually become winners in 5 months or so when Pinterest notices how wonderful my content is!
So this post will talk about some of the things that I do so you can pick and choose which of my methods might work for you!
Make 5 To 10 Pins – Fresh Pins
Okay, the one thing that Pinterest has told us OVER and OVER again is that they want "Fresh Pins". Fresh pins are different pins for the same post or product.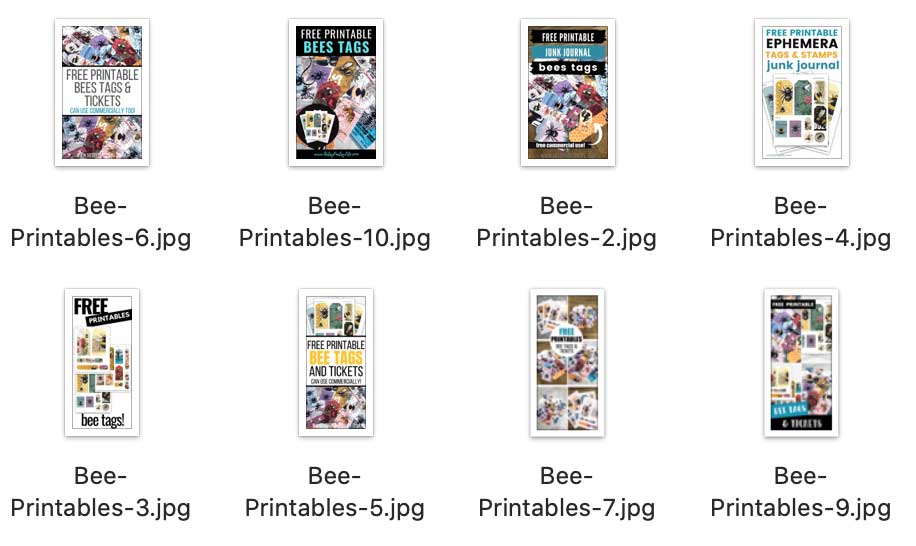 I make 5 pins for my marketing posts and 10 pins for my craft posts in Canva. I use a combination of my own designs and a subscription from Carly who sends out new pin templates every month!
Additional Resource :: What Are Pinterest Fresh PinsEverything You Need To Know About "Fresh Pins" On Pinterest
Number them in your file names
As you can see, I number the files 1-10 or 1-5. This will make more sense later, but make sure you use keywords in your file names AND put them "in order".
Upload The #1 Pin in Pinterest
The next thing I do is upload Pin #1 directly into Pinterest using the "Create" button.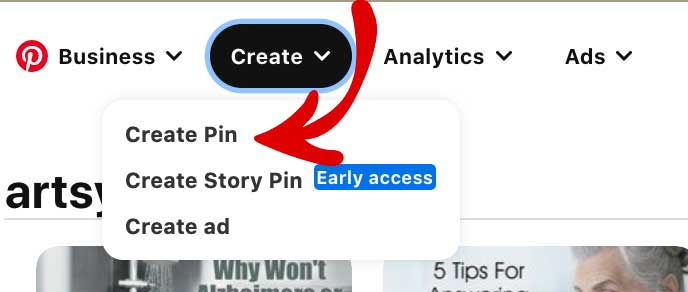 There are people who say you should put ALL of your pins into your blog posts or product pictures, but I am making 10 PINS.
First off, putting them all in my blog post would take time and discourage me from doing lots of "fresh pins".
AND it would slow down my website. YES, I want people to come from Pinterest, but if my page is dog-slow once they get here they will leave and never come back!
Add Them To My "Check These" Airtable
The only think I do with spreadsheets is having a little "check these" list that go back and see if my pins have done well enough to schedule out using Tailwind later. (I use the free spreadsheet tool, Airtable for this!)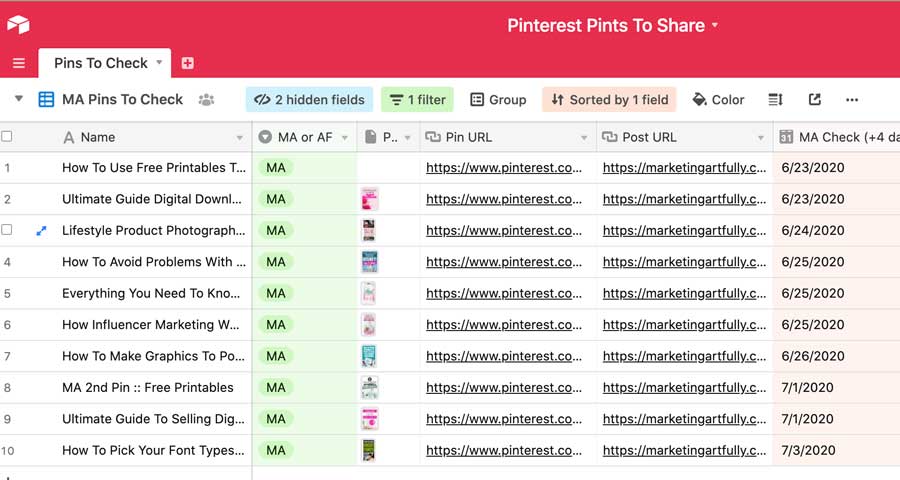 I have the pin title, what site it is (because I have 3 sites), the pin picture, the Pinterest link, the post link, and then the date to check (7 days later!)
More about this in a minute!
Adding Them To Tailwind Tribes
Once I have my pin made, I add it to Tailwind Tribes. This is part of the Tailwind service where I get the chance to "trade" pins with other bloggers or product creators. (you can join Tribes for free and test it out!)
I post my pins for them to share and I pin some of their pins.
Because I am a "little" craft pinner, the chance that someone bigger than me will share my pin out is AWESOME!

34 other Pinterest peeps shared my caregivers posts since the last time I logged in… whoo whoo. Now, results may vary depending on your niche (my craft pins do great too!)
Schedule the rest of the pins
Once I have done my "Pinterest Work" for today I use my calendar to schedule out my other 4-9 pins for the next few weeks using my Apple calendar (you could use your Google calendar for this too)!
I schedule Pin #2 for 8 days later, Pin #3 for 8 days after that, etc. I don't do 7 days because I want to vary the days of the week that I pinning out subsequent pins.
Each day I check back in and see what I have to post for today, "extra pins" from weeks ago.
I include the pin title, description, link and the picture I am going to post.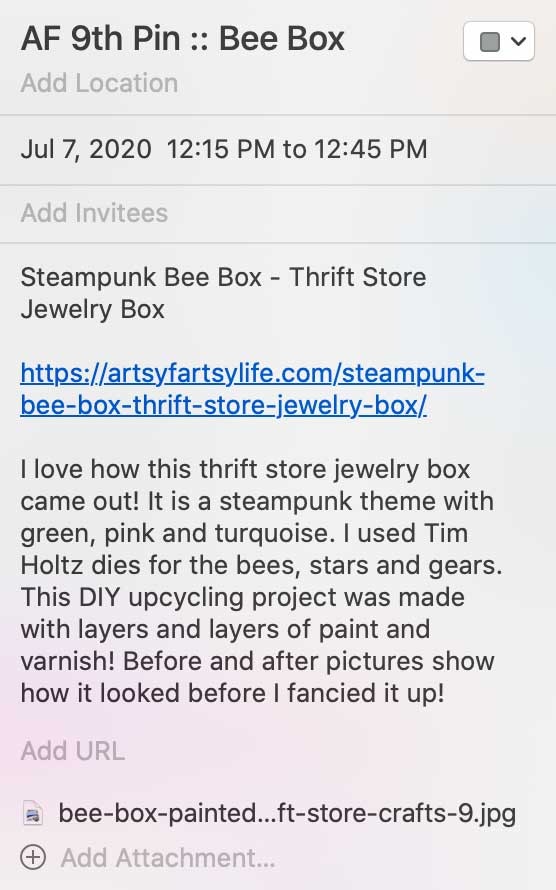 The thing that makes this different from some of the gals that I see is that I don't have to remember anything. I just pop into each day and do my pinning without thinking.
Upload pictures to Google Drive
I save all my pins in Google Drive (a free program) so that if I ever forget to attach them to the calendar day, I will have them there to use!
Guess how I figure this one out… I forgot to attach a pin and had to fmake an extra one… doh!
How to check the sheet & schedule in Tailwind
Okay, now this is the "hunting" part!
I used to schedule out all my pins to go to all the relevant boards when I posted them, but that just makes Pinterest mad at me. They want "popular" pins on their site!
So I use my Airtable spreadsheet to check and see which ones did well (for me that is any combination of at least 10 repins or saves, yours may be higher or lower!)
So checking my pins from last week for Marketing Artfully I wouldn't be scheduling any of these to my other boards using Tailwind (none reached the limit of 10 clicks or saves).

But wait, some got over a THOUSAND impressions, doesn't that mean that Pinterest liked them? That makes it even worse! That many people saw it and no one saved or clicked!
But wait, there is one more thing to do… check https://www.pinterest.com/source/marketingartfully.com/ which is all the pins from my site posted.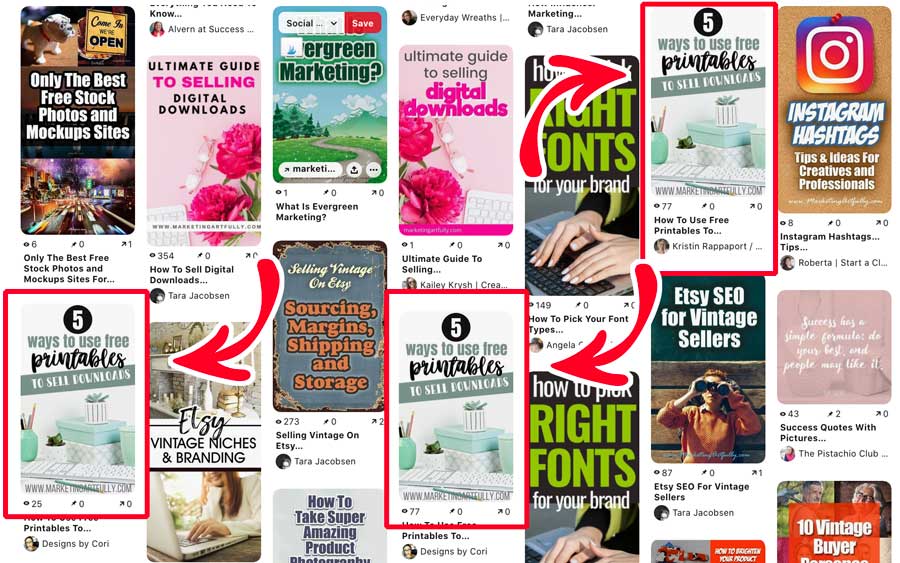 So I can see that the 5 ways to use printables didn't do good on my board, but other people from my Tribes thought it was good enough to share so I will schedule that one in Tailwind and the pink one about digital downloads out because I see there is some interest!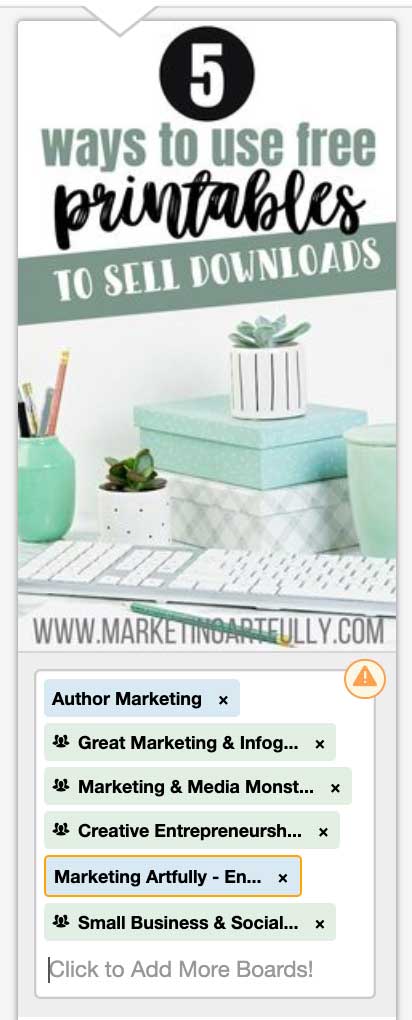 In the past I might have put that pin on Elevety Billion boards if it was even slightly relevant, but now I only pick a handful (5-10) highly targeted boards to share it on!
FAQs
Okay, I can hear the screaming from here… here are a few things that I get push back a lot from my system (although I don't know why, you do you, and this is how I will do it for now).
Shouldn't Your Pins Be Branded For Your Business?
Years ago marketing people said that you should have a "Brand" for your business. You should use blue or green if you are a bank, pink for the ladies and red and yellow for fast food.
But that doesn't really matter to me anymore. All I care about is getting views on my website!
So if I make a light green pin that works, great! Pink and bold font, great! I try all the things because the ONLY THING THAT MATTERS IS PEOPLEE ON PINTEREST LIKE IT, not me!
How Can You Make That Many Pins?
I have templates set up in Canva and just pop pictures in and move some stuff around. Check out Carly's pin templates if you don't have any yet.
I am not invested in any pins until they have proven themselves to me by getting clicks or saves… whoo whoo!
What Else Does A Scheduler Like Tailwind Do?
I do lots with Tailwind, but here are my favorite Pinterest strategy tips off the top of my head!
They know the best pinning times from aggregating over a ton of accounts so I don't have to figure them out
Their scheduler helps with regularly pinning your own content
I don't have to use group boards because I use the Tribes feature (getting on and monitoring group boards is super time consuming)
Not having to rely on my memory for repinning helps me get more page views to both my blogs and Etsy stores
I don't have to have just a manual pinning or just a scheduling strategy, I can use the best of both