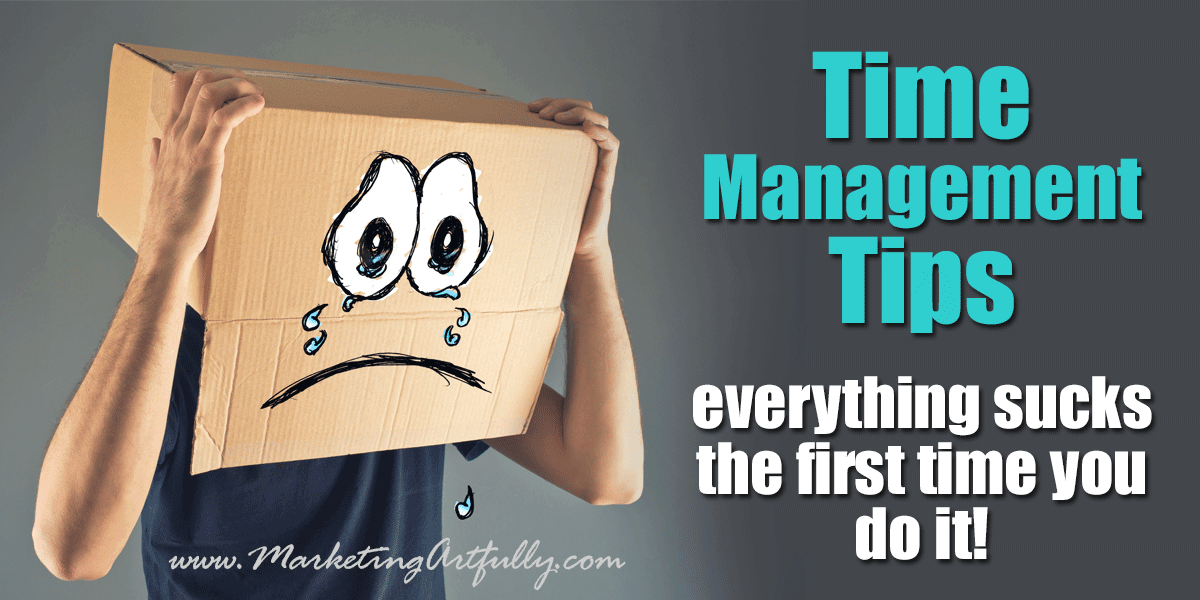 Here are my top 7 Time Management Tips for getting yourself over a starting hurdle!
Doing marketing means that you will always have to try new things. Technologies change, the tools you use change and each and every time you feel like this is just going to be too hard to understand…ever.
This post contains affiliate links. If you purchase anything, I earn a small commission at no extra charge to you. Thanks for your support!
Just recently I have been doing a bunch of new stuff technology wise. I am building a new website on Shopify for my marketing mini courses (it is still Frankensteiny at this point but feel free to take a peek), setting up sales pages (I HATE writing sales copy), integrating a membership component (I swore I would never do that again) and about a gagillion other things that are making me blue.
BUT, and here comes the big pep talk that I had with myself yesterday, "just because you don't know how to do something doesn't mean that you should give up or get discouraged!"
That's right, EVERYONE gets funky when they have to learn a bunch of new stuff all at once. Here are some tips to overcoming that feeling that you will never "get this":
1. Learn What You Need & Nothing More
I love learning. I am more than happy to watch videos about technical bits and strategies for setting things up the "right way". I like to understand what I am setting out to do before I start and always wish that there was more documentation or training available.
But don't get caught is "analysis paralysis" like I see so many business people doing. They spend hours or days (weeks?) researching and planning, brainstorming and asking everyone they know what to do. Make sure you aren't spinning your wheels like this!
Talk to a trusted advisor, read 5-6 reviews and then pick a product, service or training solution. Don't get bogged down in the decision making process.
2. Chunk It Down
I have about 4 moving parts to my current project. I love that I can use ConvertKit and Thinkific, but if you are just getting started consider using Mailchimp or another free service.
I think that the hardest part when you are doing a new something is figuring out what goes first, second and third. It is frustrating to start on something then realize you need a graphic to complete it, or to start a campaign in your email, only to realize you need to know the sales page first.
Don't let this bother you! Just start a list of things to do as you find them and then start crossing them off as you get them done!
3. Just That One Time
It is REALLY hard to remember that some of it only matters when you are setting it up the first time. It is easy to lump all the setup time in with the doing time. For example, it feels like this whole process is taking FOREVER (actually I am on Day 3). So then I start thinking that doing courses will be too time consuming because they take DAYS TO DO…drama only in my head.
Honestly, the course took maybe 3 hours to make, I can sell it over and over and once the framework is in place I have an easily replicable model to use for the next 20 courses.
4. Write It Down
Which leads me to the process for making a system. Every time I do anything that I will have to do again I write it down in Evernote.
The first time is just a mass of mess and not something that I could use for a checklist, BUT it does put all the moving parts in one place. Then the second time I do it, I really try to figure out the best way to get it done. This is now a system that I can use and refine to get even faster the next time!
5. Use Tools To Help
I have mentioned a couple of the tools that I am using to make my training empire already, but I can't stress enough that having the right tools makes all the difference in the world! If you are on a shoestring, use MailChimp.com instead of ConvertKit and and the free version of Evernote instead of the deluxe version. But if you have a little capital and are truly in business, spring for the tools that make you money.
My budget for tools to run my business monthly is about $500. Some are monthly subscriptions and some (like Zippy Courses) are a one time fee. While it is tempting to try to cobble something together from free products, often the time you waste trying to jury-rig something is worth far more than what you would pay for tools.
6. Play To Your Strengths
There are times you are just not good at something. Say you have dyslexia and writing is hard or impossible. Then you are going to have to farm that portion out. Or if you can't even take the first step with a tool because you don't know where to start, maybe pay for a little training to get you going.
That said, everything that you farm out to someone else increases your timeline. Because I do all the setup and work, the only one I can blame if it is slow going is me and my many distractions. Putting your head down and just working until you are finished is a great way to keep the ball rolling.
That said, ask for help if something really has you stumped!
7. Good Enough Is Good Enough
Last but not least is that good enough is good enough. Second only to analysis paralysis is the "I'll launch when it is perfect" mentality. You can dink around forever with trying to get everything just right or you can launch with a "Minimum Viable Product" which is the least you can do and still provide a quality experience. In my example, I would love to have at least 4-5 courses done and ready to go, but I don't. I have that one course and now I just have to build some more.
BUT nothing would be served by waiting to market that one course. It is really easy to think, "well I will start when I get the next thing done". Don't do that! Start as soon as you can!
The Rah Rah Bit
So I feel like this is a rah rah time management post for me that I just shared out loud with you! I have had times over the last few days where I despaired of ever getting any traction.
I have thought that this is impossible and I won't ever be able to understand all of it. But just putting one thing after another and making lists of things that still needed doing have gotten me 90% of the way there. Hopefully this post will serve as the last little bit of inspiration I need to cross the finish line.
And hopefully it helps you when you are sure that you will never get done!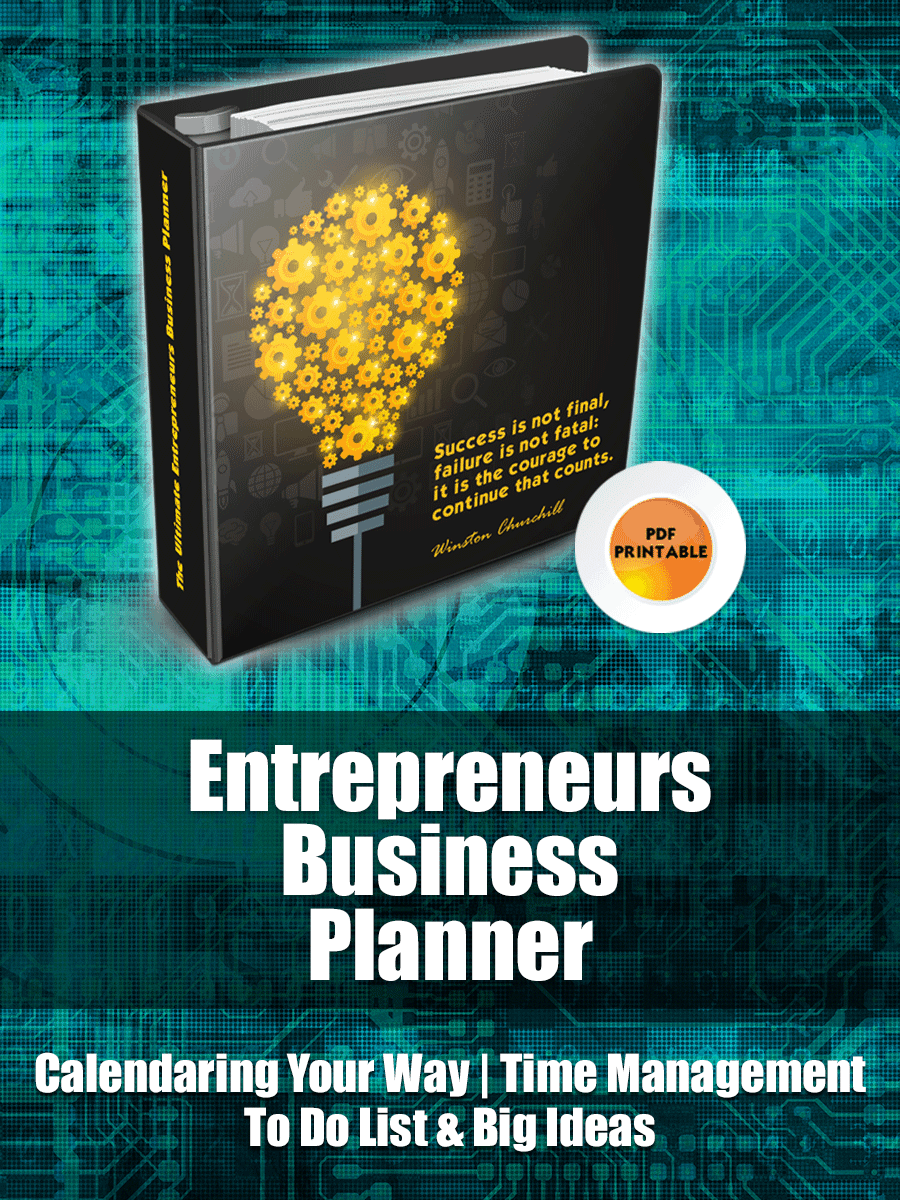 Entrepreneurs Business Planner
This AMAZING Entrepreneur Business Planner has all of the calendaring functions you need PLUS ways to manage your To Do Lists, Time and Capture and Implement all of your Big Ideas!
I have spent the last 15 years setting up systems for how to manage my time, organize my daily, weekly and monthly to dos and lastly how to wrangle my ideas (which are legion). I have set up worksheets and calendar pages that act as bumpers, keeping me in the middle of the lane and working effectively!
With over 27 pages of great information, you will be able to make sure your business and life are an organized, well oiled machine.