There are always new Pinterest marketing strategies, but this "fresh pins" requirement is really confusing a lot of my peeps. Here are my best tips and ideas for how to create fresh pins that will help grow your traffic and get you more views!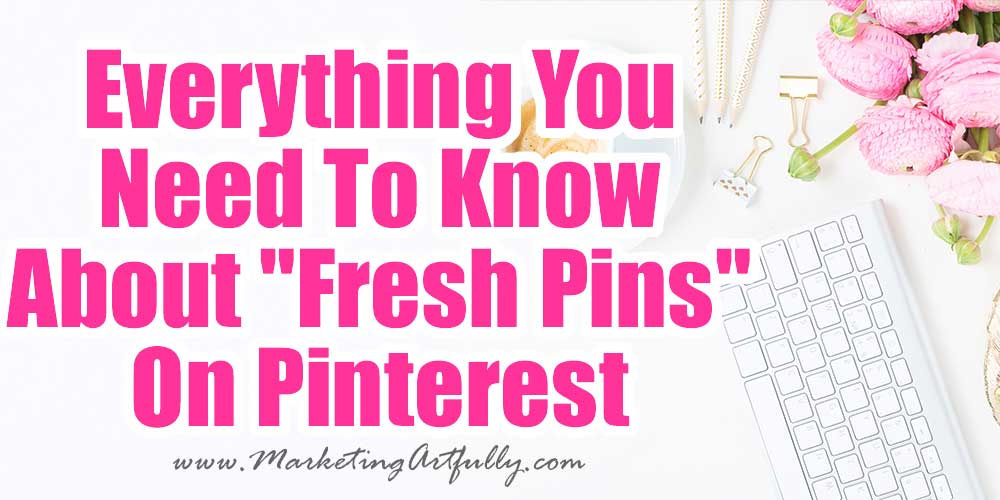 This post contains affiliate links, which means I will make a commission at no extra cost to you should you click through and make a purchase. See all my policies here
What Are "Fresh Pins" On Pinterest?
Fresh Pins are defined by Pinterest as images or videos that they haven't seen before. You can create several images that link to the same blog post, page, or product listing, and each of those would be fresh when saved to Pinterest for the first time. source Tailwind/Pinterest
So here are some ideas for "fresh pins"…
A new pin from a new post
A new pin from an old post
A new pin based on an old pin doing well with changes to the picture or font
A bunch of new ecommerce pins based off of different pictures of the same product
The good news!
So first off, let's talk about the good news! We can make a plethora of new pins to try to get our old content ranked… whoo whoo!
We also have more chances to test and see which new pins are working and which are not.
The bad news…:(
Okay here is the bad news… it is more work to make more pins. It was SO nice when we could make one pin and think that our work here is done.
So here is a whole bunch of great info to get you thinking about how to use this great marketing channel to get more traffic and views!
My Results So Far

I have been making new pins like a mad woman (I LIKE making pins…:) And the results are looking good! My stats are all going up… whether it is because of "fresh pins" or just because I have more pins out there, I have been super pleased with how my stats are all going up!
Disclaimer: OF COURSE there is no guarantee that your stats will go up or that this is "normal" but for sure making more pins has helped get more clicks to my website!
New Posts, New Pins – Milk Those Posts!
When I do a new post now I make between 5-10 pins for it all at once! There is such an economies of scale to make more pins right when you have your graphics program open and you are in the groove.
What I have started doing is having "pin making sessions". For example, I have a few posts coming out that are about laundry. So I went and found some laundry pictures on my stock photo site and I will make a bunch of different ones all at once. This is technically called batching!
The great thing about this is I can do it sitting in front of the tv at night and pretend to be with the family while I am really doing marketing! (seriously, my kids are teenagers now, they are in their rooms ignoring me so only the dog cares if I am around now!)
Old Posts, New Pins – Do Your Research
This may be my favorite new thing about the "fresh pins" strategy. I can check my stats and see which pins are actually sending traffic to my site or store and then focus on making new pins for those topics that I know people ALREADY like on Pinterest.
Checking In Pinterest
So first off, you can check your stats in Pinterest itself. They have gotten better than in the past AND you can limit them to just the last 30 days of results.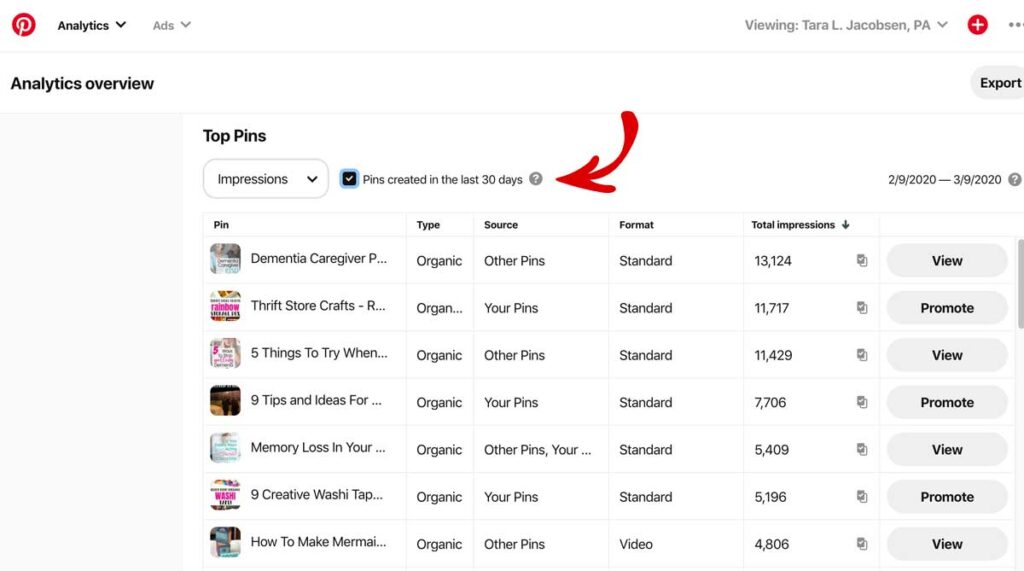 The reason I check the last 30 days rather than all time is that some of my old pins are still doing good, but since I am making new pins I want to know what is working now!
Secondly you can check your "activity", which is the little bell at the top, right hand side of the page.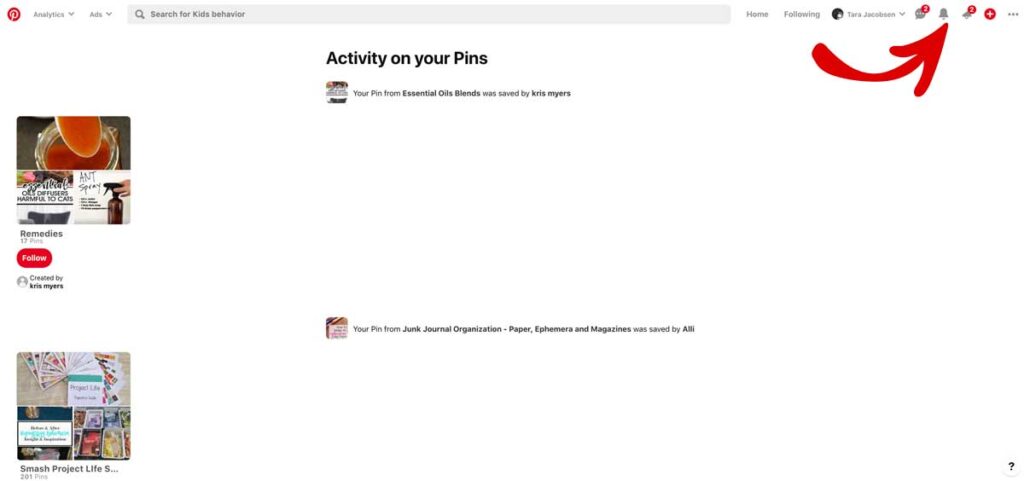 This will show you what has been going on recently with your pins. You can also see what kinds of boards people are saving your pin to (I love to use this to get new ideas for "themes" or to get new keywords.)
Checking In Google Analytics
I use a free Pinterest dashboard from Kristie Hill to see which pins work best to drive actual traffic to my website. As you can see, my top posts have a super high bounce rate, but that is just a fact of life with Pinterest traffic!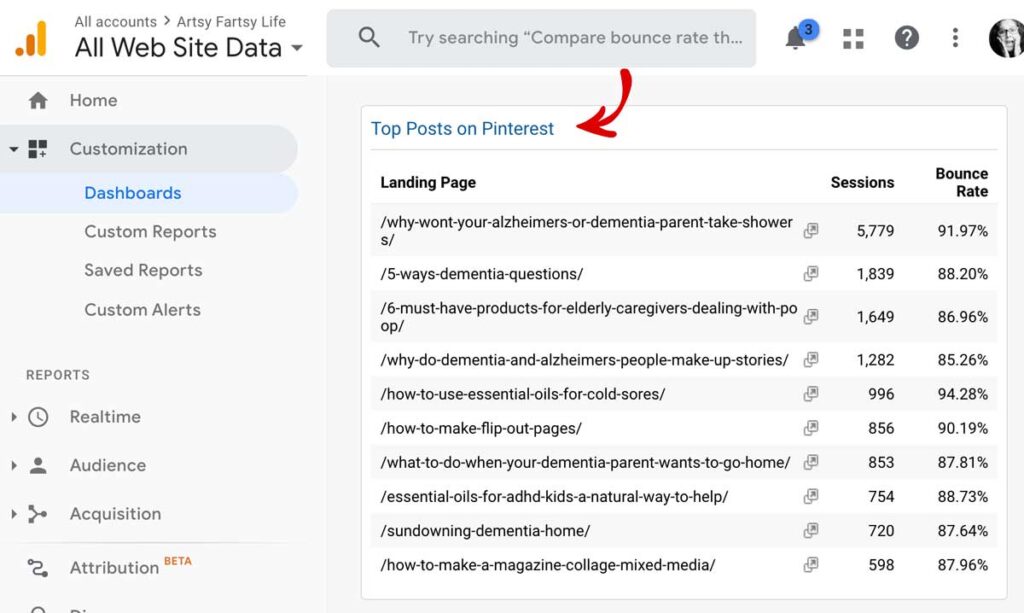 These are the posts (maybe the top 10-20) that I will focus on when making more new pins BECAUSE Pinterest has shown that they are popular with the users.
I have lots of other topics on my site, but maybe the Pinterest users are just not that into them!
Checking In Tailwind
One of the things I love most about Tailwind (a paid Pinterest service) is that they have great stats! You can see which of your "Top Pins" are doing well and can even go down as small as the last 7 days!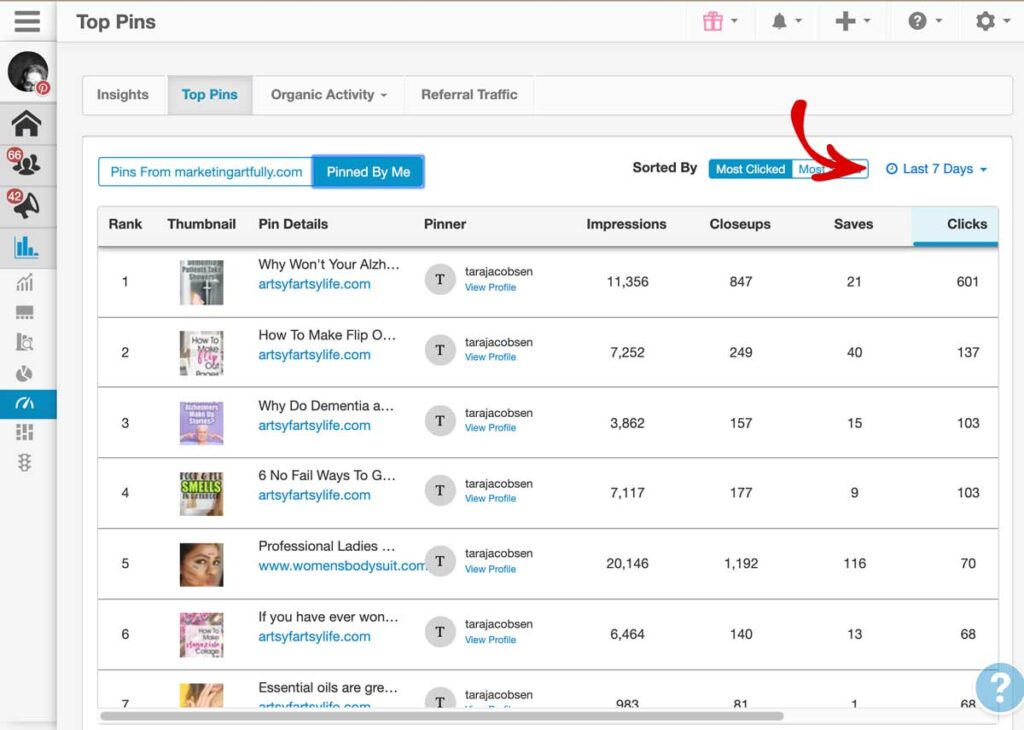 This let's me get a good idea about which of my "fresh pins" are performing well!
>> Sign up to get a free (working) Tailwind account!
You Can Make Pins That Say Different Things
Right about now you might be thinking, I CANNOT make 10 different pins for my "whatever". I cannot make 10 pins for my blog post or product, I can't make 10 pins for my course or freebie. I JUST CAN'T!
But what if you could make less content, but get more chances to market it just by changing the pin focus.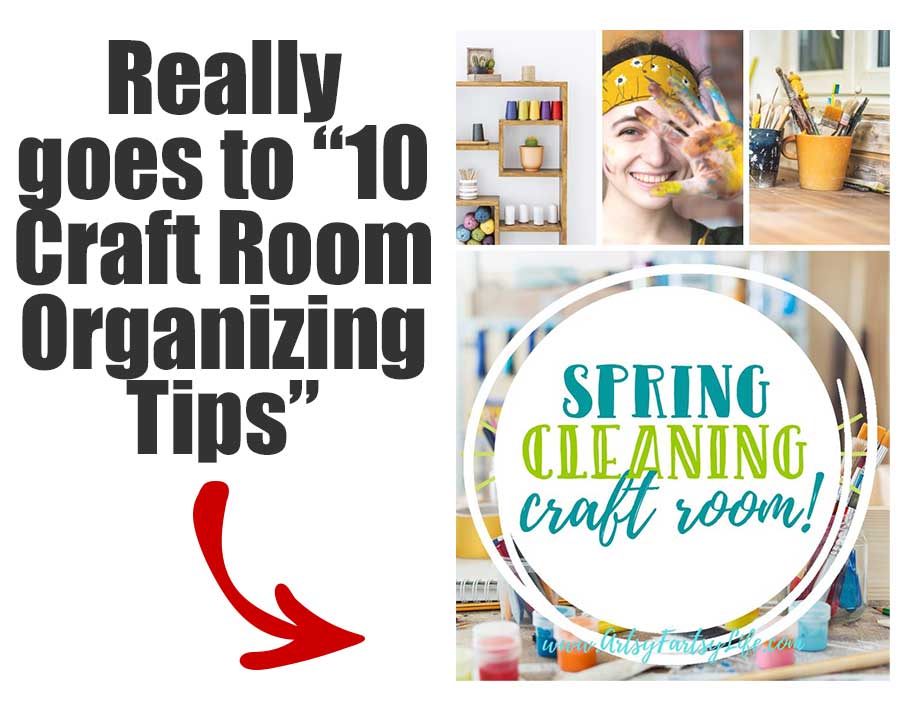 For example, I didn't have to write a whole new "Spring Cleaning Your Craft Room" post, I just had to make a few new pins that SAID I could help with spring cleaning.
Now, it is NOT a lie… that post WILL help them clean their craft room AND I got to put out seasonal pins that will (hopefully) get good rankings on Pinterest for a while.
You just need to get creative about different angles you can focus on for each of your posts!
Make Templates For Your Pins In Canva Or Picmonkey
I would say that the ONE THING that made me come in off the ledge the most was the ability to make pins super easily in Canva (or Picmonkey) once you have templates made!
You can whip out 5 of them in a couple of minutes without too much hassle once you have a system in place!
Templates For Canva
Some of the templates that I have in my video came from two places….
Carly has AMAZING templates and she talks about things we can ACTUALLY do to increase our clicks from links!
Once you have your templates set up you can whip out pins SUPER FAST!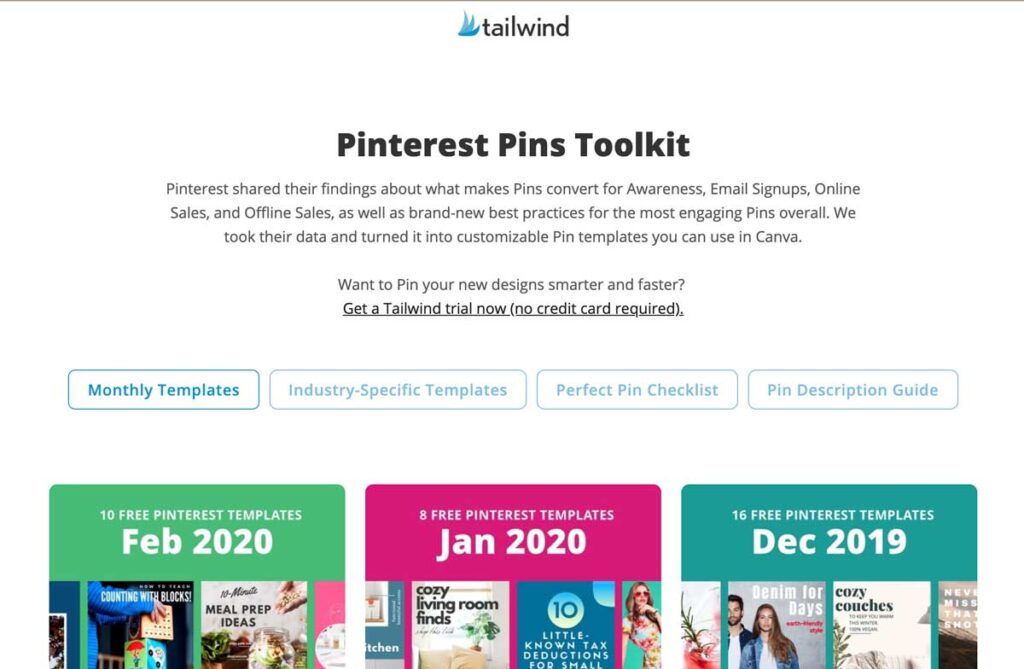 Scheduling Out Your Pins
What do you do after you have made all these GAGILLION pins? You need a system to send them out!
Hand Pin
The very first thing you can do is upload your pin to Pinterest using the plus sign in the top right corner.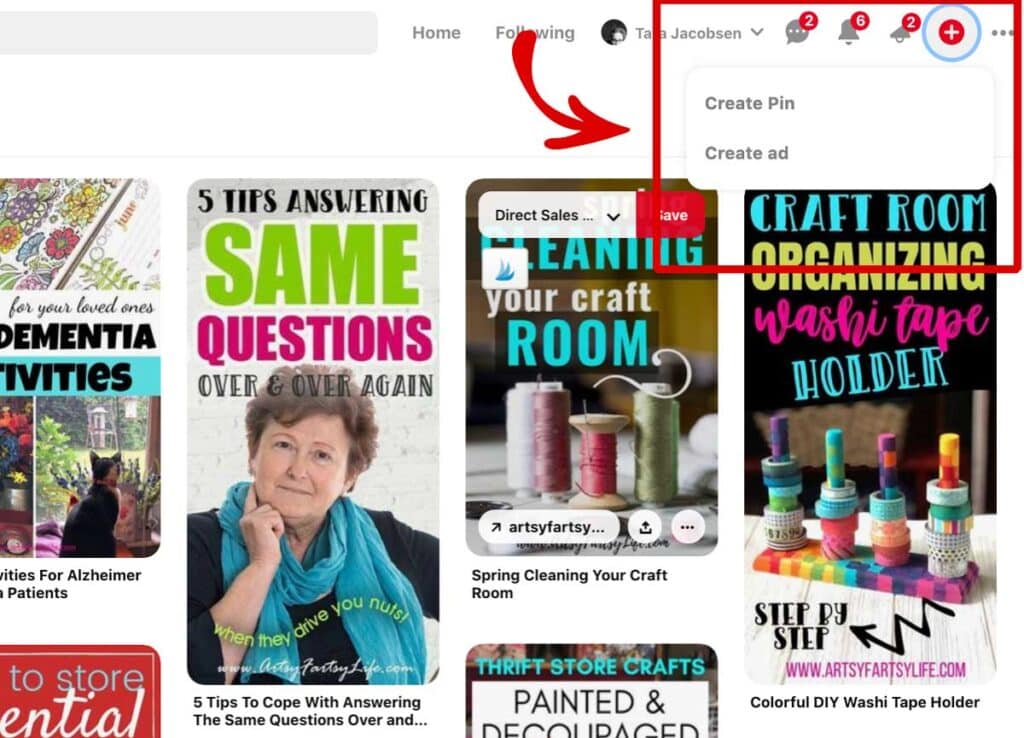 Schedule Pins
The nice thing about the Pinterest scheduler is that you can schedule them out for up to two weeks and up to thirty pins.
The problem is that generally you aren't supposed to promote the same pin to a different board closer than 2 days apart so you could wind up looking "spammy" to Pinterest as you did many of those pins all in a row.
Schedule Pins With Tailwind
THIS IS WHAT I RECOMMEND FOR MY PEEPS THAT DON'T HAVE ALL DAY TO MESS AROUND WITH PINTEREST!
The easiest way I have found to schedule out pins (set them and forget them) is to use Tailwind!
Simply upload your pins to your "publisher > drafts" and then you can cut and paste the info in super fast and not only schedule the first pin out, but all the subsequent ones you want to your other boards later!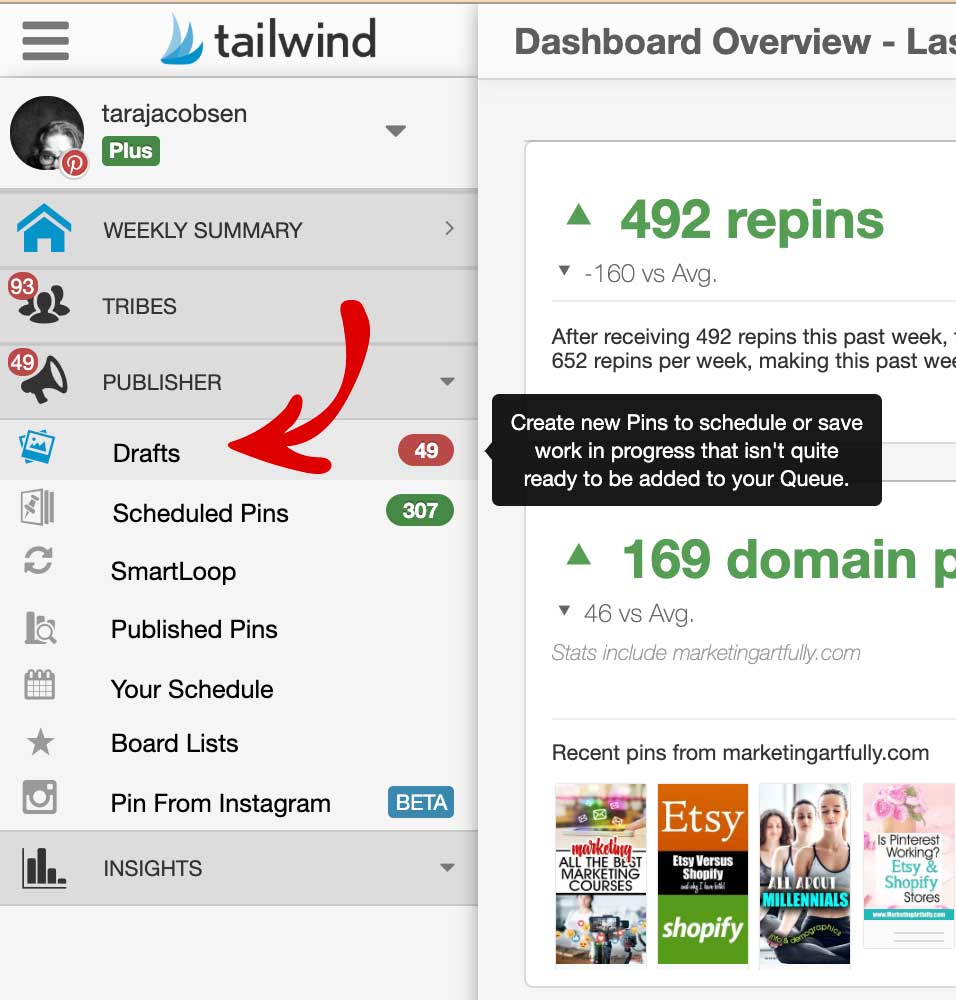 In the top right over the schedule you will see a button to upload pins…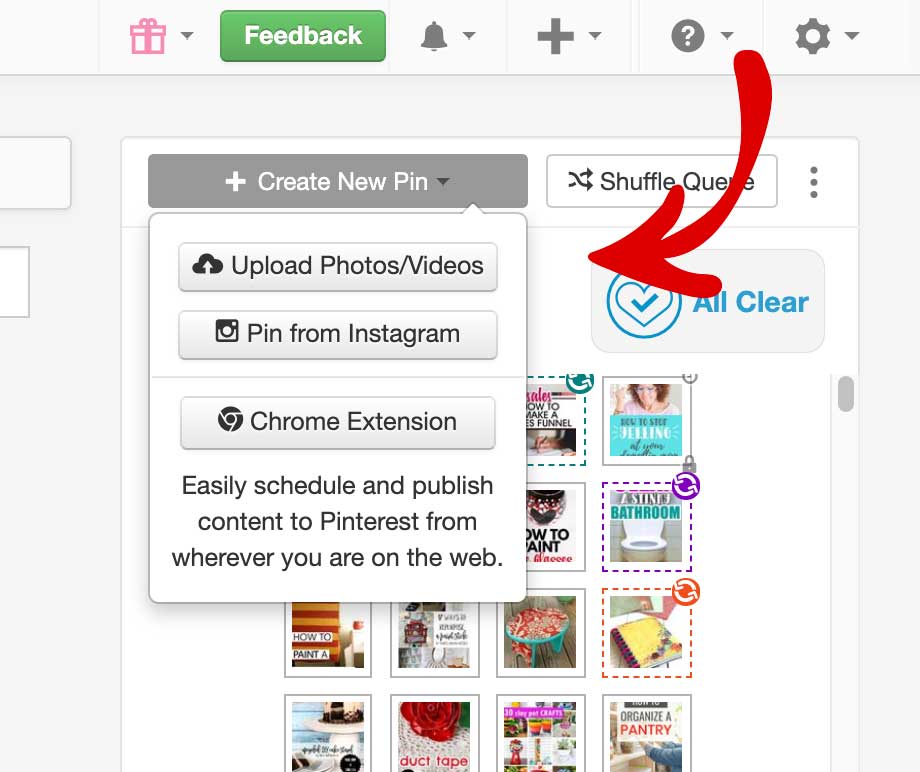 Then you can upload the new pins you made, all at once and get them ready to go out over the next few weeks!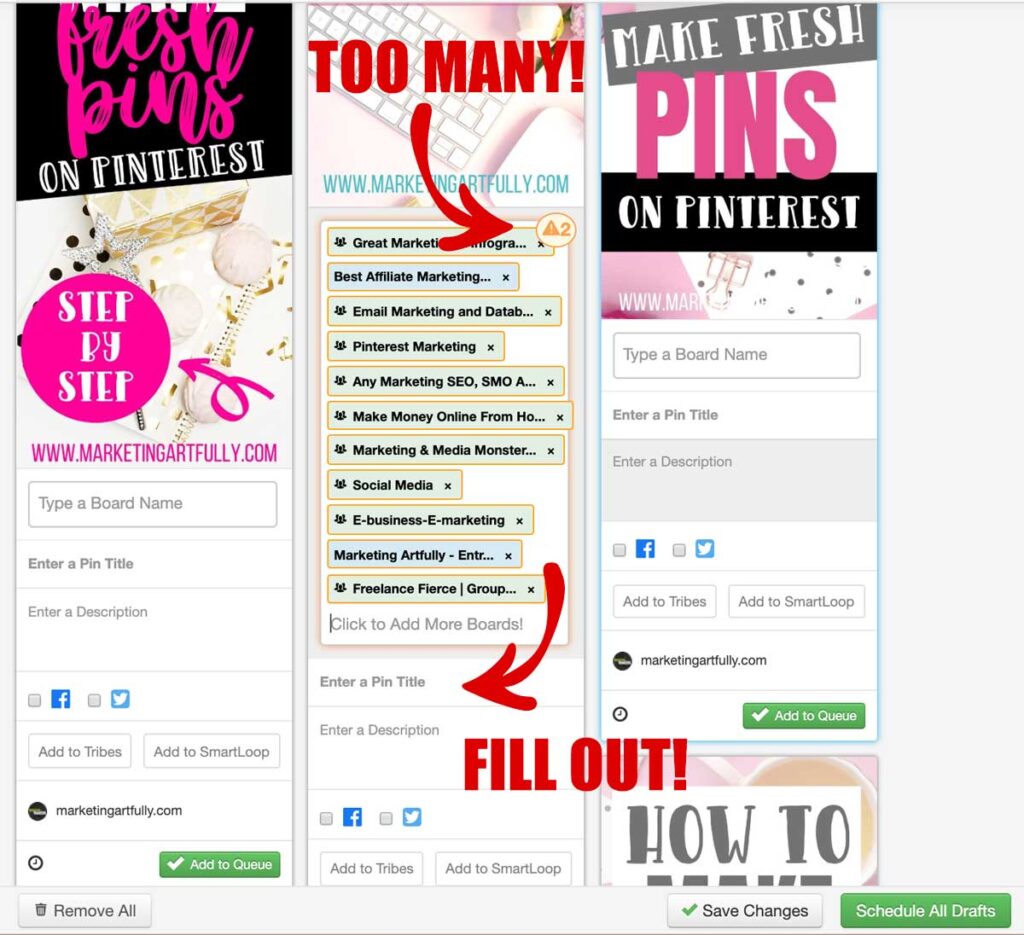 The BEST thing about doing it this way is Tailwind has what they call "Smart Guide" that tells you when you are pinning too much or have chosen too many boards to pin to!
>> Sign up for a free Tailwind account to check it out!
Hide Them In Your Posts
One last thing you can do (as recommended by the super smart girls in the Bloggers Tell All membership) is to hide them in the bottom of your posts using a plugin like Grow from Mediavine!
I don't do this one because I have trouble remembering to post them out AND it could slow your site down, but there is some thought that pinning directly from a post might help a wee bit.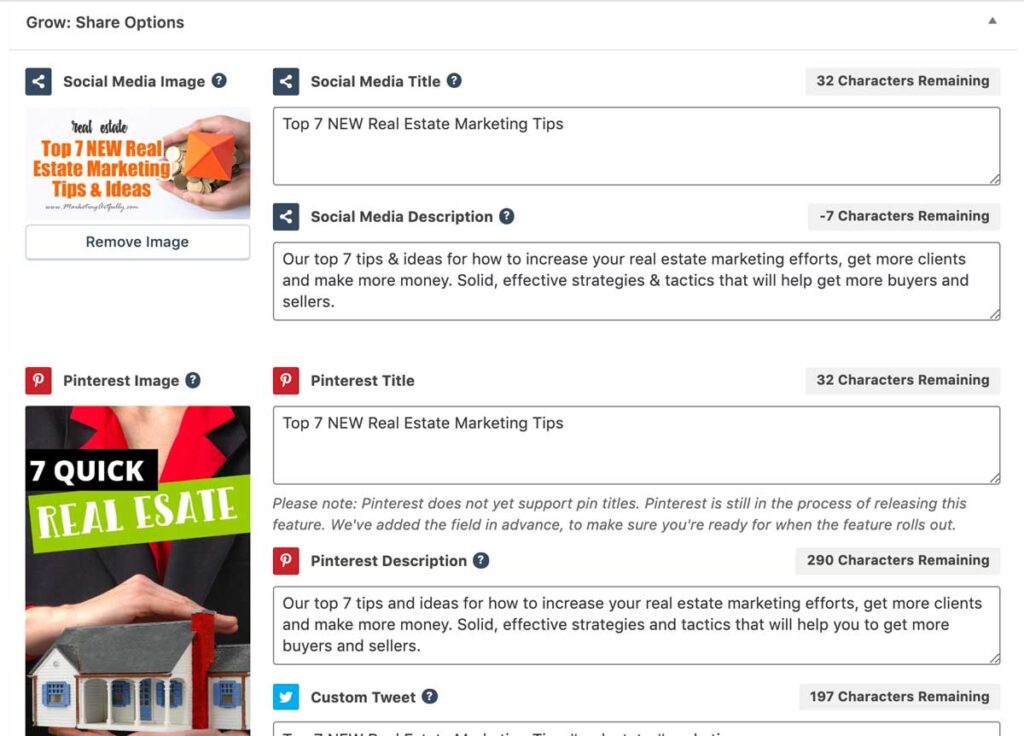 Try To Act Like A "Real Pinner"
Here is a tip that I got from Carly's group, try and act like a real pinner!
Think about it, when you are ACTUALLY in Pinterest to save some things for your real life, you hardly EVER just pin one pin at a time. You pin a bunch of the different same kinds of pins.
For example, if I am thinking about organizing my office, I will have two or three that I find all at once and pin to that board.
Tailwind is the only way you can schedule this because they let you go down to the minute.
SOOO you would schedule one of your pins to go out at say 11:32 AM, and then pin other related pins at 11:31 AM and 11:33 AM.
Track Your "Good Pins"
Another thing you want to do is is figure out which of your pins are "good pins". Those ones that are always sending traffic.
Make more pins in the style of those pins (more about that above and in the video) and also try some related titles that might work too!
Pinterest is super good for some things and not so much for others…. for example, my rainbow magazine holders and 100 Real Estate Video Ideas did great…. good impressions and link clicks. But Pinterest HATED my super creative referral ideas so much!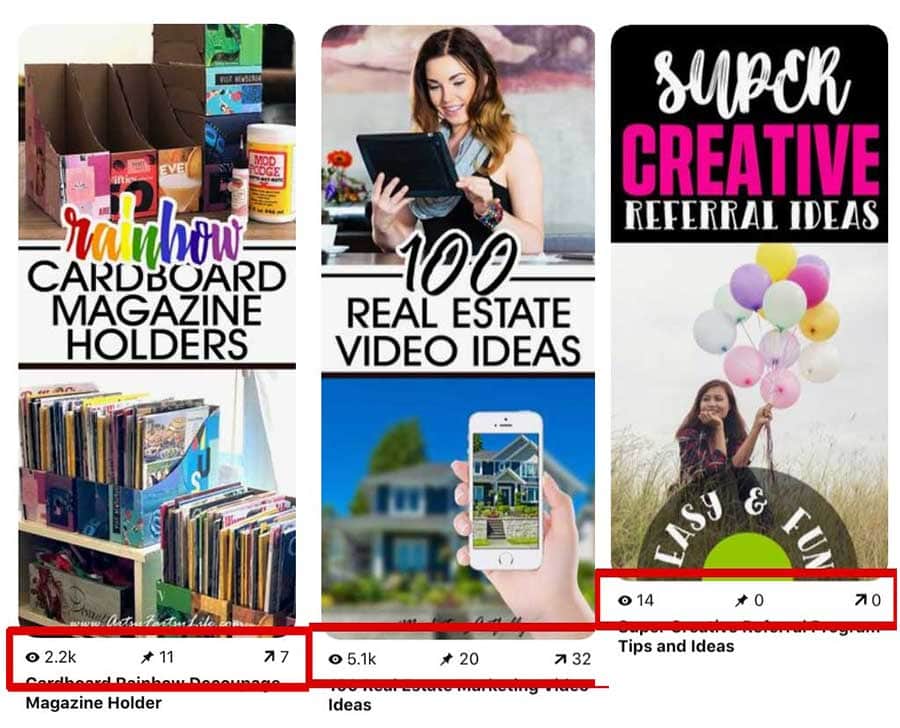 So how did that happen? How did two of my pins get THOUSANDS of impressions and one got 14?
Well, Pinterest will show your pin to a certain number of people they think will like it based on the subject and the board you pin it to. If those first few people don't respond (click to look at it, pin it or click through) then it dies and there is no point in pinning it over and over again since it is not a "winner".
Focus on your winners!
Niche Boards Are Working For Me!
One thing that I am doing which seems to be working for me is to make super niche boards to post pins to where I have a lot of content.
For instance I am doing a series on Washi Tape Storage on my Craft blog so I made a washi tape storage board.
I pinned a bunch of other pins there about washi tape storage before I started pinning mine and they are doing great!
FAQs
Okay, I can hear the questions now! Here are answers to the ones that I get the most!
Branding?
Wasn't the thought before that you should have good branding for your pins? That they should use your brand colors and be instantly recognizable as your pins?
Yes and no. I do "brand pins" for every post I do and sometimes they are the winning pin and sometimes not. But I ALSO make a ton in different styles when I am doing my brand pin so that I can have other options in case my brand pin flops!
How Many Pins A Day?
With all this pinning, won't you get in trouble for pinning TOO MUCH?
Well, because I space out my pins by scheduling them through Tailwind, I am not dumping 10 pins on one day. AND I have stopped pinning other people's pins as much because I am "saving my spots" for more of my own pins (bonus… this saves me time!)
Tailwind's Smart Guide (that they made based on info from Pinterest) gives you a warning when you are going to be going above about 35 pins a day.
If you are strategic, that is plenty!
How Many Boards Should You Pin On?
I have actually made MORE boards that are super specific to my main topics. That means that I could conceivably pin to a BUNCH of different boards that are "close" to my post.
But Pinterest is using the board title, description and content to see if they will show your pin so it is better to just post your pin to the boards that EXACTLY match your pin!
For example, this post COULD go on a "Marketing for Non Profits" board because it would help them, BUT it would be better suited to my social media and Pinterest Marketing boards for sure!
Should You Pin Other People's Pins?
I am only really pinning other people's pins that I get from the Tailwind Tribes. That is because for each of someone else's pin I pin, I have the chance of getting my pins seen and shared by members of the group.
It used to be said that you should do 80/20 – 80% other people's pins and 20% your own.
That is NOT a great plan anymore. Pinterest has said clearly that they want US to be producing more new content (new pins, not necessarily new posts), and that they don't want us just mindlessly repinning things that are already on Pinterest.
How Do You Know If You Are In Danger of Being Banned on Pinterest?
I am currently relying on information from the Tailwind/Pinterest webinar where we got word directly from Pinterest that they value HIGH QUALITY, FRESH PINS.
With that in mind I stopped pinning pins that were not doing well and really reevaluated what kind of content worked well on the platform.
IF you are using Tailwind, they have put bumper guards in place that let you know if you pinning too much with their Smart Guide.
How Do You Store All Those Pins?
Okay, last but not least (whew, this long really fast!) you are going to need a place to store (and track) all these pins.
I personally keep them two places, Airtable and Google Drive.
Airtable – In Airtable I have them associated with the posts and also record the date that I made the new pins. This way I can track which posts I have made pins for and save myself from doing the same posts over and over.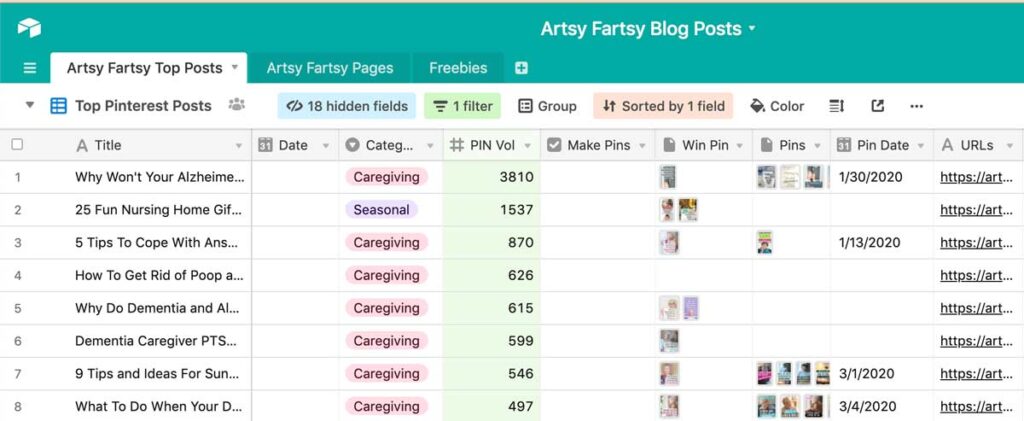 Google Drive – I also dump ALL of them into Google Drive! Because I name them all close to the blog post title, it is pretty easy to find them if I need them later!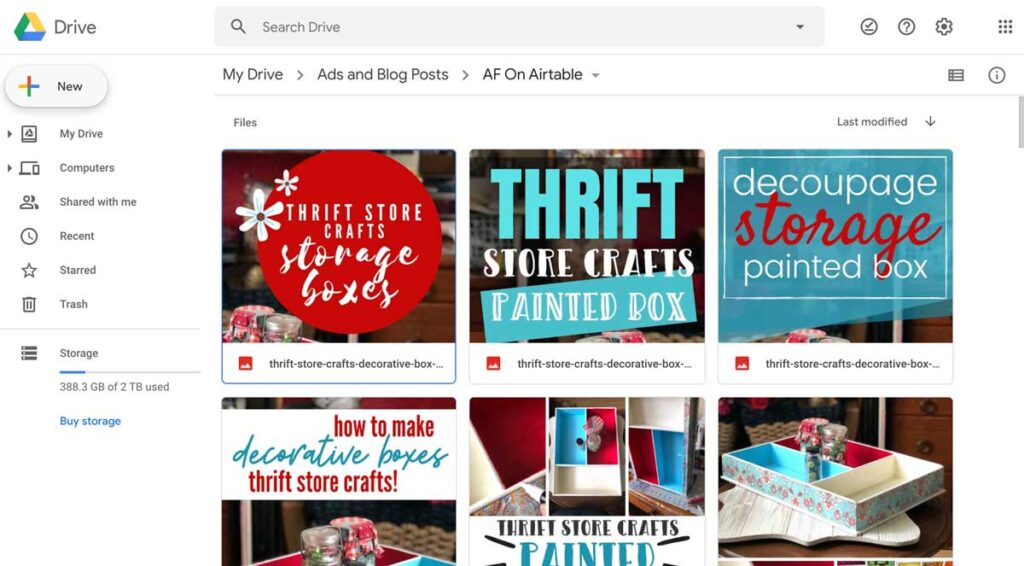 ALL RESOURCES MENTIONED
Making Fresh Pins Wrapup
Okay, that was A LOT, but for sure just break it down and start making "Fresh Pins" for your top posts or products and then make lots of new pins each time you publish something new!
While this is for SURE more work than just doing one pin and crossing your fingers and hoping it does well, Pinterest can drive a LOT of traffic to our blog or store so the time is DEFINITELY worth it!