Today I am going to take you behind the scenes of my Tailwind account and show you how I can quickly create Pinterest Pins PLUS schedule them out all in one step! And not just ho-hum pins, but ones that get clicks and shares because they are so cute!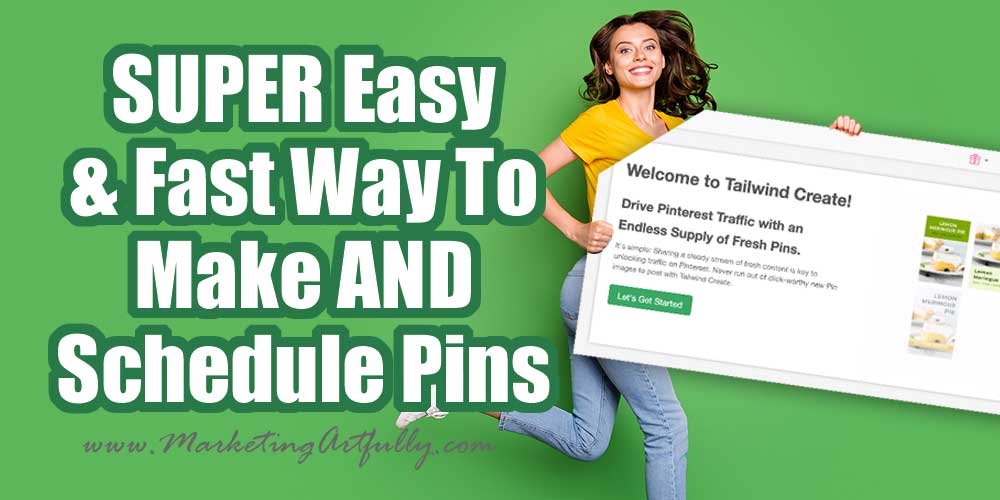 2021 Update… How To Make Fast Pins!
Why Does Pinterest Want "Fresh Pins"
Before we go any further, I want to talk to my peeps… the ones that are NOT marketing gurus, but are just normal, plain jane business owners who are trying to get more eyeballs on their "stuff".
Maybe you are selling a product or trying to get new clients or building your brand and you are thinking, "why should I spend all my time on making stupid new pins for Pinterest?"
Here are a few reasons I love Pinterest…
I can drive my own views to my Etsy or Shopify stores
I can find different kinds of people by using different titles on my Pinterest pins without having to write all different blog posts
It is FREE TRAFFIC
Making pins is super easy for me because I am a graphic artist
And that last one used to make me super sad…. for my non-graphic artist friends!
Like my marketing bestie who does Etsy and sells her planners on Amazon. How was she supposed to make her listing, sell her planners, AND then be a graphics guru, oh and spend all her time posting to Pinterest?
Pinterest Fresh Pins
So this year Pinterest decided to change the game in a way that made my little marketing heart happy. They decided that they want LOTS OF DIFFERENT PINS…. lots of different pins is my sweet spot… whoo whoo!
So we used to be able to make one pin for each post, product or whatever and that was it, job done.
Now Pinterest wants us to make all different pins, that target different users and different topics so that their users don't get sick of seeing the same pins over and over again. Makes sense.
By targeting different audiences with different kinds of pins you can increase your reach AND make Pinterest happy AND reach different audiences… win, win, win!
Additional Resource :: Read more about Pinterest Fresh Pins!
Tailwind Pinterest Pin Create Tool
Because of all of this, I was super happy when my pals over at Tailwind showed me their super secret new tool that you could use to make a gabillion pins all at once and then pick the very best ones to post to your account.
(I am special that way… but I had to keep my big trap shut until now when they let the cat out of the bag!)
This made me super happy because I LOVE making tons of different designs and then scheduling out the truly special ones that I think will attract Pinterest peeps the best!!!
Here is the "official" announcement!
And some pins I have made… super cute!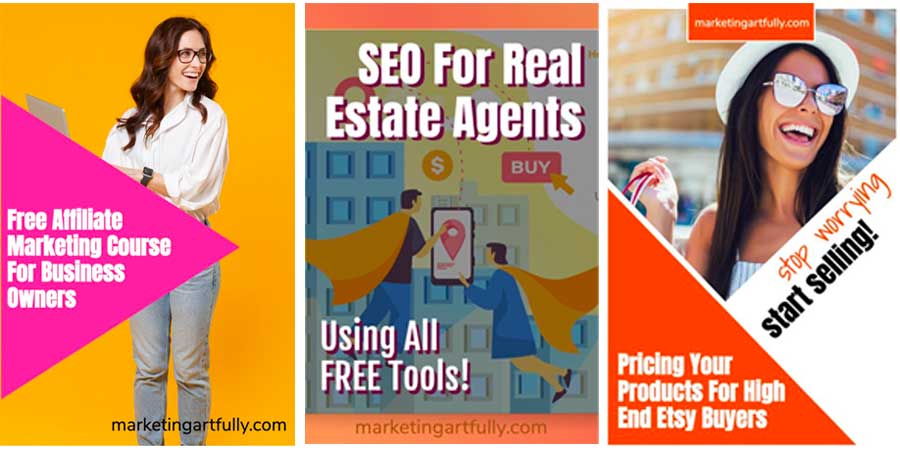 But wait, aren't all our pins supposed to look the same? What about branding for heck's sake!
Okay, when Pinterest was tiny, your followers "knew" you and could pick out your brand. But now they are GIANT and all they want to know is WIFM… what's in it for me! So you need to make pins that catch their attention in the feed and then give them a reason to click through to your products or posts!
How To Use Tailwind Create To Make Great Pins Fast
Okay, so that is great, but how does it work for my peeps? This is the way that I use the Create tool to make and schedule my pins!
If you do sign up for Tailwind I would love it if you used my affiliate link! https://marketingartfully.com/tailwindforpinterest (if you do sign up with this link I will receive a wee commission at no additional cost to you!)
Additional Resource :: How I make trackable URLs for my Pinterest Pins
Tailwind Create Best Practices
Okay, I can see it now, spammers flooding Pinterest with MILLIONS of pins… wah, wah, wah!
But we are not spammers, we are business peeps who know how to manage ourselves so here are some best practices for how to keep our Pinterest accounts safe!
Pinterest Best Practices For Posting
Pinterest doesn't tell us a whole lot about "THE RULES" for pinning on Pinterest, but we have found out some things over time! Here are some tips following best practices I know about…
The goal is to make super good pins… and then space out the scheduling! Okay, here is where we have to get creative! We KNOW we shouldn't pin more than about 30 pins per day total (I generally am in the 15-20 range), and we KNOW we should wait a bit between when we pin the same content out… SOOOO we can make a variety of pins for different audiences but don't bunch them all up!
We need to be more strategic with our pinning now that pinning 150 a day (or more) is frowned upon. Fewer amazing pins are better than hundreds of mediocre pins!
No more than 10 Boards – It used to be that "repinning" or scheduling to ALL of our boards worked, it doesn't now. Now you want to schedule each of your pins to ONLY the best, most relevant boards for your topic or product.
UPDATE: To be honest, these pins are SO easy to do that I don't repin anything…. I just schedule new pins out to the different boards instead of "repinning" the same Tailwind Create images.
You don't get dinged for scheduling pins – A Canadian Pinterest gal confirmed that there is no added benefit for "manually pinning" so it is fine to use the Tailwind scheduler to post your Create pins.
Pin your first pin to the most relevant boards – I have been using Create to make extra pins for my posts but doing one "real" pin for my posts first that I manually upload to Pinterest to the "right" board. That has been working well for me! Now I feel like you could skip that manual step if you picked the right boards in the scheduler.
Additional Resource : How I Use Manual Pinning AND Tailwind For Scheduling
General Best Practices For Posting
Make more pins for your best content – This one may seem counter-intuitive but it works! If you have posts or products that always show up in your top pins, make more pins for those! So my Artsy Fartsy post about how to get your dementia mom to take a shower does great, it is my TOP PIN. With that in mind I made and scheduled MORE new pins for it using Tailwind Create that had new images, different text, and a fresh description and title!
Make pins with different words – THIS is our chance to get creative and make pins that work for different audiences! Instead of using the same words on all your pins try to target different audiences or buyers with each of your pins.
Use different pictures – As you use Create more you will see that some of the templates work well with some pictures and others with different layouts. I upload at least 3 different pictures each time I do a set of pins. If you need more pictures, here are Free Stock Photo sites to check out. I like to pay for my pictures but if you can use your creativity to make free photos fancy, that will work too!
Tailwind's Create Pin Maker and Scheduler Wrapup
Hopefully this helps! As I use it more and get more best practices I will add them in here to help you too!
Right now Create is in Beta and they are giving preference to Tailwind Customers (makes sense) so sign up here for Taiwind using my affiliate link!