My peeps never understand how to "be an influencer", and if they get the concept, they have no idea how to make that a "job". Today I am going to tell you what influencer marketing means and give you some of the best real world examples and strategy of people who are doing it!
please note :: I often recommend resources, some I receive an affiliate commission for at no additional cost to you! check out my policies here
What Is An Influencer?
Okay, let's start with the basics… what is an influencer? An influencer is someone who has enough TRUST from other people in order to influence their purchasing decisions.
There are different types of influencers out there…
Famous influencers – think of all celebrities like Gwyneth Paltrow of Goop and Kate Hudson of Fabletics
Micro influencers – these are smaller influencers who have niche audiences that love when they share content just for them
Social media influencers – are focusing solely on Facebook, Instagram or Snapchat and are true "content creators" using a marketing strategy to reach their audience
Brand ambassadors – are associated with a specific company or brand that has periodic influencer campaigns roll out say when a new product launches or styles change
All of these people create content that they think their target audience will like see!
Famous Influencers
In the marketing world there are famous influencers!
One who comes immediately to mind is Kim Kardasian. She has spent her whole life living in public and being famous for being famous. But she also gets paid for products she has made and also ones that she just recommends.
But why do people listen to her? Well early on her family was famous. Her Dad was a lawyer who helped defend OJ Simpson. Then she was Nicole Richie's friend (another woman famous for being famous) and then she gained notoriety for being in a sex tape.
Hmmmm… well, that is not all that helpful for those of us who are just normal people not trying to get a celebrity endorsement (although who am I to judge if you are willing to do a sex tape in order to participate in affiliate marketing… hehehehe!)
Now for a more wholesome influencer…
Jenny of Missouri Star Quilt
Okay, now let's talk about a lady named Jenny Doan. She was just a quilter in Hamilton, MO (population 1,800).
She had an idea to start a little quilting business that sewed the backs onto quilts when they lost all their savings in the housing recession. Her kids bought her the first long arm sewing machine and a building downtown (real estate was CHEAP in the downtown area).
She started working on the machine and eventually realized that she could only work so much on quilts, so she needed to do something else to get more business!
She decided to start making videos doing tutorials about how to make quilts. Jenny's first video was made in 2009 (she was in her 50's at the time!) She hoped to make a little money from YouTube ads and maybe get a little more business at the Missouri Star Quilt Company store.
Here is one of her first videos from 2009!
Today Jenny's videos are fancy and well produced, but you need to know where she started.
Once people started watching, they put up a ecommerce website, opened a retail store and started selling the fabrics that Jenny used when she was making her videos!
Now Jenny has multiple stores in her little town and hundreds of thousands of people visit her town each year! She employs much of her family and has created a life doing what she loves.
For the whole story, listen to Jenny's interview on the Without Fail podcast!
Tip #1 – Don't try to be a "perfect" influencer right from the start!
Just do the best that you can with what you have and remember that EVERYONE started out looking dorky!
Erin of Home Town on HGTV
Here is a fun example! Erin and Ben were just living their lives, remodeling their first home and Erin decided to share the progress on her Instagram.
Erin was a graphic designer and Ben had a little wood working shop behind their Scotsman retail store in downtown Laurel, MS.
Here is one of Erin's early Instagram posts, nothing fancy, just a picture of her kitchen (not even a good picture)… and notice that she "only" has 74 likes on her post. No good description, no "right" hashtags, just sharing her life online.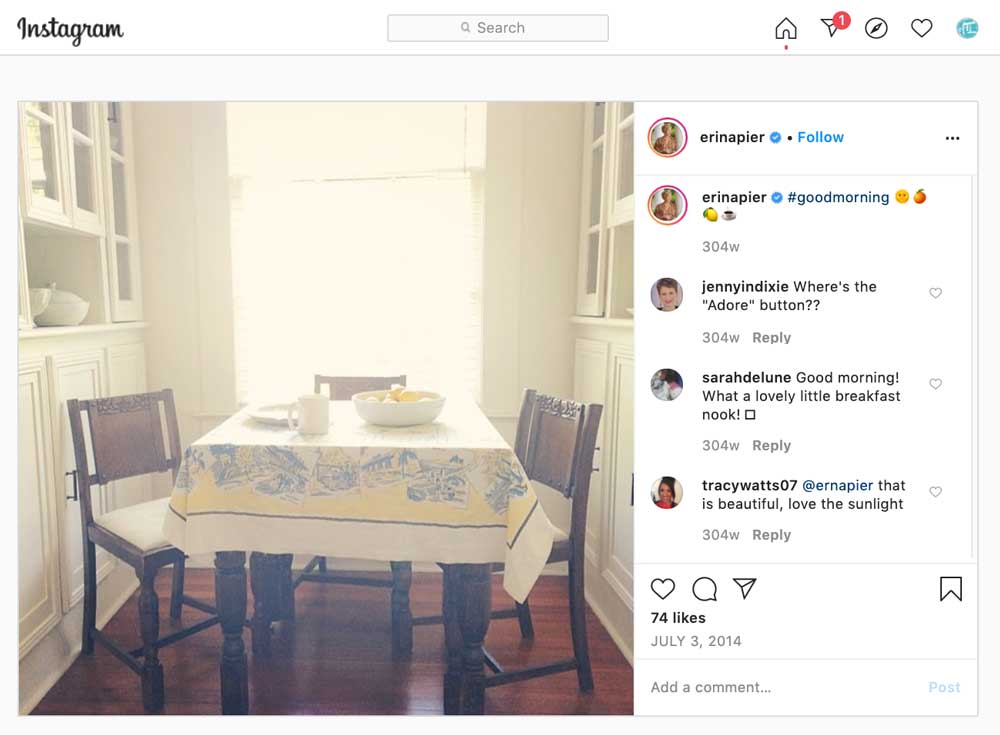 The thing is, a HGTV producer was one of her followers and loved how cute she and her husband were together, and now 6 years later they have the top show on HGTV, Home Town, renovating houses together and living their best life.
For the whole story check out 'Home Town' Stars Erin & Ben Napier Opened Up About Their Unexpected Journey to HGTV Fame
Tip #2 – Remember that you don't need a million followers to get results!
Erin might have had only 70 some likes, but one of them was television producer that could give her a TV show!
What Should You Be An Influencer About?
Now to figure out what you should be an influencer about! PLEASE don't try to get too specific at this point… you just want a general idea of your niche, not a specific goal in mind!
Here are some examples…
Me – I have been doing artwork using magazine collage and junk journals. I have shared my art and the items that I use to create my pieces. I share my art on my blog, YouTube and Pinterest.
Kir – She trains for Triathlons and shares her training routines, food she eats and the products she uses for conditioning. Kir has a bunch of Facebook groups and a blog.
Tim Holtz – He works as a rep for a paint and crafts company, he shares tutorials about how to use the paints and techniques for using art tools. He has a Facebook page, blog and YouTube channel.
Additional Resource : Manufacturing Marketing How To Give Your Company A Personality
Cassidy of Succulents and Sunshine– She loves succulents (plants that need little water). She started a blog talking about how to care for succulents. She is now an "expert" in the field of succulents.
Tip #3 – If You Can, Pick Something For "Consumers"
I have worked for YEARS trying to build a business blog for marketing… in less than a year my fun little site about crafting has almost caught up to my business blog. It is MUCH easier to build a fun following than it is to get people to notice in the "business to business" space.
There are many more "potential customers" for your marketing down the line if you are doing something that regular old people like to do too!
How To Start Being An Influencer
So how do you get started? Start doing what you love to do already, but share it online!
Here are some ideas!
Make YouTube, Instagram or Facebook videos
Post pictures on Facebook and Instagram
Start a blog or website
Share your work on Pinterest
Use Twitter to talk about your projects
Join a Facebook group and share all of your projects
Pick the EASIEST way you have to share things. DO NOT make learning to share the project, what you love to do is the project!
Also don't worry that what you are sharing is not "good enough". When you start I guarantee it will be horrible and you will be embarrassed of it later on (I am even 6 months later, but it DOESN'T MATTER, just get started!)
Tip #4 – Share Your Progress
Sometimes it can feel like, "why would anyone care what I am doing?" But people are! People love to learn along beside you or you can even teach them things you already know!
Don't get all hung up thinking that you aren't good enough, just start sharing!
You Can't PLAN Your Results
Okay, this is the super frustrating part… you can't plan everything out! You can't say that you want to become a brand ambassador for your favorite paint company, you just have to share and then find out what you get at the end!
But you can influence this by using their products, @mentioning them and using hashtags that you see that they are using. Many companies are focused on finding influencers they can work with who ALREADY love their products!
That said, this isn't a job interview, you want to share what you actually love doing, no matter what the results may be and gain followers who love that same thing along the way!
Tip #5 – Don't get hung up on what will happen, just enjoy the journey of sharing!
The more you obsess about what will happen or what you can control, the less fun you will have (and this is supposed to be fun!)
How Can You Make Money As An Influencer?
Okay, now that you have done all this work and taken up so much time from your "real job" how do you get paid for it?
There are SO MANY ways to get paid as an influencer, here are a few…
You could receive free products from companies that want you to share their products
You could get opportunities to speak on podcasts or TV shows about what you do
You do affiliate marketing and share products that match your passion and get paid from companies
You could get sponsored posts or social mentions
You could become a paid influencer for a brand
Again, don't start out worrying about how you will get paid, worry first about sharing what you love and the money will follow.
Tip #6 – Only Promote Things You Believe In
Whoa this is a big one! When someone comes along offering to pay you for your hard work (FINALLY) it can be tempting to promote ANYTHING that will bring in some money…. but don't do that!
Only promote things that you actually believe are good products or services! There have been so many influencers who have lost followers for just turning into "buy my stuff" machines.
How Influencer Marketing Works Wrapup
Whew, that was a lot to learn, but as someone who does this for a living, it is super fun (and profitable!)
The funny thing from my end is people often ask me, "but what EXACTLY did you do to get these opportunities?"
Well, I have been blogging for 10+ years, I make videos and share my work and life on social media. So when someone approaches me and asks me to work with them, it isn't one thing, it is a culmination of a lot of things that I have done over a long period of time from social media marketing to video marketing and even some of my graphic design skills.
It would be GREAT if we could make one social media post or one video and have all our dreams come true, but that rarely works. Instead it is more likely to happen if we are just the little engine that could, chugging ahead and having fun along the way!