Looking for a cool bookmark aesthetic? These fairy printable bookmarks provide great motivation for you or the book love in your life!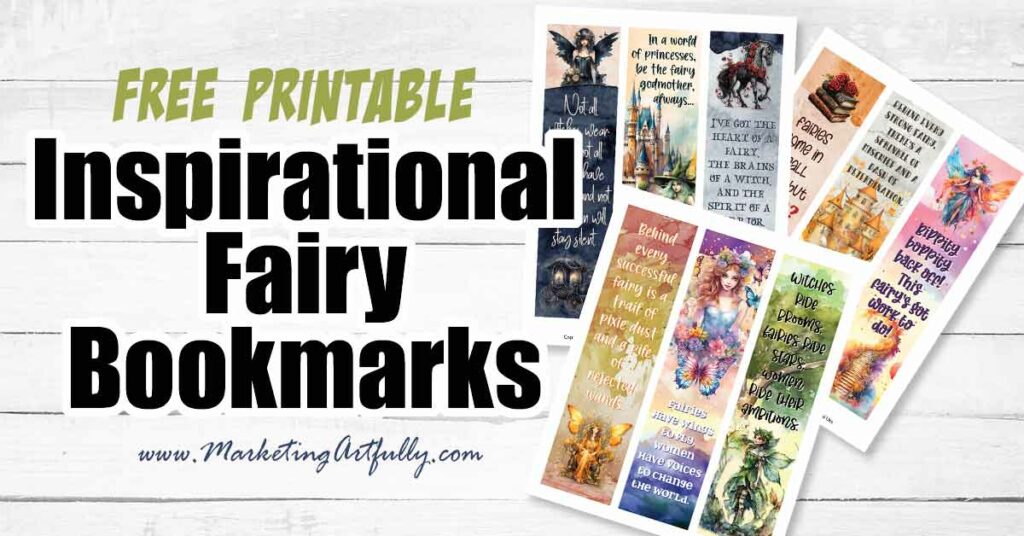 This post contains affiliate links. If you purchase anything, I earn a small commission at no extra charge to you. Check out my policies here.
All The Free Printable Fairy Bookmarks
I like to know what I am getting before going down the page so here are all the bookmarks for you to review!
I love how powerful and inspirational these turned out… fairies and inspiration, the perfect combination!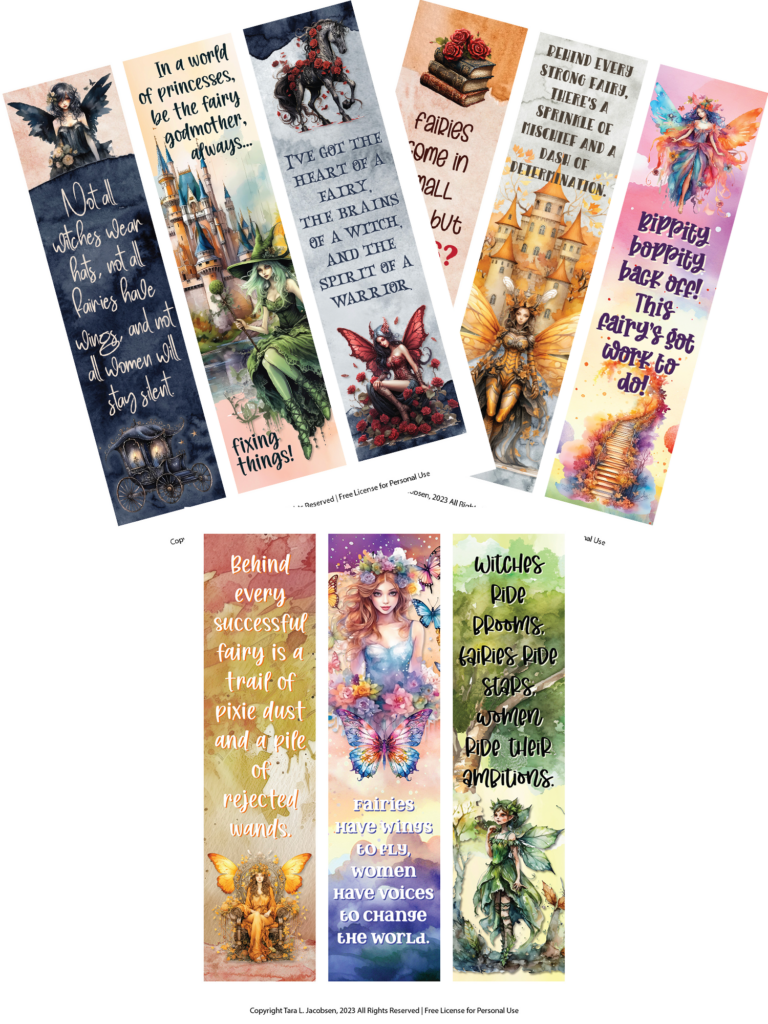 Why Did I Make These Bookmarks
I am more of an audiophile than a "dead trees" kind of gal, but I love a bookmark to use in my paper planner! I use it as sort of a placeholder, to mark the day or something important coming up in the future.
Motivational quotes and inspirational bookmarks are my jam and I wanted to make some to share with you too!
I used a combination of images from Creative Fabrica and my imagination to design these bookmarks!
Why Are They Free?
This is my year of giving away free things every week! Whoo whoo!
I have done planner pages, wall art, and word of the year printables, in addition to the free printable bookmarks!
I am blessed to be able to have ads on my website which gives me the time and income to be able to make freebies for us to use in our business and artwork!
How To Print These Bookmarks
I like to use a bit heavier card stock to print these out on! I think it makes them more durable and brighter when I print them out!
Sometimes I like to laminate them as dividers for my planner too!
They are formatted to print out on 8.5″X11″ letter sized paper.
How To Download Them
The image files are right on this page, no signup needed. Simply right click and choose "save as" on a computer or long click and save on a phone.
They will download in the right size to print on your home printer or you can send them out to a print shop with the copyright on the pages.
Personal License
These bookmarks come with a personal license which I consider to be you, your family and your business team if you have one.
If you are librarian or teacher and would like to print multiple copies, email me tara@marketingartfully.com and will send you a copy with unlimited print rights.
There is no license to distribute these digitally.
Free Printable Inspirational Fairy Bookmarks
I am so darn excited for you to have these! I love the snarky, fun sayings that will make you smile every time you see them!
Fairy Bookmarks #1
There are three sayings on these free printable motivational bookmarks…. Behind every successful fairy is a trail of pixie dust and pile of broken wands, Fairies have wings to fly women have voices to change the world, witches ride brooms fairies ride stars and women ride their ambitions.
(to download right click and chooses "save as" or long click on a phone)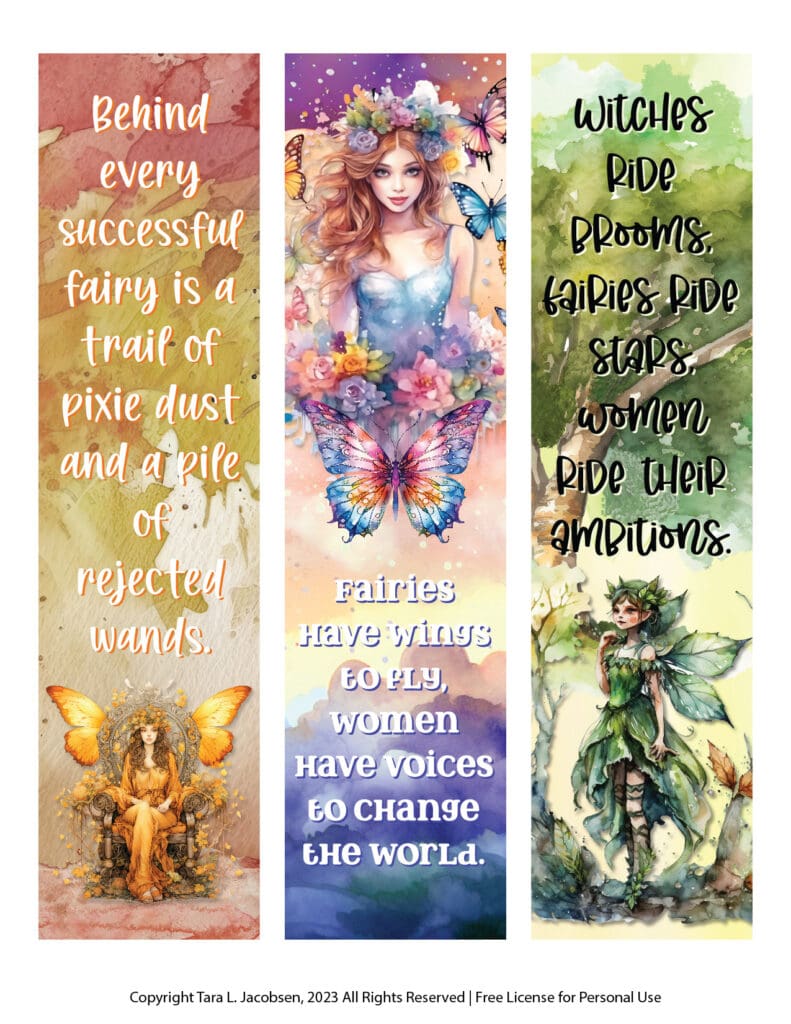 Fairy Bookmarks #2
There are three sayings on these free printable inspirational bookmarks, fairies come in small sizes but sass larger than life, behind every strong fairy there's a sprinkle of mischief and a dash of determination, bippity boppity back off this fairy has got work to do!
(to download right click and chooses "save as" or long click on a phone)
Fairy Bookmarks #3
These are a little more edgy, so of course these motivational fairy bookmarks are my favorites! They have three sayings, not all witches wear hats, not all fairies have wings and not all women will stay silent, In a world of princesses be the fairy godmother always fixing things, I've got the heart of a fairy, the brains of a witch and the spirit of a warrior!
(to download right click and chooses "save as" or long click on a phone)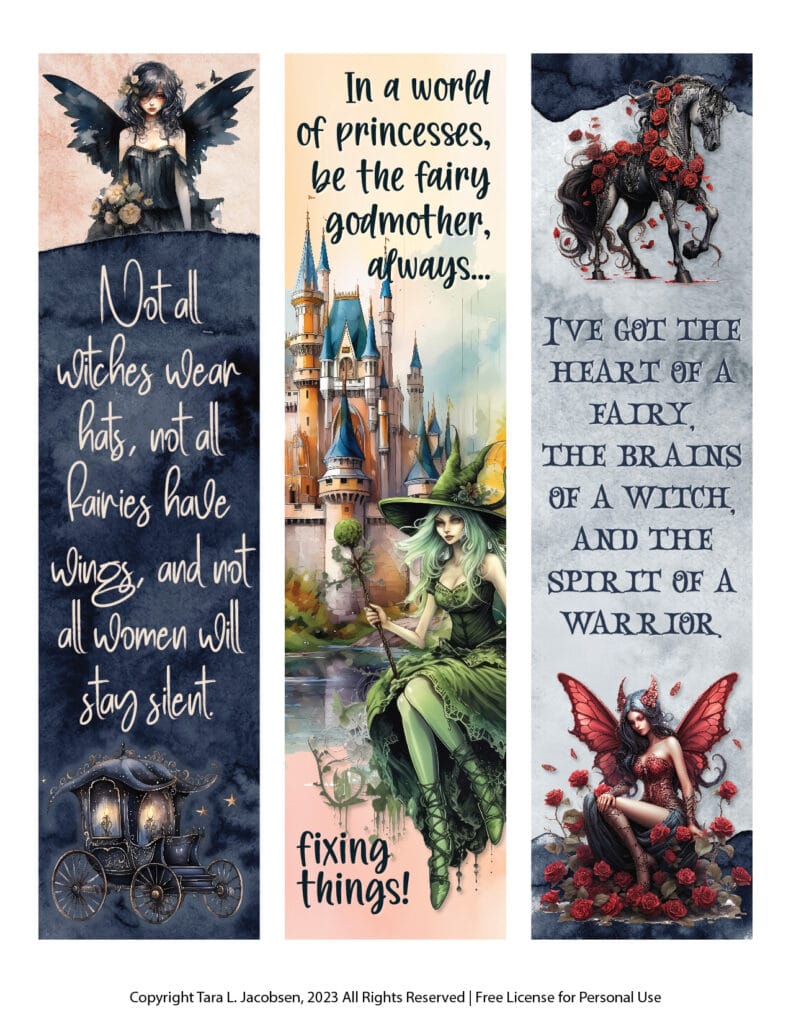 Free Printable Fairy Motivational Bookmarks Wrapups
I hope you love these fairy bookmarks as much I do! It is so much fun finding inspirational sayings that I can pair with fun images to make us something wicked cool!
If you have any suggestions for other bookmarks I should make, email me, tara@marketingartfully.com and let me know!