Tips and ideas for how to take advantage of seasonal marketing trends to make more sales using Google and Pinterest Trends!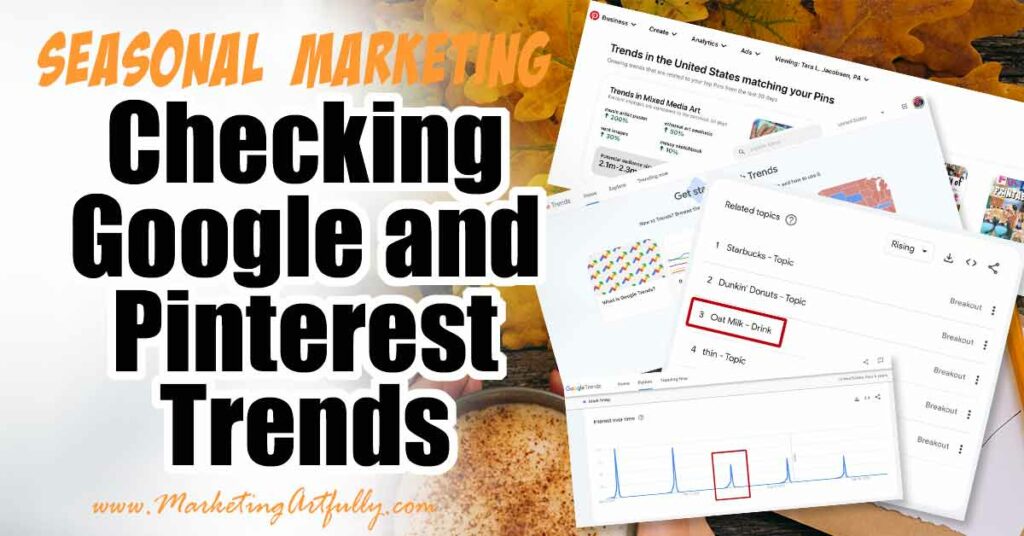 This post contains affiliate links. If you purchase anything, I earn a small commission at no extra charge to you. Check out my policies here.
I am super obsessed with seasonal marketing, I even have a free printable seasonal holidays list!
But today I want to talk about how you can use the Fall seasonal holidays to sell more in the 4th quarter of the year.
Why I Wrote This Post
I was at the local watering hole the other day and tried talking to the manager about how he should have drinks available to match the current MEGA TREND of pumpkin spice lattes.
He is a great guy, but has not spent years thinking about marketing 24/7 so he didn't really "get" that it isn't even important that people buy drinks that match the trend.
Just having the exposure available by hopping on the trend will make all the other "normal" drinks sell more as they draw people into the restaurant with trendy vibes.
So I thought I would write a post for him to show how trends are available almost on the daily and can help get more exposure for his business.
This works for service businesses like Realtors, ecommerce like Etsy, bloggers, retail, functionally any small business can milk trends for all they are worth to get some more business!
Google Trends
You can get to Google trends by going to trends.google.com. Here is a quick snapshot of the trends page!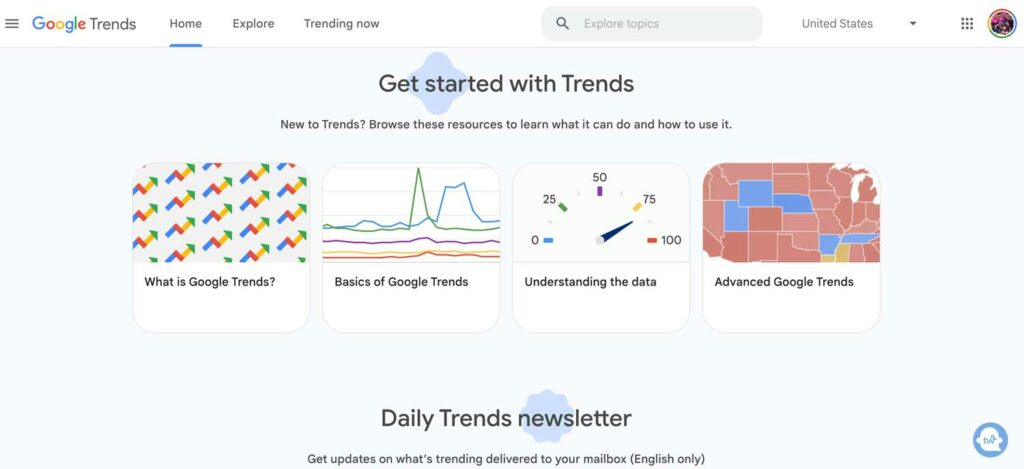 Checking Dates In Google Trends
The first thing I always do when I am looking at trying to jump on a trend is to figure out the dates that the trend happens. This is because you want to jump in early to the trend, maybe even starting your marketing a month or two before so that when the trend happens, you are ready!
The best thing about Google is that you can choose 5 years back range so you can get an idea, even for holidays that jump around like Labor Day which is on the first Monday in September so it could be the first or the seventh depending on the year!
Just put your holiday in and find out the date range from Google! I am going to use the ever popular pumpkin spice latte in my examples!
And don't worry, I did all the work below for you for the holidays and cultural moments that come to mind for me… email me at [email protected] and let me know if I missed ones you think about often!
Here is the data for pumkin spiced latte on Google Trends: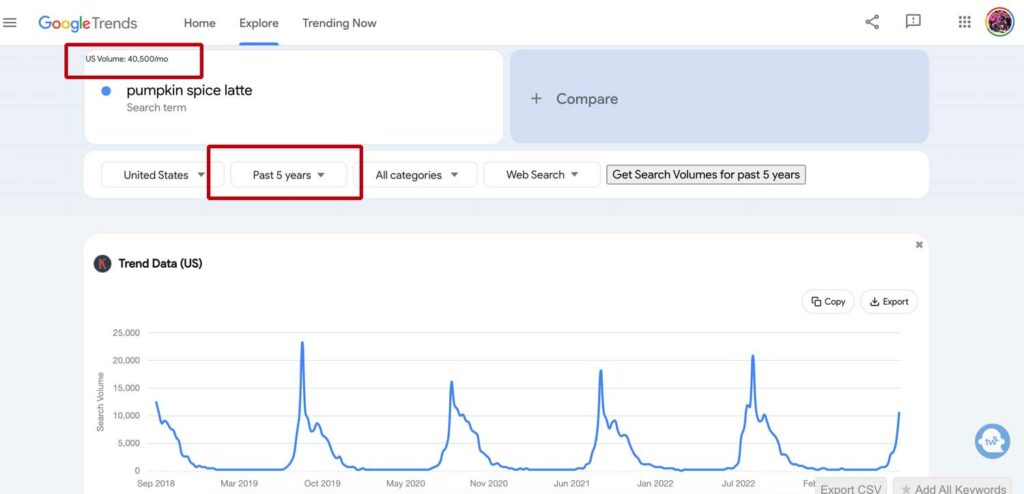 Some things to note, I use the Keywords Everywhere plugin that shows the search volume for this keyword as 40K a month. Since we are in the height of the season right now that makes sense. It would be lower during the rest of the year.
I also chose the 5 year time frame which gives us a good overview of the date ranges that are most relevant. I found the first date that the trend starts and the latest date the trend ends to determine that pumpkin spice season starts between July 17-27th and peeks between August 22 and September 3rd.
As a good marketer, at the VERY latest I would start on my marketing for this term on July 17th, but seeing as how most of my marketing is done on Pinterest, I have to back up even further and go 6 weeks minimum before the peek and start the 2nd week of July to get my pins out and registering on Pinterest in time.
This is why I am doing all my free Christmas giveaways for my Artsy site in August! I need to give my people and the algorithms time to register my marketing!
Google Trends Related Topics
While you are in there for trends, make sure to check the related topics that are currently trending. Right now "oat milk" is a rising trend.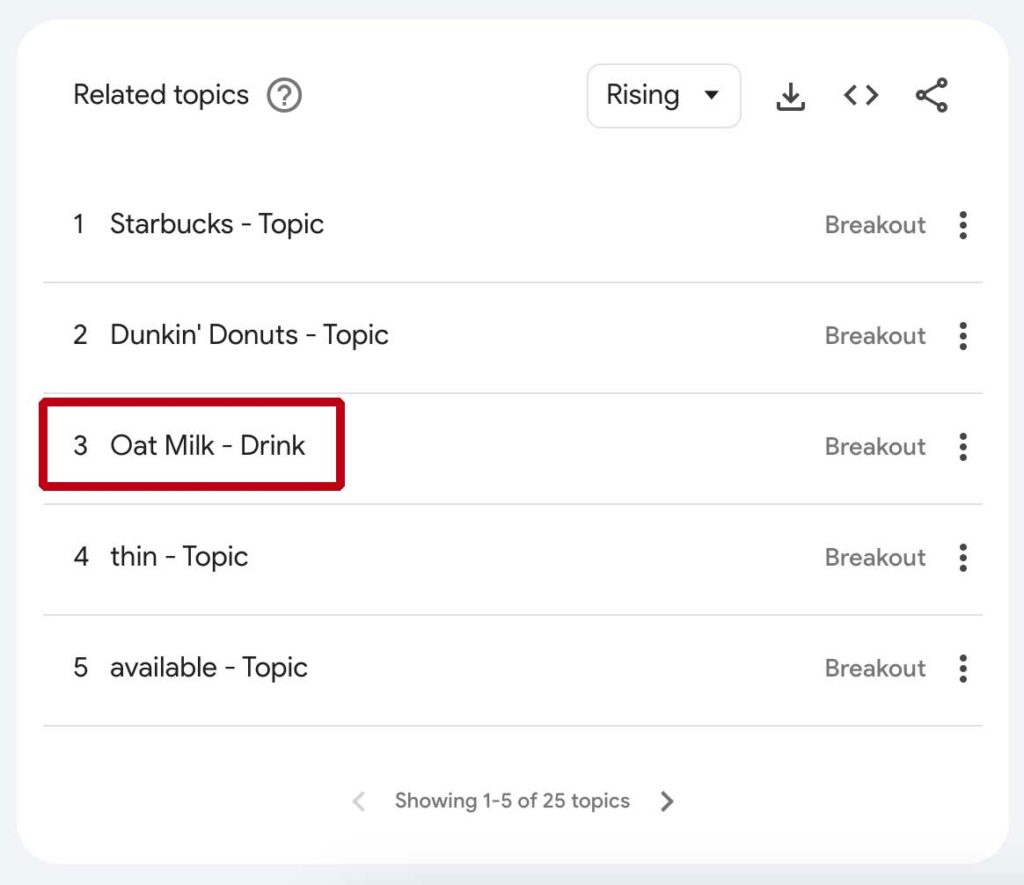 Ironically, my husband just switched me from almond milk to oat milk because our 25 year old daughter said we "had" to. This is how you can know what the masses are currently interested in and add them on to the main trend!
Pinterest Trends
You can get to Pinterest Trends by going to trends.pinterest.com. Here is a quick snapshot of the trends page: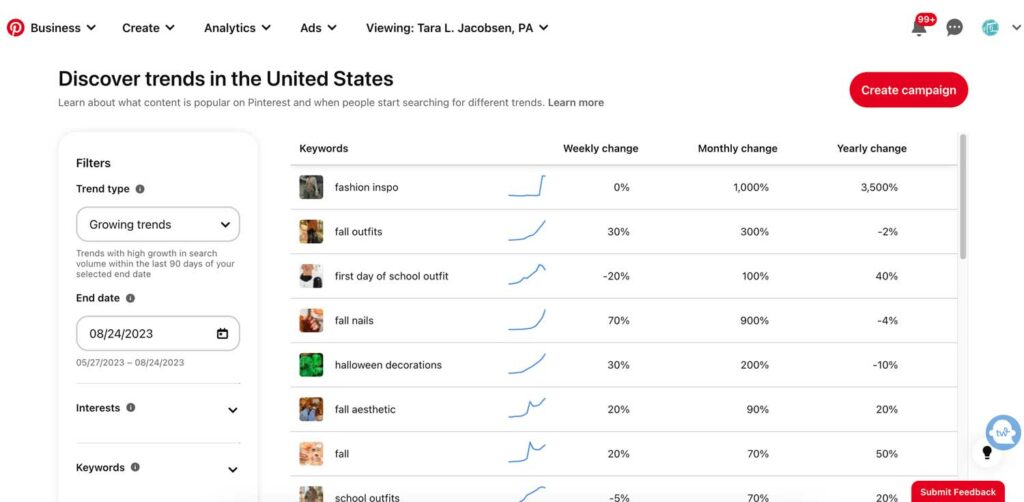 As you can see, today (August 27) all that is trending is school which is current (2 items) and then fall (4 items) which is at least a month away and then halloween (1 item) which is two months away.
This is a really good snapshot of the fact that people are looking for the trend well in advance of the time that the trend peeks!
Again, if you are marketing a product or service to match a trend, you have to get way out in front of it to make any appreciable impact on your sales. (Not to mention that people need to see your product on average 7 times before making a buying decision, but that is a post for another day!)
Pinterest Personal Targeting
The difference in Pinterest is amazing though! They will tell me what MY own pins and topics match the current trends and encourage me to make more that are aligned with the keywords that are trending now!

So they looked at my pins about mixed media art and gave me more ideas to use for content creation or even to make a pin of a current post more targeted to a trending keyword!
Now, I might never make a music artist poster, but I can for sure show up with a messy sketchbook!
Pinterest Audience Targeting
AND they give you a snapshot of what your audience as a whole is loving right now. Think about it… it is still AUGUST and four out of the five suggested are a long way off! Fall (1 item), Halloween (1 item) and Christmas (2 items), for heavens sake, Christmas is FOUR MONTHS away!
List of Holidays and Cultural Events With Date Ranges
Okay, that is a lot of info about how to do your seasonal marketing! I thought it would be nice for us to have a list of the dates of various holidays and cultural events we can pop in and check out going forward!
September Holidays:
Labor Day: Celebrated on the first Monday of September in the U.S. (Starts August 2nd-14th and peeks September 1st to the 12th)
Rosh Hashanah: The Jewish New Year (Starts September 5th-October 5th and peeks peeks on those same dates)
Yom Kippur: The Day of Atonement in the Jewish faith (Starts August 5th to September 14th and peeks September 12th to October 12th)
September Cultural Moments:
Pumpkin Spice Flavor: Not an actual holiday, but celebrated in the zeitgeist during the fall season (Starts July 17st-27th and peeks August 22-Sept 3)
Grandparents' Day: Observed on the first Sunday after Labor Day (Starts August 11th to September 5th and peeks September 11th-19th)
Autumn Equinox: Typically around September 22nd or 23rd, it marks the first day of fall (August 30th to September 11th peeks September 18th-28th)
Start of the NFL Season: American football begins its regular season (Starts July 21st-August 29th and peeks September 8th-19th)
October Holidays:
Halloween: Celebrated on October 31st, it involves dressing up, trick-or-treating, and various spooky festivities (Starts August 14th to September 5th and peeks October 24th-31st)
Columbus Day/Indigenous Peoples' Day: Observed on the second Monday of October (Starts September 15th to the 26th and peeks October 9th-19th)
Canadian Thanksgiving: Celebrated on the second Monday of October in Canada (September 13 to October 1st and peeks October 7th-19th)
October Cultural Moments:
Breast Cancer Awareness Month: Throughout October, events and campaigns raise awareness about breast cancer (Starts September 1st-12th and peeks September 27th-October 9th)
National Coming Out Day: Observed on October 11th, this day celebrates coming out and LGBTQ+ pride (September 22-October 3rd and peeks October 6th-17th)
Diwali: Known as the Festival of Lights and celebrated by Hindus, Sikhs, and Jains (Starts September 22nd-October 24th and peeks October 20th-November 14th)
Fall Leaves, Hay Rides and Bonfires: Typical things that happen during the Fall season (Starts July 19th-August 3rd and peeks September 18th-28th)
November Holidays:
Veterans Day/Remembrance Day: Observed on November 11th, this day honors military veterans (U.S.) and war dead (Canada, U.K.) (Starts October 22-November 3rd and peeks November 6th-14th)
Thanksgiving Day: Celebrated on the fourth Thursday of November in the U.S. (Starts October 11th-26th and peeks November 18th-30th)
Black Friday: The day after Thanksgiving, known for major shopping deals and the unofficial start of the Christmas shopping season (Starts October 5th to November 5th and peeks November 18th to the 30th)
Cyber Monday: The Monday after Thanksgiving, noted for its online shopping deals (Starts November 11th to the 23rd and peeks November 25th-December 7th)
November Cultural Moments:
Movember: A month-long event where men grow mustaches to raise awareness of men's health issues (Starts September 25th-October 17th and peeks October 23rd-November 9th)
Election Day: Held on the Tuesday after the first Monday in November, it's an important day for U.S. general elections, especially during even-numbered years (not tracked specifically by Google)
December Holidays:
Hanukkah: The Jewish Festival of Lights (Starts November 6th-23rd and peeks November 28-December 28th)
Christmas: Celebrated on December 25th, it commemorates the birth of Jesus Christ (October 2nd -22nd and peeks December 18th-29th)
Boxing Day: Celebrated on December 26th, especially in the U.K. and Canada (it traditionally involves giving gifts to those in need) (Starts November 28th to the 15th and peeks December 20th-January 1st)
Kwanzaa: Celebrated from December 26th to January 1st (November 13th-28th and peeks December 22nd-January 1st)
New Year's Eve: December 31st marks the end of the year (Starts November 25th-December 4th and peeks December 26-January 4th)
December Cultural Moments:
Advent: The period leading up to Christmas, starting on the Sunday closest to November 30th (Starts October 2nd-November 23rd and peeks November 27-December 28th)
Christmas Parties: A time of gathering families and friends (Starts October 6th to the 22nd and peeks December 4th-26th)
New Years Resolutions: Pledges to make life changes starting at the first of the year (Starts November 28th-December 8th and peeks December 27-January 7th)
Seasonal Marketing Holidays and Cultural Events Wrapup
Having looked through all this data I have found that all holidays are not created equal! Christmas and Halloween are powerhouses that overwhelm all the other ones (including Thanksgiving).
I am surprised that Thanksgiving is not more represented because we think of it as one of the "big 3" but it is a decidedly little cousin forced to sit at the kids table!
Also, Black Friday's popularity is waning somewhat dramatically… not sure why, but it is for sure a thing. It looks like it lost it's momentum in the pandemic and never bounced back.
Hopefully all this data helps you to make informed decisions about your marketing and especially the lead time you give to your efforts. It will for sure make a huge difference in your sales if you can get out in front of it!