These feminist quote bookmarks are pretty and powerful! Print them out and they would make a great cheap gift for your boss, coworker or friend!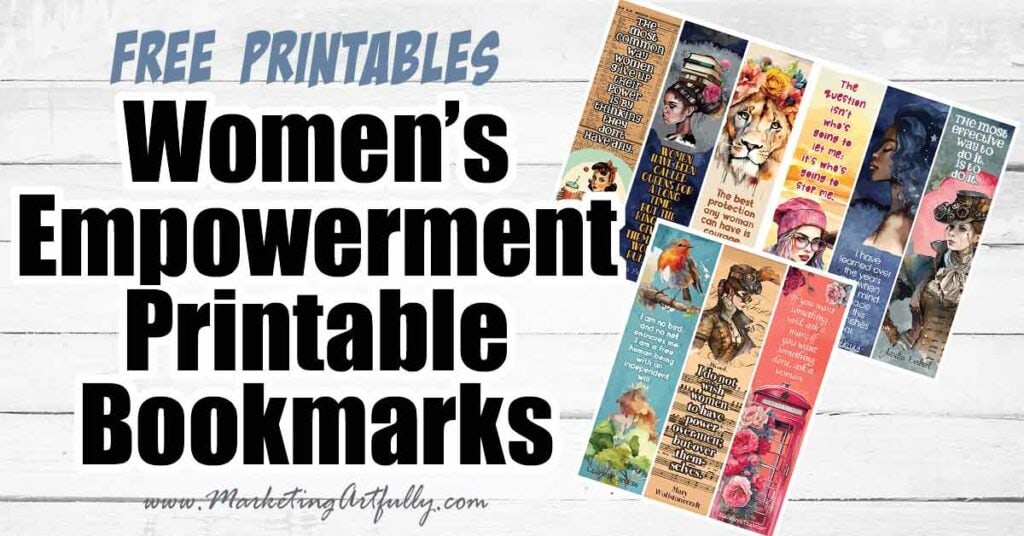 This post contains affiliate links. If you purchase anything, I earn a small commission at no extra charge to you. Check out my policies here.
All the free bookmarks in one place!
I know that I like to see what I am getting before committing to the scroll, so here are all the free feminist bookmarks all in one place. (if you can't download them now make sure to pin them for later so you don't forget!)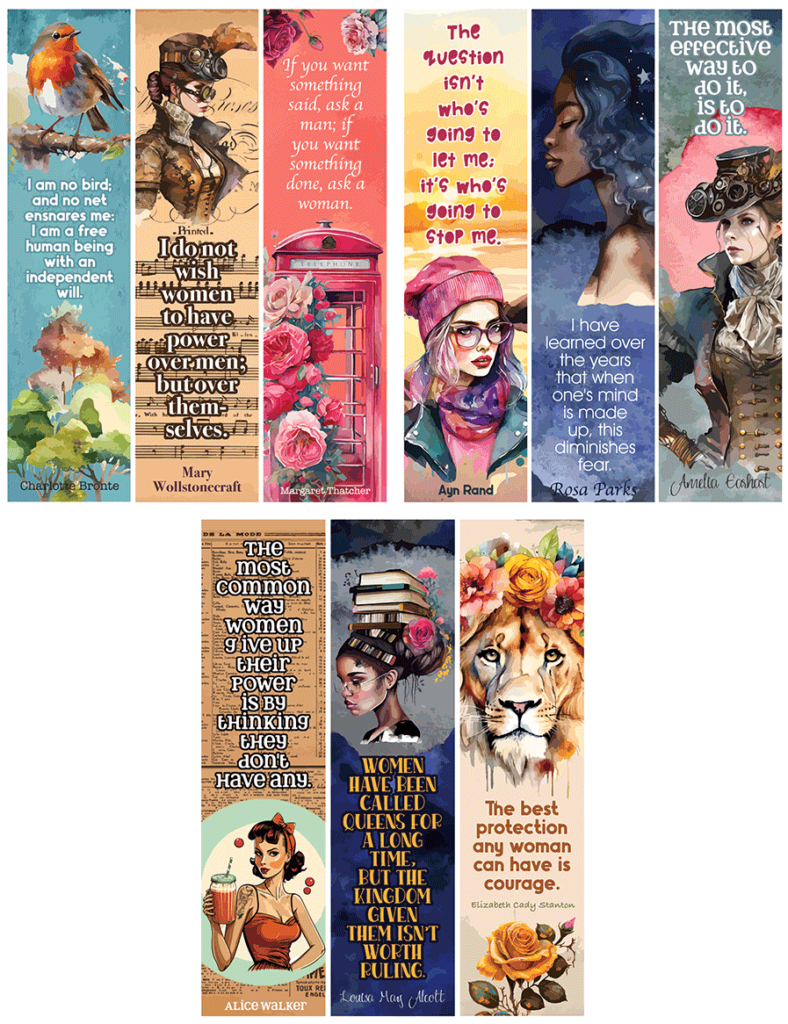 Why did I make these free printable bookmarks?
I get asked all the time why I make so many freebies… there are a couple of good reasons!
First off, I am a graphic artist so making pretty pictures and bookmark designs is on my list of things I like to do. For these I used a mix of images from Creative Fabrica, Graphics Fairy and my creativity!
Second off, this my year of making loads of free printables so buckle up for more great freebies!
Why are they free?
I am super lucky that I get to have ads on my website so I can afford to take the time to make things like a cute bookmark for you for free!
And no, you don't have to click the ads to help, but if you would like to help you can pin this post on Pinterest or share it in your favorite Facebook group… that helps more than you will ever know!
How to print the feminist bookmarks
I have formatted these to be 8.5″X11″ US letter sized paper. They will scale down just a tiny bit because of the margins on your printer so don't fret that they are a smidge smaller.
I like to use either bright white cardstock or presentation paper for bookmarks because that will hold up better with use (bonus points if you laminate them!) Heavier paper is better for this one!
You could use printer paper, but they would wrinkle quickly!
How to download the bookmarks
On any of the images below you can just right click and select "save as" to wherever you normally save files.
Some people save them to their "downloads" folder and some people like to save them to the desktop.
On a phone you can long click and choose to save also!
Personal License
These bookmarks come with a personal license, meaning you can print reasonable number of them to use for your reading or to give as gifts to coworkers, your boss or your friends.
There is no digital license so you can't post them on your website, share a link to a google drive or email them to a friend. They cannot be used in POD (Print on Demand) except for by my besty Rebekah in her shops.
If you do want to share them with a friend, just shoot them a link to this page and they can download them themselves!
Free Printable Women Empowerment Bookmarks
Here are the free printables! I hope you love them as much as I do!
Alice Walker, Louisa May Alcott and Elizabeth Cady Stanton Quotes Bookmarks
These bookmarks include quotes from of the worlds most famous feminists! Celebrate strong women everywhere with these amazing empowerment bookmarks.
(to download right click and chooses "save as" or long click on a phone)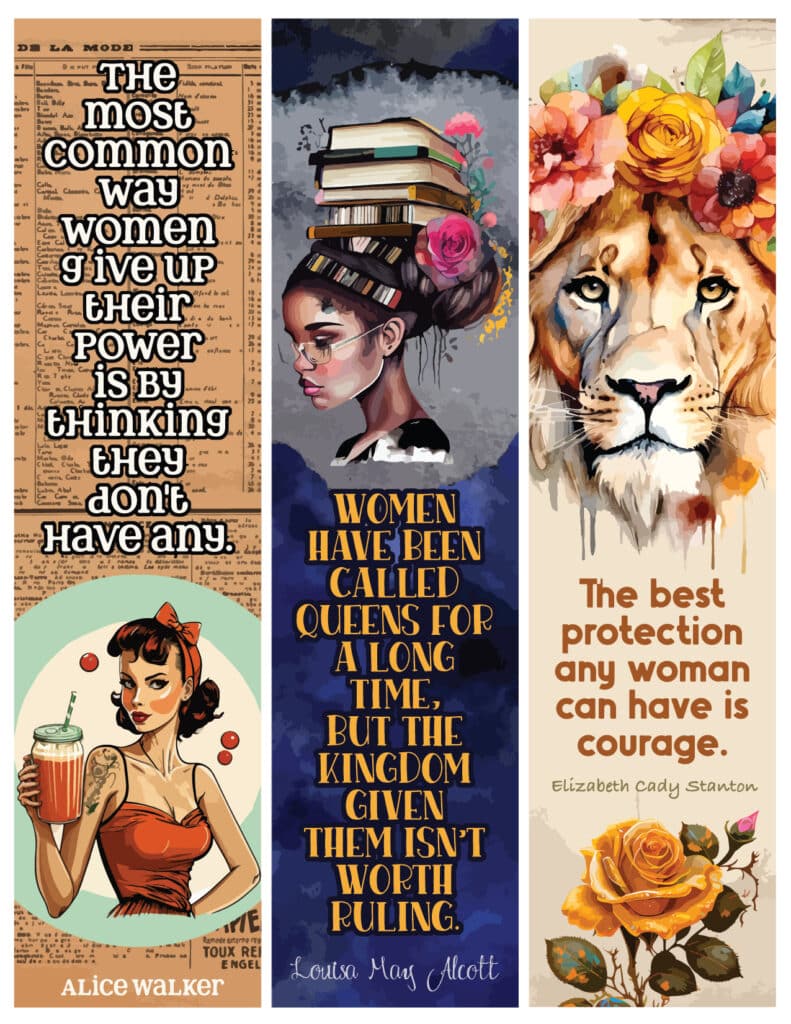 Charlotte Bronte, Mary Wollstonecraft and Margaret Thatcher Quote Bookmarks
These women empowerment bookmarks are pretty and provide great inspiration! Celebrate the strength and resilience of women with these free feminist bookmarks.
(to download right click and chooses "save as" or long click on a phone)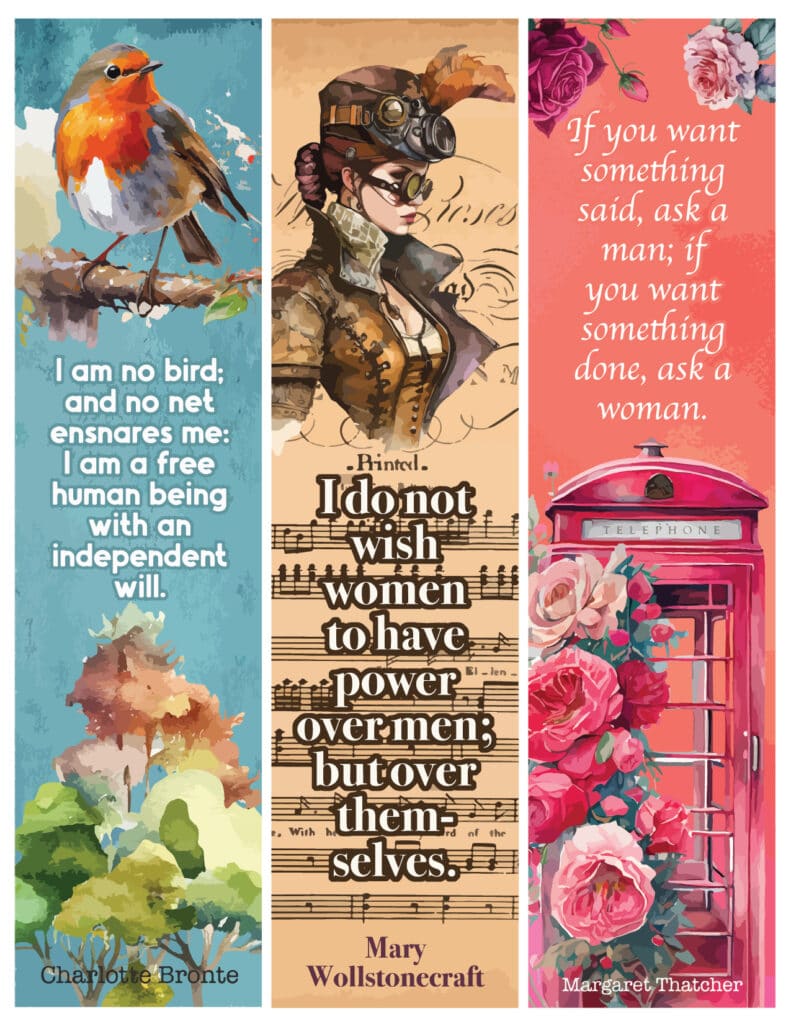 Ayn Rand, Rosa Parks and Emelia Earhart Quote Bookmarks
Dang these are some powerful female names and quotes! Impress the feminist in your life with these amazing DIY gifts: printable feminist fun bookmarks.
(to download right click and chooses "save as" or long click on a phone)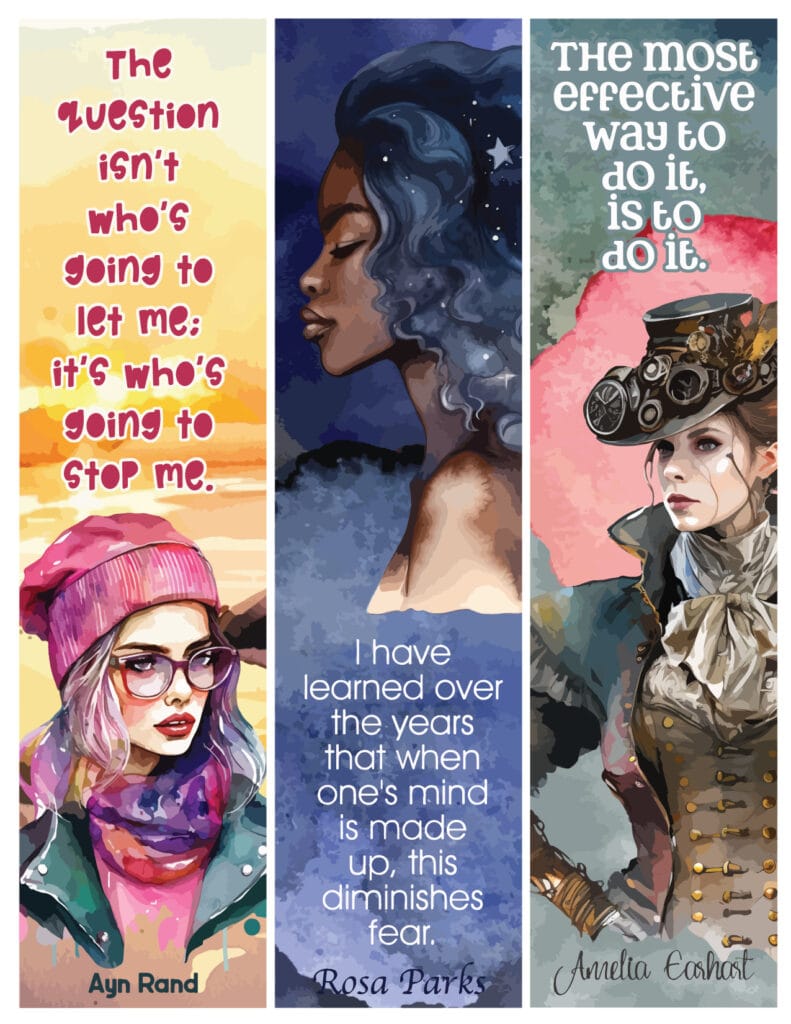 Free Women Empowerment Feminist Bookmarks Wrapup
I had a blast researching and making these wonderful quote bookmarks to celebrate your love of reading! I hope you love them as much as I do and use them to read ALL THE BOOKS!
If you do print them for yourself, a fun activity or use them as gifts, please send me a picture so I can add it to this post! (tara@marketingartfully.com)