If you are looking for a fun way to add functionality to your DIY Planner, these Steampunk planner cards can do the trick! These planner printables include Goals, Notes, To Dos and Affirmations.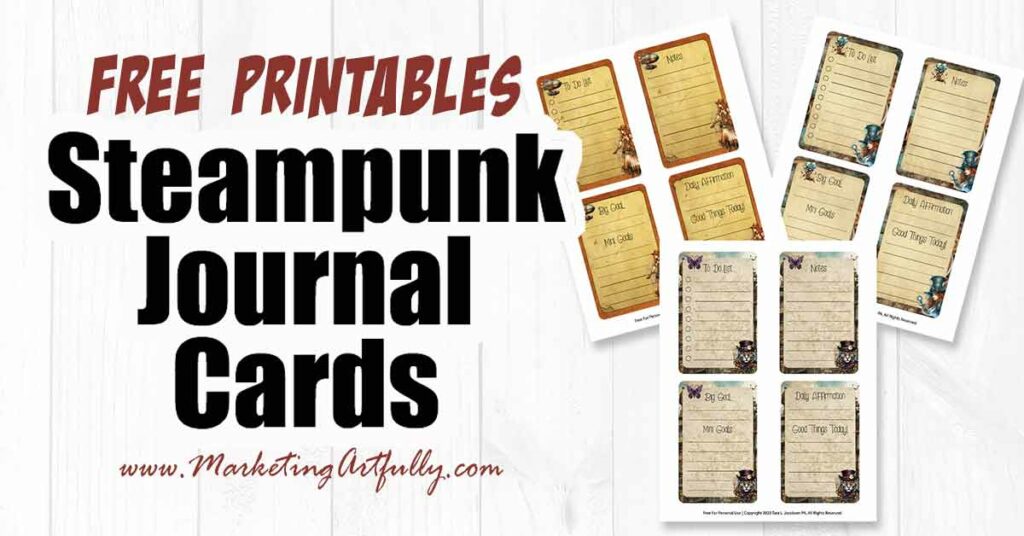 This post contains affiliate links. If you purchase anything, I earn a small commission at no extra charge to you. Check out my policies here.
All The Steampunk Planner Cards In One Place
I like to see all the different options for free printables in one place so I figured I would show you the 3 styles of planner cards you can download immediately!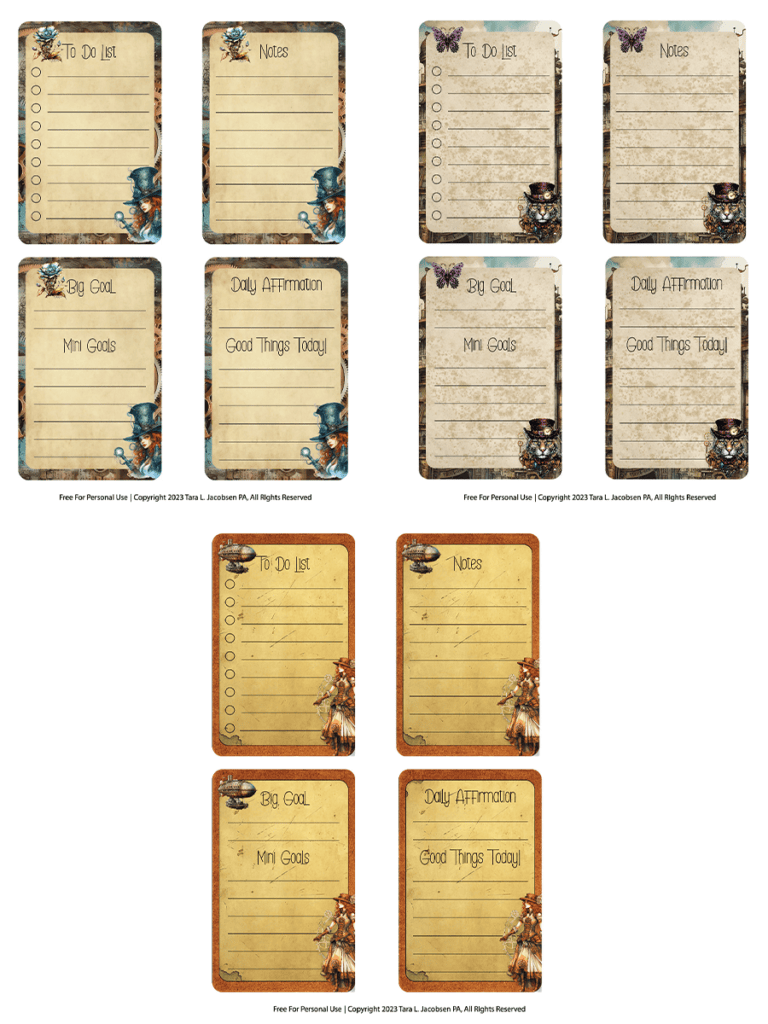 Why Did I Make These Free Journal Cards?
I am a planner gal from way back, a junk journaler AND a lover of all things grunge and Steampunk!
Add all of those together with my graphics design background and I can make exactly the type of planner cards that I want for my journal, and hey, why not share them with all my online besties for free!
For these I used a combination of Creative Fabrica images, Graphics Fairy public domain images and my creativity.
Why Are They Free?
I wanted to give these Steampunk printables away for free because I am having a YEAR OF FREE! Loads of free printables for all kinds of fun projects, planners and inspirational wall art!
I am blessed to have ads on my site, meaning that every time someone visits one of my pages I make a wee bit of money. This gives me the time to make freebies to give away to all my peeps!
And NO! You don't have to click on an ad to help me out, but if you did want to help you could share this page to your Pinterest or favorite Facebook planner group!
How To Download And Print These
The pictures below are full sized files that you can right click on an choose "save as" on a computer or long click and choose "save" on a mobile device.
They are formatted to print out on an 8.5″X11″ full sized letter sheet.
For these I either use a high quality copy paper like Hammermill (I LOVE me some Hammermill) or a matte cardstock. I just think they print in much better color on a little better paper!
Personal License
There is a free license for personal use as a printed product. To me personal means you, your family and your team if you have one.
There is no license to distribute these digitally, if you want to send them to a friend, just send her this link and she can download them herself!
Free Steampunk Planner Printables
I hope you love these Steampunk printables as much as I do! I keep going back and forth between which is my favorite and thank heavens I don't have to choose just one!
Witchy Steampunk Planner Cards
I love how sassy this gal is! She has a definite vibe that remind you to do your "to dos" on time and stick to your goals!
(to download right click and chooses "save as" or long click on a phone)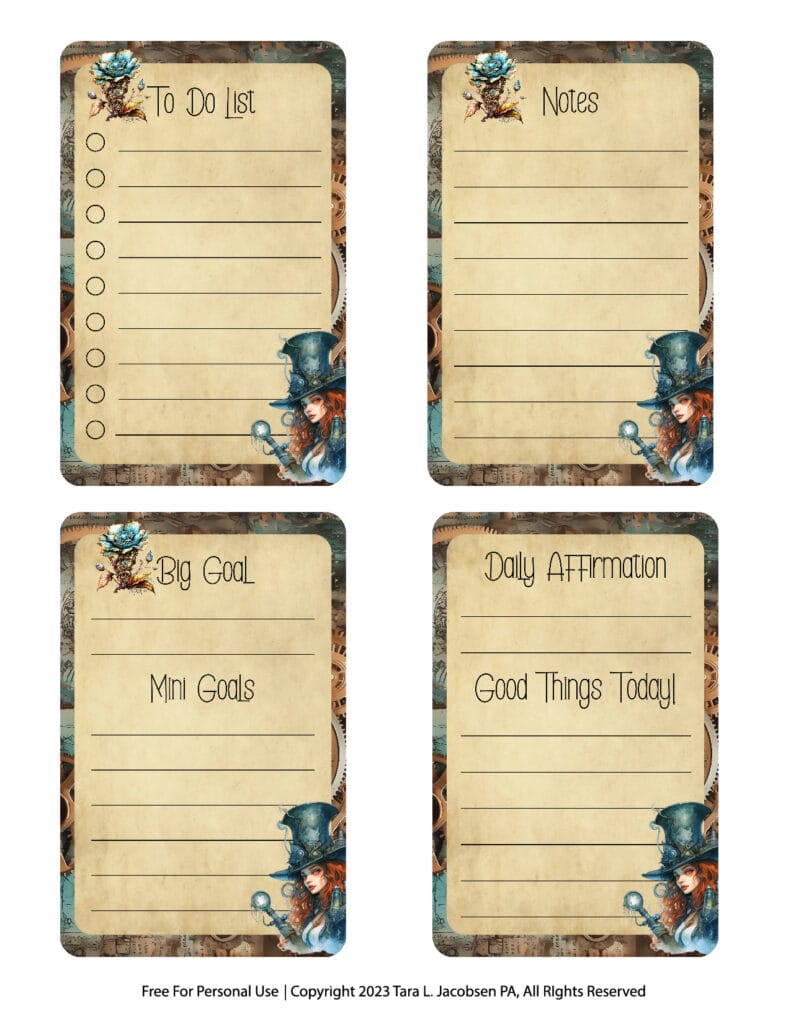 Airship Steampunk Woman Journal Cards
Oh my gosh, this one is so darn "steampunky". She is in her finest dress, waiting to travel around the world on her airship. These planner printables will help you achieve all your goals and help you make your dreams come true!
(to download right click and chooses "save as" or long click on a phone)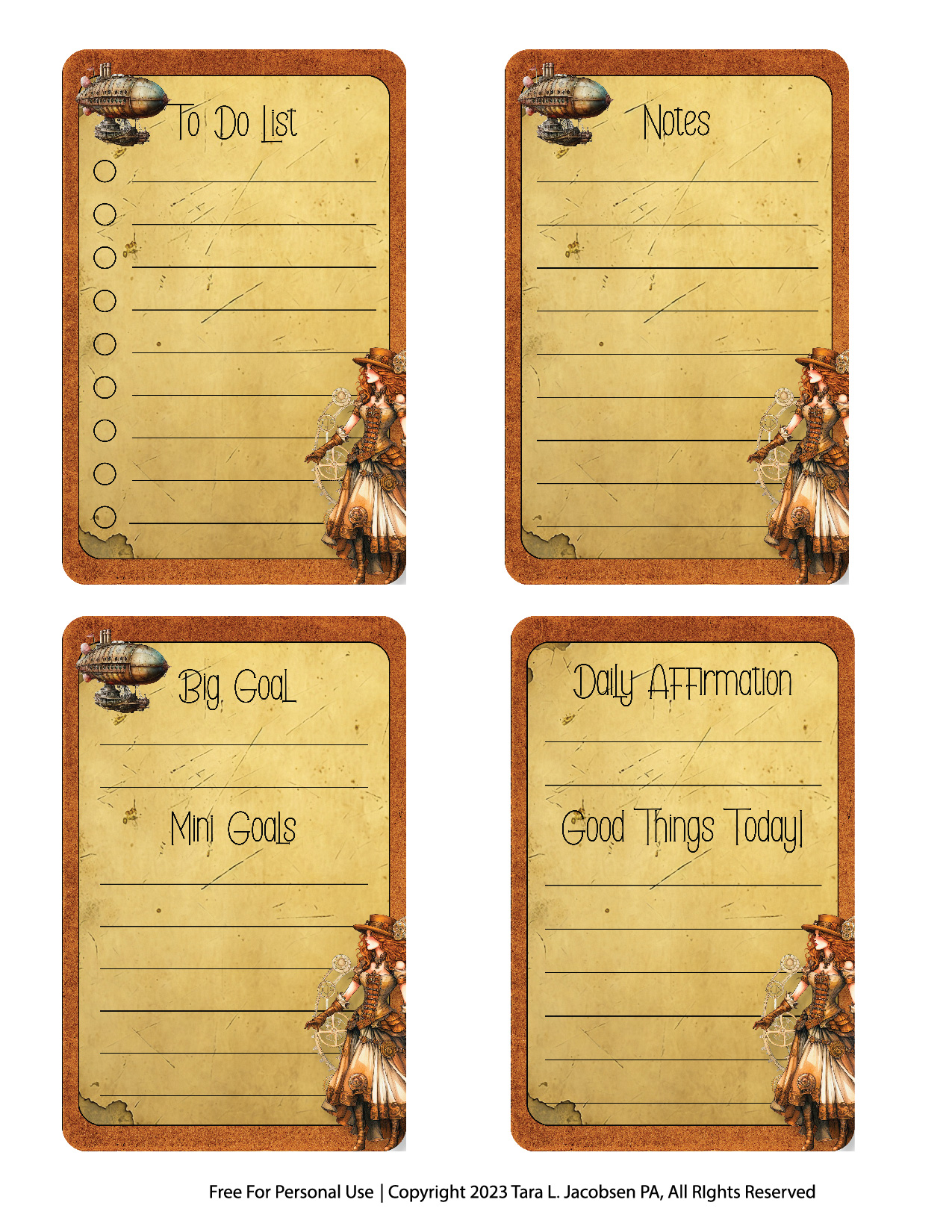 Steampunk Cat and Butterfly Planner Cards
I think this is my favorite planner card… I love the Steampunk cat in the top hat and the mechanical butterfly is just to swoon for! They will help you get your To Do's done, manage your big goals and make all your affirmations come true!
(to download right click and chooses "save as" or long click on a phone)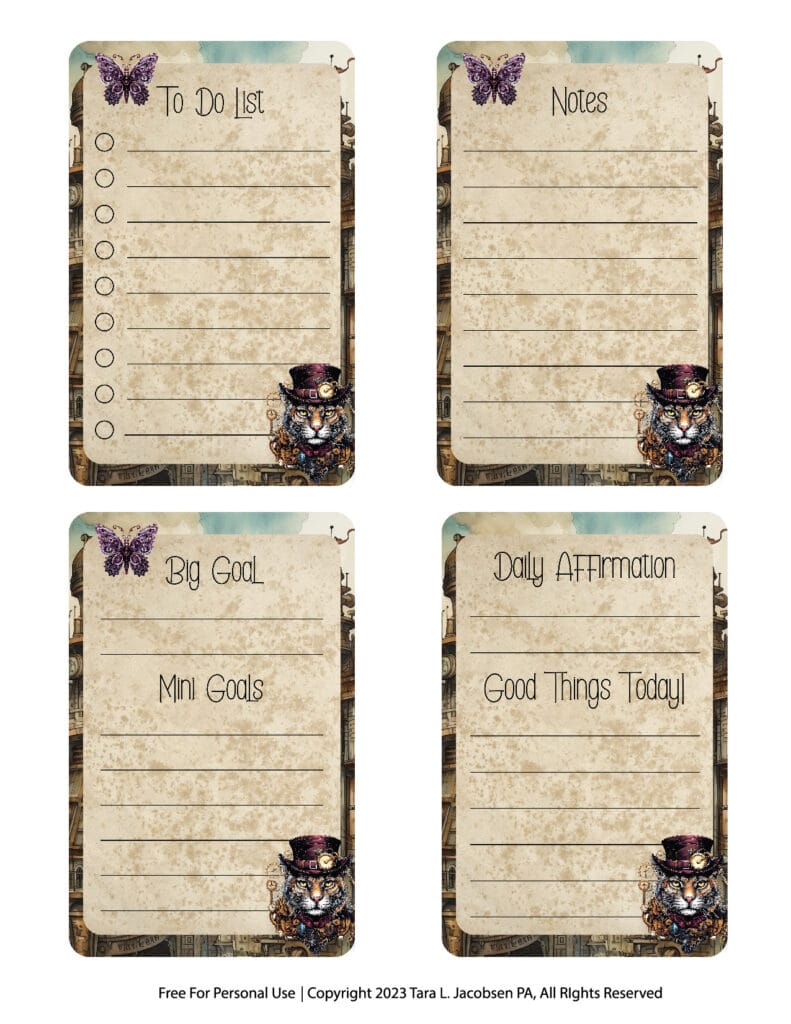 Steampunk Printable Journal Cards Wrapup
These may be the snazziest planner cards I ever made! The grunge vibe and functionality of the cards will make your planning breeze!
Please let me know if you have any other kind of free planner printable you would like to see me make!