If you are looking for fun and inspiring Christmas picture to hang in your home office, use for your Christmas parties or even scale down for Christmas cards, these are so darn cute! Includes a Santa, Reindeer, Gnomes and even a Flamingo!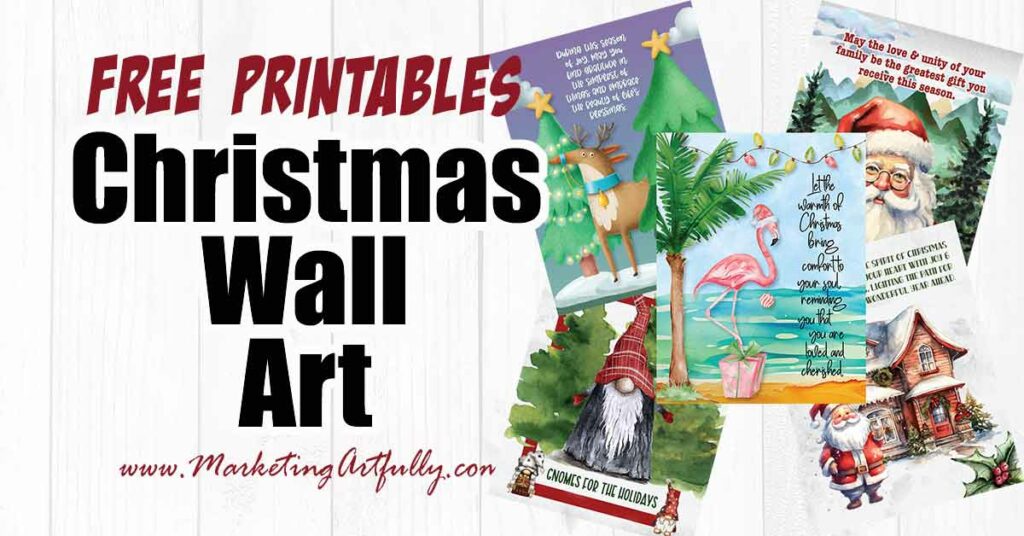 This post contains affiliate links. If you purchase anything, I earn a small commission at no extra charge to you. Check out my policies here.
All The Free Printable Christmas Wall Art Or Printable Planner Covers
I know I like to see what I am getting before committing to scroll all the way down to pick my favorite, so here they are, all in one place!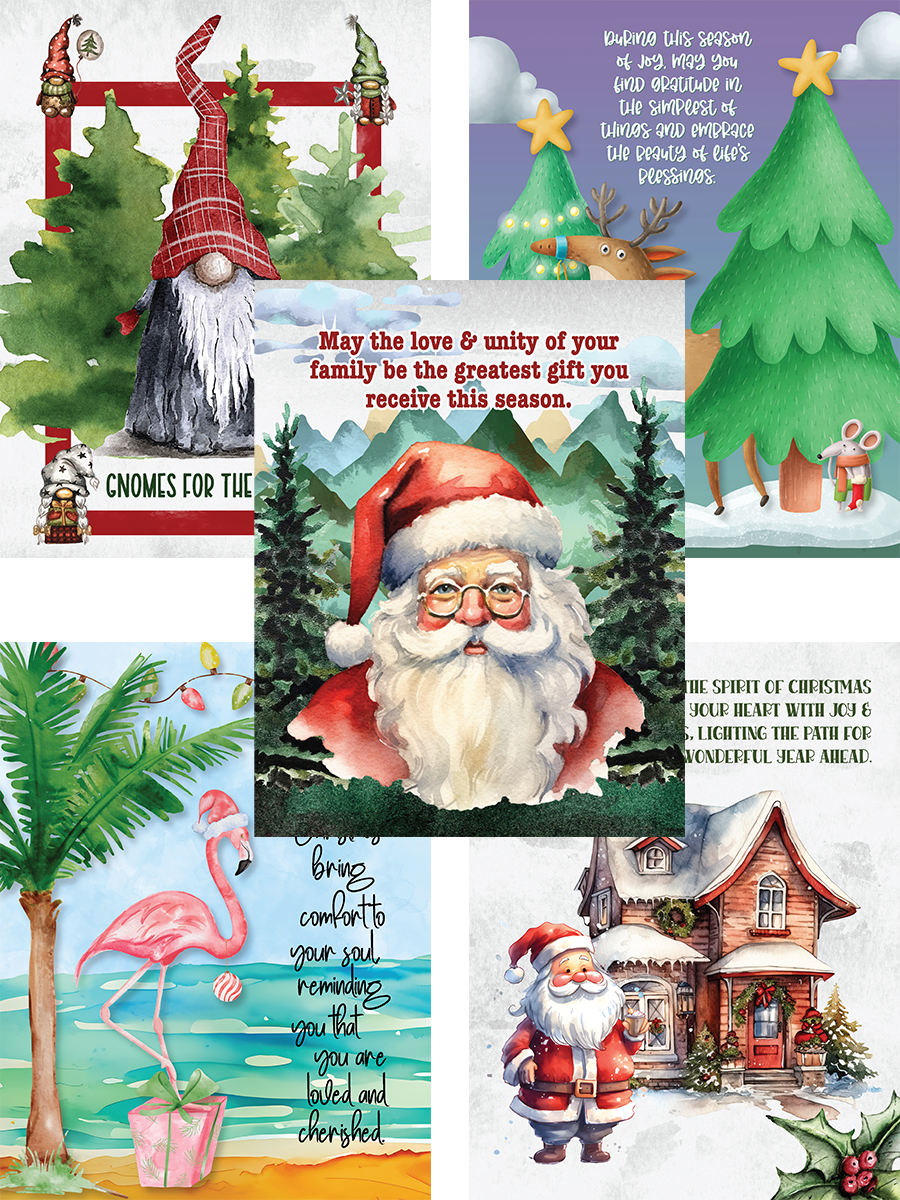 Why Did I Make These Christmas Printables?
First off, I am a Christmas NUT and love having a fun planner cover for my "Christmas Notebook" where I record all the things I need to do and the fun stuff I have gotten for the kids and Grandkids.
Secondly, I am a graphic artist who can use her creativity and Creative Fabrica licensed artwork to make anything cool that we want to use for the holiday season… whoo whoo!
Why Are They Free?
I KNOW, it seems like something this cool couldn't just be free right? Well I LOVE being able to give away things that other people might sell on their site or Etsy. I can do this because I have ads on my site that pay me a wee bit of money anytime someone visits!
And nope, you don't have to click the ads to help, but if you did want to help you could post this link to your favorite Facebook Planner group or pin it to your Christmas Pinterest board!
Those things help more than you will ever know! Please and thank you!
How To Print These Out
I have an Epson ET-2800 ecotank printer and they print beautifully on it in "photo" mode (it takes a minute for the more fancy printing but it is worth it!)
They are formatted for 8.5″ X 11″ letter sized paper and I used a premium quality Hammermill paper (YES, it is my favorite printer paper ever… so fancy).
I feel like they print out more brightly on a higher quality paper.
How To Download The Christmas Printables
These are totally free to download with no signup required. Just right click on a computer or laptop or "long click" on a PC and then choose save.
I remind you before each Christmas image so don't worry about having to write it down now!
Personal License
There is a personal license for these planner covers or wall art printables.
That means you can print a reasonable number of them out (even at a print store) but there is no license to distribute them digitally.
If you do want to share them with a friend you can just send her a link to this page and she can download them herself!
Free Printable Christmas Wall Art or Journal Covers
I hope you love these as much as I do! I had a blast making them and will for sure be adding the flamingo one to a frame in my "tropical Christmas" area!
Santa Wall Art Printable
With a great quote, "May the love and unity of your family be the greatest gift you receive this season", this Santa wall are printable will make an amazing addition to your holiday decor.
(to download right click and chooses "save as" or long click on a phone)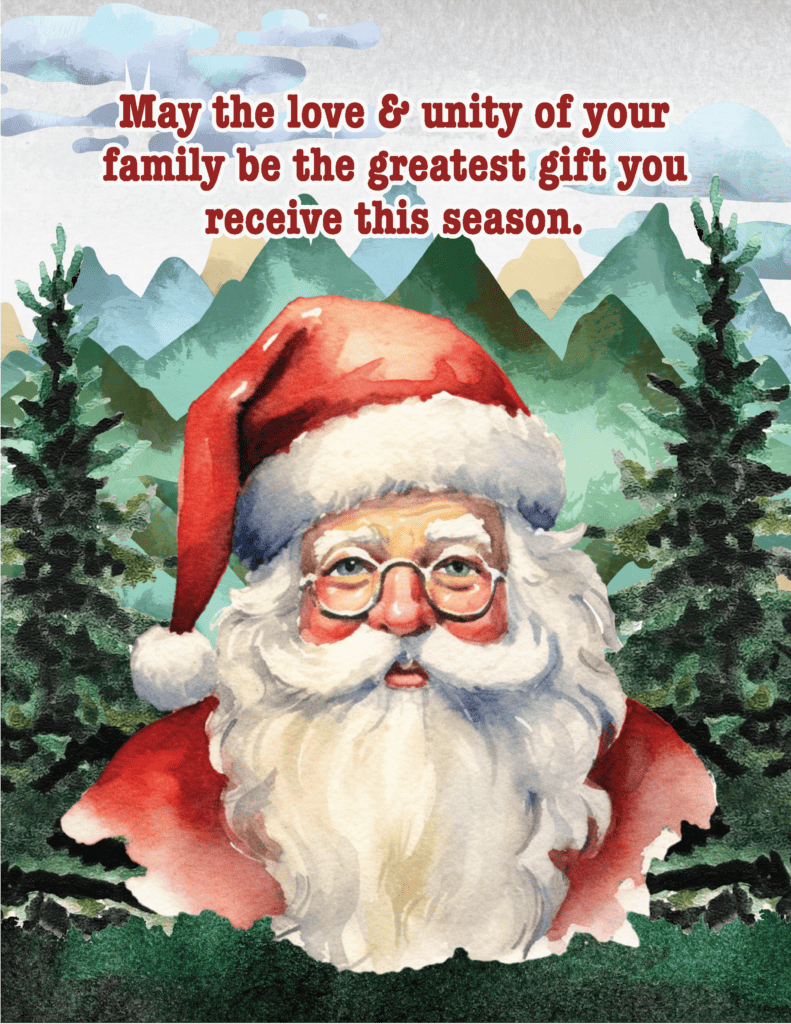 Gnomes For The Holidays Free Printable Wall Art
Oh my gosh, how darn cute are these Christmas Gnomes? They will make such a fun addition to your Christmas dinner or hanging around your home decor for the holiday season!
(to download right click and chooses "save as" or long click on a phone)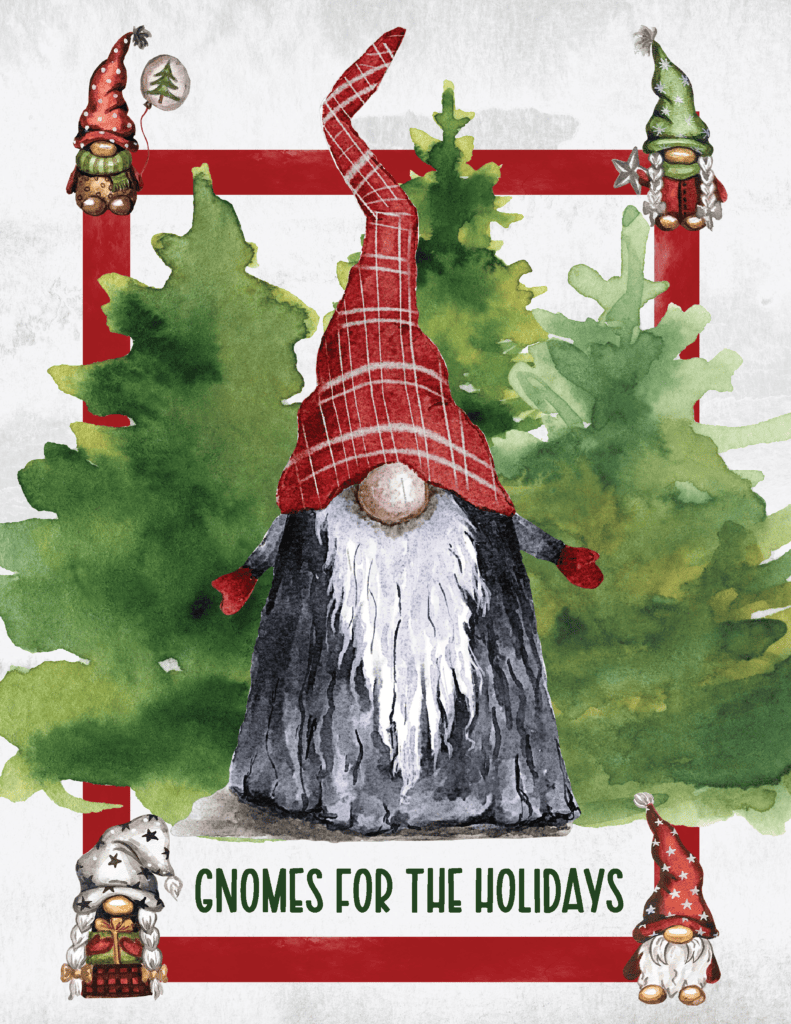 Santa's Workshop Holiday Wall Art
I love this Santa, hanging out in front of his workshop having a wee toddy before setting out to deliver all the presents for the girls and boys!
(to download right click and chooses "save as" or long click on a phone)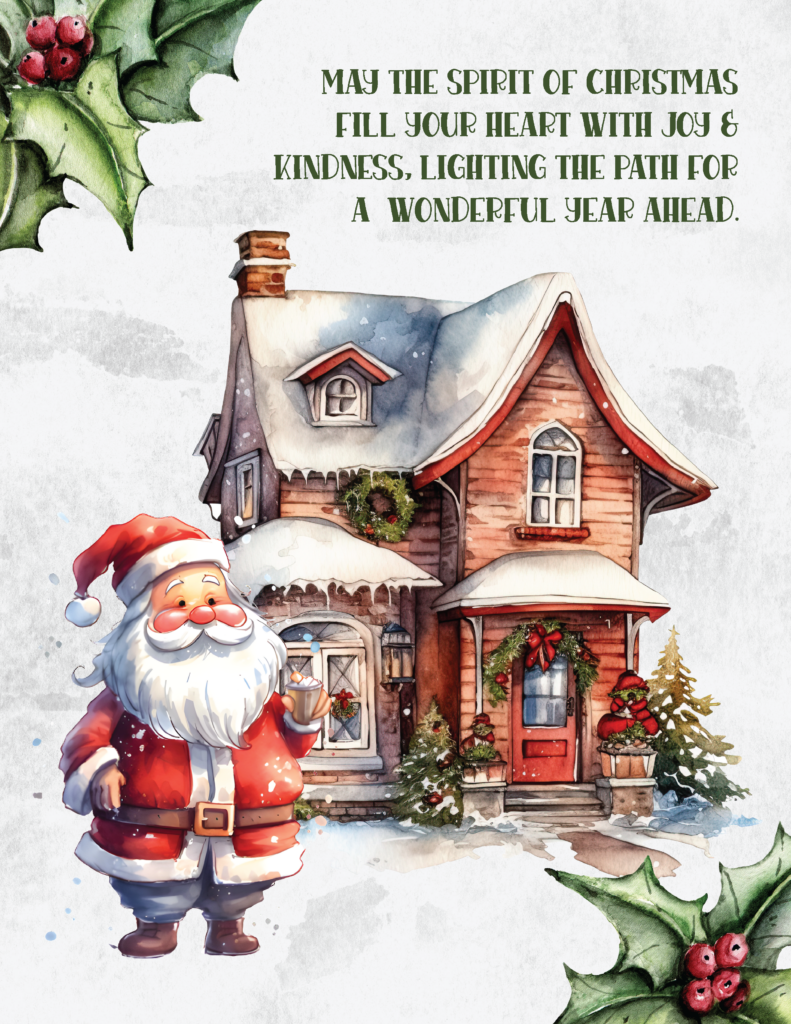 Tropical Florida Christmas Wall Art
I have lived in Florida for over 30 years of my life so this is my favorite Free Printable! I love the flamingo and tropical trees, along with the string of lights and cool Christmas saying!
(to download right click and chooses "save as" or long click on a phone)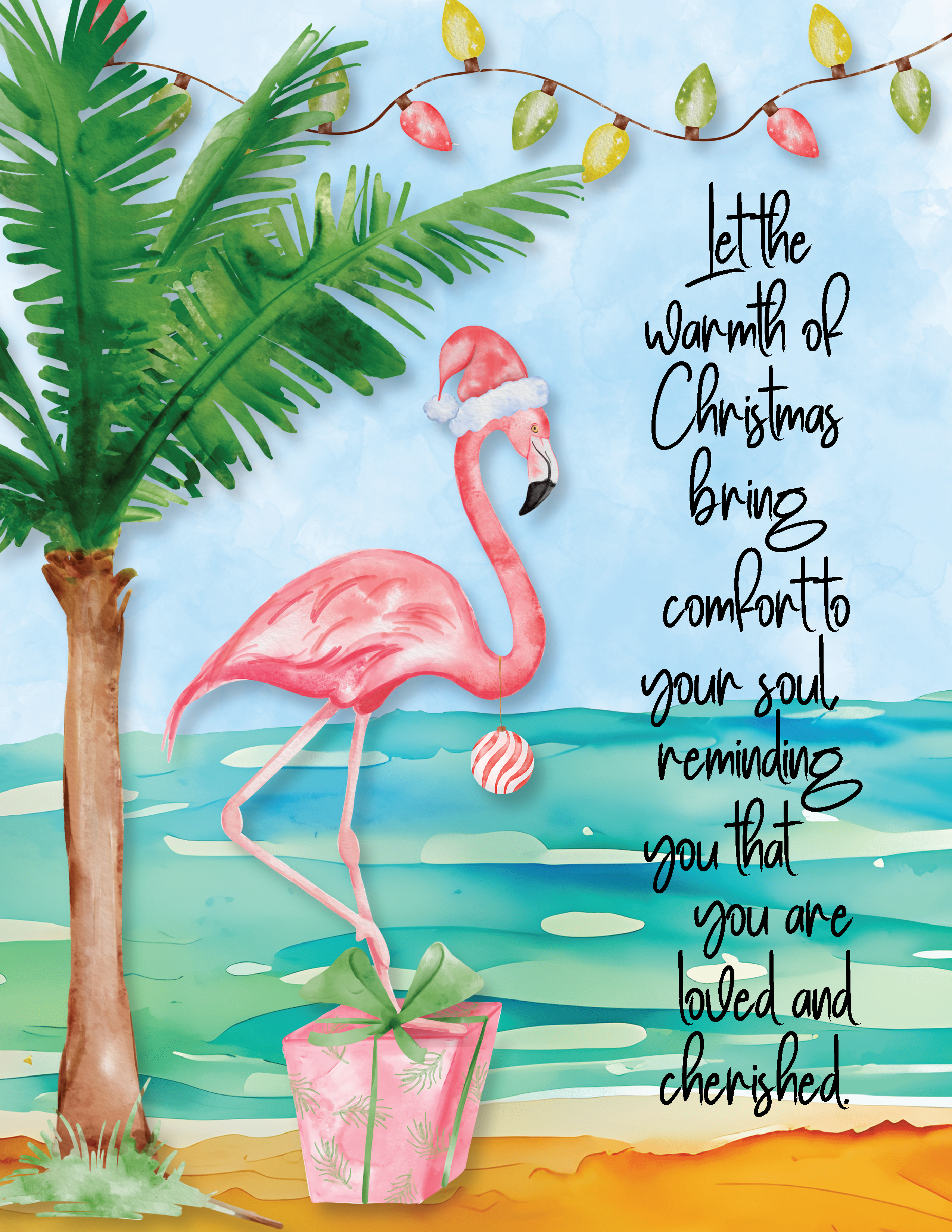 Cute Reindeer Christmas Wall Art
I love this reindeer hanging out with his little mouse friend in front of Christmas trees! Featuring a great message about gratitude for the blessings of the holiday season.
(to download right click and chooses "save as" or long click on a phone)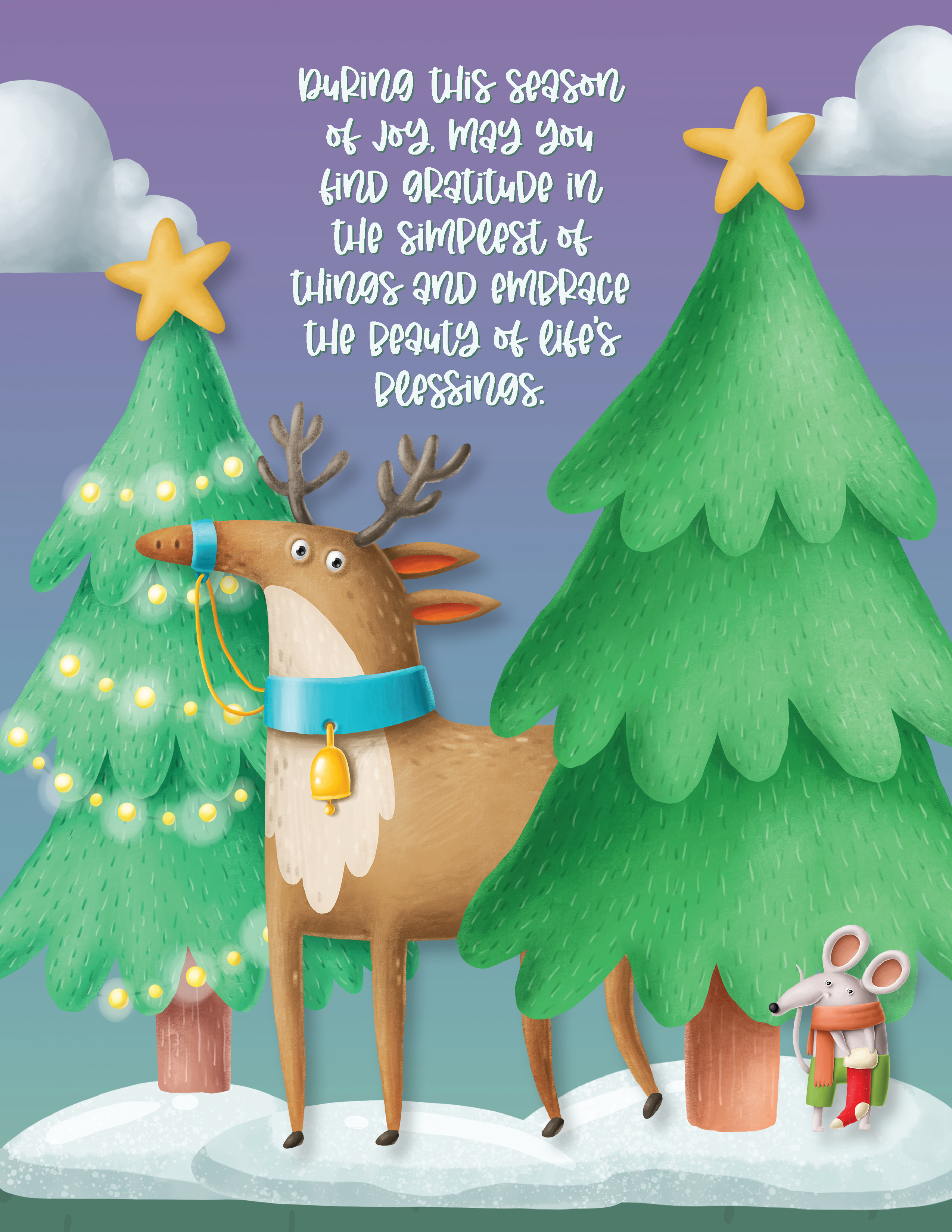 Christmas Wall Art Wrapup
How darn cute are these Christmas printables? I hope they bring joy to your holiday season and make those you love smile when they see them.
If you have any ideas for other free printables that you would like me to make, please email me, tara@marketingartfully.com and let me know!