Get motivated the steampunk way! Download these amazing free printable Steampunk Motivational Wall Art Posters and let the inspiring words and unique designs uplift your spirits. Great for journal covers or planner covers too!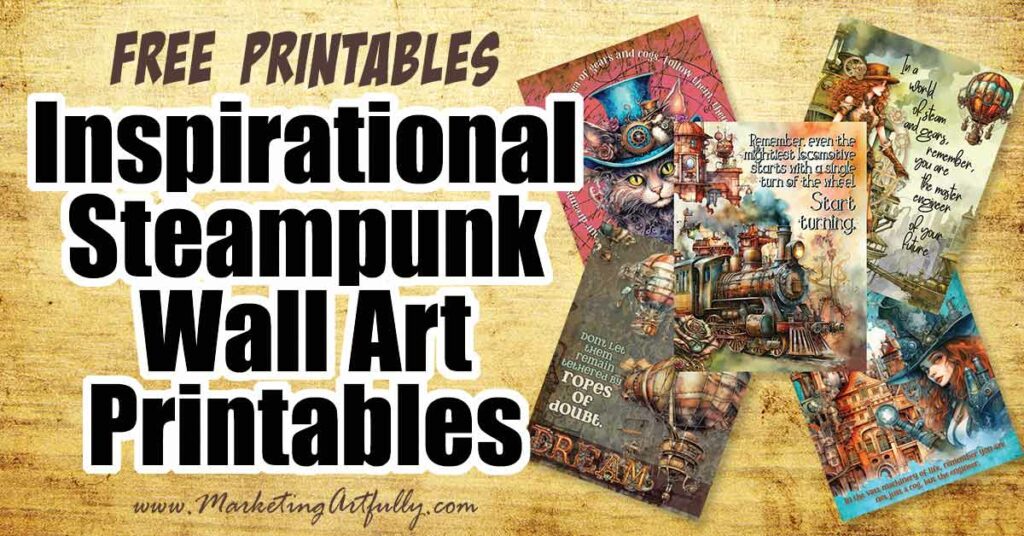 This post contains affiliate links. If you purchase anything, I earn a small commission at no extra charge to you. Check out my policies here.
All The Free Steampunk Wall Art Printables
I like to have the chance to see what I am going to get so I figured you might too! Here are all the free Steampunk printable posters all in one place. They are inspirational and motivational to keep you going!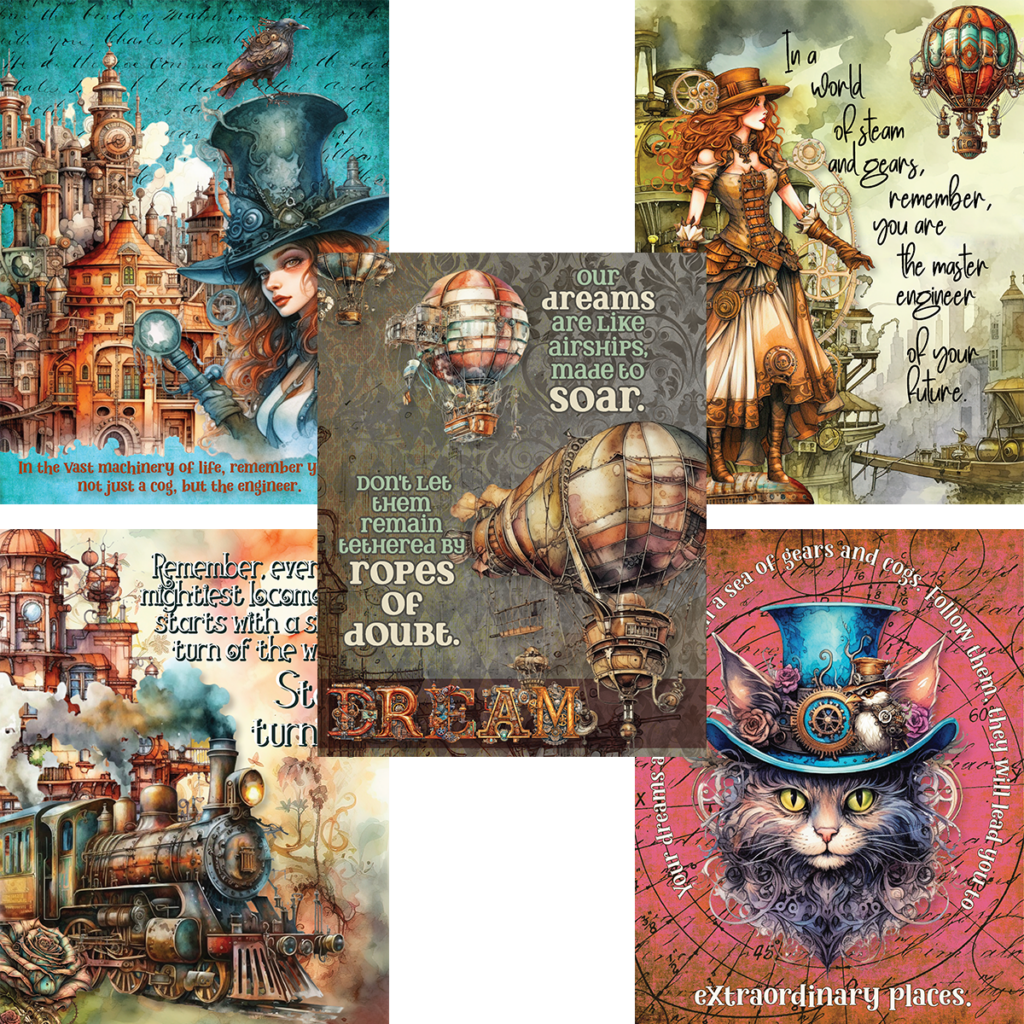 Why Did I Make These Steampunk Printables
First off, I LOVE, LOVE, LOVE the Steampunk vibe! The colors, the images and the bold declarations from strong women!
And, this is my year of giving away free printable wall art to help our home decor, art journals and planner covers! They are darn usable in so many ways!
Why Are These Free?
I KNOW, it is weird to give away something that I could charge for by selling on Etsy.
But I love being able to make cool things for my peeps AND because I am a graphic artist, sitting and making fun posters like these counts as work AND me time!
I used a combination of my creativity and Creative Fabrica images to make these Steampunk posters.
How To Print These Steampunk Posters
I like to print out these steampunk posters on high quality copy paper… Hammermill is my favorite copy paper (YES! I have a copy paper!)
Using a little bit better paper will make it print out more colorfully and it is a bit heavier weight that will hold up over time.
Free Personal License For Printing
You can print as many of these as you like for your own personal use… and by personal I mean you, your family and also your business team if you have one.
For anyone else, please just send them the link to this page and she can download the posters herself!
There is no license for distributing these digitally.
How To Download The Free Printables
These are totally free digital downloads! There is no signup or email required.
Each picture below is full sized file that you can get by right clicking and choosing "save as" on a computer or long clicking and choosing "save" on your phone.
And don't worry, I remind you how to do this by each steampunk picture!
Master Engineer – Steampunk Inspirational Wall Art
I love how this gal is looking up to the sky and the mechanical balloon, taking control of her life and the world around her!
(to download right click and chooses "save as" or long click on a phone)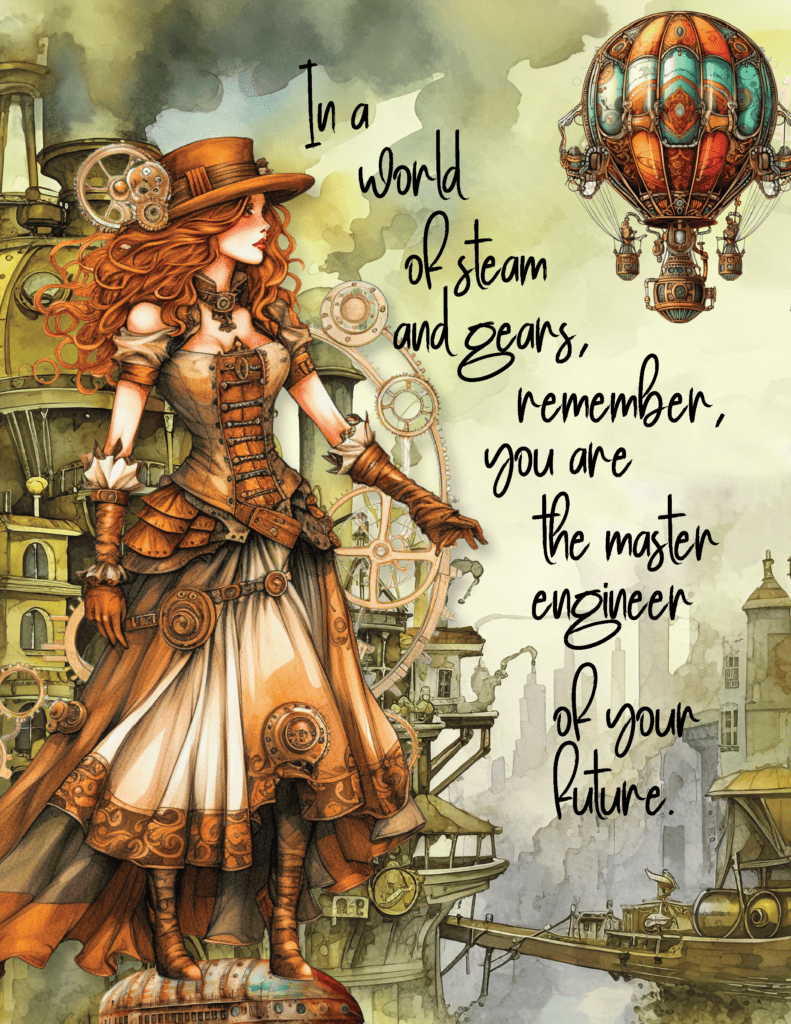 Our Dreams Are Like Airships – Motivational Steampunk Poster
A fun poster about dreams! Our dreams are like airships, made to soar. Don't let them remain tethered by ropes of doubt.
(to download right click and chooses "save as" or long click on a phone)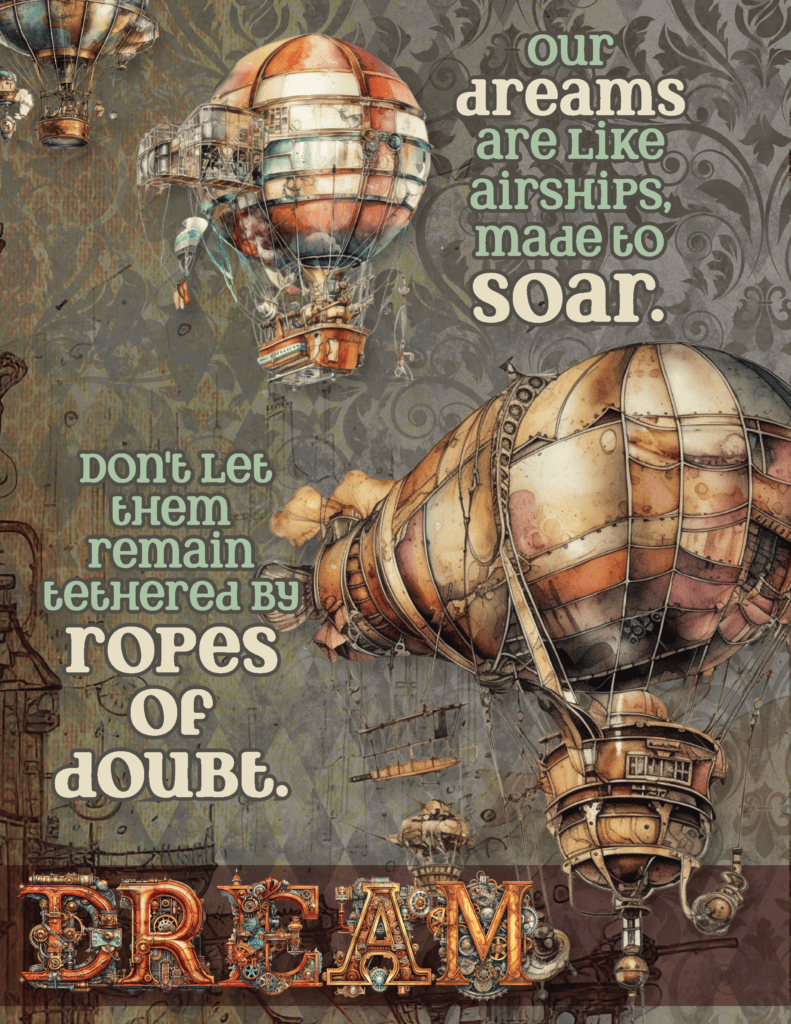 Beautiful Teal Steampunk Wall Art!
I think this is my favorite one! The bold teal hat with the mechanical bird, the steampunk city and a great steampunk quote make this my best wall art!
(to download right click and chooses "save as" or long click on a phone)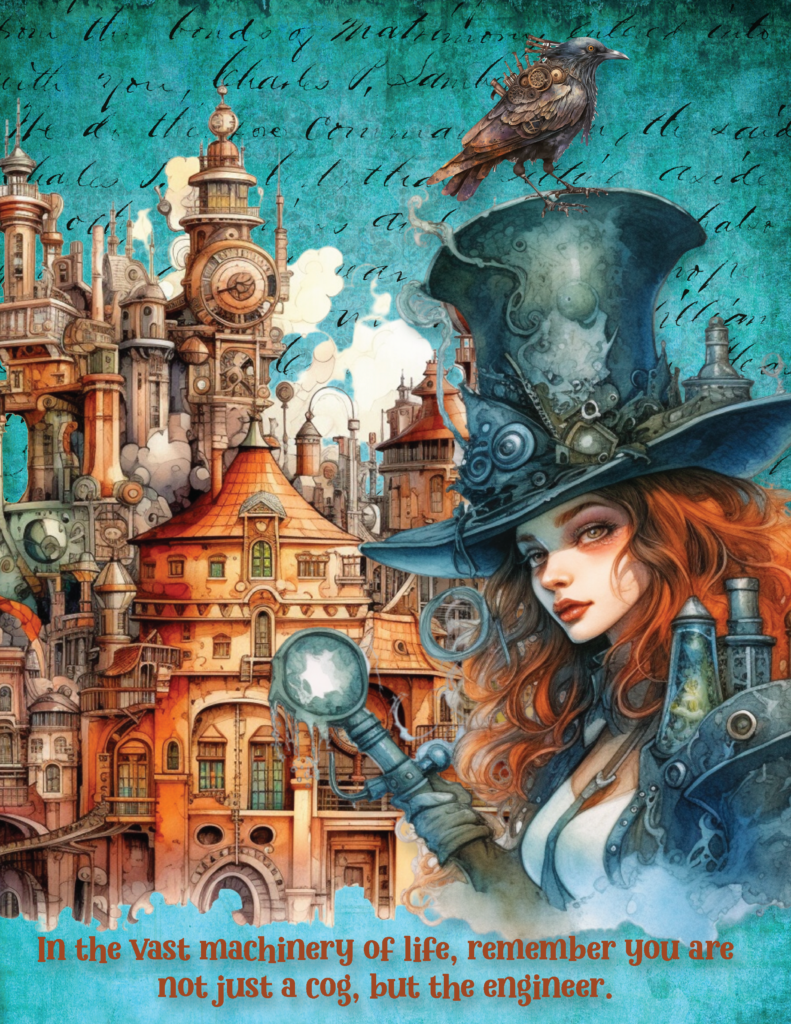 Railroad Fanatics! This Is The Steampunk Poster For You!
If you love railroads like I love railroads, this wall art is the perfect way to remind yourself to just get started and let the power of the locomotive push you on!
(to download right click and chooses "save as" or long click on a phone)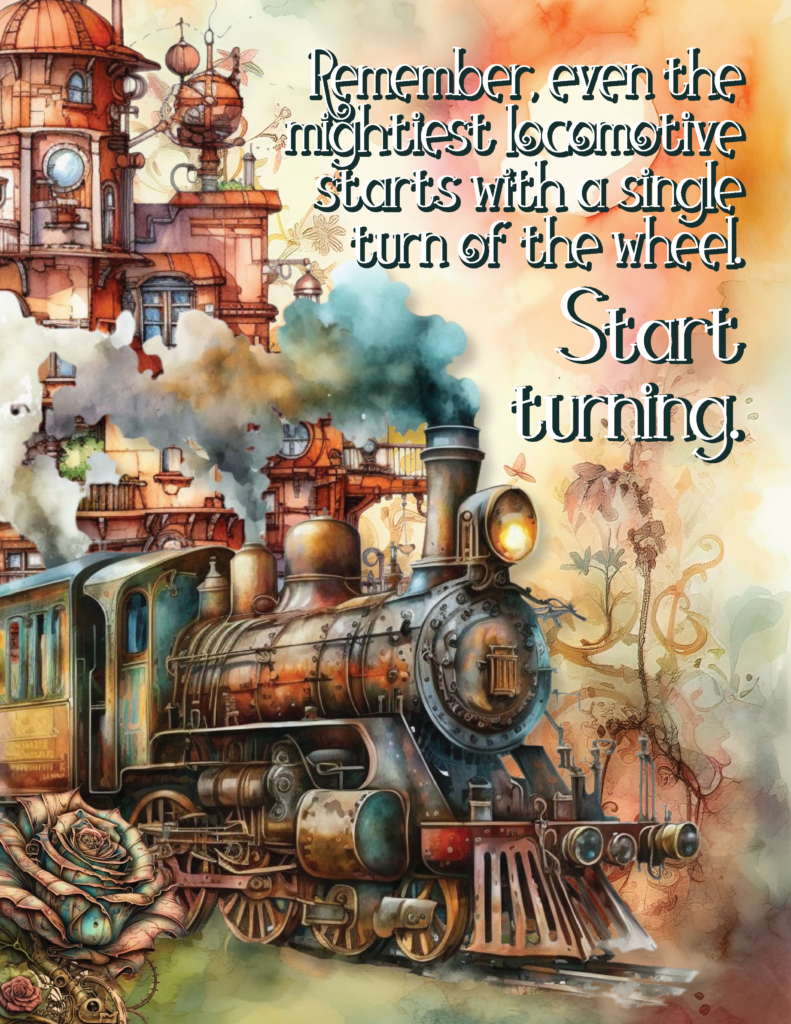 Steampunk Cat Motivational Wall Art Poster
I love how cool this cat is with his steampunk top hat and bird friend! Let him lead you to extraordinary places!
(to download right click and chooses "save as" or long click on a phone)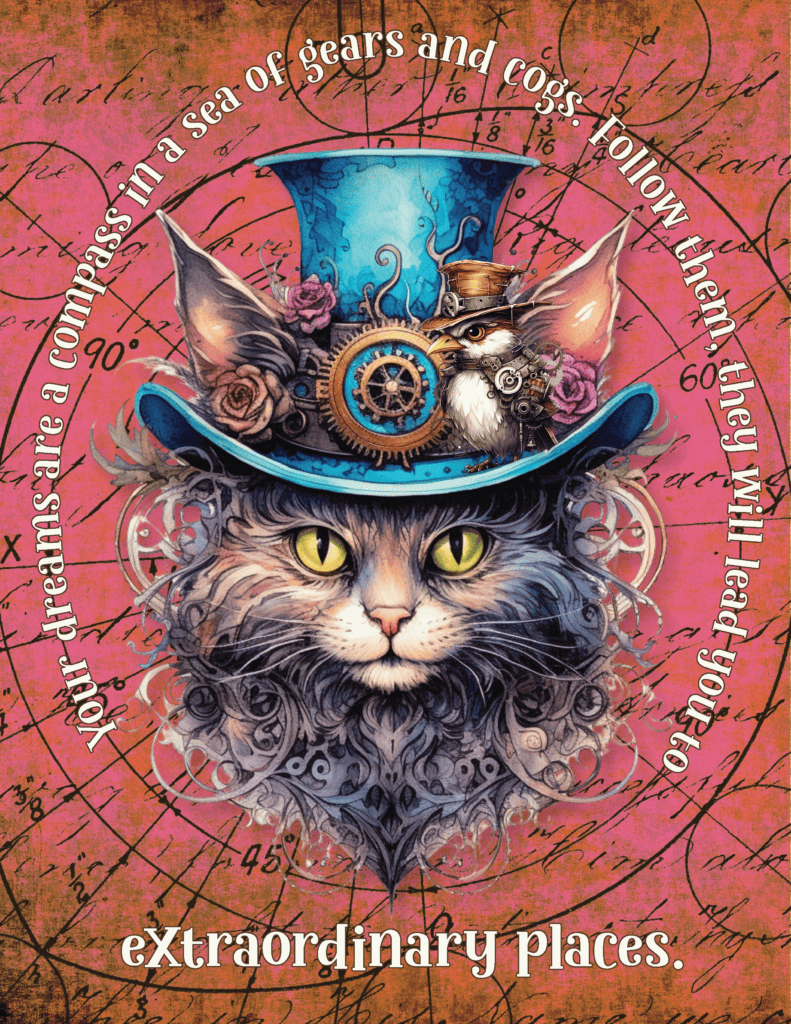 Free Printable Steampunk Inspirational Wall Art Wrapup
I hope you love these Steampunk printables as much as I do! I had a blast making them and can't wait to hang them up on my wall or use them in my magazine collage art (yep, I use all the wall art printables for my art journal covers too!)
Please let me know if you use these in your home office or journals and send me a picture! I love to add them to my blog posts and send them to my peeps in the weekly email!