I sell on a bunch of the major platforms (Etsy, Ebay and Shopify) and always am looking for ways to save money on shipping! One great way is to reuse shipping supplies, but how to do that without feeling like cheap miser? Use this free printable to include in your shipping boxes!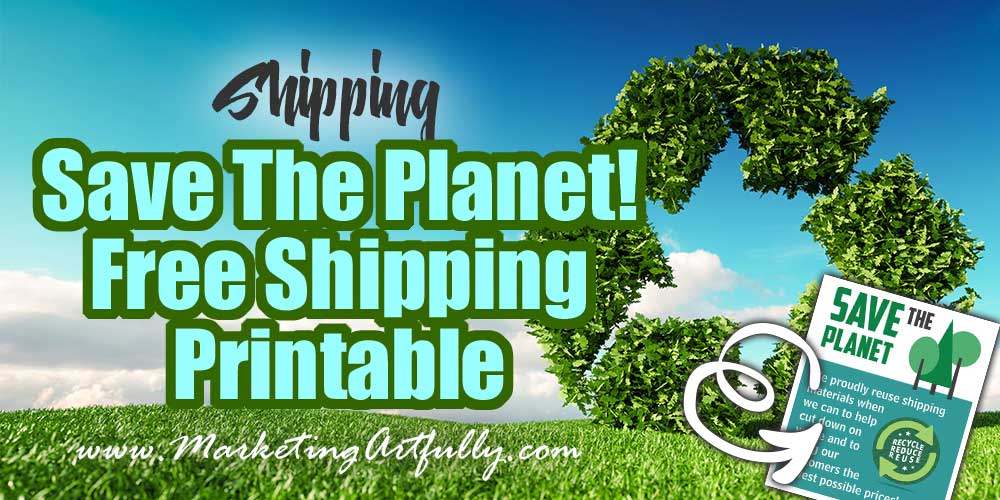 please note :: I often recommend resources, some I receive an affiliate commission for at no additional cost to you! check out my policies here
Why I Reuse Shipping Supplies
As I said, I am an Etsy and Ebay seller who ships almost daily and I am also a bit of a tree hugger. I can't stand to just throw things away that could still have a good use!
My mother-in-law who lives with us has a bit of an Amazon shopping problem as does her son so lots of boxes are coming into our house!
Instead of breaking them down and putting them all in the recycle bin, when I can I use them to ship out my orders… whoo whoo!
I am a bit of a shipping nerd… check out some of my cool shipping posts like how to get free boxes from the USPS and how to use flat rate boxes for shipping!
When To Reuse Recycled Shipping Supplies
Before we get to the cool, free printable, can we talk for one minute about how cardboard works please!
Cardboard is "two walled" with wiggles of paper between them. It is this combination that keeps your products safe during transport.
BUT if the box your using has been squished during transit to you, it will not have the same protective properties that a new cardboard box will have!
When you are reusing shipping boxes, make sure that all the sides are still intact and that none of padding has been crushed or your package might get hurt during transport!
What about bubble wrap?
Bubble wrap works just the same as cardboard. The protective properties of bubble wrap comes the actual bubbles being full of air.
If you have a piece that has all the bubbles intact, for sure resuse it! If the bubbles are squished, toss it and use new bubble wrap!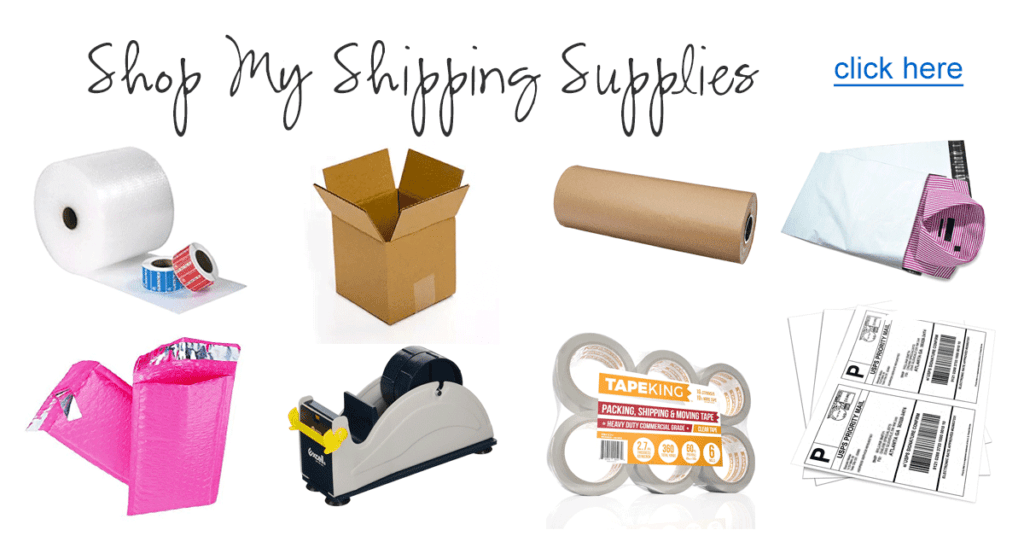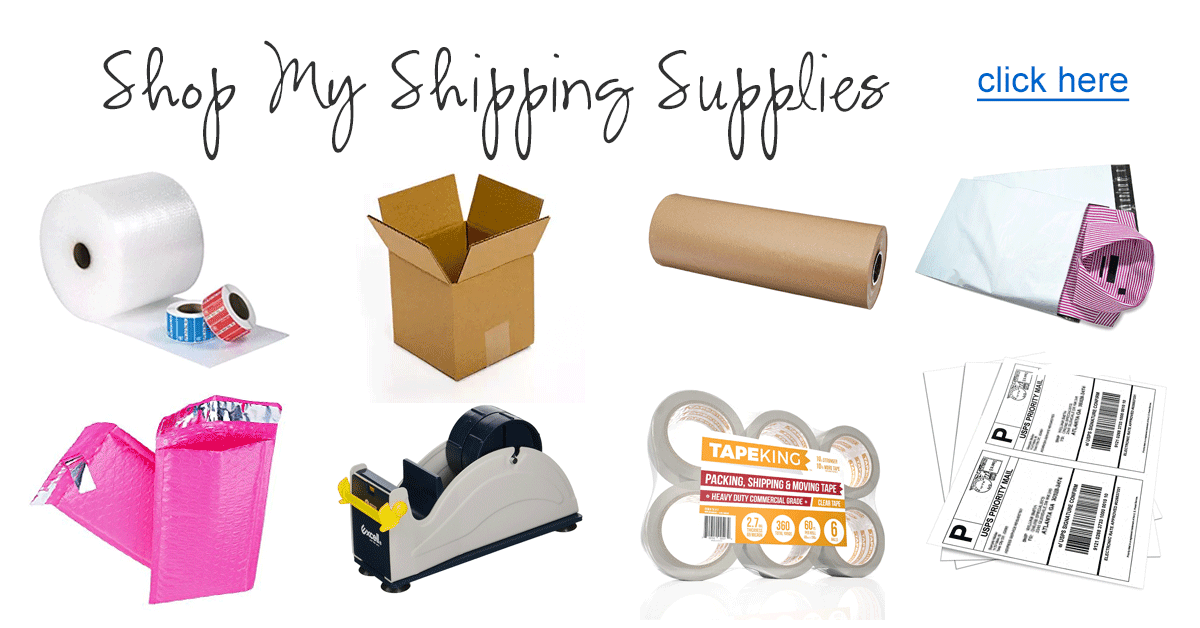 How I Use The Printable "Save The Planet" Papers
I thought you might like to see how my shipping boxes look when I include the printable flyer. I made them "4up" meaning that 4 print on each page and you just cut them apart to use them!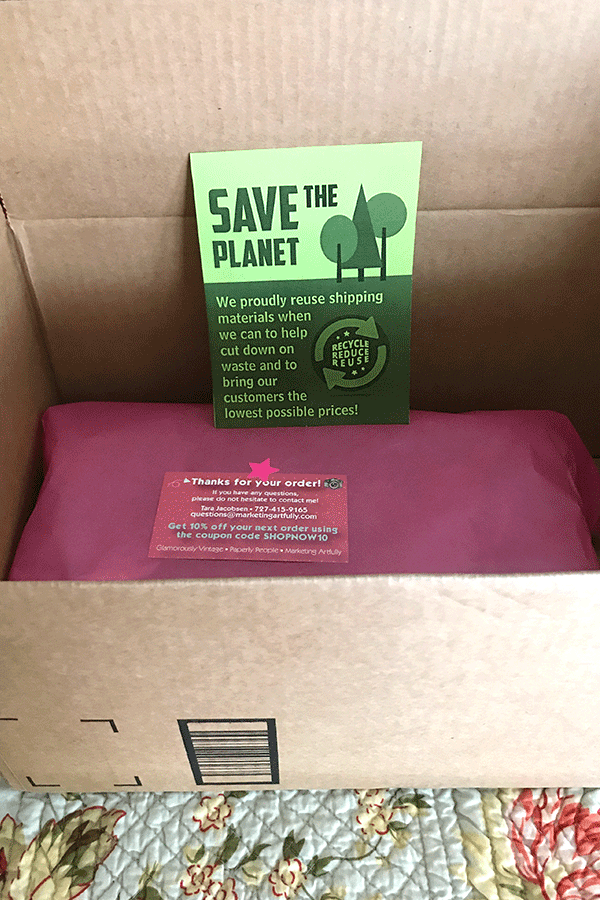 I print them out on green paper (I KNOW, white is better for the environment, but we all make the best choices for our biz and green is one of my brand colors!) and toss one in when I am sending a reused box!
What It Says!
A couple of people have asked to see what the paper says… here it is! Not apologetic because I am proud to be able to do my little bit to help reduce shipping waste!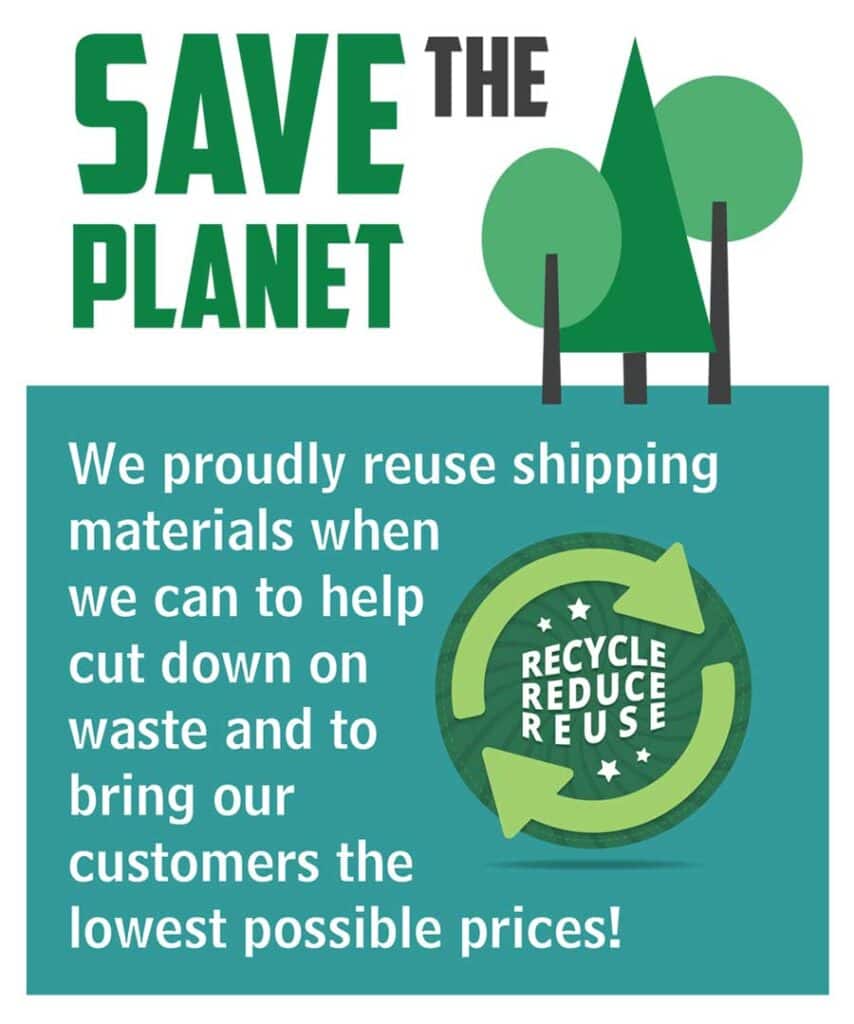 If you would like to learn more about reusing shipping supplies, check out this post >> Should You Reuse Shipping Supplies?