If you are starting an online shop, shipping may be one of your biggest questions! The one thing that is most confusing is how to use USPS Flat Rate Boxes for your Etsy, Shopify, Ebay or any other kind of online store!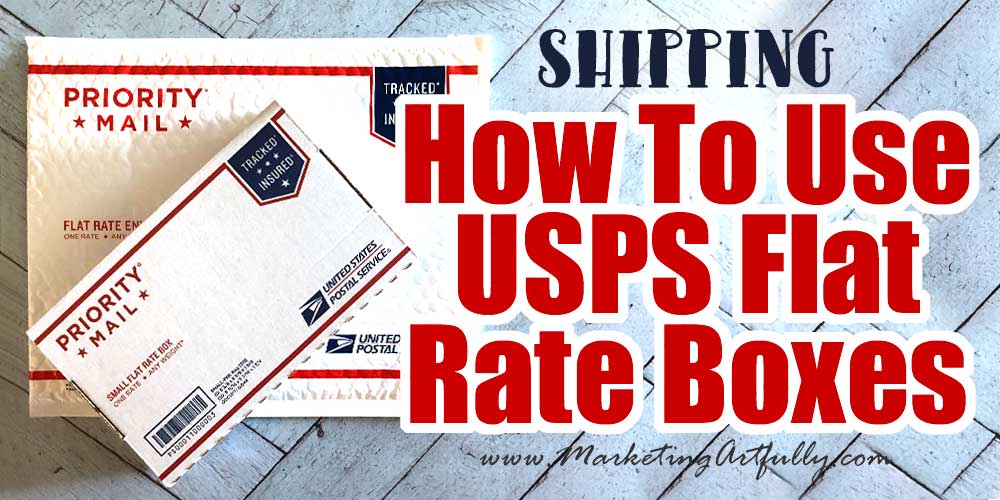 please note :: I often recommend resources, some I receive an affiliate commission for at no additional cost to you! check out my policies here
Having written a whole guide about Etsy Shipping, I get so many questions from readers about how to best use Flat Rate boxes in their business!
Here are the answers to some of the most frequently asked questions as well as quick overview of what Flat Rate Shipping is!
September 2020 Update
I KNOW, hearing all the talk about USPS and how hard it is to get shipping through, but it is still the easiest way for me to ship packages and I haven't personally had any problems (probably because most of my packages go Priority instead of First Class!)
I have found that ordering Flat Rate boxes online is a little harder than it was, but you can always go down to your local post office and get supplies or request certain sizes!
Flat Rate Shipping From The USPS
The USPS (United States Postal Service) offers fixed pricing boxes for free from their website or post offices.
These are specific boxes that have a flat rate label on them…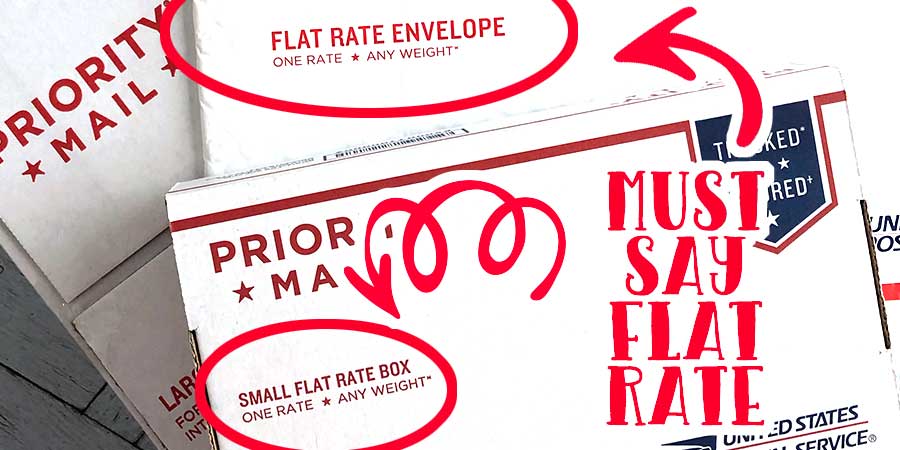 Additional Resource :: USPS Priority Mail – Free Boxes, Sizes and Flat Rate
10 Questions About Flat Rate Boxes
Here are the main questions I get about shipping from my peeps!
1. Do I have to use their box to get the flat rate?
Yes! They offer different sizes of flat rate boxes, some are deeper and square and some are longer and flat. They also have envelopes and mailers that are flat rate in addition to the boxes!
You can ONLY use the boxes that say "Flat Rate" to get that fixed pricing.
2. Will USPS flat rate boxes save me money?
Maybe. If you are shipping something heavy far away that will fit into a flat rate box, you probably WILL save money!
That said, you can use other free Priority boxes or even your own box to ship dimensionally (size + weight) and sometimes that costs less than using a Flat Rate box.
For example, I sold a board game and I thought I had to use the big old "flat rate board game" box that was about $17 flat rate shipping. I sold the game for $19.99 including shipping… doh!
Come to find out if I had shipped it in a smaller box, calculating the size and weight it would have cost about $12 to ship… I was new! It will happen to you too!
It is often worth checking to see if the flat rate price will be higher or lower than shipping it dimensionally!
3. How long to flat rate packages take to get to their destination?
2-3 Days (approximately). Flat Rate boxes are part of the Priority Mail system and so they do ship faster than First Class or Media Mail.
The USPS does not guarantee delivery times for Priority, generally estimating that it will take 2 days for closer shipments and up to 3 if you are shipping across country.
4. Do USPS flat rate boxes charge based on weight or just size?
Just size. The size of the box determines the cost to ship it, which is why this is often the cheapest way to ship heavy items!
5. What is the cheapest way to ship Flat Rate Packages?
The Small Box or Padded Envelope. The small box is pretty dinky, but great if you have something small and heavy.
What a lot of people don't know is that you can ship larger items for a super low flat rate as long as they fit into the padded envelope.
I often box up something fragile that has to go Priority and ship the box in a padded mailer…. if it fits it ships!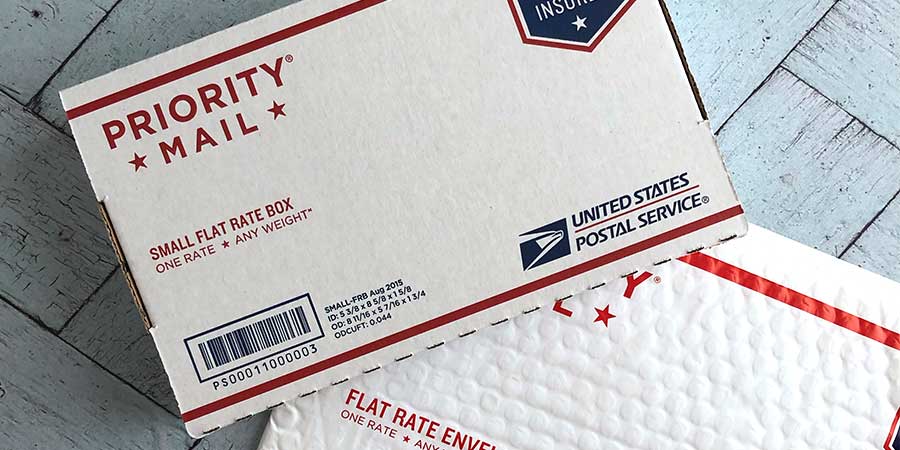 Additional Resource :: Etsy Shipping Tips – How To Reduce Your Shipping Costs
6. Are USPS flat rate boxes less expensive than using another delivery company?
Maybe! This is a tough one because there are so many different things that people ship.
For example, say you make paintings and have picked a size that will fit into the Large Flat Rate Game Board Box which is 23 11/16″ X 11 3/4″ X 3″.
If you are shipping within your state, it may be cheaper to ship it First Class or Ground. But if you are shipping it across country, the Flat Rate may be a lifesaver!
Sometimes FedEx is cheaper if your items is large and heavy, it is just playing around in the shipping panel to see which works best! (I just got a great tip that you can drop off your FedEx's off at any Walgreens Photo counter… whoo whoo!)
I know many sellers have decided to roll the price of shipping into their costs. If so, I would for sure try to use Flat Rate Shipping as it is a fixed price no matter where you are shipping to!
Additional Resource :: 5 Reasons I Don't Offer Free Shipping In My Shop
7. What sizes do USPS flat rate boxes come in?
Small Flat Rate Boxes or Envelopes
Priority Mail Flat Rate Envelope – 12 1/2″ X 9 1/2″
Priority Mail Small Flat Rate Envelope – 10″ X 6″
Priority Mail Padded Flat Rate Envelope – 9 1/2″ X 12 1/2″
Priority Mail Legal Flat Rate Envelope – 15″ X 9 1/2″
Priority Mail Small Flat Rate Box – 8 5/8″ X 5 3/8″ X 1 5/8″
Medium Flat Rate Boxes
Priority Mail Medium Flat Rate Box #1 – 11″ X 8″ X 5 1/2″
Priority Mail Medium Flat Rate Box #2 – 13 5/8″ X 11 7/8″ X 3 3/8″
Large Flat Rate Boxes
Priority Mail Large Flat Rate Box – 12″ X 12″ X 5 1/2″
Large Flat Rate Game Board Box – 23 11/16″ X 11 3/4″ X 3″
8. What is the difference in cost between the flat rate box sizes?
$6.95 – $17.60. This ranges from the small boxes to the large size.
Small Flat Rate Box – $7.50
Padded Flat Rate Envelope – $7.55
Medium Flat Rate Box – $12.80
Large Flat Rate Box – $17.60
Please make sure to check the Priority Shipping Rates (Commercial Base) at the post office to be sure these rates are up to date!
9. Does a USPS flat rate box include insurance for the contents?
Yes! Regularly the insurance included at the counter is $50 for Priority, but Etsy offers $100 insurance for packages mailed through Priority USPS (I am not sure how much Shopify or Ebay gives).
10. Does a USPS flat rate box include delivery tracking information?
Yes! Priority Mail (which includes the flat rates) always has tracking with it.
That said, most of the shipping done through Etsy, Ebay or Shopify also has tracking so don't think that you have to pay priority prices to get tracking info for your shop!
USPS Flat Rate Shipping Wrapup
Okay, that was a lot but hopefully you have a better handle on when you would use Flat Rate boxes and when to skip them.
A couple of big takeaways for me when I started…
You don't HAVE to use flat rate boxes! Please check and see if you could save money by using the size and weight method.
There are free Priority boxes that are not Flat Rate that you can get right on the USPS website!
Please let me know if you have any more questions! Shoot me a line at tara (at) marketingartfully.com!