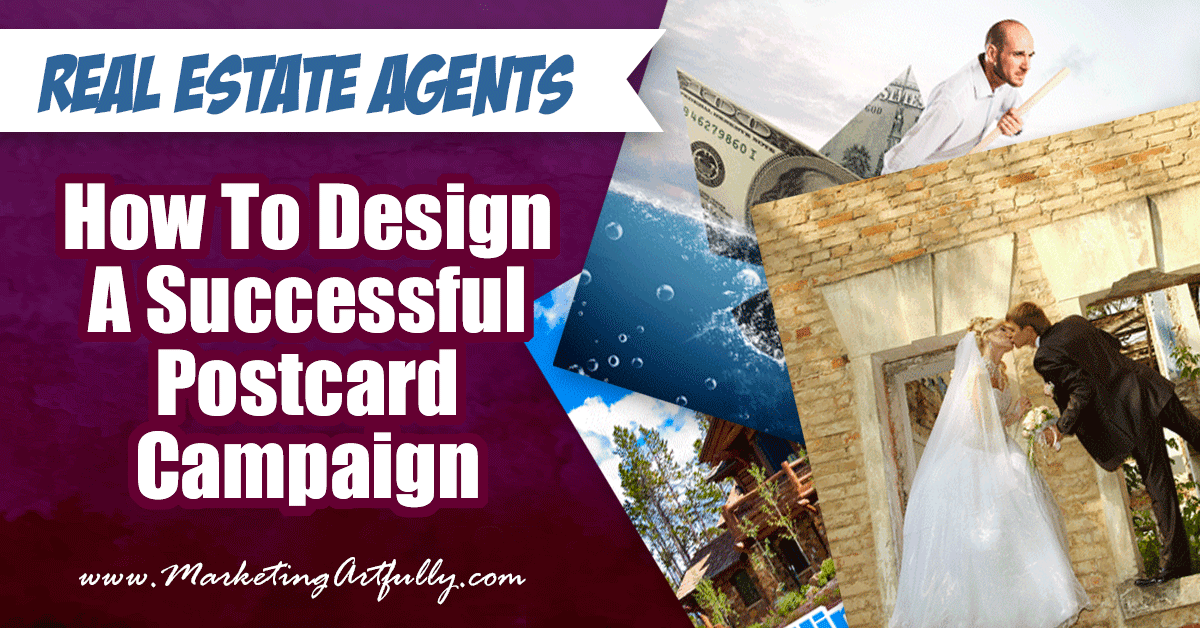 I wanted to talk to my real estate agent friends about what they are doing wrong with their postcard campaigns. And it is very simple, you aren't thinking them out enough!
Let me explain!
Today a real estate agent called and left a voicemail message for me to "do" a postcard campaign for him. I get this frequently because I talk about real estate marketing a lot and it seems like I would be the kind of gal who would "do" a campaign.
But think about it, I don't know anything about this Realtor. Is he a buyers agent? Is he a sellers agent? Is his market luxury or is it all single family, first time buyers.
I was sending his message over to my gal Shell to find out more, but then I stopped and thought, maybe he doesn't know even what to ask for when approaching a marketing person to "do" a campaign. So here goes…
First Off…
What are you trying to accomplish by sending out your real estate postcards?
Do you want to get phone leads in?
Are you sending them to a website so they can sign up for your mailing list?
Do you want them to come to an open house so you can meet new sellers and take over a farm area?
Are you farming renters to get buyers?
Are you trying to start up an investor or property management division and need rentals to buy or lease?
What is your INTENT?
Write that down!
Secondly…
Who are you trying to attract?
Say you are a "regular" real estate agent who wants to prospect for buyers and sellers (I get this one A LOT!) Well just sending a postcards that is super general will not get anyone. There is so much noise in the marketplace that you HAVE to be specific so they can see themselves in your message!
Here are a few things that would work to catch someone's eye in all that "junk mail"…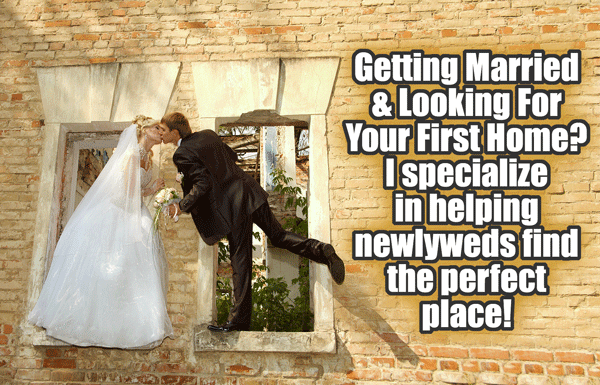 You could send this into an apartment complex that caters to young professionals. This is perfect because you know they are renting and might be looking to move the next time their lease comes up.
Wait!
I can hear you now… "what about all the people who are not getting married in that complex? I will miss all those people!"
Yep! But the people who are in the "house buying mind will see it, or their Moms, Aunts, Sisters. All those people might save your postcard and call you when they are ready to get married and buy a house!
Years ago I knew of a company that said you should send out postcards talking about you… like you were the banjo playing real estate agent or the singing Realtor.
By now I hop you realize that your mailing HAS to be all about them and how you can HELP them get the home of their dreams.
AND it has to be specific!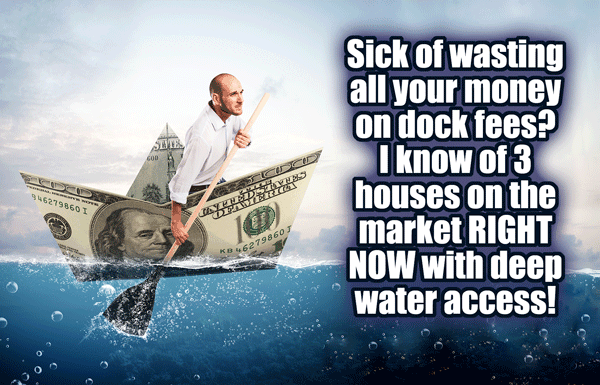 This one would be perfect if you got a list from your local marina or country club! OR mail it into the all the houses that are "waterview" but have no water access!
The point of this one is to get the "man of the house" to notice the money and the man AND then to see the boat and remind him of the "pain point" of his docking troubles.
Remember, you are selling people the DREAM of the perfect home that will solve all their problems!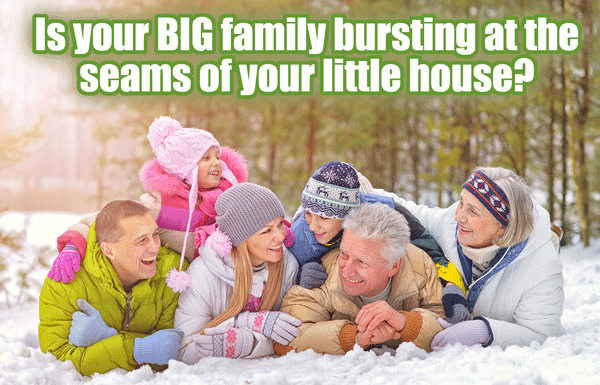 This on would work great for families that have kids who are entering middle school or high school OR multigenerational families!
Marketing your real estate business is about reminding people that they WANT to go through all the trouble of moving. That the solution you offer (a brand-new-house) is worth all the pain and heartache of selling their existing house and moving to a new a house!
So Who Are You And What Kinds of Clients Do You Want To Represent?
The funny thing about marketing is that when done correctly, you get more of what you ask for!
Stop right now and write down your 3 favorite clients of all time! …. I'll wait!
So who were they and what do they have in common?
Were they your favorites because they were sweet little old men and women who were downsizing or were they your favorites because you got a big fat commission check? Were they young hipsters who you still have drinks with today or were they luxury buyers who were hiring a "professional" and there was no real love connection made?
None of these are right or wrong!
You have to figure out what kinds of clients you like working with so you can find more of them through marketing!
You Can Be The Neighborhood "Expert" of LOTS of Neighborhoods!
Maybe you don't like a certain type of client, you just want to spend all your time in a neighborhood you love..
Become the "Mountain View" agent! Develop a database of buyers who want to live in the mountains and then let the homeowners in those areas know you have the buyers for them!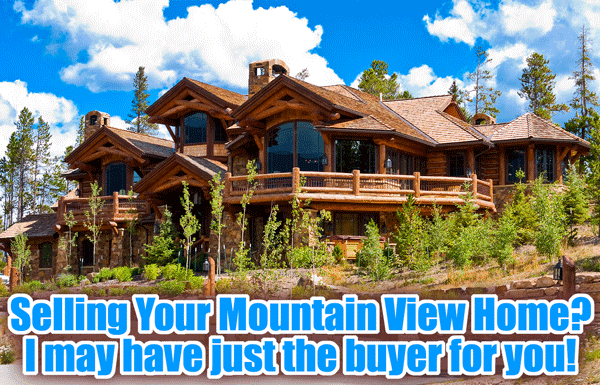 When I was an agent back in the early oughts I used to get so mad at the woman who had all the bus benches and crowned herself the "Trinity Neighborhood Expert" and the "Palm Harbor Neighborhood Expert" but now, with a bit of perspective, I find her tactics to be brilliant!
With Every Door Direct from the post office, you can target whole mail carrier routes with a neighborhood name and proclaim yourself the "Neighborhood Expert". Or use the tax records and sort out neighborhood addresses to mail into.
Practical Bits
Okay, say I have convinced you that a great postcard campaign is right for you…yay! Now here are the practical bits to help you along!
Where Should You Get Your Postcards?
There are gagillions of companies that offer real estate postcards for sale. And they all look the same, which is why all the people looking to buy or sell a home think all real estate agents are interchangeable!
The first thing you want to remember is that the point of marketing is to reach the most people possible, consistently over time.
For this I recommend using Vistaprint. They are the company I used way back in the day and the one that I recommend to my realtor friends now!
My loving them is multi-fold…
They have an affordable product that is high quality
They have mailing services so you don't have to "lick em and stick em" stamps
They have a built in design service if you are struggling with design
But they also have "templates" that most people can use to do their own layouts super easily!
Spend a little time and design your own postcards that will be different than all the other "me-too" agents out there!
Where Should You Get Your Pictures
Okay, this used to be a huge problem for me when I was telling my peeps to "just find some pictures". But never fear, I have a huge list of free stock photo sites that you can use for finding free pictures for marketing!
What Kinds of Words Should You Write?
This is where it can get a little tricky!
First off, the front needs to have a great call to action headline. This is something that will make them curious enough to turn your postcard over and read the back.
On the back your only goal should be to get them to call you or visit your website!
Make sure you are offering something that is valuable like a free report, a personal home value review (NOT a CMA, they don't know what a CMA is) or expertise in helping them solve their home buying or selling problem.
When you are doing a targeted postcard, writing the content becomes much easier because you can just talk to them like you would talk to one of your favorite clients.
Answer their questions and give the assurance that you can help them!
How Often Should You Send Out Postcards?
As often as you can afford to and as long as you are getting results!
There is one gal I know who tells me every time she sees me that, "every time she mails she gets a listing." So she should mail more often!
Seriously, that old adage that they have to see your message 7 times before they remember you is pretty spot on. Just sending one postcard and hoping to get a result is probably not the best solution.
Instead laser focus your target market and then send them a series of postcards. The Millionaire Real Estate Agent book recommends doing 8X8 (eight by eights), meaning 8 postcards in 8 weeks. (#promo)
That is probably a really great place to start!
Split Testing Your Postcards
This is advanced level marketing but I didn't want to leave it out.
Split testing means that you try a postcard and then see if works better or worse than another of your postcards.
Soooo… let's use our "Bride" postcard. Say the first time you send it you use the funny bride picture from above and you get 3 calls and 1 sale. Then the next time you send it out you use a different picture and keep the rest the same and you get 2 calls and 0 sales. You will know that the "funny" one worked better.
There are a number of things you can split test including…
The picture
The headline
The call to action (call me, text me, go to my website)
The copy (words on the back)
Having your picture on it versus your team name
Don't let split testing stop you from getting your first postcards out! But once you have your campaigns going, please do test some of these things so you can start to see which work best for generating leads and sales.
Figuring out your real estate postcard campaign
Hopefully this post has gotten your wheels turning!
My fondest wish for you is that you start thinking about what you are trying to accomplish with your postcard campaign and that you will take some time to really firm that up before you just start mailing things out all willy-nilly!
ADDITIONAL RESOURCES FOR REAL ESTATE AGENTS