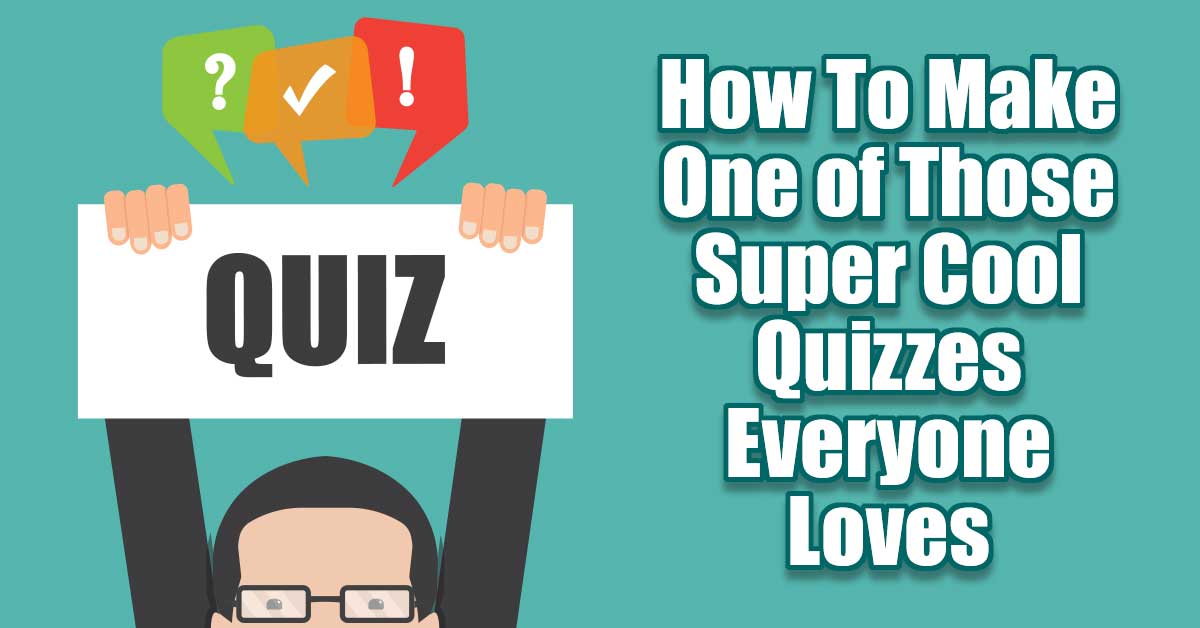 If you are any kind of marketer at all you have to be thinking (like I am), there must be some way to use those super cool quizzes that are all over the internet to sell something to someone!
This is a promoted post. I received a free copy of the quiz software and will receive a little bit of money if you purchase a subscription. It is cool sponsors like this that help me keep bringing great tools and resources to love!
Why Not Make A "Popular" Marketing Quiz?
I don't want to make a "popular" quiz because I am in business and just making a "viral quiz" that everyone loves will not help my bottom line in any way.
This may seem like a super counter-intuitive way to start a blog post about making quizzes, but bear with me for just a second.
If you make a quiz about "Are You The Ultimate Harry Potter Fan" or "Which Disney Villain Are You" you may get A LOT viral attention… but will that help your business in the long run?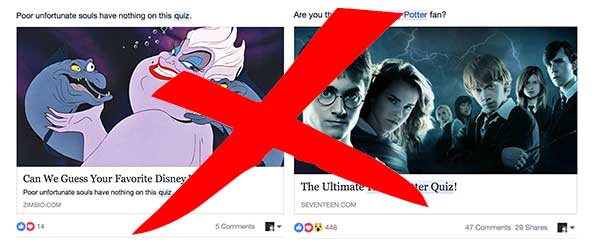 Years ago a friend came to me all excited and said he had "cracked the Facebook code". He had figured out that he could grow a huge Facebook page just by posting pictures of kittens 3 times a day and then running ads to it. You probably have figured out by now that this was NOT a good strategy on two fronts…
First Facebook started throttling the views to posts from pages so all those "likes" got him nothing. But more importantly is…
#2 … Kittens had nothing to do with his business!
Argggg. It is so tempting to do something that will get you big numbers, but smaller numbers of the right people are much more effective in the long run!
What Is Your Goal?
So before you make your first question or start your first result, you have to think about what your goal is for your quiz!
Sell something
You may be trying to sell your product or services. In this case your quiz should be geared towards really figuring out if you will be a good fit. For example, say you had a physical therapy practice. You would have a quiz that talked about common causes of pain that you could help treat!
Or say you want to figure out WHO would buy your class. This quiz by The Science of People about spotting liars feeds into her course, "Learn the 5 Steps of Lie Detection in 100 Minutes".
Think about it, most of us are not sitting around thinking we would like to take a lie detecting class, but once you realize you are bad at spotting liars (I got 2 of 5), you start thinking, hmmm maybe this is something that I should know more about!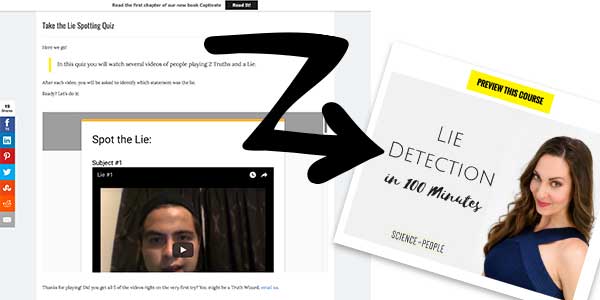 Get social shares
Another reason you may want to have a quiz is to get people to share it. Because you can embed it on your website, having a quiz is an opportunity to get website traffic and possibly build your list with a popup or sidebar ads.
The "Are You A Genius" quiz by National Geographic is definitely sharable! If you are taking this quiz and get that "YES, you are a genius", you are probably likely to share it with your friends. This means more people will take the quiz and share it more.
Nat Geo was trying to gain exposure for their Genius series. I feel like they did a great job of pairing their quiz with the target action.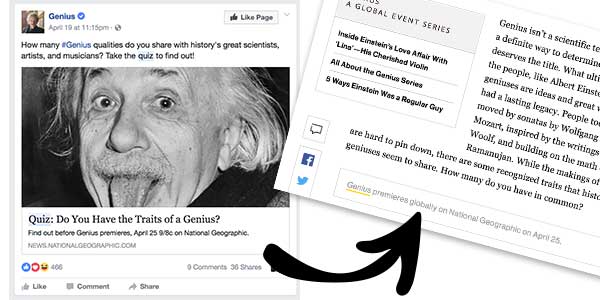 Grow your list
If you are doing this correctly, there is a very good chance you will have a group of people who have self-selected themselves as a good fit for your business. Say a real estate agent did a quiz called, "Are you ready to sell your home?" One of the results could be, "You are ready! Call me to put it on the market today!" Those people would be highly qualified prospects for a real estate agent!
My quiz, "What Kind of Marketing Should You Do" helps people identify their strengths AND gives me a chance to capture their email address at the end!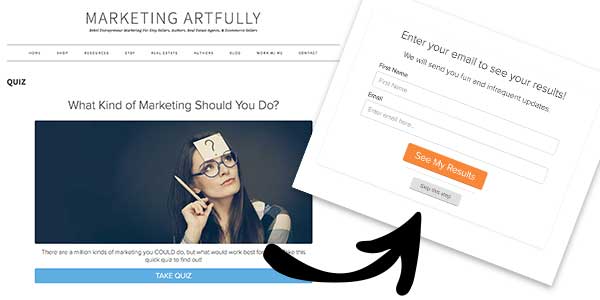 Setting Up Your Marketing Quiz
It is tempting to make a gigantic quiz that will cover every thing you ever wanted to know, but no one will take it!
I can't tell you how many times I have started a quiz or a survey and in the middle thought "this is never going to end" and quit! No one has time to take a huge quiz if you are trying to make it fun… so I am going to have 10 questions and 4 results.
So in the name of "science" I took some quizzes… 10 to be exact (10 inane but popular quizzes).. sigh.
How Many Questions?
So having done from 1-15 questions (and having skipped ones that said they had 27 questions) I am pretty sure that you can do from 10-15 easily.
Having only 1 question seemed really questionable at giving a good answer and for business that would not be good!
What Is Popular?
I went WAY down the list of quizzes on my Facebook feed to find some business related quizzes that were "popular" but didn't find any. There were literally no popular quizzes that were business related.
What is popular are TV shows, music, sex, magic, Disney movies, spirit animals and Harry Potter.
Do They Have To Come Out Right?
I would say that many of these quizzes gave me okay grades, but that is really not the point. The point is to get a share or elicit a response so none of them succeeded at the end of the day. I did not share them, buy anything or sign up for any lists.
A COOL Note About Coming Out Right… So there is a "number guessing" post on Facebook. The guy adds up numbers and and then says for you to pick a number and he can guess it…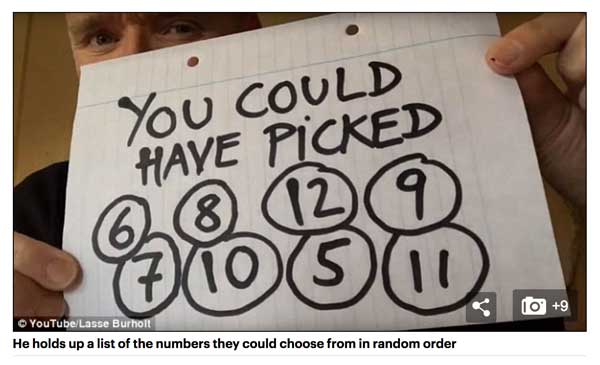 At first I thought, what the heck… he has SO many chances to be wrong. Now, he did guess my number (7) but how could he guess everyones? And then I read a comment that it doesn't matter … either way he gets people to comment and share his post which is the actual point!
My Favorite Quiz Program! Interact
So when I was thinking about doing a quiz I went through all kinds of different thoughts… I could use my website and lots of pages, I could try to it with Facebook or my email provider. I have honestly been thinking about doing a quiz for a couple of years now, but never had the heart to really get it off the ground, it all seemed like WAY too much work!
And then Josh from Interact reached out to me!!! I thought that there was no way I would ever be able to make a quiz easily but it was super easy to set up and all I had to do was add some pictures!
This is my quiz….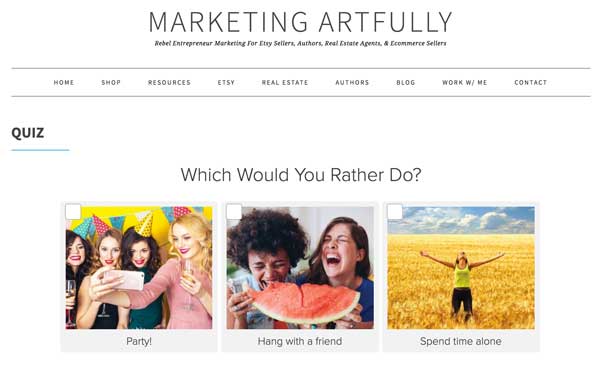 I am super visual so I picked a quiz that was all pictures… you can do words, pictures or a mix of both!
The next thing I love about it is that you can capture leads! My call to action is to find out more about how to pick the best kind of marketing for you … which talks about my one hour coaching session.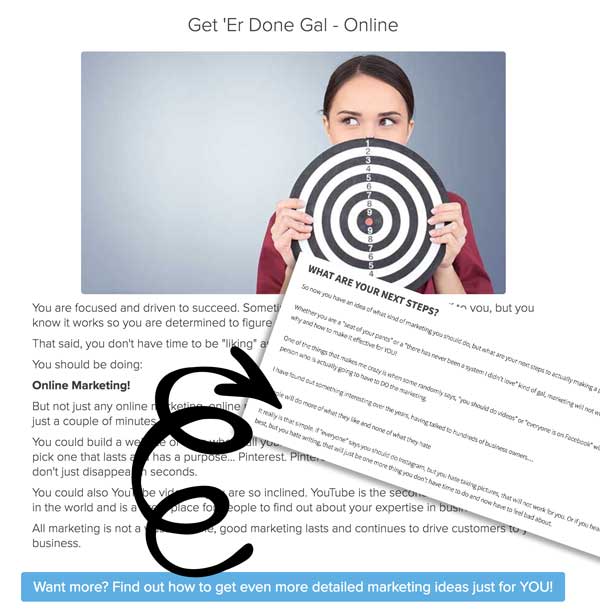 Your quiz call to action could be something like "Sign Up For My Course" or "Schedule A Free Consultation".
Last but not least I LOVE that there is a way to data capture email addresses but they can skip it. I SOOO do not want a whole bunch of people in my database who are only signing up because they want quiz answers and who will mark my emails as spam later.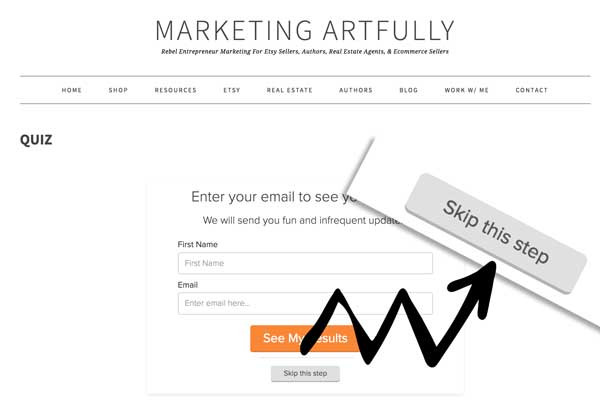 Be Honest
One last word about setting up your quiz. PLEASE be honest. One of the quizzes that I took gave me an answer of "yes, you need my services" even though I could tell that I should not have gotten that answer.
People are not stupid and if you are doing this quiz as a lead generation campaign, it is way better to find a smaller percentage of people who really are interested, rather than doing a blanket answer that is disingenuous and false.
Find Out More About The Quiz Maker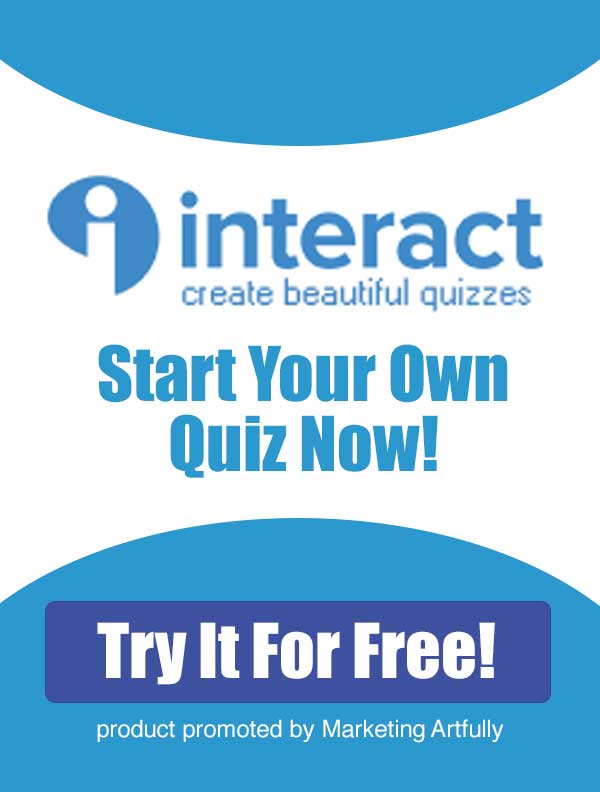 If you would like to find out more about the Interact Quiz Maker… check it out here
The nice thing is that you sign up and "kick the tires" for free without having to pay for it up front.
Now, if you are a solo-preneur just starting out, I am sure it is going to be a little more than you would want to spend BUT if you are a going business that has some good ideas about how using quizzes can help generate more revenue then I would for sure check this out.
I absolutely loved how simple making my quiz was!