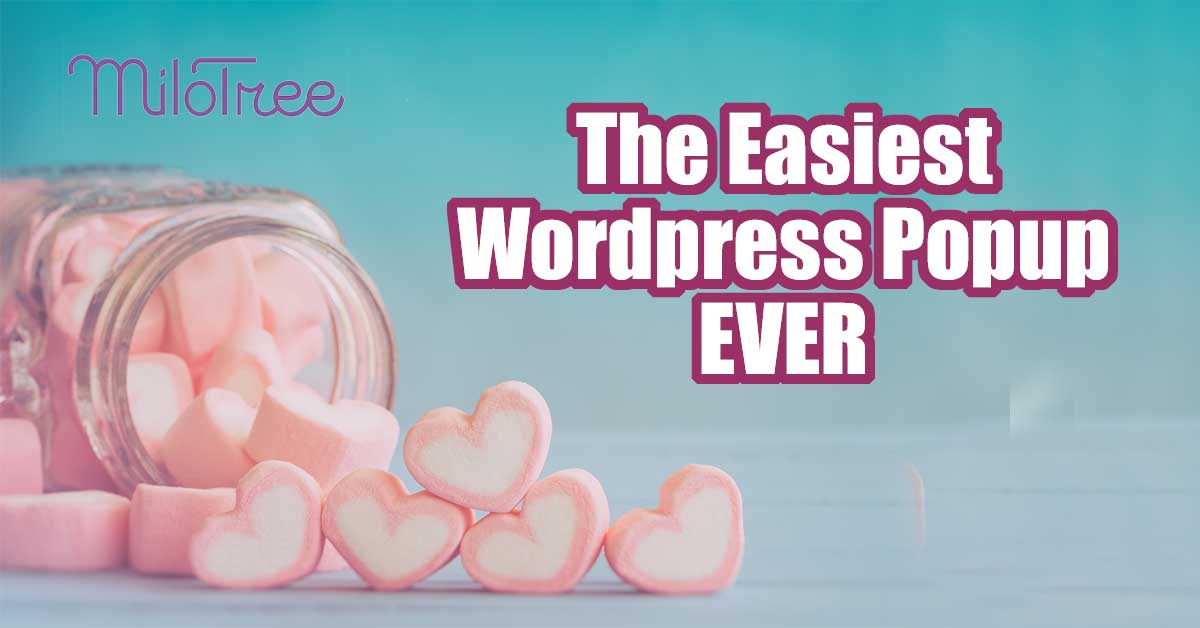 Milotree is the easiest WordPress plugin I have EVER used! It is a fabulous way to add a popup to grown your Facebook, Email, Pinterest or Instagram accounts!
I have been looking for a popup I could recommend to my peeps for a LONG time. Any ones I found were either 1. hard to set up or 2. too expensive for my small business owner crowd. (Milotree changed their pricing to a SUPER low monthly price!)
I personally use Leadpages hooked to Infusionsoft on this blog, but I have two other sites that are not that robust and I have sorely neglected their popups, just dumping them into a pile with my "regular" subscribers.
And I think that was a BIG mistake!
My other sites are hooked to my ecommerce stores and while there is an opportunity to do some email marketing (sending coupon codes, etc.) there is more of a push now towards connecting with customers on social media BEFORE asking them to do the big "give" of their email address.
The Best Way To Grow Your Ecommerce Tribe
Before we get to the service that I recommend, let's talk about ecommerce marketing. If you are selling on Etsy, Shopify or Ebay, you do want to grow your email list, but more so you want the chance to communicate frequently with your buyers.
Social Media like Pinterest, Instagram and Facebook are brilliant ways to keep that connection going without the stress of maintaining an email list.
Although consumers are not yet able to buy all products directly through social media channels, they are already using brands' social pages for inspiration to buy, which should act as an indicator of the potential value of social commerce. More than half (56%) of consumers who follow brands on social media sites say they do so to view products, according to new research from loyalty analytics company Aimia, which owns the Nectar loyalty brand. Source MarketingWeek
Now, not every ecommerce seller has a blog or website, but many do!
If you do have a website, you may have run into some of the same problems that I had with "capturing" visitors:
They didn't really know me enough to give me their email address on a popup
Popups where super hard to add to my site in the first place
I didn't have enough to send out an email weekly so sometimes my messages got called spam even though they really had signed up
I felt horrible that I wasn't sending more newsletters out, but dang, that really was last on my list of important things to do
But I am pretty good about keeping my social media up to date…:)
Maybe not perfectly, but with so many more people that I could potentially reach, having a social connection felt much more do-able than to just keep sending email after email with the same coupon codes.
Milotree
Because of all this, when I heard about Milotree I was much more interested than I would have been a few years ago. Not that long ago getting the elusive email address was all anyone thought about and doing a popup meant emails only.
But Milotree really lets you focus on growing your social media following on Pinterest, Instagram and Facebook!
Their popup will rotate through the different social medias and suggest them to your site visitors.
Setting Up Milotree – "Hooking Up" Your Accounts
That is actually the first thing you do when setting up an account, simply "hook up" your accounts by putting in your user name. No logging in, authorizing or any of that nonsense. So freaking easy!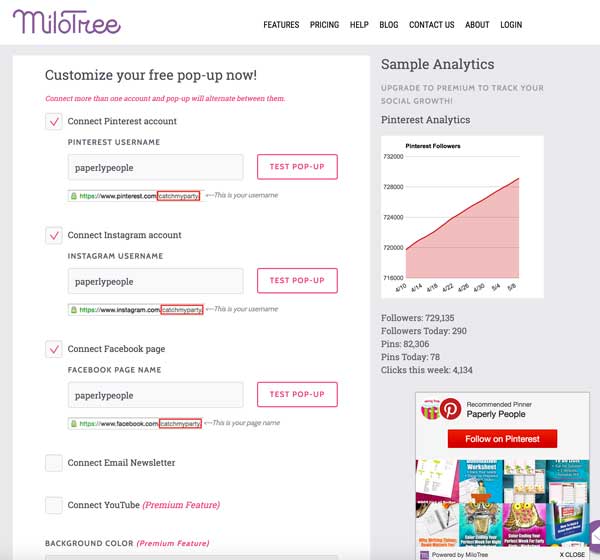 I decided to focus only on Pinterest and Facebook as my PaperlyPeople Instagram is pretty lame. So here are my starting numbers of followers as of 5/9/2017
Pinterest – 264 (this is so sad considering I have had this account for a couple of years now!)
Facebook – 98 (ditto)
So as for social media numbers, this thing has nowhere to go but up! Now, I haven't really been trying to build my social media presence, but dang that is super sad.
I am getting almost 3,000 visitors a month to my Paperly People website (2,915) so that should allow me to at least find out if my social followings grow as a result of using the popup!
Setting Up Milotree – Adding The Plugin
If you have had a blog for any amount of time you probably know how to add a plugin. Theirs is a download from their site and then just click Plugins > Add New > Upload Plugin > Activate.
Holy schnikeys… it worked perfectly right off the bat! Are you kidding me, that NEVER happens!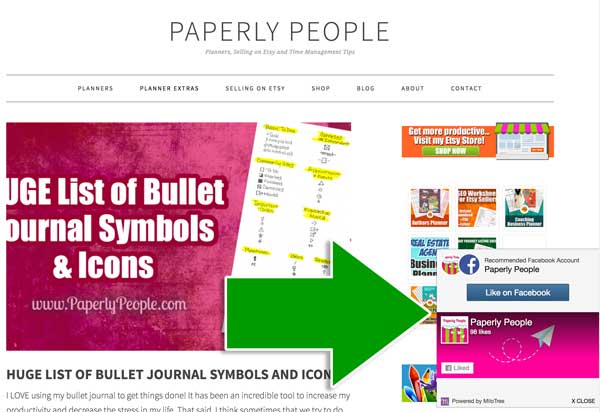 So now this will rotate between Pinterest and Facebook for all my site visitors! I am going to let this run for a week or so and see what happens!
A note: Now, Milotree may be able to get people to your accounts, but if they are dull and boring no one will follow you! I am going to make sure that my Facebook and Pinterest are fresh and lively over the next week or so…:)
Updating My Facebook Page
So upon seeing how bland that popup was, I figured I needed to jazz up my Facebook banner a little bit since that is what Milotree pulls to show on the popup! Here is the updated version…

Much better! More current and interesting to see on the popup… super important if I am going to try and grow this page. Make sure whichever account that you are growing is one that you are super proud of!
Setting Up Milo Tree
Usually I have to have a million different screen captures to show setting up a kind of software. With Milotree it is super easy… follow along as I set it up on a client's website.
Things to check out from the video:
If you have questions please shoot me an email … Tara (at) MarketingArtfully.com and I will be happy to talk with you about the FABULOUS Milotree WordPress popup plugin!