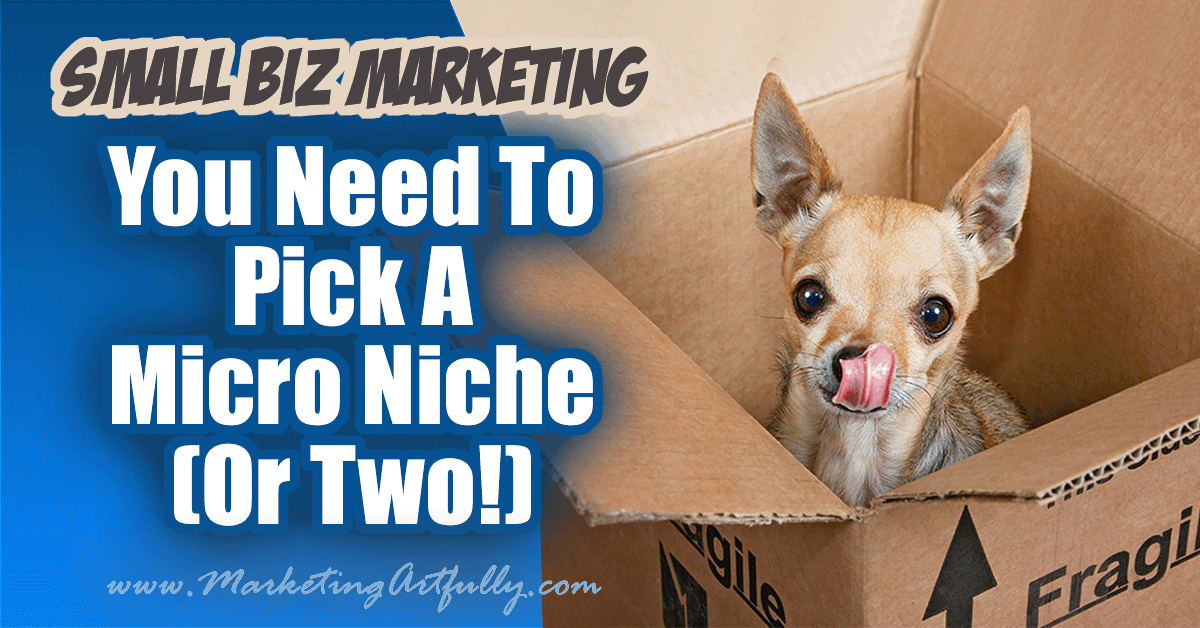 If you are like most entrepreneurs you probably think that picking any kind of niche is like sitting in a tiny little box all by yourself! No fun and nothing to do… but what if I told you that picking a niche is like making a HUGE box that is full of presents?
Picking A Plain Niche
So first off, lets talk about the elephant in the room! Most entrepreneurs don't want to pick a regular niche let alone a micro niche.
I was like that for years. I wanted to be able to serve anyone, men & women, small business owners & manufacturers, big businesses & tiny little moms and pops.
But that is not cool! Having specialized knowledge and offerings for all those different kinds of people is a recipe for disaster. By picking no one in particular, I wound up serving almost no one in reality.
My message was scattered and no one could understand what I was trying to do or sell.
So I picked 3 niches… whoo whoo! Etsy Sellers, Real Estate Agents & Authors
I have special knowledge about these industries and so it is really easy for me to create content and products to serve them!
Related post: Niche Marketing – Can you have two niches?
Picking A Micro Niche
So let's look at my niche for Real Estate Agents…. it could be every real estate agent in the world, but I tend to focus all my marketing efforts on women so it is really…
> Women Real Estate Agents
And then I didn't really work with home buyers, I worked with the people who wanted to list their homes to sell so lets make that…
> Women Real Estate Agents Who List Homes
And real estate is very different around the world so it is really…
> Marketing For American Women Real Estate Agents Who List Homes
THAT is my micro niche!
I can do that with my Etsy list…
Marketing For Etsy Sellers > Who Are Women > Who Sell Vintage Only
And with my Authors…
Marketing For Women Authors Who Write Non Fiction
To Do: You pick a Micro Niche!
Okay now you do it… pick a niche and then drill down at least 2 if not three levels!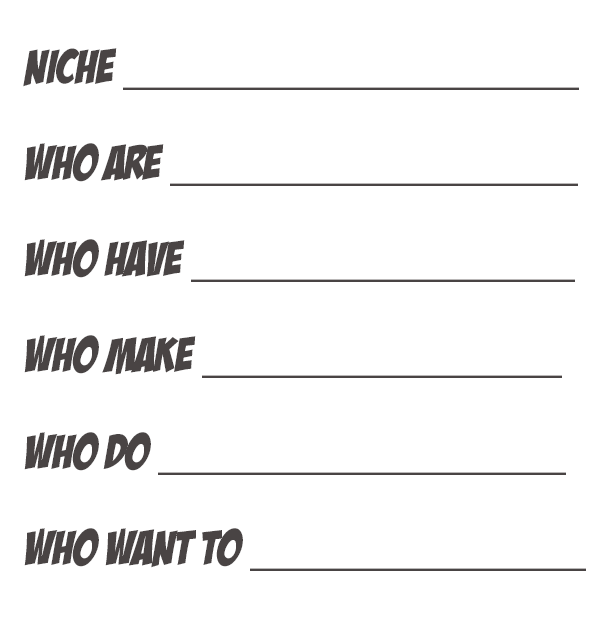 Making Products For Your Niche
Okay, now that you have a micro niche life gets super easy!
It is really easy for me to think of things to make my niches…
SEO for Listing Real Estate Agents
Time Management for Vintage Etsy Sellers
Pinterest for Non Fiction Authors
If you haven't noticed by now, most people are super busy. They are drowning in messages and tweets and voicemails. There are even memes about "ain't nobody got time for that"!
With that in mind, most of us are willing to pay extra for something that we "know" will work because it is made for just our problem.
So my pal Kirsten can make products like "Vegan Meal Plans For Women Athletes In Their 40s Who Compete In Triathlons"
And my buddy Pat can make a product for "Women Business Owners Who Are Getting Ready To Turn 64" (the year they have to start thinking about Medicare)
It is crazy how niche we can get now that the internet lets us find the exact people who are looking for us!
To Do: Think of 10 Products You Could Make For Your Micro Niche
If you are selling information products or books that can be easy, if you are selling real products think about how to explain them to to your niche group.
Let's say you "sell" mortgages. You could set up an Ebook to talk to first time homebuyers and then have a "program" that is just for first timers. The actual product is not different, just how you present the offer.
Setting Up A Sales Funnel For Your Niche
So now you have a product or two that you are thinking of for your micro niche. How do you sell it to them?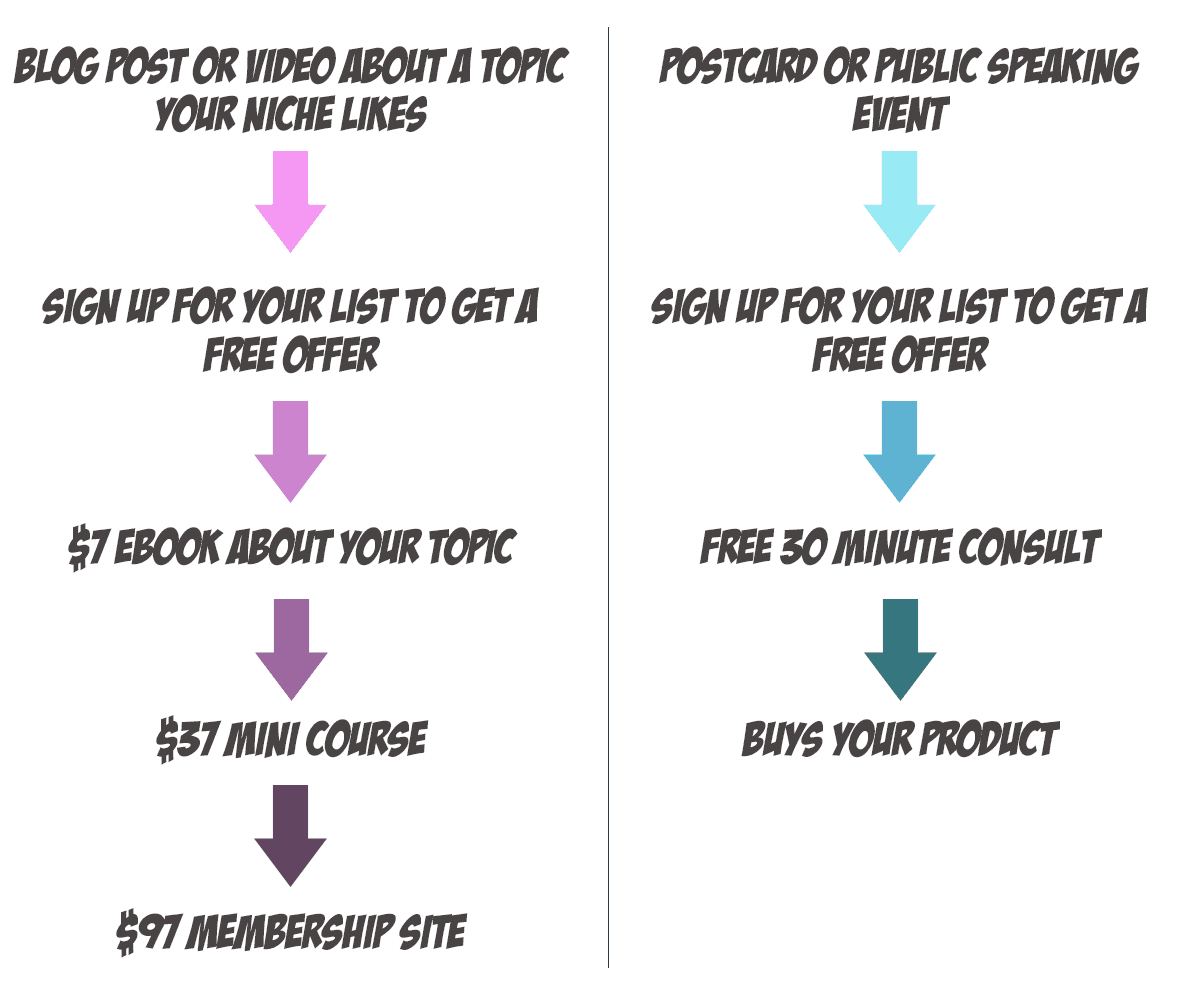 Discover You – So first you need to have a way for them to find you. I write blog posts or make videos that they can find on the internet. You could do a postcard or an in person speaking event. Somehow you have to get them to notice you!
Get Them On Your List – Next you need to start to make a list. You can use an online tool like ConvertKit or Constant Contact. You can use an excel sheet or even a piece of paper. Just start collecting names and email addresses or phone numbers.
Tiny Offer – The next thing you want to do is have a micro commitment like a little $7 ebook or a free consult. This is a great way to introduce yourself to them and show them you are an expert in your topic.
Sell Them Your Stuff – By this time you will want to start selling them your real products or services!
Claiming Your Niche Space
Once you are the "authority" in your niche you have all kinds of great options! You can be THE person everyone refers people to.
You can be confident that you know more than most people about your topic and that you can help them with their needs.
You can approach them to speak at their events, talk on their podcast or write a guest blog post!
And don't forget, you can have more than one micro niche! Mine match the things that I do so I just change them out depending on who I am talking to. If I get invited to speak on an Etsy hangout, I tailor all my answers to things ecommerce sellers would be interested in.
ADDITIONAL RESOURCES