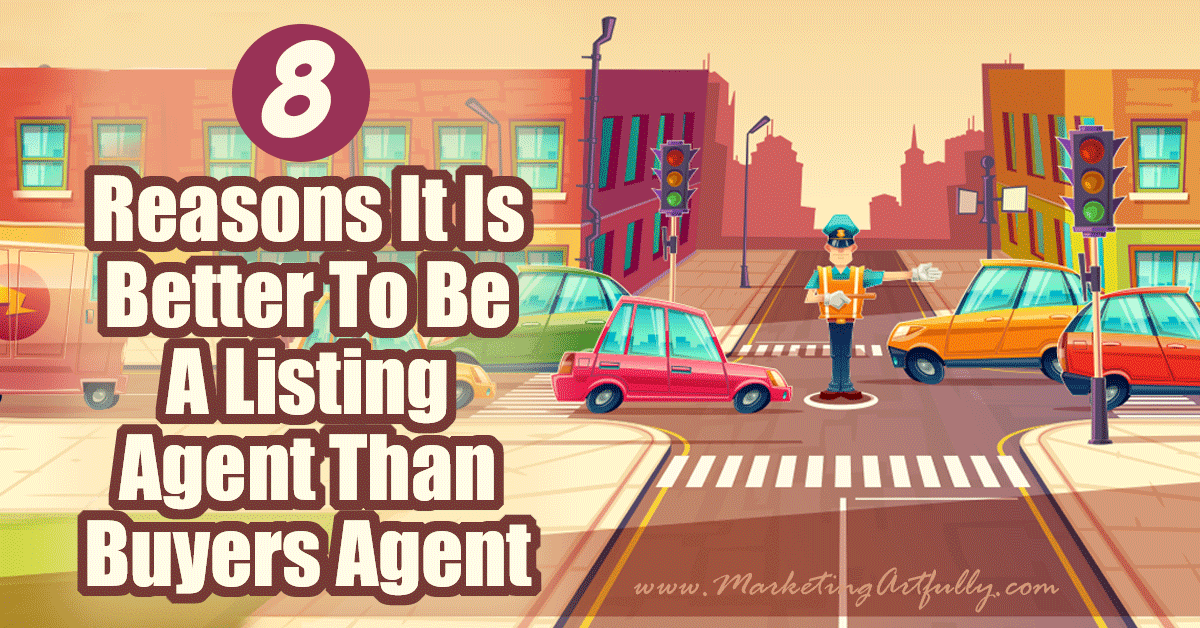 Today I want to talk a wee bit about why you should strive to become a real estate listing agent rather than a buyers agent! I KNOW, it is much easier to get buyer leads than seller leads, but taking the time to focus on listing (or seller) leads will make a huge difference in your real estate practice.
Let's jump right in…
8 Reasons It Is Better To Be A Listing Agent Than Buyers Agent
If you are on the fence about whether to put your real estate marketing efforts towards sellers or buyers, here are my top 8 tips for seller agent success!
1. They are contractually obligated to work with you!
This was a huge one for me! When I started my real estate career I thought I would be a buyers agent exclusively (this was before I ever had one in my car). I was good at the internet at a time when most agents didn't even have their own sites and frankly, prospecting for buyers is like shooting fish in a barrel.
That said, buyers lost their luster fast for me the first time I schlepped a family around for two days, looking at houses and the next day they called all excited to tell me they had put an offer in on a FSBO townhouse without me. Sigh.
I know you can have them sign a buyers brokerage agreement and could try to get a commission if they buy through another agent or from a For Sale By Owner, but the thought of clawing and scratching a commission from people who didn't value my services has very little appeal to me.
When you sign a listing agreement with a seller that is a legally binding document. They can't just flake and say that they decided to go with another agent, you would need to release them and could still possibly get a referral bonus or other compensation for all the time you put in.
2. As a listing agent you control your time better.
This is a HUGE one! As a sellers agent, you set the timeline for your appointments, open houses, inspections and showings. Most of a buyer's agent day is spent on nights and weekends when their clients have the time to look, but sellers agents can set a more normal schedule.
For example, I would do listing appointments anytime during business hours 9-4 weekdays and then occasional Saturdays if they just couldn't make it. But look at it this way, if they have to visit their accountant or lawyer, they find the time during the week so why not for their real estate professional.
Most of this depends on your feelings of professionalism and setting boundaries for your potential clients.
Set a schedule for your time and then stick to it to the best of your abilities!
3. Every listings almost guarantees two buyer sales.
This is a fun one! Since time has begun (okay, mostly through years long stats collected) it has been found that for each listing you will get two buyer sales. This happens because you get sign calls or internet leads on your listing and then you do discovery to find out what they are looking for and convert them from a random stranger to a buyer you can work with or refer out to another agent in your office.
Don't be that agent that says just the details about your listing and then hangs up, instead discover what it was about your listing that appealed to them and then try to get them into an exclusive buyers relationship with you or your team!
4. Your experience and knowledge can really help your sellers succeed!
If you are listing your first house, it can feel like this could not possibly be you… how can you have experience that will help them succeed? Well in my case I had marketing experience that I brought to real estate. Maybe you have great customer service skills or are willing to work harder than anyone else to sell their home because it is your first listing!
Once you have a few sales under your belt you are an expert in how to properly price a home for sale, telling them about condition and location and helping them to be good listers.
If you are just starting out make sure to attend every brokers ope and open house you can find. Figure out if the pricing and condition match, what neighborhood houses usually have in the way of amenities and see what the competition is doing to market those homes.
Before you even go on your first listing appointment you can be highly educated in your local market and be ready to answer questions your potential sellers might have!
5. You can be a farmer.
I am a HUGE proponent of marketing to a farm! This is where you pick a neighborhood and then start a marketing campaign to get those homeowners to notice you. I had three farms, a high turnover/medium priced one, a tiny little one that I could bombard regularly and then a more up-scale on to get higher priced listings.
The cool thing about farming is that you just pick something you like. Could be you like the glamor of selling high end, waterfront houses. Or you might be a farm girl who likes selling ranches. Or maybe you have a big family and love working with clients who need to get at least a 5 bedroom house on the buyers side.
Whatever you like can be your future farm and you control what kinds of clients you serve.
6. Open houses won't suck anymore!
As a new agent one of the easiest ways to get clients is at open houses. That said, most new agents ignore the "nosy neighbors" and focus on the "real buyers" that walk in the door. I challenge you to flip this around and focus solely on those neighbors (who own houses in the area and who might be thinking about selling!!)
Try to make an appointment with them to do a walkthrough of their home and finding out when they are thinking about selling (cut that number in half when scheduling your followup calls!)
Put them in a database and call, email or Facebook friend them to get a relationship going so that when they are ready to list they pick you as their agent because they know, like and trust you.
7. Your efforts matter the most.
When you are working with buyers, you really are at the mercy of everyone around you. You have to trust your buyers to stick with you, you have to do showings and appointments on other people's timelines and you can't really control if your buyers want to make lowball, unrealistic offers time and time again.
As a sellers agent, you can be assured that all of your efforts will go directly to selling that home. You may be doing open houses, attending pitch sessions to let other agents know about your listing, doing Facebook live walkthroughs and Instagramming cute pictures of the house. Your efforts will directly impact how fast that home can sell with your enthusiastic promotion.
Now, that is not to say that you make someone buy an overpriced listing so make sure to try and get it priced right at the start. But if you are putting in a good effort, your sellers will appreciate you and you can feel good about your business.
8. No listing emergencies.
I love marketing because there are even fewer "Marketing Emergencies" than there are "Listing Emergencies" but either way, there is much less stress and pressure than when you are working with buyers. You don't have to spend time fretting about financing, whether they will buy a washer 2 days before closing, or jumping every time the phone rings to show another random house to someone who might or might not buy.
I can remember the first time I got one of those "amazing" buyer calls on a Sunday afternoon. This buyer was in from out of town and had to see 2-3 qualified listings that afternoon. He was looking to spend in the high 6 figure range and so of course I jumped right on it, looking up listings and calling agents to see if we could get showings on short notice. A couple of hours later I called him back to let him know the good news and he said that he changed his mind and was going to look the next time he came in town.
Okay, totally my bad for not qualifying my buyer (and I never did that again) but I can't recall ever having a seller call me and say that I would lose their listing if I didn't come over that afternoon to list their house.
Being a listing agent is a much more structured, business-like profession than when you are working with buyers!
Why It Is Better To Be A Listing Agent Than Buyers Agent Wrapup
Now that you have gotten all the way down here, hopefully you have a better idea of why you would choose to market yourself as a listing agent rather than a buyers agent. Being a listing agent is a much easier job and has huge upsides that are just not present when you are chasing buyers around town.
If you would like more information about being a listing agent, please check out my Real Estate Marketing Mastermind Course that will help get you up and running fast!