These amazing free printable wall art or journal covers will inspire your zen! Unleash your inner goddess or hang out with a wise owl friend.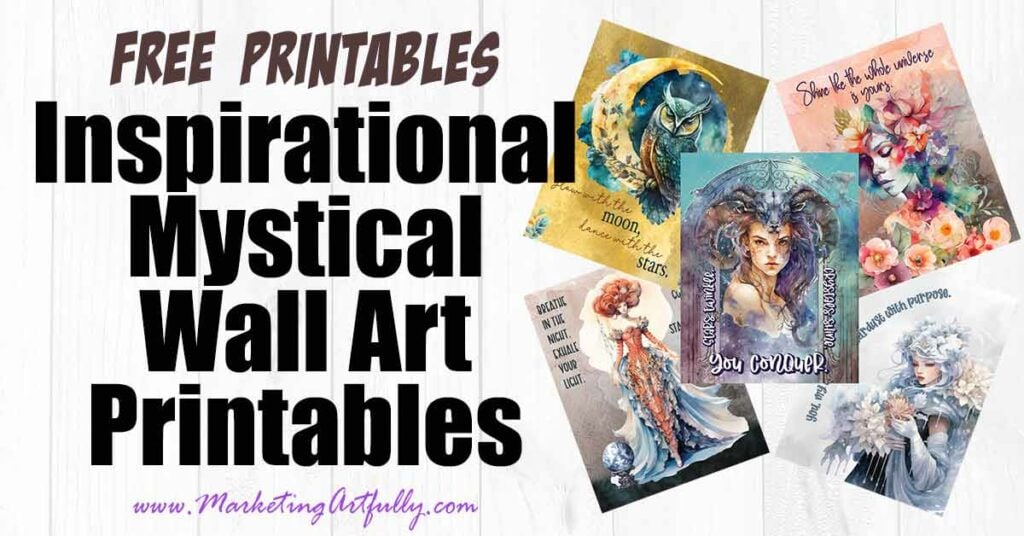 This post contains affiliate links. If you purchase anything, I earn a small commission at no extra charge to you. Check out my policies here.
All The Free Printables!
It is always fun to see the whole set of inspirational posters together (they make a great wall art gallery!)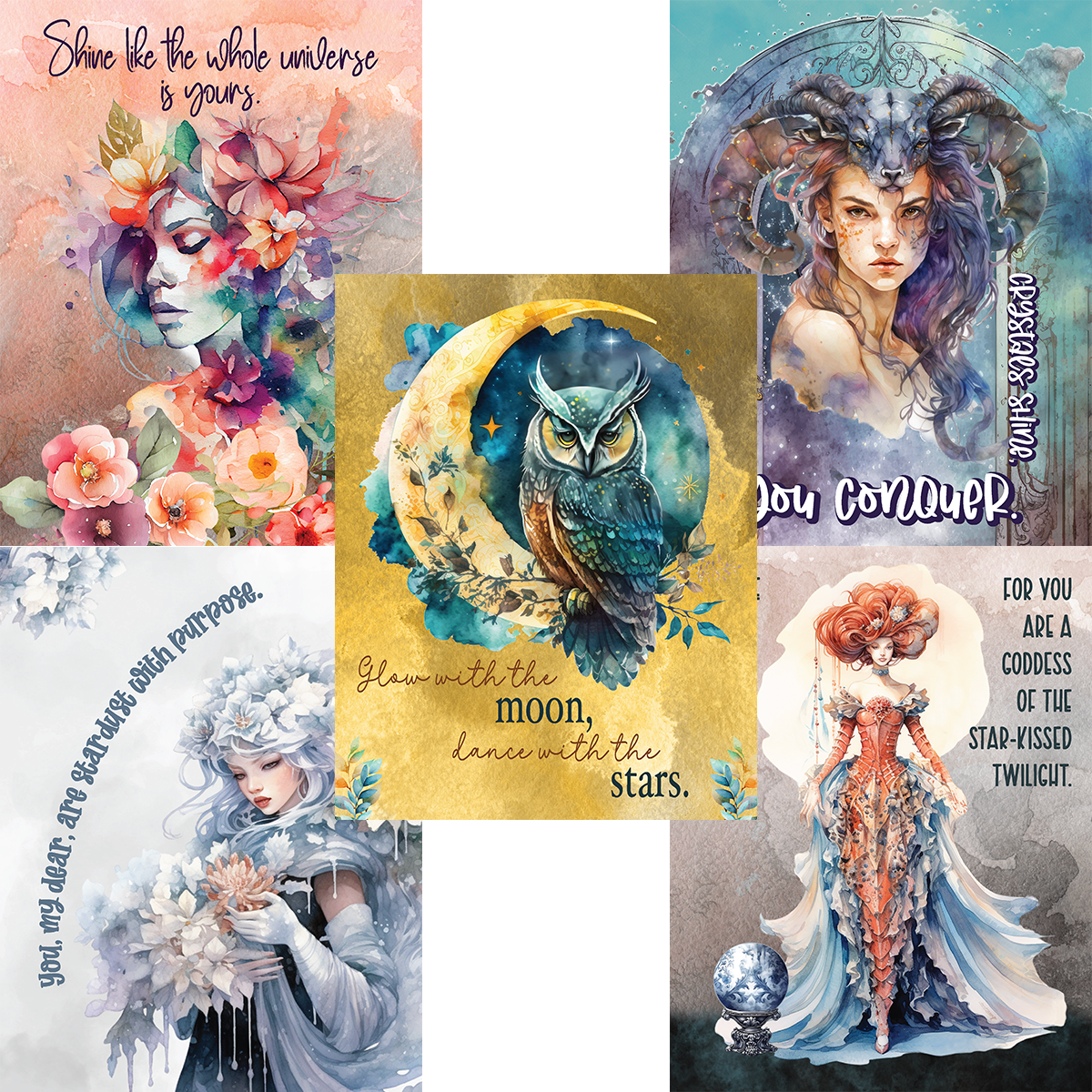 Why Did I Make These Inspirational Posters?
First off, I am a graphic artist (for 20+ years!) so doing this kind of design work is fun and relaxing for me to do while I watch Youtube!
AND this is the year of free where I am giving away inspirational and functional printables for my business peeps!
I used a combination of Creative Fabrica images, Chat GPT to come up with the inspirational quotes and my creativity to make these posters!
Why Are They Free?
Over the years I have dabbled in doing both free and paid digital downloads. While the income is nice (because it is almost 100% profit!) there is much more customer service required when someone is paying for something.
I like being able to use my talents to give things away to my peeps so they can have beautiful things to surround them while they are working!
Sometimes it is hard to find free designs so I decided to give them away to YOU!
Personal License For Printing
These free printable inspirational posters include a personal license for printing. I consider personal to be you, your family and your business team if you have one.
If you need more copies for other people, please just send them to this page and she can download them herself.
There is no digital distribution of these printables allowed, except by my besty Rebekah in her Etsy Store!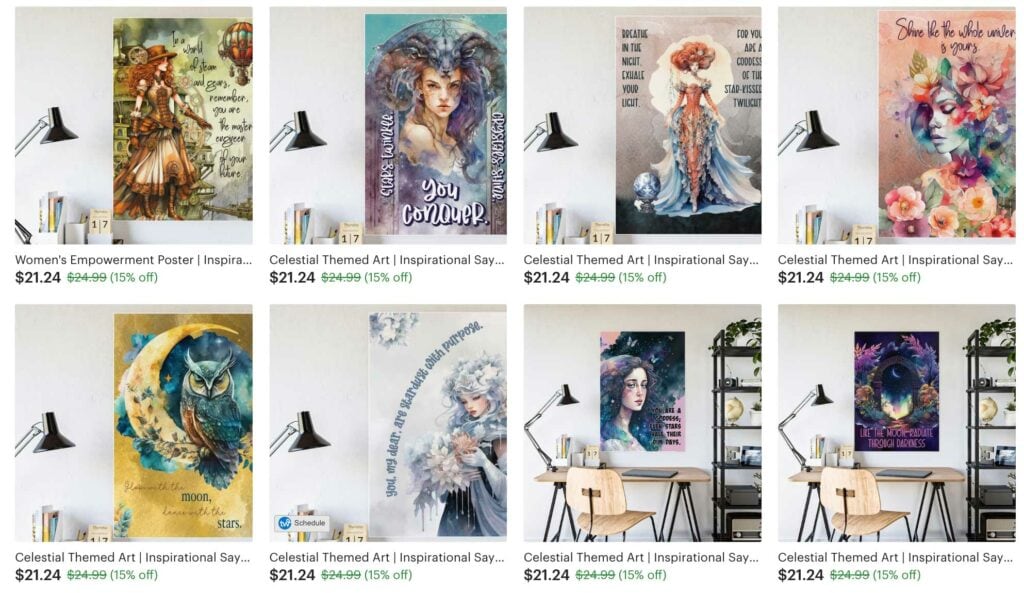 How To Download And Print The Posters
These printables are totally free without having to sign up to get them! The pictures below are designed to be printed out on 8.5″X11″ letter sized paper (you can downsize them a bit if you are fitting them into a frame).
I like to use high quality copy paper or bright white cardstock because I think that makes them even more colorful and vibrant than plain copy paper.
Goddess of the Star Kissed Twilight
This classy gal is ready to inspire you to feats of greatness! She reminds you breathe and step into your own power.
(to download right click and chooses "save as" or long click on a phone)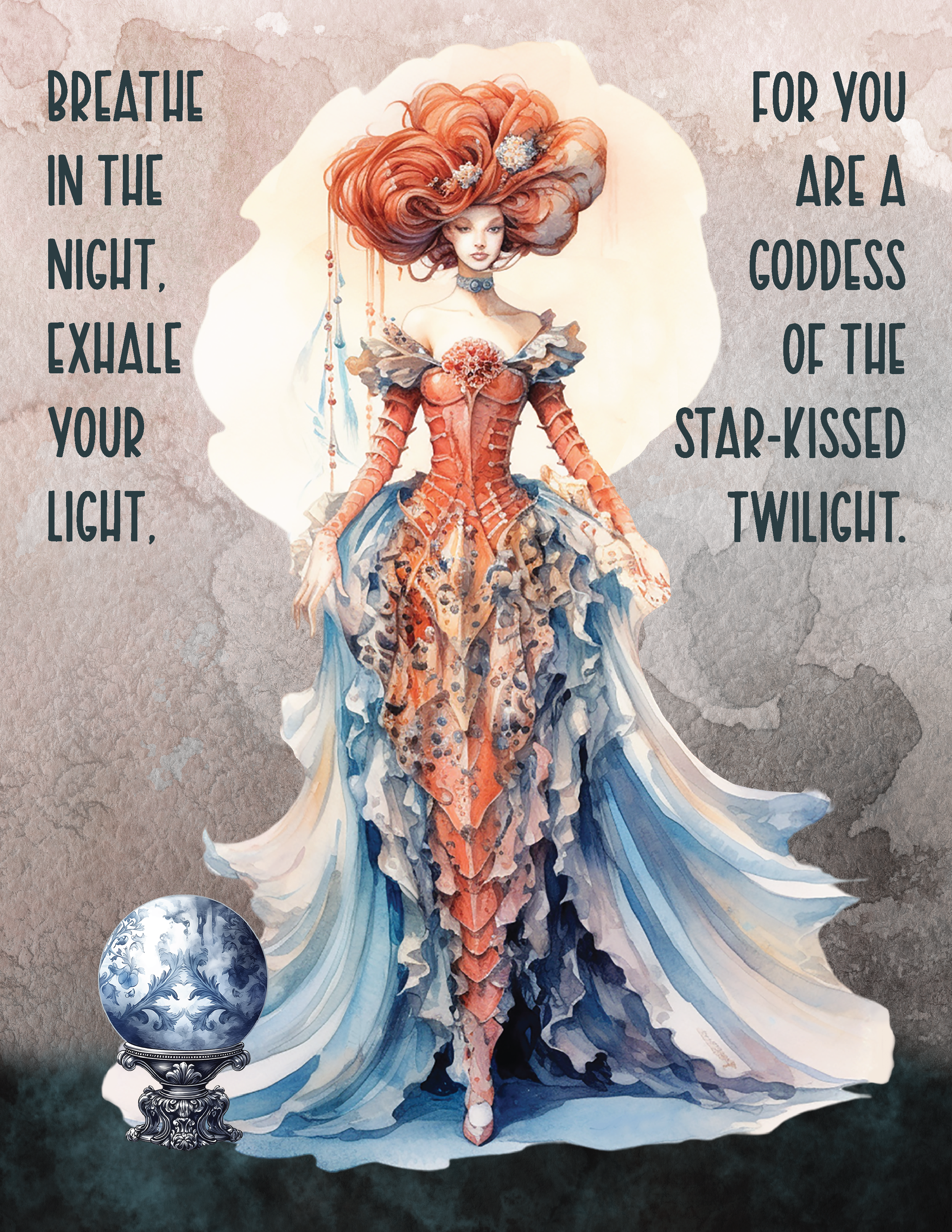 You, My Dear, Are Stardust With A Purpose
Oh my gosh, this gal is so icy calm and reminds us that we are divine already, no need to wait for someone to give us that blessing!
(to download right click and chooses "save as" or long click on a phone)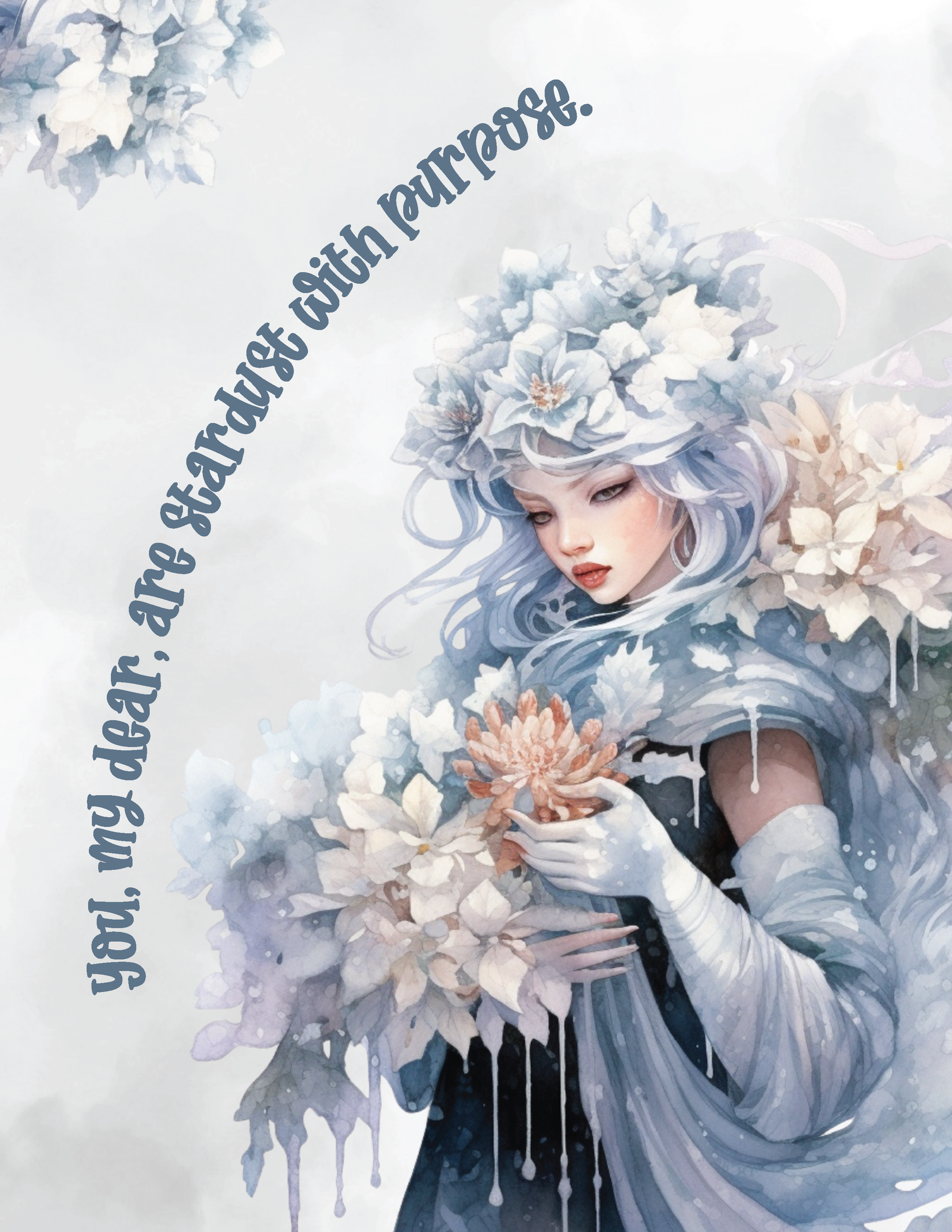 Glow With The Moon, Dance With The Stars
This wicked cool and wise owl will remind you to observe the beauty around you and keep a happy heart while you are striving to achieve all your goals!
(to download right click and chooses "save as" or long click on a phone)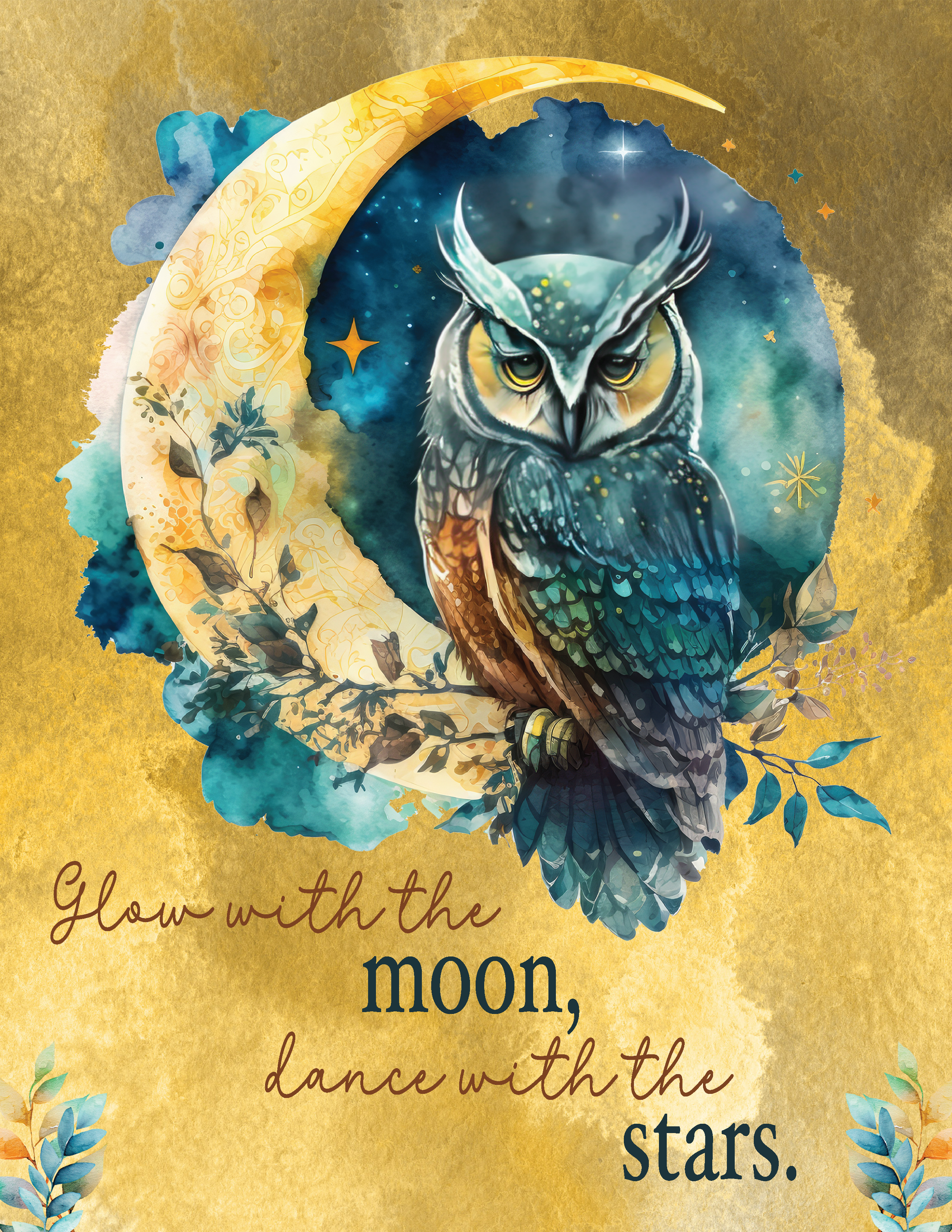 Shine Like The Whole Universe Is Yours
This gal is more soft and gentle, reminding us of our inherent power and wisdom. Super cool wall art poster to inspire you daily.
(to download right click and chooses "save as" or long click on a phone)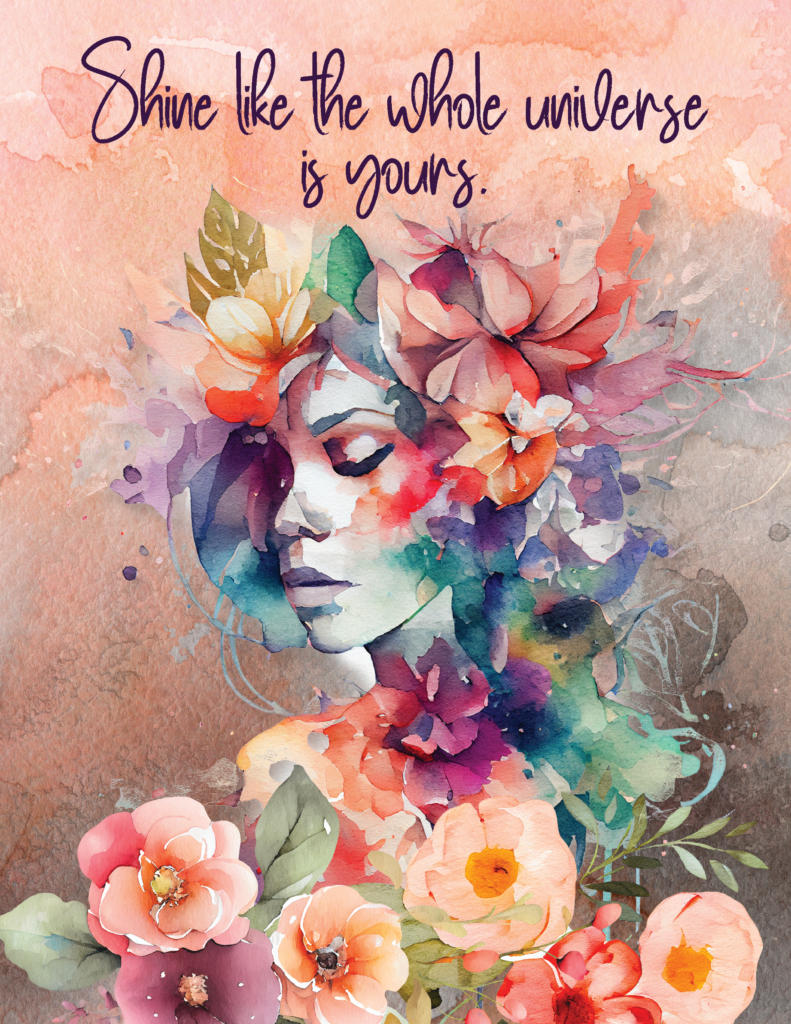 Stars Twinkle Crystals Shine Mystical Poster
This gal is so darn strong and brave! I love her mix of goddess and animal headdress that makes her look bold and daring.
(to download right click and chooses "save as" or long click on a phone)
Mystical Wall Art Wrapup
I hope you love these free printable posters as much as I do! I LOVE having cool inspirational messages to surround me in my home office.
If you have any suggestions for other printables you would like, email me at tara@marketingartfully.com and I just might make them for you!