Looking for a bit of motivation for your decor? These free printable mermaid posters are great for providing inspiration and fun in your home!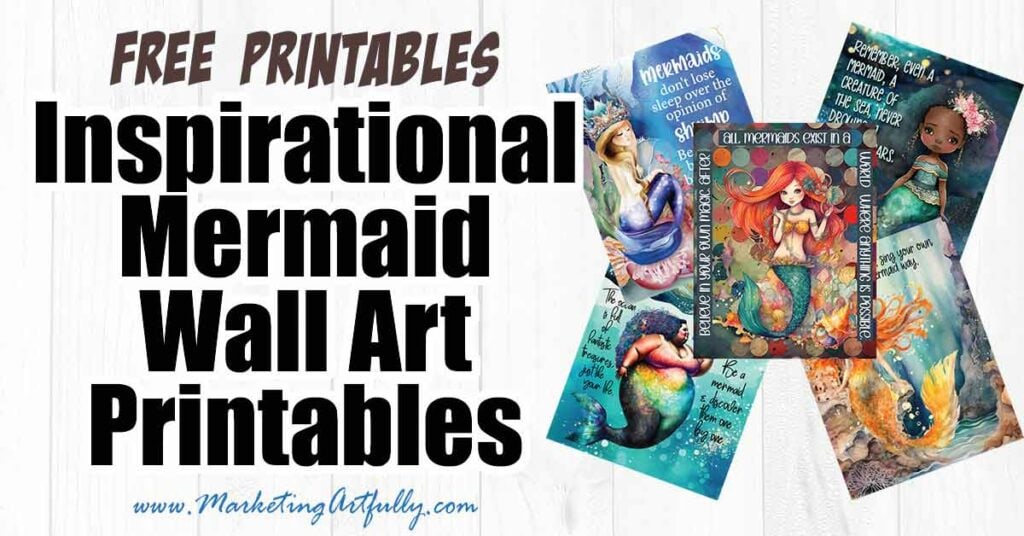 This post contains affiliate links. If you purchase anything, I earn a small commission at no extra charge to you. Check out my policies here.
All The Mermaids In One Place!
I know I like to see what all the posters look like before I scroll down and get them so here you go! (if you are not able to download them now, save them for later on Pinterest!)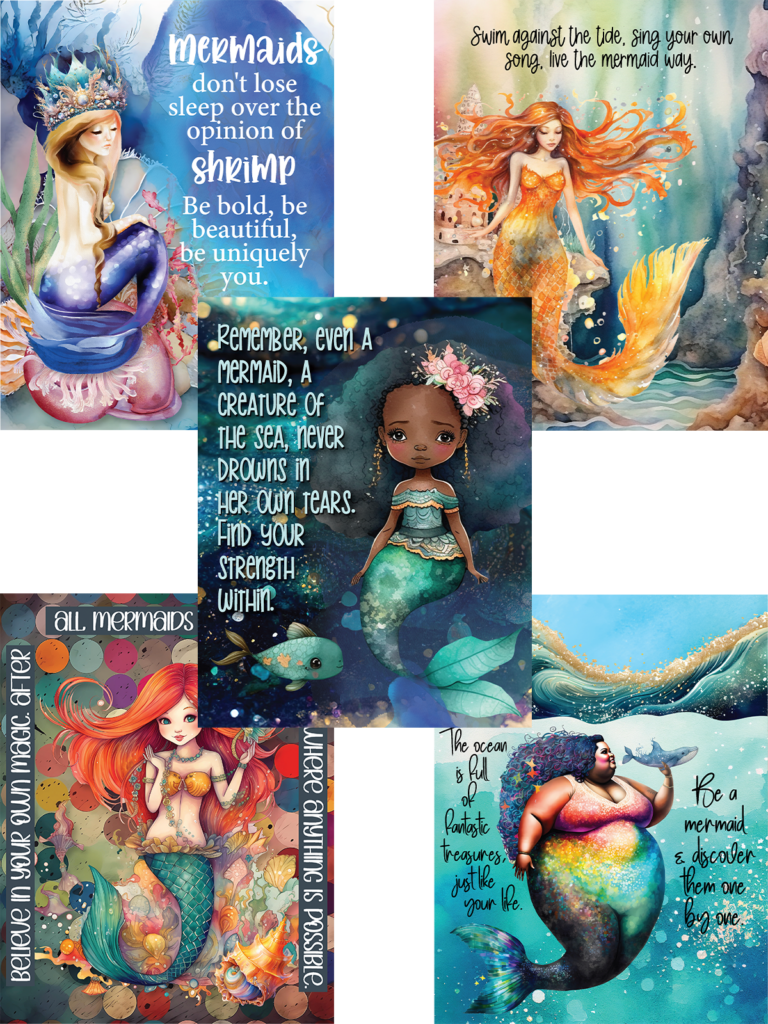 And here is what they could look like in your own home!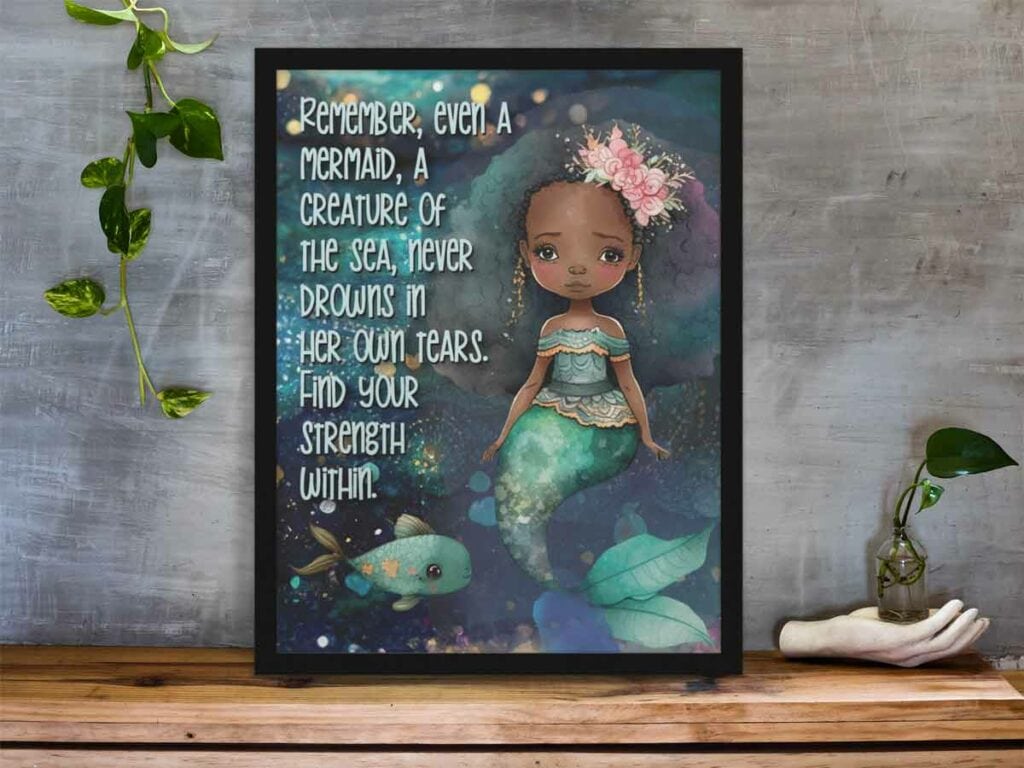 Why Did I Make These Mermaid Wall Art Posters?
I LOVE, LOVE, LOVE being able to make things that inspire my peeps and are beautiful at the same time! One of my three things I love to do is make pretty pictures so this is fun for me!
Also, this is my year of making freebies to give away so this is part of the free printable wall art that I am making.
I used a combination of elements from Creative Fabrica and my creativity to make these posters for you!
Why Are They Free?
It seems really weird to find something for free that seems like it should be sold… I KNOW!
But I am super fortunate that over the years I have built up my blogs to the size that they have ads on them and I can make a living without having to charge you for printables! Whoo whoo!
And no, you don't have to click on the ads to help, but if you did want to help, share this page to your favorite Facebook group or Pin it to Pinterest… that helps so darn much to get the word out!
How To Print Them Out
These are formatted to print out on an 8.5″X11″ letter sized paper.
While you could use copy paper, I prefer to use bright card stock or even a heavier weight copy paper because I feel like they print brighter and the paper is just nicer. (is it weird that I took a bunch of time to find you the Hammermill paper… getting older means having a "favorite" copy paper… hahahaha)
How To Download These Free Printables
I decided to NOT have these free printables behind a email signup so you don't have to do anything to download them besides right clicking and choosing "save".
If you are saving them on a phone you can "long click" (press down until the narration box pops up) and choose save.
Personal License For Printing
There is a free personal license to have these printed out so you can take them to a copy house or print shop and get them printed in reasonable numbers. Personal to me means you, your family and your team if you are in business.
If you do want to share them with a friend, send her a link to this page and she can download them herself!
There is no license to distribute these digitally. So no POD (Print on Demand), you can't sell or give them away on your website or put them on a Google drive and share the link.
Get Them Printed!
My besty runs our Paperly People shop where you can get these gals printed out! I love a greeting card size for smaller frames and affordablility!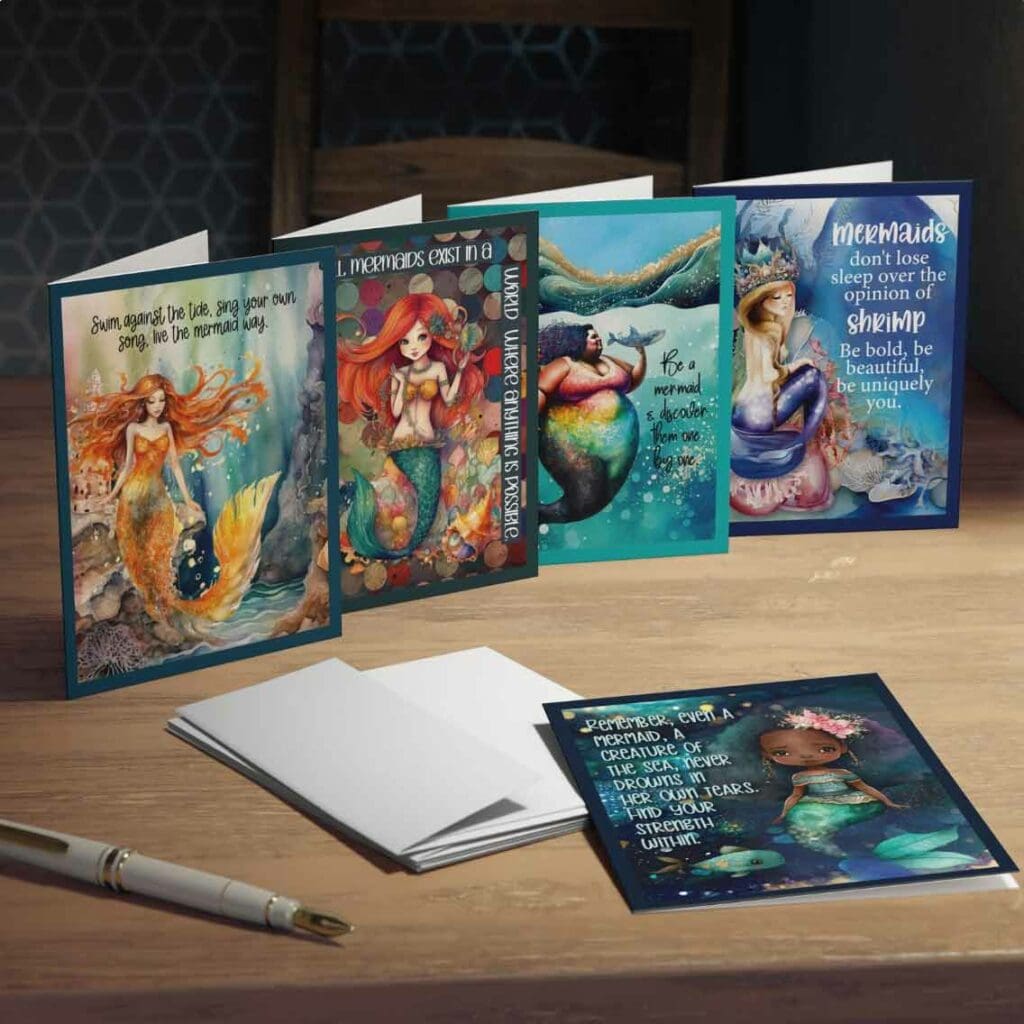 Free Printable Mermaid Inspirational Posters
Here you go! All the mermaid gals for you to get for your home or office… I hope you love them as much as I had fun making them!
Swim Against The Tide
This mermaid is so darn pretty with her flowy red hair and beautiful watercolor tail! She will be great motivation to remember to live the mermaid way!
(to download right click and chooses "save as" or long click on a phone)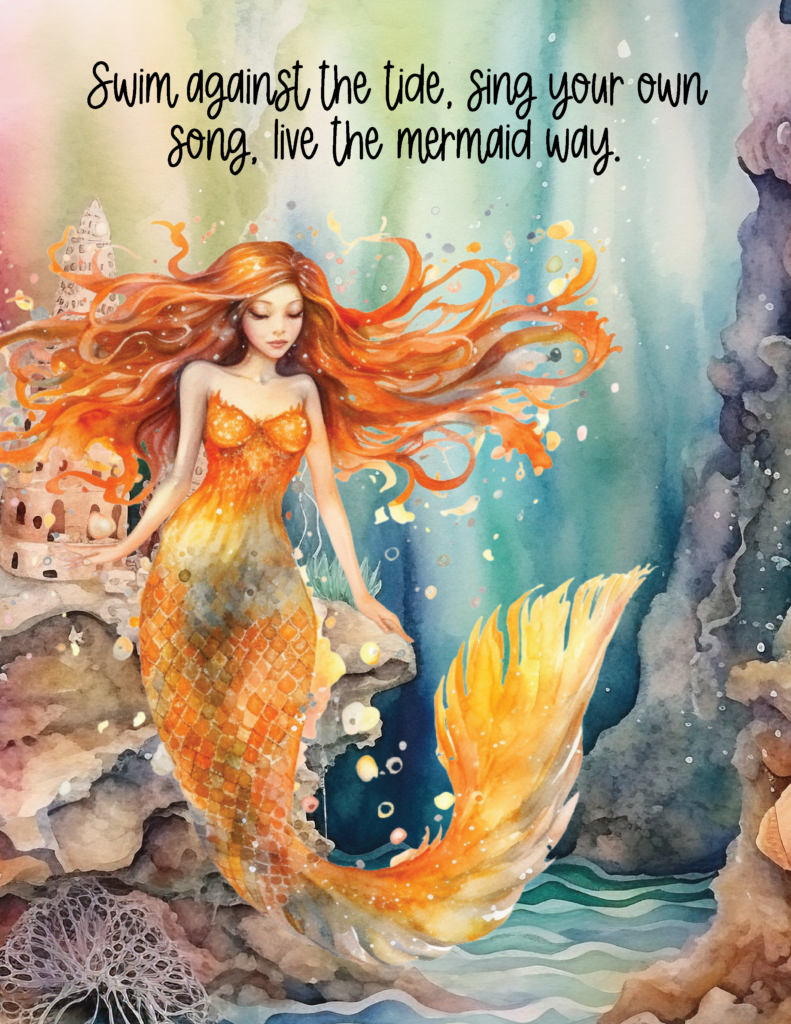 She looks absolutely beautiful in a plain white frame… it makes her colors pop out even more!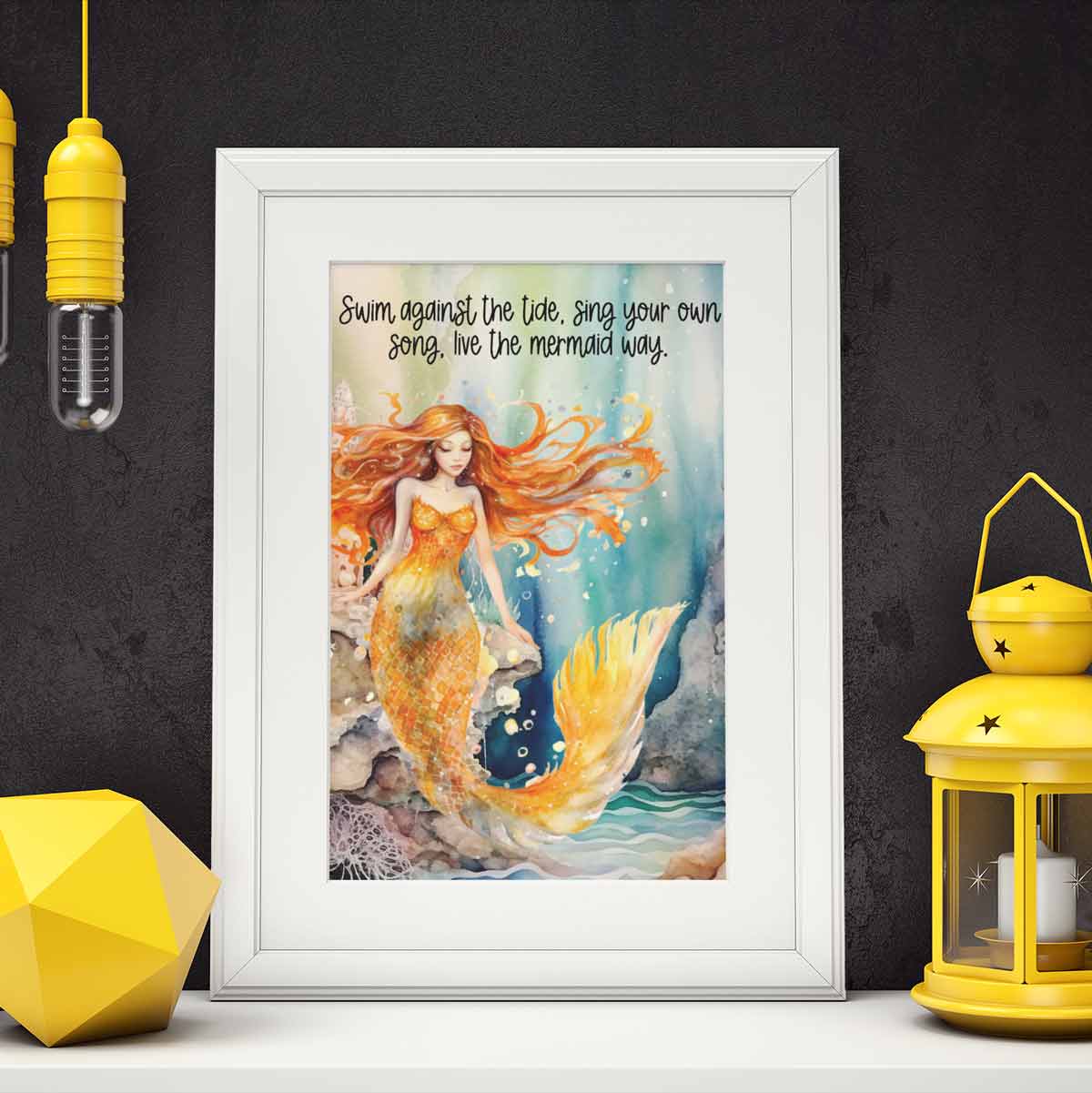 Find Your Strength Within
I love how this mermaid looks both sad and resolute. This gal is perfect if you need the motivation to pick yourself up during hard times or if you need a mermaid party pick me up!
(to download right click and chooses "save as" or long click on a phone)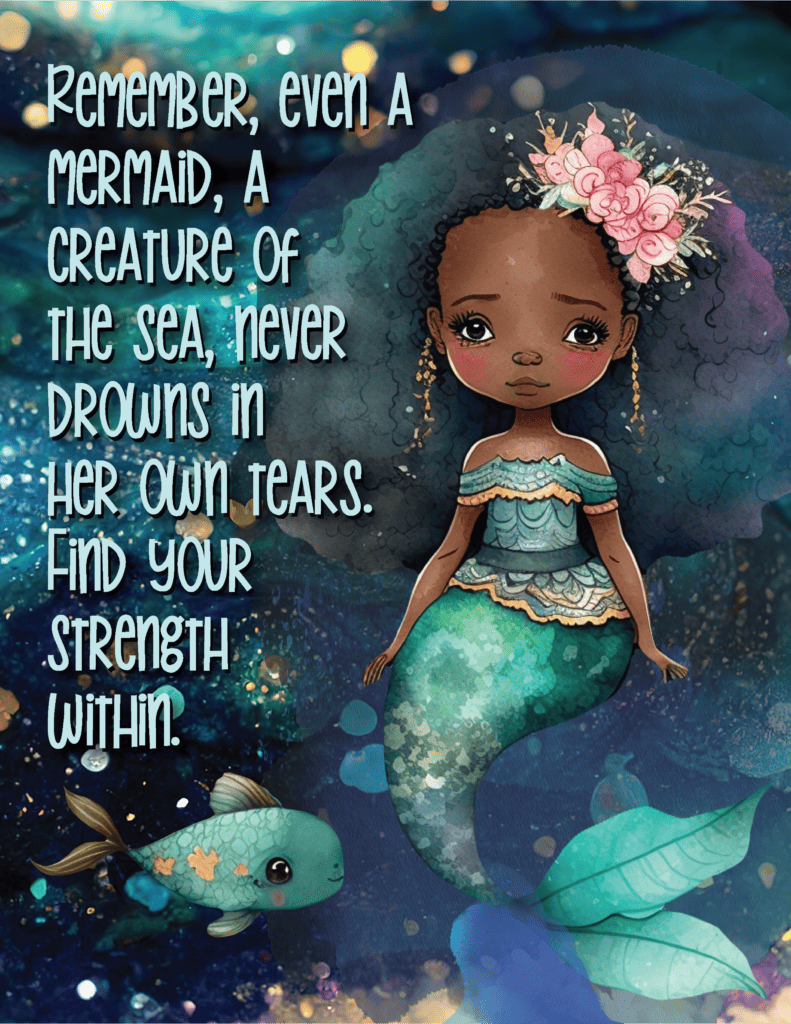 Believe In Your Own Magic
This is just so clever… of course mermaids are not "real" but our belief in them gives us the inspiration to believe in ourselves and our own magic just a little bit more!
(to download right click and chooses "save as" or long click on a phone)
I just love how cool she looks in this frame (and NO they don't all fit perfectly, but you can use a colored background to make them fit just fine!… I bet you didn't even notice until I pointed it out!)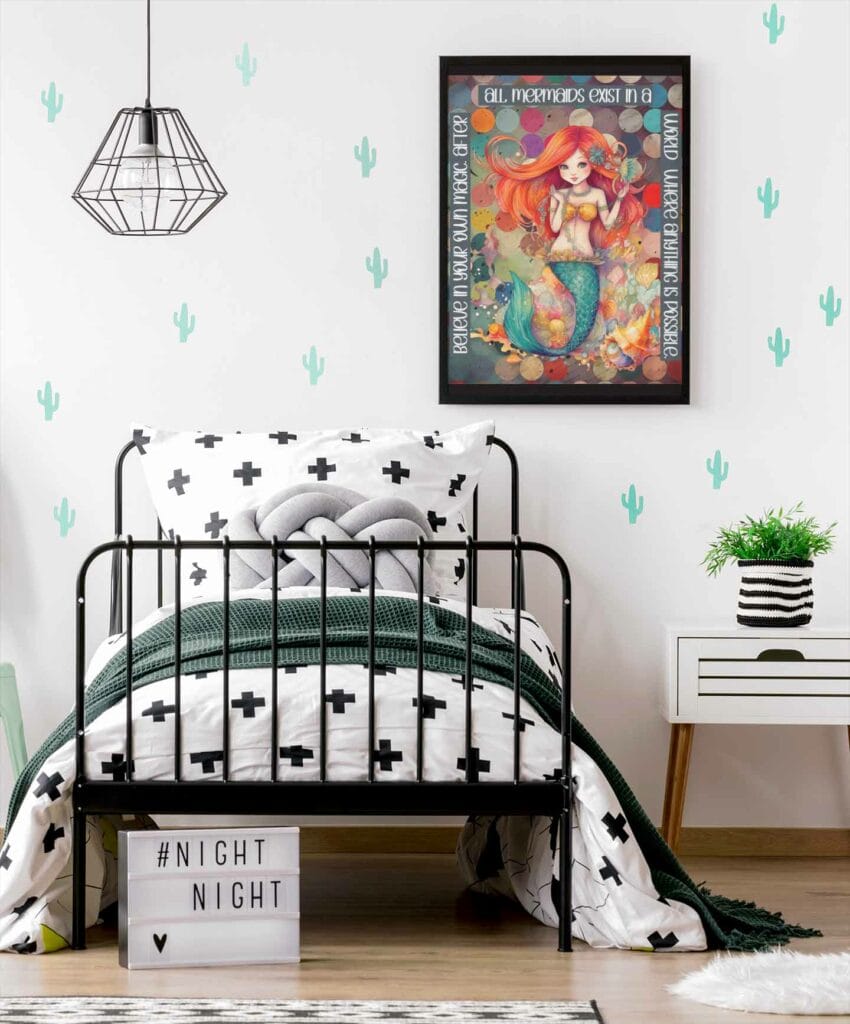 Fantastic Treasures Like Your Life
It is so easy to overlook the things around us that are day to day and forget to find the joy in the little things. Let this beautiful mermaid remind you to take time for the little things in life.
(to download right click and chooses "save as" or long click on a phone)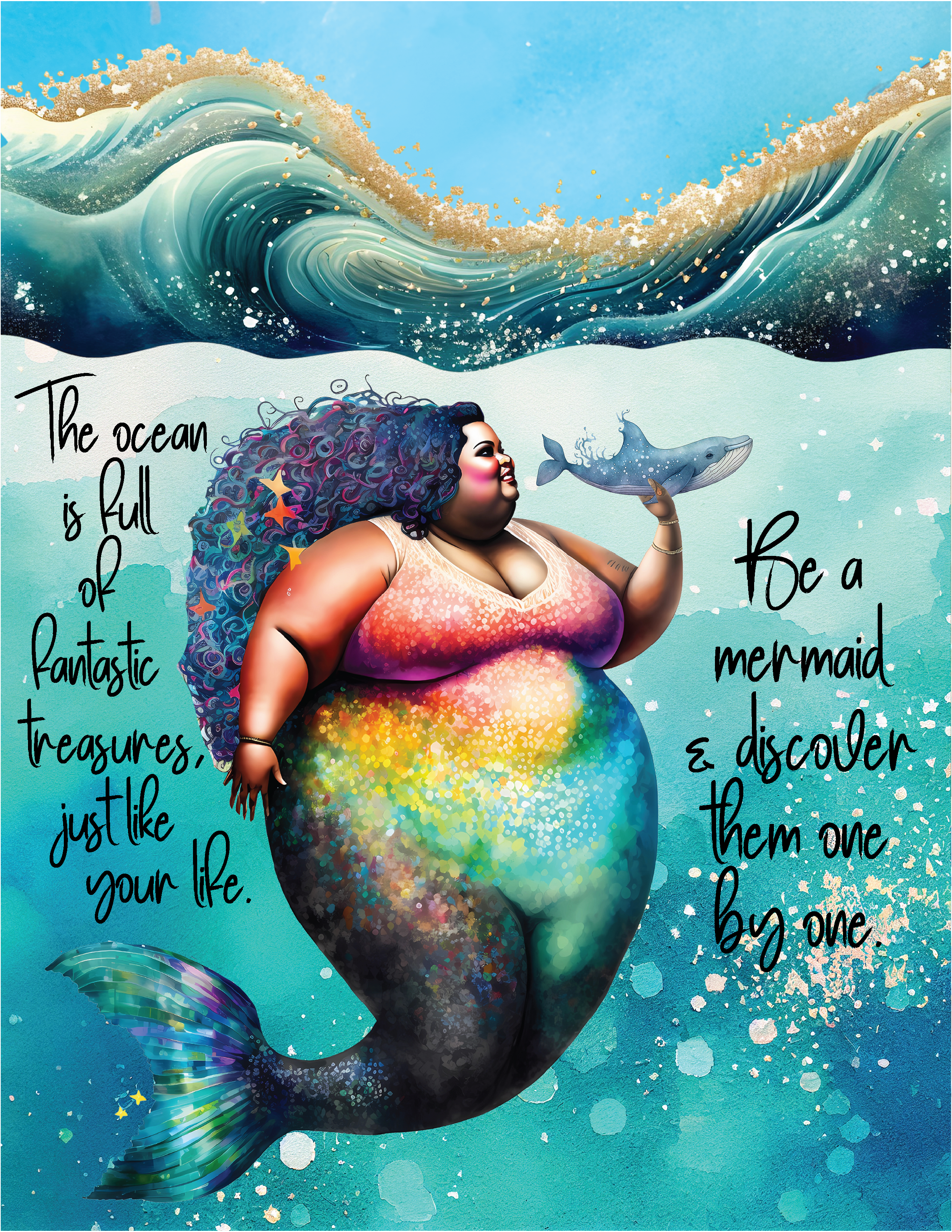 Mermaids Don't Worry About Shrimp
This mythical creature is great for when you need to "bold up" and do things that are scary! Let her be your motivation to do the hard things and not mind what other people may think about your life!
(to download right click and chooses "save as" or long click on a phone)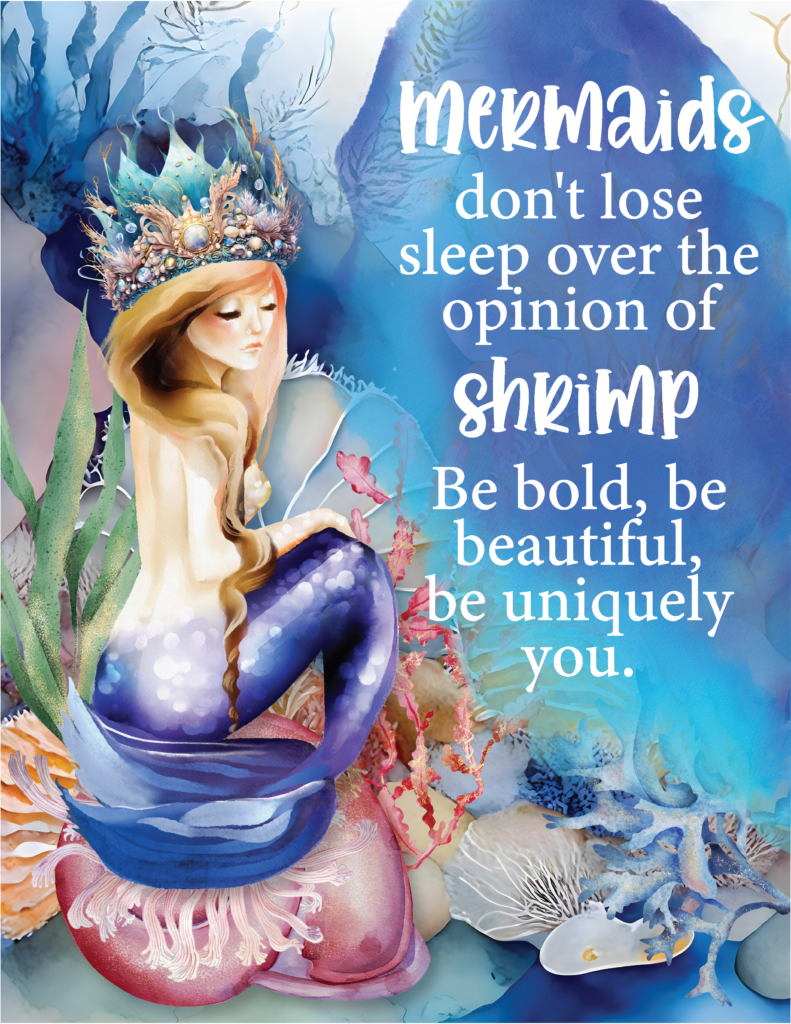 Free Printable Mermaid Wall Art Posters Wrapup
Oh my gosh, I had so much fun making these posters… the shrimp one is right up my alley and I just can't with how snotty she turned out looking with her long hair and crown hat…:)
If you have any other ideas for inspirational posters you would like to see, shoot me an email (tara@marketingartfully.com) and let me know!