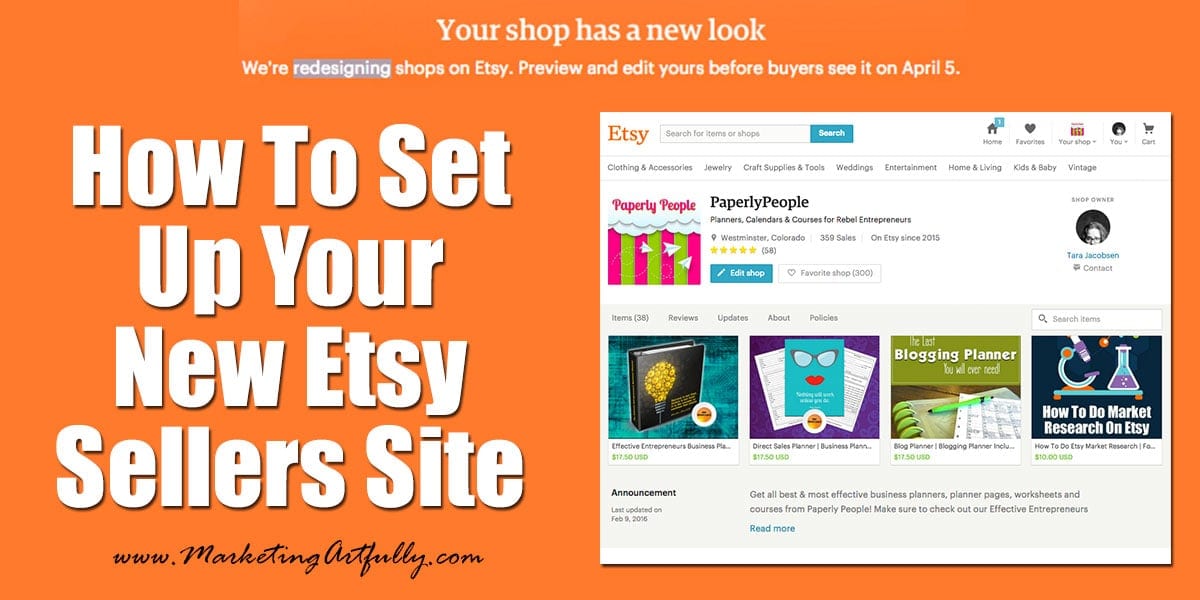 Looking for help on how to set up your new Etsy seller site? You have come to the right place!
Etsy sellers have been put on alert… there is a new Etsy seller site coming down the pipe on April 5th. While change is always weird, I have to say that I love this look so much better. It is crisp and clean and really highlights the seller and the products.
Here is a peek at old versus new in my store, PaperlyPeople.
Here is a comparison, done as closely sized as possible to show the new look and the old look side-by-side.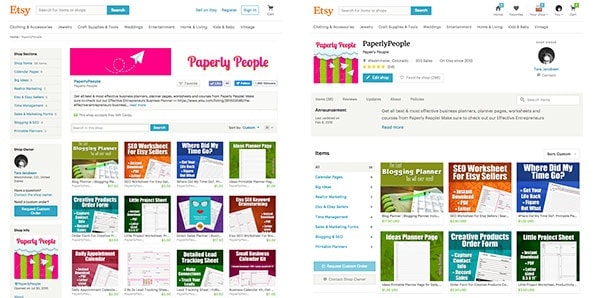 As you can see, the pictures of the products are MUCH bigger and the looks of our sites will be much more in line with what their current search results page looks like.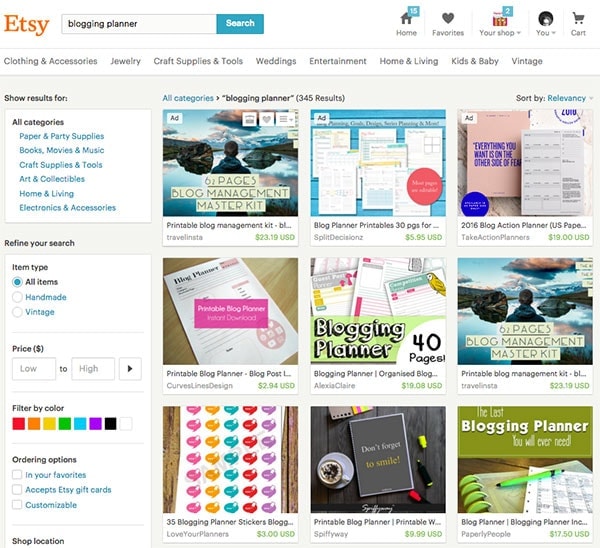 I have to think that this will provide a much more cohesive user experience for shoppers of Etsy.
If you don't already have a shop, get 40 free listings when you

sign up for Etsy

here
Setting Up Your New Etsy Site Top To Bottom
Okay, let's jump right in and see what things look like from top to bottom.
Your Shop Header
Your shop header (or lack of header). We now have three options for setting up the graphic look of the header. Here is my shop with all three different looks.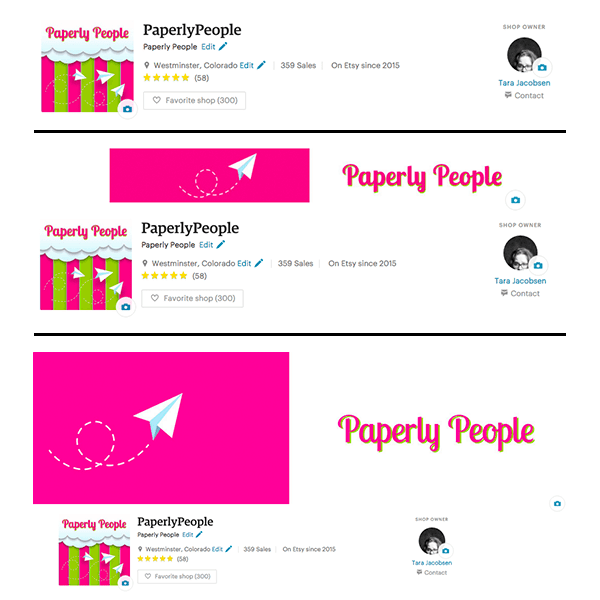 I know the one with the big header is supposed to have more of a "social site" feel like Twitter looks, but I think it overwhelms the heck out of the shop. I am definitely going to stick with the plain look. I want people looking at my products, not at my stuff!
Sizes:
None
Small Banner 760X100
Large Banner 1200X300
Changing out your header the first time…

Changing it when you have already uploaded one…

Your Personal and Shop Info
Alright, as you can see above, there is a lot more information handy at the top of your shop now. These include:
1. Shop name… that is pretty static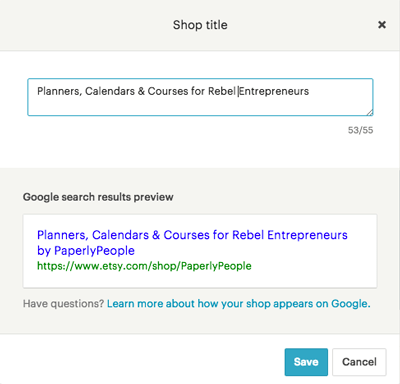 2. Shop title… I am not sure if this was here before but it is a pretty important section now. Click edit and you can add up to 55 characters to this area.
It appears that this is going to be the title of your Etsy shop in Google search. As such it should contain relevant keywords PLUS be interesting to humans that find your site in search.
Right now Google is really only showing category pages regularly in search, but we have no idea what these site changes will do to search results but I want to be out ahead of this if it does help!
Here are my old and new Etsy shop titles…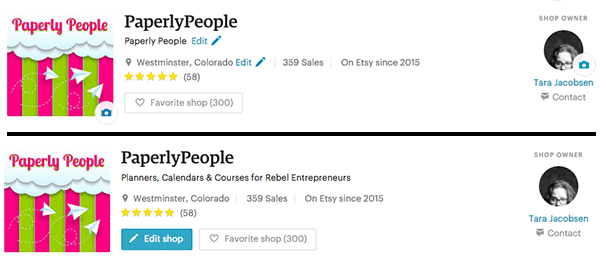 I like how it looks now!
3. Location… this is pretty much just where you live. That said, I could definitely change this to Denver, CO which more known.
4. Number of sales… This one is important and worth trying to build up! When I started I begged friends and family to buy something (anything) to get the ball rolling.
5. On Etsy since… This is generated by the system.
6. Your Star ratings… Okay, if we could get by a little bit before with bad reviews, they are front and center now! It is definitely worth taking a peek at the feedback you are getting and trying to improve everything you can.
7. Shop favorites… Sometimes it can feel like you want to scream, "buy something instead of just favoriting my shop", but now all those favorites are coming in handy! They are prominently displayed right there are the top



New Shop With and Without Featured Listings
The next thing that pops up is the featured listings area. This is a way to showcase your best listings!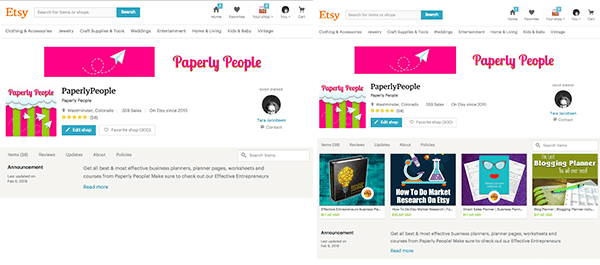 Okay, this is getting a little more interesting. I wasn't a bit fan of the featured listings in the past because sometimes they were redundant and confusing… BUT this is kind of snazzy. That said, even with the small banner this is starting to get really busy. I am going back to no banner AND featured listings.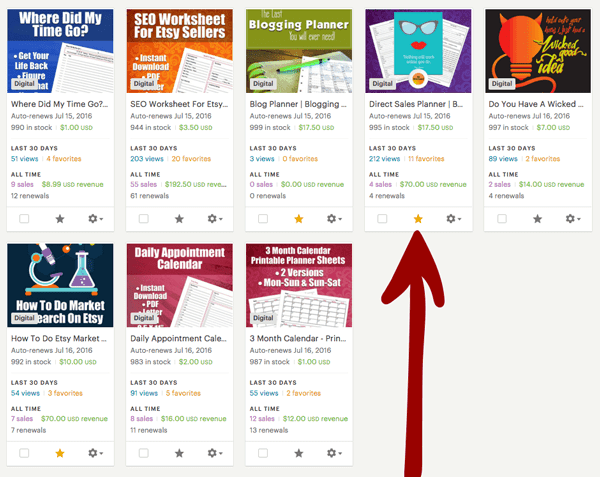 You can add a featured listing in your listings manager by clicking on the little star button!
Categories
Next big thing that is AWESOME is we can have 15 categories now (up from the 10 that were available before). I am super excited that I can be much more precise in my sorting now!
That said, I think this makes having to have at least 100 listings even more important. Read this to learn more… how many items should you have in your Etsy store?
Reviews
Before shoppers had to click to see your reviews, now they are directly below your shop listings!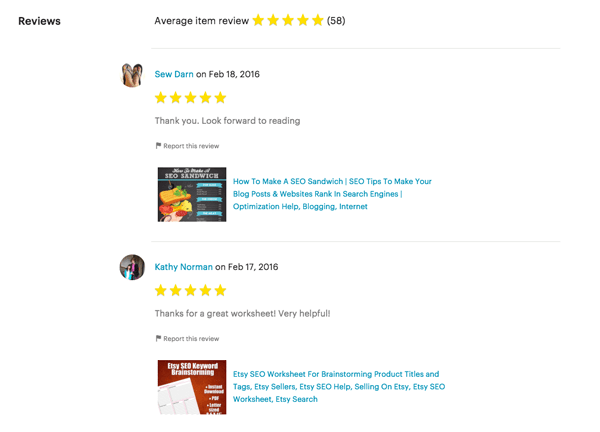 One thing to note here is that they are in chronological order so if you do get a bad one it will be front and center. Make sure you are minding this and if you need to, beg someone to leave a good review for you!!
Etsy Shop Updates
Etsy has pretty plainly stated that they like when you do shop updates. They have them displayed in very large pictures on the "home page" of buyers and now they are here, big as life.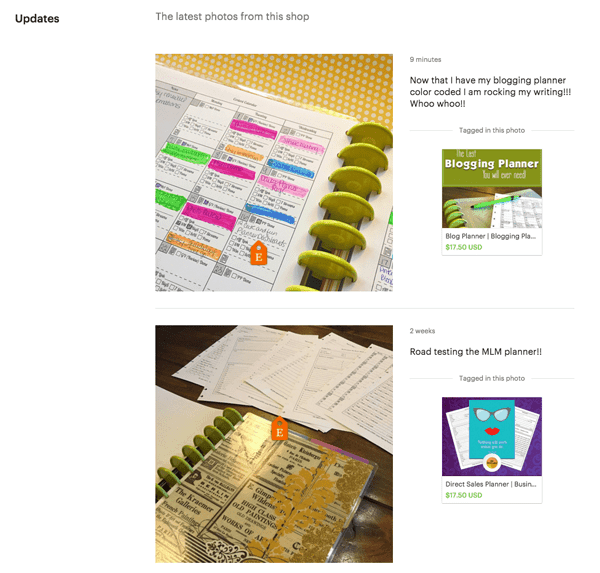 I KNOW it can sometimes feel like there are not enough hours in the day to get everything done, but this one is probably worth taking the time to learn. It is super easy to post these with a link to one of your products.
Etsy About Us Section
The next part is your about us section. A little bit ago Etsy said we could use a video to "introduce" ourselves and I think that having one is a great idea!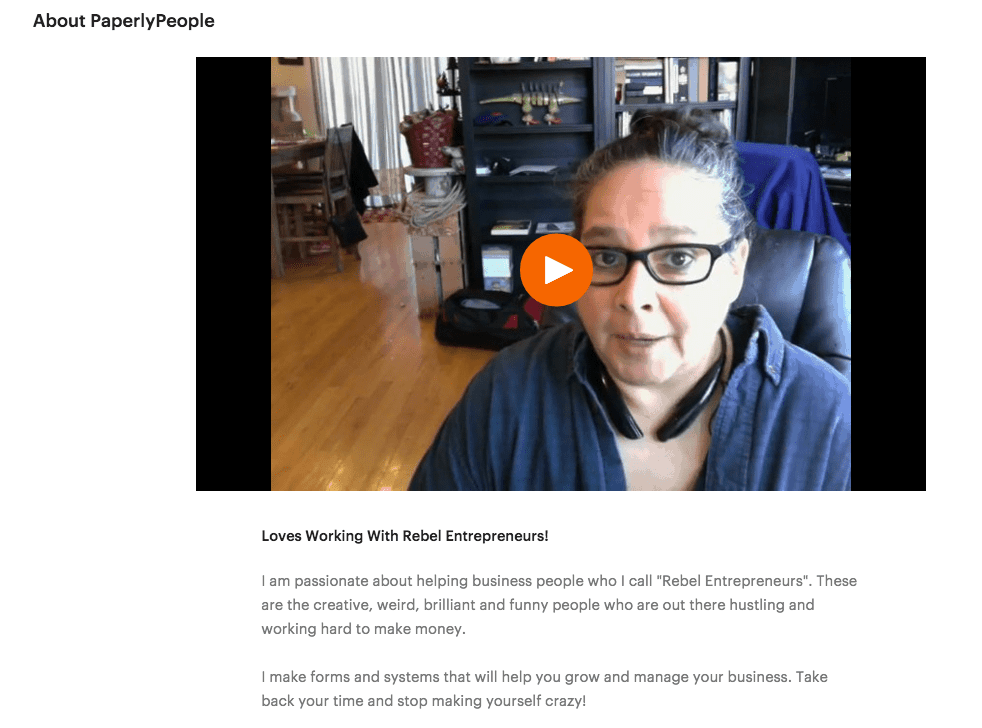 Now that it is right there on your sales page, might be a good idea to load this up.
Shop Policies
Etsy has changed their stance on shop policies, moving towards a more cohesive and universal policy framework. With this in mind, they have a checkbox model that you can go through and complete your policies in about 3 minutes. And they say that they save your old one in case you want to switch back. I have heard some rumblings that shops with "approved" policies will get preferential treatment, but that may be just talk.
New Etsy Shop – Everything Else
With the new shop layout everything else is included at the bottom of the page:
Around the web… links to your social sites
Shop members… about who works with you
Payment
Shipping
Refunds and Exchanges
Seller Information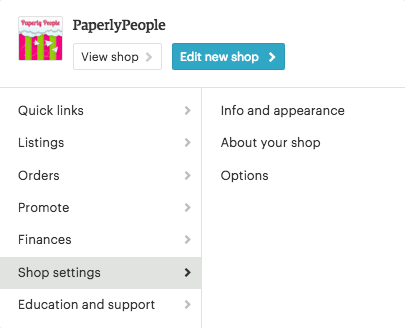 Most of this actually get changed in your Etsy shop settings page.
It would definitely be worth your time to sit down with a glass of wine and take a good look at this area with your "buyers hat" on.
Do you look reputable, friendly and approachable in your shop info or is it just full of boilerplate copy.
While everyone may not get all the way down here, the ones that do WILL read what you have written and good copy could make the difference between a sale and them going somewhere else to buy.
How To Set Up Your New Etsy Sellers Site Wrapup
Okay, let's call a spade a spade, no one likes to HAVE to do more work that they never anticipated having. That said, I really feel like a lot of these changes are super beneficial to the sellers AND the buyers.
What we have to remember is that Etsy is a commercial site and they will always do what is in the best interest of their customers, rather than being stressed out about whether the sellers are happy.
I KNOW that it is not awesome, but having been a Google girl for a while I have just embraced that. Google doesn't care if I want a first place ranking, I have to earn it. Etsy doesn't care if we have to step up, so just do it and make your store the best it can be!
Want to check this out live? Visit Paperly People and heck, why not buy something!