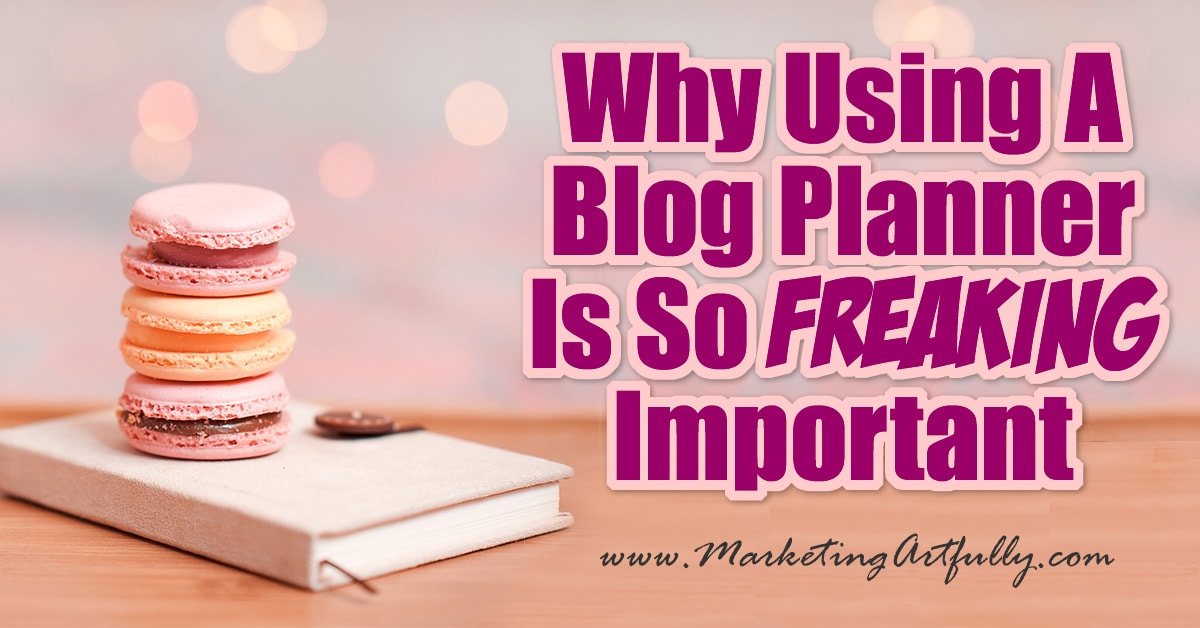 I fought using a blog planner for years. I thought I could keep a list (somewhere) or use the drafts in my WordPress (loser) and not have to be tied down to just a few blog posts that I HAD to write. Then I made my own blog planner and wah, wah, everything became wonderful in my blogging world. I can now schedule out posts, brainstorm topics that I LIKE to write about and generally be more productive and make more money from my blog.
And I want that for you too, whether you use my planner or not!
Okay, if you are any kind of writer at all, you know that the insanity thing is never far away (tortured artist and all). But feeling like you could DIE from blogging thing, that is holdover from a time when our occupations could kill us. Say you were a hunter in dinosaur times, something could eat you.
But now you are a cushy writer and nothing is going to kill you! But part of your lizard brain doesn't know that. It thinks that you will DIE if you have to plan out your writing or that you will DIE if you don't get that blog posted today.
It is really hard on a writer to always be nervous and unsettled. I know that when I don't have a clear writing goal I feel like I am just flailing around instead of accomplishing anything productive. By having a plan (and planner) you can stop feeling weird or fearful and start taking control of your writing life and work!
Blog Post Ideas
Here is where you should write down every single idea for a blog post that comes to your head. Don't worry about sorting them or if they are good or not, just jot it down. I use a planner page, but you could have a special notebook or even put them in Evernote to save for later.
Writing down your blog post ideas accomplishes a few things:
It frees you up to think about other things since you don't have to try to remember that in your head
You always have a "well" of ideas to write about instead of having to come up with new ideas on your own every time
You can start to see patterns and "clumps" of ones that you could write as series
Related Post: 4 Ways To Find Blog Topics That Will Actually Sell Something
Editorial Calendar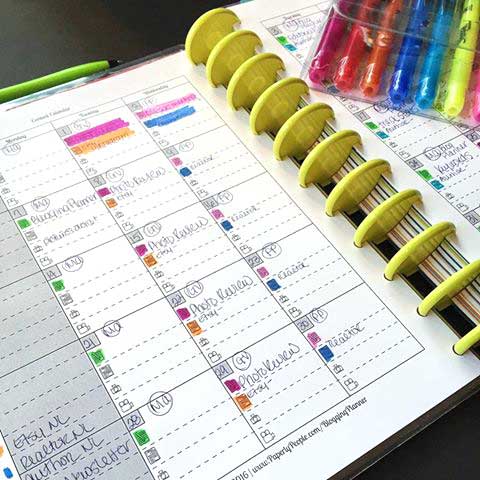 I am not sure that there is anything more vital than having a clear way to look at all your blog posts in one place AND be able to plan out future posts in clear cohesive manner. I use a weekly spread that covers two sides of my printed planner because that works for me!
You will have to find the best way to keep your editorial calendar! I wrote a post about how to have an amazing editorial calendar for your blog if you want more info
But just quick for here, I have found that I am able to promote my products more, create easy to follow "themes" for the month and even get ahead so I am not always writing on the day that I am posting!
Blog Goals
They say what you track increases and it is actually fun to track your blog's progress in the search engines! Some things that I track each month are:
# of visits
# of views
time on site
pages
bounce rate
top sources
top posts
top keyword rankings
These are all things that will show the health of my blog and of individual posts.

Keyword Research
There is nothing worse than writing an amazing blog post that no one reads because they can't find it in the search engines. I KNOW, there is much more exposure now through social media sites, but for many of us, Google is still the number one referrer of traffic and as such, should be a focus of our blog.
First I like to do a down and dirty search to find some interesting keywords to write about. To do this I use Google, Pinterest, Etsy and Amazon to get actually buying keywords that people are using to search for products like mine!
Then I like to check this out a couple of different ways, first by checking my competition for keywords that I want to rank for:
Their domain age
# of links they have
Whether I feel like they are a strong site
And then scoping out three targeted blog posts that I am going to write to dominate that keyword!

Affiliate Partners
One of the things that I love (and hate) doing is finding great products to promote on my website. Now, you may not be partnering with other people, but if you are, you should be looking for opportunties to reach out to find great products that you can share either for compensation or just to help increase your reach.
AND you can't reach out just once! You should be following up with these people in two days, two weeks and two months if you have not heard back yet from them!

7 Streams of Income
If you are a blogger, chances are you have income coming in a myriad of different ways. It is super important to be track this so you know where your efforts are most effective (meaning money making!)
For example, I have a really great affiliate product that I LOVE but it really hardly ever sells. I have another group of products that pays me every time I tweet about it. By tracking my streams of income I can see where I should be spending my time!
Brainstorming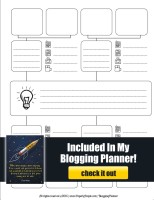 One of the best things about being a blogger is the ability to write about whatever the heck you want to! And one of the worst things about being a blogger is that sometimes this leads to chaos and lack of focus on your blog.
Because I serve so many niches on my site (realtors, authors and ecommerce peeps) I have to be very sure that I am serving the needs of everyone instead of just "head down, grinding out posts". Because of this I wanted a super cool way to plot out a general ideas for a topic and then build on that with different sub-posts that would support it.
One of the gals that helped to brainstorm the bits of my blog planner suggested that we have a mind-mapping kind of format where we could see all the interconnected parts of the post. I LOVE using this when I am trying to figure out what my upcoming post goals should be and how they are all "hooked" together!